Is your kitchen looking dull and outdated lately? But the cost of a full kitchen remodel is proving too expensive on your pocket. Well, we understand your dilemma. But here's the good news. You can still own an upgraded, contemporary, and all-new cooking space — without going for a full renovation. How? Worry not. Check out our simple, savvy tips on how to modernize your kitchen and get the home of your dreams!
Upgrade your hardware
By upgrading your hardware, we don't mean that you need to get brand new pieces. Take a look around. Are your kitchen cabinets looking worn out and have lost their previous shine? Well, simply buy some stylish knobs and pulls and add them to your cabinets. To bring a modern look, go for metal lighting fixtures, drawer pulls, cabinetry hardware, and range hood. Some materials that you can use here are matte aluminum, stainless steel, brushed gold, and copper.
Additionally, think about under-cabinet lights. Install a few below your cabinets and you shall see your cooking space sparkle with warmth and glow. Yes, updating your kitchen might just include a few small steps as outlined above. And yet, you shall see a major transformation after you complete the finishing touches.
Read more: Kitchen Plumbing – A Comprehensive Maintenance Guide
Add items of visual interest
Adding items of visual interest is a savvy way to modernize your kitchen. Mix and match complementary textures and materials throughout. For example, if you have an empty space on your walls or a huge countertop, put a beautifully framed piece of art, few wooden utensils, or tiny green plants. Do you have windows? Put some indoor herbs on the sill or hang some stylish window treatments — such as Roman shades. What about a rug? This colorful accessory can hide old, ugly spots on the floor and can even give respite to tired feet. Think about the unused space below the kitchen island. Install display shelves here and highlight your favorite cookbooks, heirloom China set, flower vases, or even a lemon bowl. The options are many. You just need to set your creativity free!
Go for open shelving
Old kitchens usually have closed upper cabinetry, which gives a crowded, packed feel to your space. Now, if you want your kitchen to look modern and spacious, but don't have enough room for lateral expansion, use the vertical space. Remove the upper cabinets and opt for modern, open shelving to revive your outdated kitchen. It is always not necessary that you conceal your silverware behind closed doors. Choose a clever nook, install open shelves, and display your dishware. Maybe, place some beautiful decorative collectibles in between. You can also fix a rack and arrange everything in a neat, matching pattern.
Paint your walls and cabinets
No, we are not asking you to paint the entire kitchen. But paint something to make it stand out from the rest. What about a single accent wall? Or if you wish to splurge some more, maybe, you can go for a fresh coat of paint on the walls. White, gray, and neutrals are colors that add a huge difference to almost any space and complement with everything. The fresh gloss and shine shall bring a big impact and lend an entirely new, modern look to your otherwise dull cooking area.
Further info in kitchen appliances? Take a look at this guide on how to buy a kitchen trash compactor
Consider the cabinets. Paint them in dark shades such as bold blue or opt for a classy black finish. This will cover up your worn-out, out-of-style wooden cabinets. Just add a bit of elbow grease and some color on your elements — be they distressing doors or paint glazes and stains — and get brand-new-looking, contemporary cabinetry.
Upgrade your lighting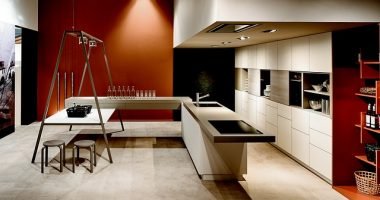 Modernized lighting fixtures and glass pendant lights can add so much charm and make your kitchen feel livelier. You don't even have to move or replace your electrical panels and circuit breakers. All you need to do it get the light of your choice, plug it into an outlet, swoop the cord, and let it dangle from a ceiling hook. Sometimes, you also get pendants that you can screw into a place which is normally meant for a recessed bulb. Also, think of recessed lighting. Additions of these lights not only bathe your kitchen in a warm, ambient glow but also give a modern, sophisticated touch. Yet another idea is to go for a dimmer switch, which is versatile enough to be used for entertaining, cooking, or just relaxing. Under cabinet lights below countertops, kitchen islands with pendants, and chandeliers — all these counts as modern lighting types.
Change your flooring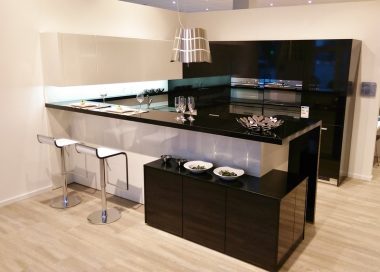 The flooring is a notable part of any room that can make or break its appearance. Check if your floor is made with materials from the yesteryears such as rolled vinyl or linoleum. Then consider replacing it with a more classic and hardy choice such as wood, tile, slate, travertine, or stone. The correct choice of kitchen flooring shall not only lend a contemporary aura but shall also enhance the value of your property.
Read more: Everything you need to know about floor renovation
Upgrade your countertops
The market for kitchen countertops is currently loaded with so many options. Replace your outdated tile-and-grout or vinyl workspaces with a solid surface made with resin and polymers or natural stone. Marble and granite countertops not only look stylish but are also contemporary varieties. Other materials that you can add to your list are concrete, brick, or tile.
Go for an all-white color scheme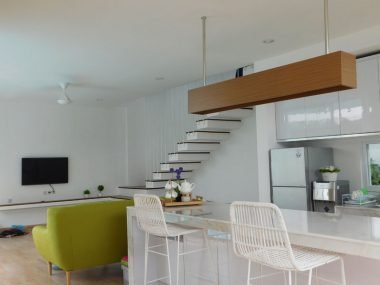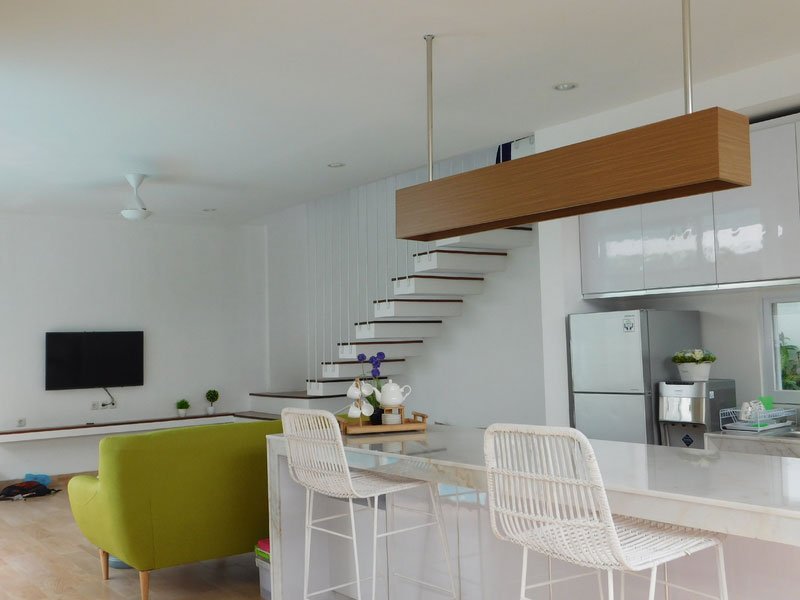 White is a popular color scheme when it comes to modern interior design. It lends an elegant and refined appearance, makes your room seem larger and reflects light. Check out the layout above. Splashes of color on the shelves offer wonderful contrasts to the otherwise all-white theme. The clean white look goes naturally with the wooden floor.
Install a backsplash or wallpaper
If your old wallpaper is worn-out and old, just remove the existing wallpaper and replace it with a new one. So many different varieties of peel-and-stick wallpapers are available in the market these days. Get a patterned, colored, or subtle variant — anything that suits your current layout, decor, and preferences — and fix it. The next option is to add a backsplash, which also comes in peel-and-stick technology nowadays. Browse through stores and you will even find tile backsplash in fun and colorful styles, that shall complement your kitchen's overall appearance.
Get a new faucet or sink
Think about buying a faucet that comes with the same specifications as your current model. You can then easily replace it with the old one without having to buy a new sink or drilling holes on your countertop. This simple addition also makes a huge difference. Replacing plumbing fixtures is a clever idea since modern, low-flow kitchen faucets save a lot of water.
To summarize: Get creative
Old kitchens often feature a boxed-in, closed, and compartmentalized layout. Therefore, you can always try to change that by application of various ideas. And if these tips still don't work, you can maybe think of knocking down a partition and blend your cooking area with your dining room. This will immediately bring in the open look of a modern kitchen.
By upgrading materials, finishes, color, illumination, and space, you can avoid the whole drama of a complete kitchen remodel. Follow our tips on how to modernize your kitchen for some additional guidance. Choose the ones which fit your preferences. And in the end, this artsy space that you create for your home shall prove to be really valuable when you venture into the real-estate market.
Read more: How To Choose A Range Hood For Your Kitchen?
How to Modernize Your Kitchen? 10 Savvy and Simple Tips
was last modified:
May 24th, 2022
by
Recommended