Kitchen sink faucets are a busy part of your home. From washing hands to scrubbing vegetables to cleaning dishes and so much more — your faucet gets used more than many other features of your home. With such a heavy workload demand, it's important that your kitchen faucet works for you in the right way. And don't forget — it also needs to look nice!
From the right height to the correct style and material, this article will help you choose the perfect kitchen sink faucets for your home. Let's talk about each feature in a little detail so you will know which types of faucets to choose.
Types of kitchen sink faucets based on spray feature
A spray feature on your faucet is convenient for more things than we can list here. It helps you to control where you want water in your sink, allowing you to reach hard-to-reach angles, move the faucet for a little one who can't quite reach to wash hands, fill a pot, and so much more. Here are the two types of faucets with different spray features.
1. Pull-down faucet
This is perhaps the most popular type of kitchen faucet. Its goose-neck spout has an extendable hose. It is great for cleaning a big pile of dishes and pots while keeping the sink spotlessly clean. In fact, you can reach every dirty spot, rinse the sink, and still maintain a clean and dry countertop space. Its long hose and the self-retracting spray head is convenient to use and looks quite stylish.
Read more: How to clean pull down kitchen faucet
2. Pull-out faucet
A pull-out faucet has a detachable handle that can actually be pulled out. You can easily remove the spout head and drag it to as many places as you like. It is quite similar to the pull-down one but here, the spray hose comes in a straight line towards you, and not downwards. This feature gives you the freedom to move it around the kitchen sink and countertop. The best part is that it is best suited for small sinks. You can fill large pots and pans without having to get them to fit into the sink.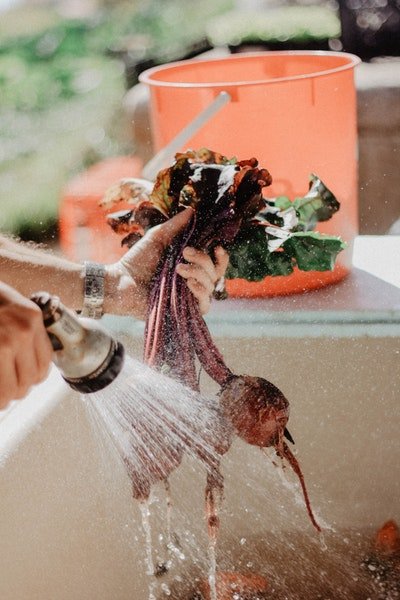 Faucets with different handles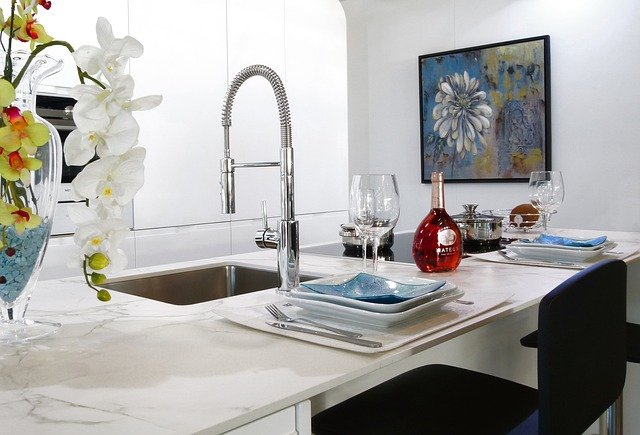 1. Single-handle faucet
Single lever faucets are good for controlling both the temperature and water volume. Turning the water on or off quickly is a cinch, and you can adjust the flow and temperature for your current needs. They're also trendier-looking. Plus, there's one handle less to clean!
2. Two-handle faucet
Two-handled faucets offer a classic, symmetrical look and make it easy to control water temperature and flow but are better-suited as bathroom sink faucets.
3. Hands-free faucet
Hands-free faucets provide extreme convenience, especially when your hands are covered in flour or chicken grease and you don't want to spread the mess. But they are significantly more expensive than the others.
Faucet material
You can really let your faucet make a statement and boldly demonstrate the style of your kitchen. Consider it like jewelry in the kitchen — the right style will enhance the whole look of the space.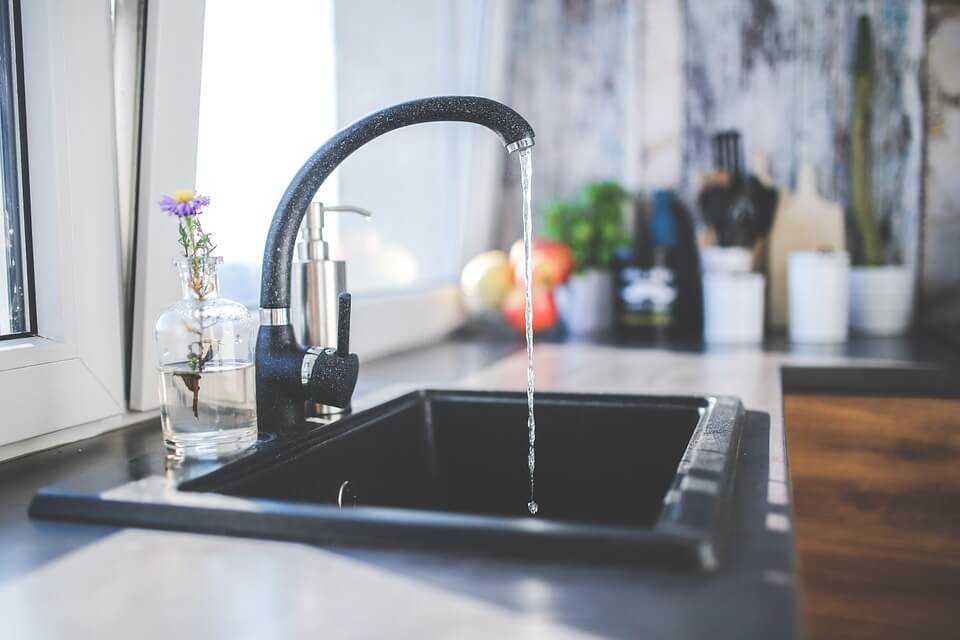 Choose a finish that works well with other appliances, features, and hardware in your kitchen. Fortunately, there are several options, from stainless steel, polished chrome, polished nickel, wrought iron, and more. Do you have a traditional or modern kitchen? Make sure to choose a style that ties into the rest of your kitchen.
Faucet height
It doesn't matter how much you love a certain look if it won't fit in your kitchen's space. Make sure you first measure window sills or kitchen cabinets to ensure the height of your chosen faucet won't interfere with what's already there.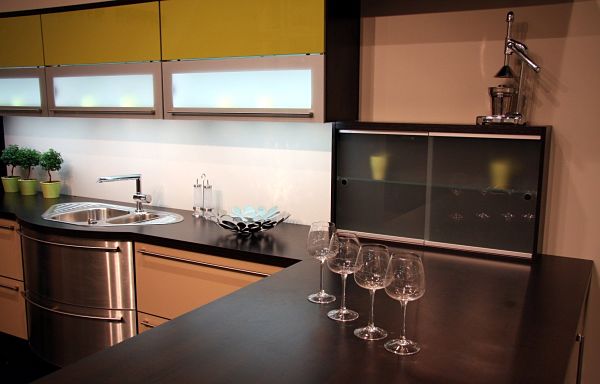 Pxhere
Number of holes on the countertop
Not every faucet can fit every sink. You need to know how many holes you already have in your countertop. If you have three holes, you can install a faucet, an accompanying spray feature, and even a soap dispenser.
Want to go from three holes to a single-handle faucet? A deck plate at the base of the faucet covers the extra holes while giving you a seamless look.
You'll need to choose a faucet with a spout that reaches close to the center of your sink. It won't do you much good if the faucet barely extends into your sink.
Read more: The best kitchen sink materials
Extra features
Consider adding a filtration faucet next to your sink to give you cold, filtered drinking water in a convenient place. Or how about a pot filler faucet above the stove? Lotion or soap dispensers to keep extra products off your counters? Make sure you take some time to consider extra features that may save you time, add convenience, or make your time in the kitchen more enjoyable.
The faucet you choose is very important; make sure replacing your existing impractical one with a newer, better one is part of your planned kitchen remodeling.
This article was originally published on New Life Bath & Kitchen's blog.
Read more: Handy Kitchen Sink Installation Tips You Must Know
How to Choose the Best Kitchen Sink Faucets for Your Home?
was last modified:
July 19th, 2022
by
Recommended