Cash, Check or Credit? How to Properly Pay a Contractor?
Financing a home improvement project is a difficult task as it is. Why make it more stressful by not knowing the best ways to go about it, including hiring contractors and how to properly pay a contractor.
When it's time to pay your home renovation contractor, you should be aware of all the precautions to take and the best means for the payment system.
In normal circumstances, whether you're a homeowner or a business owner of a construction firm, you have the option of paying the contractor with cash, a personal check, a debit card or a credit card. The first step however is to be sure of who you're dealing with, how much would they charge and when to pay them.
Read more: 10 Fundamental Questions to Ask Before Hiring a Contractor
How to properly pay a contractor for work?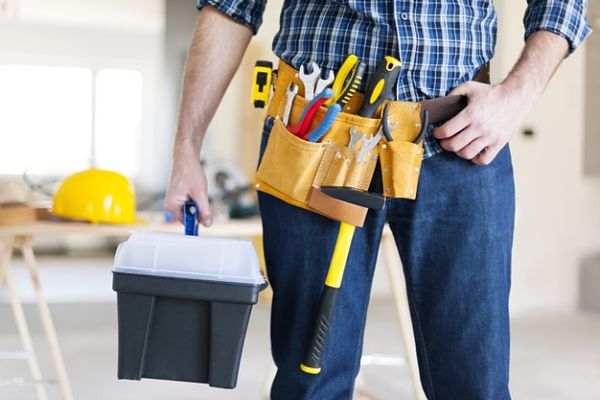 Paying an independent contractor is different from paying a freelancer. That's why you'll have to make sure that you classify your workers correctly. You need to distinguish between a licensed employed contractor and a freelancer.
The next step is to select a suitable payment method after agreeing on the payment terms with your contractor. Always remember to gather the right documentation for the Internal Revenue Service (IRS) — for any income tax-related concerns later.
Let us help you find the best contractors in your area. Try Kukun's Find a Pro
For example, if you've had any backup withholding with your contractor (this can happen if your contractor hasn't given you his taxpayer identification number aka TIN number), you'll have to get the withheld money to the IRS.
Keep in mind that when you're hiring an independent contractor, you're hiring a person or agency to perform a certain home improvement service, sometimes even providing construction materials. They work under a specific contract of employment (oral or written) that specifies their rights and duties. If they're working for a construction firm, their employer handles their taxation.
Freelancers on the other hand are self-employed professionals who typically have their own business and pay their own taxes as well as insurance cost. They do not have any long-term commitment to any one employer.
In addition, they have no other employees in their small businesses but themselves. Such independent contractors usually seek out their business opportunities and are paid for individual projects they work on — either at hourly rates or a flat fee.
When do you pay a contractor?
Your payment schedule can vary greatly depending on the type of project and scope. Since large projects are more expensive, the remodeling cost is broken into several payments spread throughout. Important milestones are the easiest ways to break up the total payments.
Small-scale projects often have a down payment and final payment. Although there's usually no legal limit or maximum limit for a down-payment, the amount can also vary with size and scope. For example, a kitchen renovation is more front-loaded so the contractor will require more funds upfront. That is to say, the payment for kitchen cabinets and kitchen countertops will need to be made prior to their installation. 
Generally, for projects over $5000, you should plan on a 10% down payment and 10% final payment with progress payments in between. Smaller-scale home improvement projects should have a 50% down payment and 50% on job completion.
Keep in mind that there's always room for negotiation. Your contractor can demand anywhere between 10% to 50% of the total project cost upfront.
Considering a home renovation? Try our free home remodel cost estimator for quick results!
Methods on how to pay a contractor for work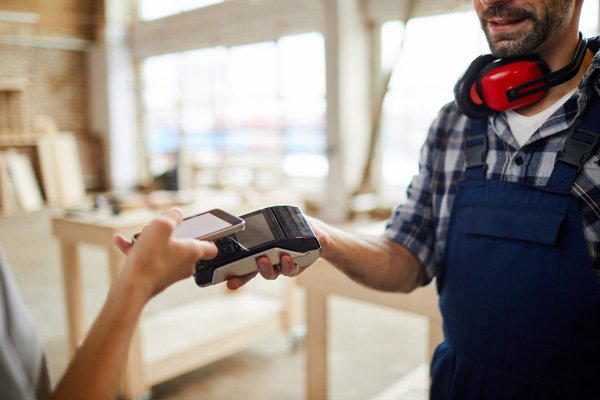 Whichever mode of payment you choose, you must find a contractor who accepts your preferred method of payment and meets your expectations in terms of quality. Here are some of your contractor payment options.
Looking for a licensed home renovation contractor? Use Kukun's Find a Pro tool for the most reliable professionals!
By cash
Although payment with cash is one of the options, it's the least popular one. According to the Federal Trade Commission, a contractor who only offers the option of cash payment is usually not as reputable as one with other payment options.
But, you can sometimes give them the benefit of doubt that they could possibly be using that cash to buy building material or labor for your house.
Generally speaking, it's not an ideal practice to pay cash upfront. But if you must, choose smaller payment increments throughout the remodeling project.
By check
Paying through a check at least ensures that your payments are going toward completing your project. But, never ever write a check for a payment higher than 1/3 of the project's total cost. And, always scan a copy of each personal check and ask the contractor to mention the exact purpose of that payment.
By credit card
Paying through a credit card is usually the safest and the most effective way of paying your contractor. You can organize your credit card payments into convenient installments through direct deposit.
It also provides more substantial proof that you've paid your contractor how much and when. Plus, if the project is not completed as expected, you can always cancel these financial transactions. That way, you're better protected against contractor fraud or botched projects.
By a debit card
A debit card doesn't offer the same kind of consumer protections as a credit card. Once a transaction completes, the money goes out of your account almost immediately. And, under federal law, a debit cardholder does not have the right to stop payment in case there's a dispute with a merchant. There's nothing your bank or financial institution can do to resolve the issue.
Last words
Knowing how to properly pay a contractor is crucial. You can select the most cost-effective ways to pay contractors while remaining tax-compliant. But first, you need to correctly classify the workers before paying them. Only then will you be able to understand whether you need to cover taxes, insurance, and benefits for your workers. Keep in mind that the tax implications of independent contractors are different from freelancers.
Once you've agreed on the payment terms and method, you'll have it easy. And, your home improvement will be stress-free!
Read more: What Does Contractors Insurance Cover?
Cash, Check or Credit? How to Properly Pay a Contractor?
was last modified:
September 1st, 2021
by
Recommended