Security investments to consider if investing in a condo or townhome
In 2019, there were over a million home burglaries in the US. Home burglaries are common, even in apartment complexes. If you're looking to buy a condo or townhome in a large community, you need to be aware of the best security technologies to look for.
Top-tier building security will help protect your belongings and allow you to feel safe in your new home. Keep reading to learn about the top security technology investments you should look for when buying a new condo or townhome.
Touchless and hygiene-based technology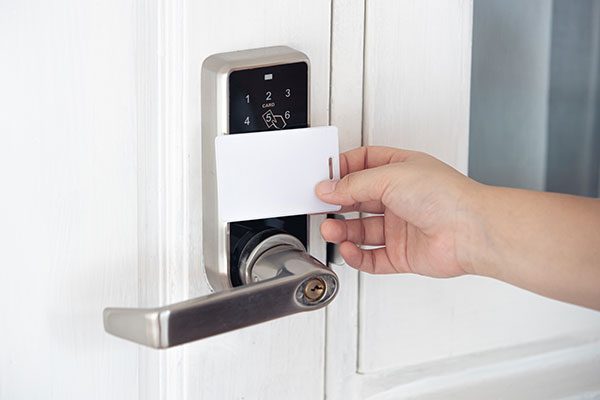 Since the pandemic began, building managers and landlords need to provide tenants with health and safety measures that discourage the spread of germs within the building. They also need to assure tenants that no symptomatic visitors will be permitted to enter the building without taking a negative coronavirus test.
In response to the pandemic, security professionals have provided innovative technologies that offer touchless entry and more hygiene for condo and townhome tenants. Below are some of the best touchless and hygiene-based technologies for condo and townhome tenants.
Touchless access control
Touchless door card access systems increase the hygiene of daily building entry and provide the tenant with more convenience. Also, touchless access control is a mobile-first technology – instead of offering users keycards, fobs, or codes to enter the building, it allows them to enter with access credentials stored on their mobile device.
The use of mobile technology for access control has enabled security manufacturers to implement a wave-to-unlock feature for access control. Instead of pressing a button, swiping a card, or entering a code, users need only wave their hand over the access control reader. When the access control reader detects the motion of their hand, this will trigger remote WiFi, Bluetooth, and cellular communication with their mobile device to unlock the door.
Since touchless access control is remotely operable, you can access aid more quickly if locked out of your building. You can use the building intercom system to contact the building manager if you lose your credentials. They will be able to let you in remotely and instantly using a mobile application or cloud-based control center, so you won't need to wait hours for them to get to you with the key.
Touchpoints are points in buildings that users must touch as they move throughout the building – such as handrails, elevator buttons, and door handles. To provide more health and safety and manage the spread of germs, you should look for a property that reduces the number of touchpoints in a building. The wave-to-unlock feature is one of the best ways to ensure your new property manager cares about tenant health and safety.
Health checks and temperature reading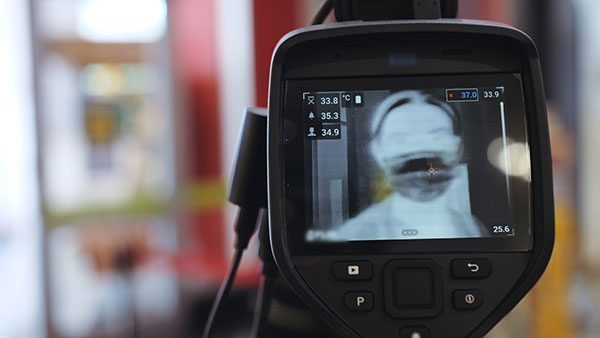 You need to know your new condo or townhome offers coronavirus screening for building visitors to ensure no symptomatic visitors can enter the building. One of the best ways to implement coronavirus screening is to integrate wellness verification software with cloud-based access control. When a visitor needs to enter the property, they will be granted a digital form on their mobile device. To enter the building, they must fill out the form and answer questions regarding their symptoms. If they are symptomatic, the system will restrict their access; if they aren't symptomatic, they can enter the building.
Temperature readings can be paired with automated health checks to verify that building visitors are running at an average temperature. It can help to ascertain their health status with additional testing.
Integrating technologies
Integrated technologies create an intelligent building and reduce the manual effort required to manage visitors. Cloud-based access control serves as an excellent foundation from which building managers can build an integrated security system with:
Visitor management software – this software tool integrates with access control, providing visitors with digital visitor registration forms to fill out before entering the building. Your guests can enter quickly, and unwanted visitors are kept out of the building.
Video intercom systems – you should look for a property with integrated video surveillance and access control with a video intercom system. This eliminates the possibility of an unauthorized user stealing access credentials and using them to enter the building.
Smart IoT devices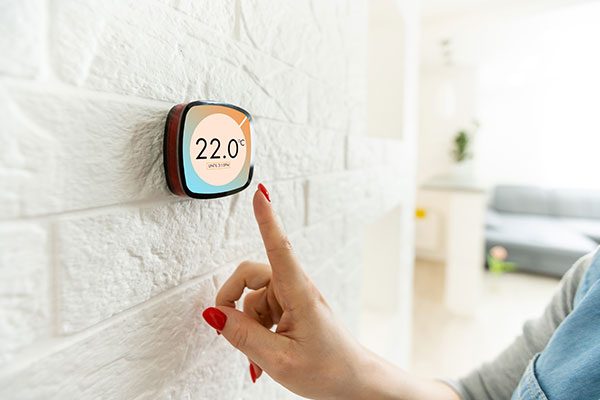 Property managers and landlords can use technology to improve the experience and attract new tenants. IoT devices allow tenants to adjust condo thermostats, lighting, and more using mobile devices. So you want to ensure your home is warm when you get home from a day in the cold? You can easily do so from anywhere using your mobile device. Smart IoT devices like remotely operable door locks can help tenants to save energy and keep their home secure at all times.
Summary
When looking for a new condo or townhome, staying up to date with current trends and technologies is essential. Sophisticated and modern technologies can make your building more secure and improve your everyday experience. Consider which of these technologies appeal most to you, and look for a condo or townhome with a rich offering of modern solutions.
Read more: Increase your condo's resale value
Security investments to consider if investing in a condo or townhome
was last modified:
February 2nd, 2023
by
Recommended