Despite our lifestyles, we all spend a lot of time in the kitchen: cooking, having breakfast, lunch, and dinner with family or friends, having a bite or just drink tea. It is a beautiful and functional place at the same time. So, how to prevent kitchen layout mistakes and make our kitchen as comfortable as possible?
The kitchen layout is very important. People who try to understand how to layout a kitchen in the most comfortable way should take into account 3 main components: functionality, safety, and aesthetics. If you follow all the layout principles, you can get a kitchen of your dream. It will become a real oasis of home comfort for meetings with friends and communication with family members as well as provide comfortable conditions for cooking.
A good kitchen serves its owners for twenty years or even more, that's why it's very important to put your mind to kitchen layout. We want this place to be both comfortable and functional. In this article, we will discuss the typical kitchen layout mistakes and how to avoid them to make your life better and your home a really comfortable place where you want to come back after a long working day.
The Initial Stage of the Kitchen Layout
Before you start arranging your kitchen, learn a few stages of kitchen layout:
Choose the place for kitchen furniture
Having reviewed all the photos of the kitchen layout, choose the style of your future kitchen space
Color is one of the main components in your kitchen decor, that's why pay particular attention to it
Select materials for finishing the ceiling and walls
One of the important details in the kitchen design is the lighting. Its creation depends on the kitchen style you've chosen before.
At the last stage, consider all the options for windows decoration in your future kitchen
Common Kitchen Layout Blemishes
1. Ergonomics or the Kitchen Triangle
Kitchen triangle means sink, stove, and refrigerator – it's the area where we move more often.
Regardless of the size or layout of the kitchen, you need to create a comfortable area between the refrigerator, sink, and stove. If the kitchen triangle will be too small, the members of your family will be bumping to each other; if it will be too big – cooking can become be a tedious task.
2. A Narrow Passage Between Kitchen Cabinets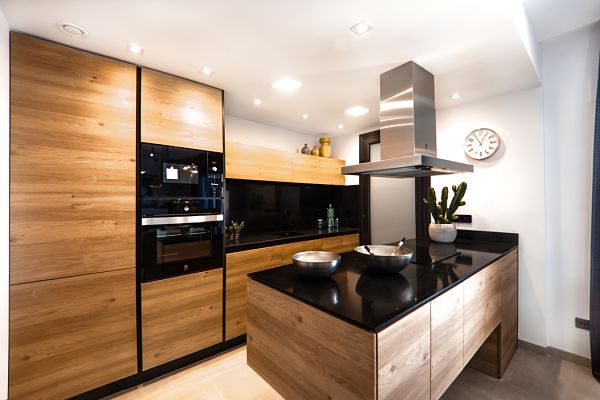 The distance between the facades of the U-shaped kitchen or kitchen with an island must be at least 120 cm. Then the drawers can be opened completely and people can move around the kitchen freely.
3. Small Sink in the Corner
When people try to create a perfect kitchen layout, they place the sink in the corner. They do this with the best intentions – to make the working surface between the sink and the stove bigger.
Even if you have a dishwasher, you use the sink quite often and it's very uncomfortable to stand in the corner while washing the vegetables for dinner. If possible, install a double sink. It will simplify the process of cooking greatly.
Read more: Kitchen Remodel On A Budget – 5 Tips You Should Know
4. Storage Space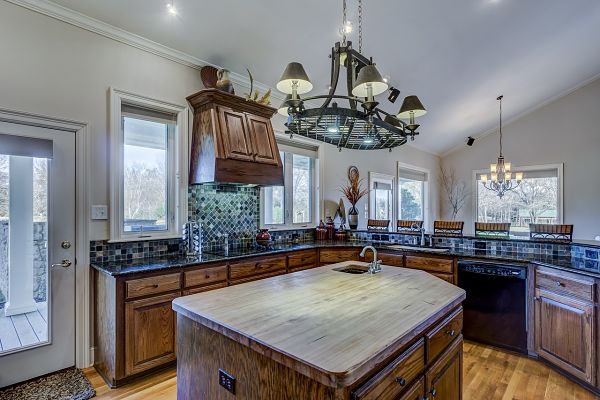 Almost every kitchen layout has irrationally used space. One of the common mistakes when trying to create an ideal kitchen layout is not to install the upper cabinets, because the kitchen looks better without them.
This is a great option for large kitchen layout where you have plenty of other storage space and if you cook at home rarely. Otherwise, the additional storage systems will appear on the tabletop.
5. Uncomfortable Handles and Doors of the Cabinets
Have you chosen big cabinets with modern easy-to-open mechanisms? Check if you can close them without using a ladder or a mop! People who try to create the best kitchen layout, forget very often that not only the shelves must be at a comfortable height but also the handles of cabinets must be easily accessible both in the opened and in the closed position.
Kitchen handles must be comfortable if you have a small kitchen layout. It's extremely important for small areas.
6. Uncomfortably Placed Kitchen Appliances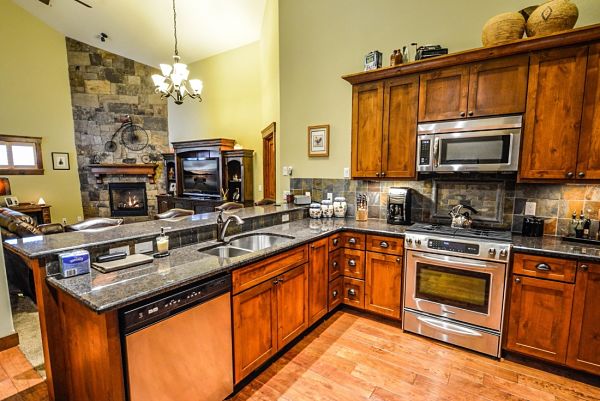 Until now, no one thought about the fact that the oven can be at chest level, and now many people place a built-in microwave or a coffee machine over it. And then it turns out that reaching for a hot cup of coffee or a plate of soup is very uncomfortable. Moreover, it's rather unsafe for your children! Don't place these kitchen appliances too high!
7. Poor Lighting
To make the process of cooking convenient, provide lightning to all main work areas.
8. The Lack of Sockets
Plan not only the location of the large kitchen appliances but also the areas where you will place a kettle, toaster, blender, steamer, etc. Sockets must be close to the work surface and they must be in sufficient quantities.
You can design your kitchen in different ways but first of all, you should focus on convenience and comfort because the kitchen is the place where a big friendly family, friends, and relatives gather at the same table. That is why it is important to preserve the atmosphere of sincerity and home warmth in any interior.
What mistakes have you done when making your kitchen layout?  Do you like your kitchen or not? What changes would you like to make?  What is your ideal kitchen? Share your ideas and tips in the comments.
Read more: DIY breakfast bar
8 Kitchen Layout Mistakes You Don't Want to Make
was last modified:
March 7th, 2023
by
Recommended