Whether you're trying out an old family recipe, reading the newspaper or simply helping your kids finish their schoolwork — a well-lit kitchen brings out the best in you. And, this is exactly what we'll talk about here — kitchen recessed lighting and the best way to plan it. Trust us, these can lights will put you in a great mood every time you enter your cooking area.
Since a kitchen is a multi-functional space — with you juggling a variety of tasks here — it goes without saying that it needs good lighting. Because admit it, an underlit kitchen is a mood-killer!
You require good task lighting (for specific purposes like food preparation and cooking), accent lighting (for visual interest), and general ambient lighting to create the right mood by enhancing the overall aesthetic.
And, here's a super tip: Recessed lights aka pot lights offer task lighting, decorative lighting, or shower lighting — all in one!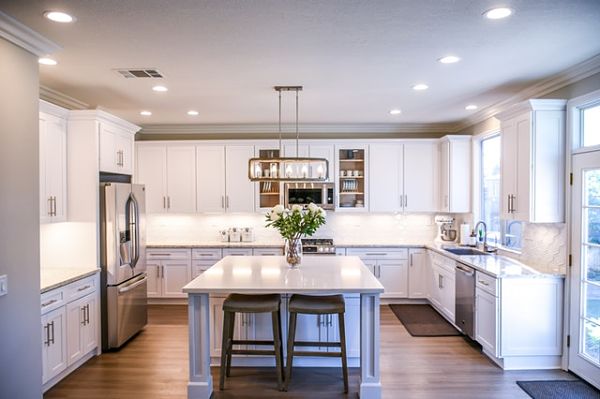 Having said that, you need to plan your kitchen recessed lighting before you decide to install them. Most lighting experts agree that there are a few things to consider when installing recessed lights. Which type of recessed light to buy? What should be their size and placement? Do you need an IC (Insulation Compatible) or AT (Air Tight) fixture? Which part of the kitchen do you want to highlight? Do you want a pool of light or a focus spot? How to get the necessary wiring to your new recessed light?
Kitchen recessed lighting doesn't just add visibility to your cooking space but also interest and ambiance.
Instantly estimate the cost of your remodel...
...or take your time to personalize dozens of choices to transform your house into your dream home.
For a good kitchen lighting plan, you should layer your lighting. For example, you can combine recessed lights with decorative pendant lights, table lamps, wall-mounted sconces, or even candles. And, you'll want mood lighting and dimmers to help highlight your kitchen cabinets, priceless China collection, and counter spaces. All of these will go a long way in making your kitchen feel balanced and inviting.
Read more: Indirect lighting ideas make your home inviting stylish
Kitchen recessed lighting plan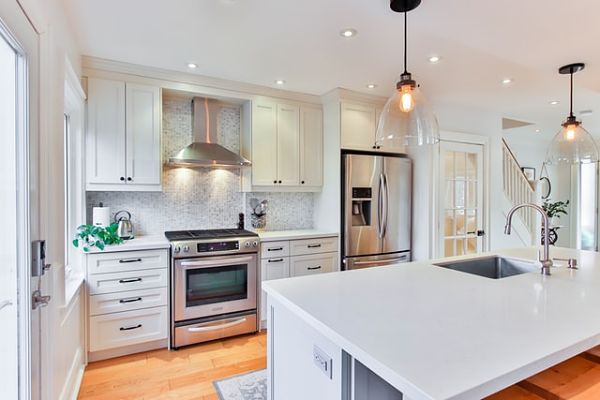 Want to create a great kitchen recessed lighting design? Begin by drawing out a rough map of your kitchen and plan where you want to place the recessed lights — leaving the areas where you already have ceiling lights or range lights. Remember that your new recessed lighting should complement your existing fixtures.
Keep in mind that using too many recessed lights may leave areas of your kitchen dark or a little too bright. Not to forget, give you a sky-rocketing electricity bill. To determine the right placement of your recessed lights, a good rule of thumb is to divide the height of the ceiling by two. For example, if your kitchen ceiling is 8 feet, you should space your recessed lights 4 feet apart.
Best type of recessed kitchen lighting
LED lights are one of the best types of recessed lights. These energy-saving light fixtures can save you a significant amount of money in the long run. The Science behind it is that the LED bulbs burn at a much cooler temperature than conventional light bulbs. Moreover, they have a much longer useful lifespan than your regular lights.
For best lighting results in your kitchen, place 4-inch and 5-inch LED fixtures for good overhead countertop lighting, 6-inch fixtures for general lighting, and 7- to 9-inch fixtures for a wider wash of light.
Choosing housing and lights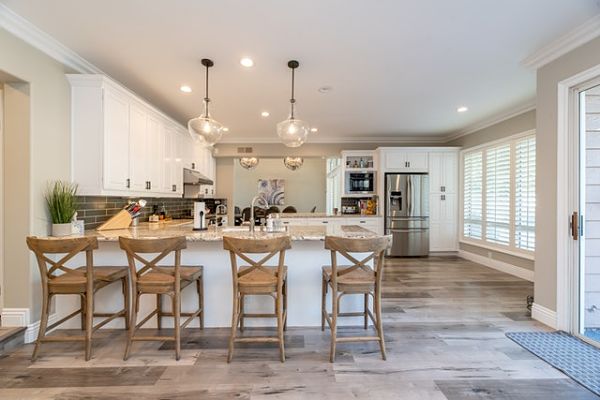 You'll have to decide which type of recessed housing your lights will need. If there's insulation above the kitchen ceiling, you can choose IC-rated housings. It works well in contact with the existing ceiling insulation. But, if it's a brand new kitchen space in new construction, you should use non-IC housings.
You can mix wide-angle lights for ambient lighting with narrow-beam lights for focussed lighting over your counters, stove, and sink.
Areas to place your kitchen recessed lights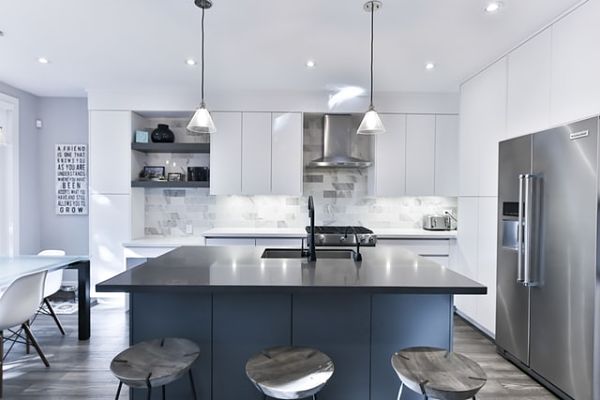 Kitchen recessed lighting offers a minimalist, clean look. It can be used throughout the space, including over kitchen countertops and island bars. It's especially great for general lighting in open floor plan areas. You can also use these pot lights to highlight your stovetops. Or, use them as cabinet lights.
How far apart should recessed lights be placed?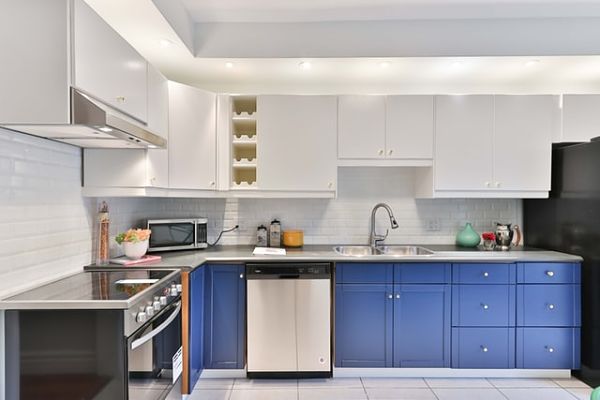 Measure your kitchen to determine how many light fixtures you'll need. Experts advise using one recessed light for every 4 to 6 square feet of ceiling space. Such an arrangement gives off an even, overall illumination.
Another common lighting layout is to place the kitchen recessed lights around the perimeter of the room. That way, they will be aimed at the countertop edges — effectively illuminating counter work areas and the kitchen sink.
Adding a dimmer
You can adjust the ambiance and mood of your kitchen with dimmers. They also help you save energy and extend the average lifespan of your light bulbs.
It's a good idea to use separate dimmer switches for different zones of your kitchen. For example, a separate one for the counter areas, undercabinet lighting, the kitchen island, and pantry. It'll give you a wide range of lighting options — as and when required. You can always place the rest of the non-recessed lighting on dimmers as well.
Kitchen recessed lighting cost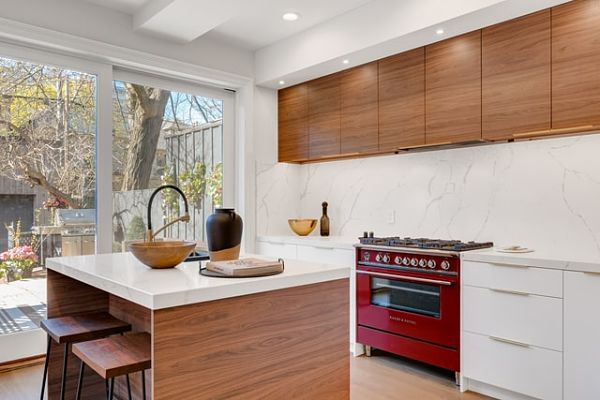 The average cost of installing recessed lights comes to $360. Keep in mind that installing the lights would involve paying about $200 to $250 to an electrician. The wiring of lights into the ceiling would cost you $70 to $140 per light. And, if the professional needs to move around any obstacles such as heating ducts, joists or other wires — it could mean an additional $200 per light.
Read more: Why do my recessed lights flicker
Last words
Your kitchen is perhaps the most important room in your home. It's here that you mull over things over a hot cuppa in your "me time", before beginning a whole new day.
No matter how great the kitchen design is, if it has bad lighting, it'll prevent you from doing anything productive here. Recessed lights — when used strategically — can easily remedy that. We hope this article will help you with the placing of your kitchen recessed lighting — at the right places and in the right numbers!
Read more: Dreamy Bathroom Lighting Ideas
How to Plan Your Kitchen Recessed Lighting
was last modified:
September 19th, 2022
by
Recommended