When it comes to living room lighting, most homeowners find themselves in a quandary regarding the best type of light fixtures to use. And, we understand the confusion. Unlike other rooms in the house that have very specific functions (cooking, dining, bathing, or sleeping), a living room is versatile and can be used for just about any task or activity. 
Its broad convenience makes it slightly difficult for you to design its lighting — in the most perfect way in terms of form and function.
A living room is where you entertain friends and family, relax after a hard day at work, curl up with a good book, or binge-watch your favorite TV shows. No wonder you need to carefully plan the lighting for his multi-purpose space. 
From providing ample ambient light for the kids to do their homework to spotlighting the family photos on the wall — you need many lighting layers to make your living room come to life.
Interestingly, the key lies in the Science behind the light layering. Every living room requires three types of lighting: ambient lighting, task lighting, and accent lighting. While ambient light provides a room with overall illumination, task lighting directs light to specific zones, and accent lights illuminate particular objects.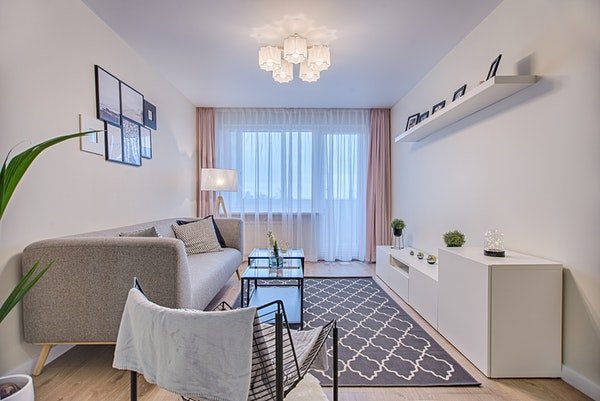 All these types of lighting are equally important in a living room — spreading the light in different ways depending on the design. 
In this article, we will explore all the three kinds of lighting strategies, the required light fixtures, and the benefits of using these. Keep in mind that the first step is to think about what each area of the living room needs. Then, try breaking down the room into various functional areas. Once you know the requirements, proceed to choose the perfect layers of lighting.
Ambient lighting
Ambient light refers to the overall, diffused background light that fills your living room throughout. Such illumination is usually provided by light fixtures scattered around the space. Keep in mind that it may not be sufficient for specific activities such as reading. 
Types of light fixtures used in ambient lighting
Some popular light fixtures that produce ambient light for your living room include stylish chandeliers or pendant lights hanging from the ceiling, strategically placed wall sconces, flush or close-to-ceiling light fixtures overhead, recessed lights across the ceiling, or a ceiling fan with integrated light. 
All of them cast a warm glow in your living room — providing general illumination that makes the living room feel cozy, comfortable, and inviting.
FYI: You can use energy-efficient solutions such as LEDs, lamps with dimmers or three-way controls.
Benefits of ambient lighting
This kind of background lighting is especially advantageous at night when the light from lamps is not sufficient. 

Ambient lights beautifully illuminate the whole living room — providing a lovely warmth. You can switch them off if you ever need the gentler lamp lights.

A light with a dimmer switch sets the right mood for your living area. Today, you can find LED light fixtures that are dimmable.

Ambient light is easily accessible as you enter the room — it's easier to switch on a bright room light than looking for a lamp switch.

Such lighting highlights every corner of your living room at once.

It provides the ideal setting for a family reunion or a casual dinner in front of the TV.  
Accent lighting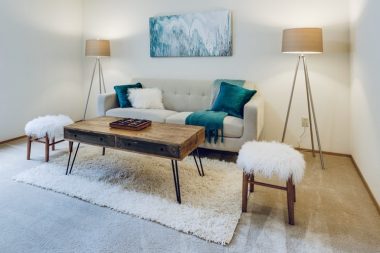 Accent lights add subtle touches to your living room's overall lighting– adding a soft glow in specific areas. It won't be wrong to say that these lights are more for decoration than having a specific function. 
Having said that, we feel accent lighting breathes life into a living room. For instance, this kind of lighting is perfect when you want to highlight the architectural features of your living room. It could be a beautiful fireplace, textured accent walls, or modern artwork. 
The rule of thumb is that correct accent lighting must supply about five times more light on the focal point than surrounding light.
Types of light fixtures used in accent lighting
Recessed lights, accent lamps, adjustable lights directed to points of interest, up-lights or can lights, under-cabinet lighting, spotlights, vanity lights, and picture lights are some of the most popular examples of accent lighting.
Benefits of accent lighting
Accent lighting is more about enhancing the aesthetics of your living room rather than its functionality. A living room space with good lighting is bound to be a place of comfort and inviting. 

You need accent lighting such as a Tiffany lamp to highlight an ornate mantel, fireplace, or side table. 

Accent light fixtures serve a double purpose of decorating the room while providing an extra touch of light. 

Up-lights or can lights shine light onto walls and surfaces — breaking up large areas of monotonous color and softening the look. 

Accent lights give subtle touches to your living room decor — beautifully adding to the overall atmosphere and mood of the room.
Task lighting
As the name suggests, task lights illuminate specific areas or tasks. They highlight a particular corner including, next to a chair, over a table, etc. These living room lighting ideas help you to get things done. It could be using a floor lamp with a swinging arm for reading a book or using a portable table lamp for writing at a desk in your home office next to the living room. This kind of localized lighting is equally important in your home. 
Types of light fixtures used in task lighting
These focussed fixtures include a table or floor lamps next to a chair or sofa, reading lamps or desk lamps, task lamps or full-spectrum lamps designed for hobbies and crafts, swing-arm lamps, and wall lights that are extendable.  
Benefits of task lighting
You need not bathe the entire room in bright light, just illuminate the functional areas.  

Task lighting is ideal for specific work such as reading a book or pursuing your creative hobbies.

It prevents unnecessary glare, especially useful if you want to watch a movie or your favorite TV show. 

Most task light fixtures are portable and adjustable and can be easily moved or manipulated.

This type of lighting is perfect when you want a lower level of light for a relaxed mood or atmosphere. 
Together, the three modern lighting strategies create interest and add sparkle to your living room. Whether you want a decorative light in one corner or a lighting track to add coziness to your living room — the choice is up to you.
Living room lighting tips
Now that you've got the hang of how and where to illuminate your living room, here are some living room lighting tips for you in case you're contemplating a remodeling. 
Planning a renovation for your living room? Try our free living room remodel cost estimator; it's easy and convenient to use!
Think about the amount of light you want each area of the living room to have.

Decide on the number and placement of the light source. 

Keep the reflectivity of objects and surfaces in mind. Know that darker surfaces absorb light. 

Aside from the various lighting fixtures, ensure that your living room allows sufficient sunlight or natural light through well-placed windows. 

Get light fixtures with enough wattage or brightness. 

While choosing lighting ideas for your living room, keep both functionality and style in mind.

Hire a professional interior designer if you need help with your renovation. 
Conclusion
Just as you spend a lot of time and effort to choose your home furniture, wall paint color, or home decor items — you need to carefully select the perfect living room lighting too. 
Proper lighting serves an important purpose in both the function and look of the room — determining its overall mood and ambiance. 
A well-lit living room looks warm, inviting, and stunning. Breathing life into your space and enhancing its look was never this easy! 
Read more: Living Room Light Idea
A Complete Guide on Living Room Lighting
was last modified:
April 20th, 2022
by
Recommended