10 Useful Home Office Design Tips to Inspire Productivity
If you often bring your office work home or work from home, you'll know the importance of a good home office design. Such a space is also great for when you need a place to go through the bills, mails, or important paperwork. The good news is that you can create a comfortable home office design if you plan well.
We have some extremely useful home office design tips for you. Since such a space creates a fine balance between your work life and home life, it's important that it remains secluded and away from the constant distractions and humdrum of daily life.
The idea is to create a space that's comfortable and practical. After all, a well-organized home office is the key to producing your best work.
So, let's gear up for some home office design ideas that will help enhance your productivity within a charming workspace.
And, in case, you plan to renovate your existing home office after reading our tips, you can try our free home remodel estimator to see how much it would cost!
1. Get ergonomically correct office furniture
Your health, safety, and welfare are important. Therefore, the office furniture you choose must be ergonomically designed in order to give you maximum comfort and least stress. They should be beneficial for your overall health and well-being. Look for a conveniently sized computer desk and office chair.
For instance, if you'll be spending a good amount of time here, opt for an oversized, sturdy desk along with a good-quality, ergonomic task chair that is adjustable. Such a desk chair will generally be kind to your back and spine during the long hours of computer work.
Apart from chairs and desk, you can consider footrests, a mouse that's shaped to fit your hand, or keyboard pads that allow your wrist to rest and relax. All of these will be helpful in enhancing your productivity and make your work less stressful.
2. Keep the decor stylish, functional, and motivating
When selecting your office decor items, be sure to consider style as well as functionality. Also, they should complement the other rooms in your house. For instance, if you have a traditional décor, it's best if you go for warm wood comfy chairs. A contemporary home office will look great with artistic pieces or modern home office furniture in metal.
Choose accessories that are pleasing to the eye. A pretty painting on the wall, inspirational quotes, pictures from your last vacation, a memorable mug, trendy notepads, or a funky couch.
Keep things that motivate you to create your best work. A boring home office can sap your energy soon enough — making it hard for you to work. Don't let your home office space get tedious and dull. Let your office decor bring you joy and inspiration instead.
Read more: Achieving the Balance in Home Office Design
3. Make your work corner private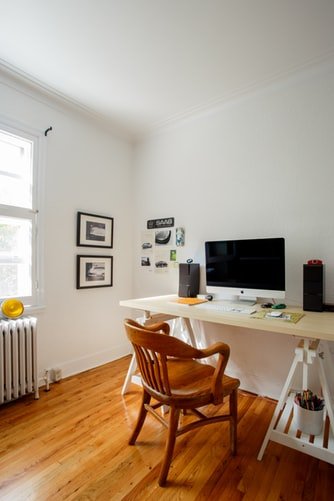 Photo by Nathan Van Egmond on Unsplash CC0
Privacy in a home office is crucial. No one can work effectively if there's a lot of noise or interruptions. Keep the office space away from the surrounding activities.
You can use portable screens or divider walls (which can double as a bookcase) to cordon off the work area.
Further info on home design? Take a look at our Home Design Ideas To Make Your Space Look Luxe

The bottom line is: you need quiet and peace in order to concentrate and work. If nothing else works, it may be helpful to add a sign such as 'Silence Please' to remind others that you're working.
Let's review the basics on Overcoming the Challenges of Remote Work.
4. Give your home office some room and a view
Since you might be spending considerable hours here, keep your home office design roomy. There's no need to squish a minuscule desk into a windowless space next to your dining room or living room — just to preserve your guest room.
Also, your office deserves a lovely view too. Place your desk where you have the option of looking at something interesting. You don't want to stare at a blank wall when you glance up from the computer, do you?
Read more: How to Design a Good Therapist Office at Home?
5. Get ideal lighting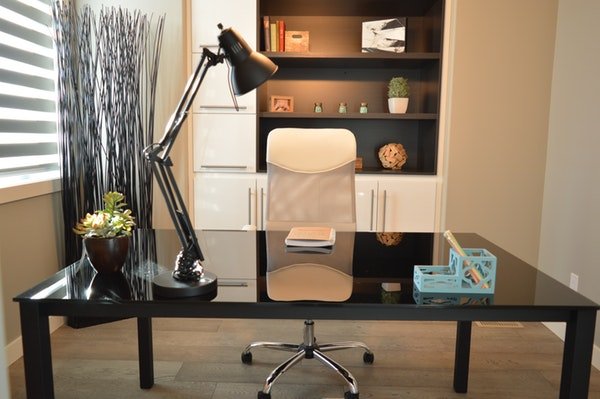 Ensure that your office is well-lit. This is a must as good lighting will reduce eye strain and headaches. Place your computer monitor in such a way that there's no glare from a window or overhead light.
It helps if your home office gets a lot of natural light; it will enhance your concentration and make you more alert. If lighting is too low, there can be negative psychological effects, including depression. Something you would want to avoid at all costs!
If your office is in a basement or a windowless room, it'll pay you to invest in energy-efficient, full-spectrum lighting. Put a small desk lamp or a floor lamp for task lighting. This is especially handy during late nights or cloudy days.
Interestingly, there are lots of ergonomic task-lighting fixtures that come with dimmer switches so you can control the amount of light you need.
6. Paint your walls with pops of your favorite colors
An office with neutral walls is as boring as can be. So, grab that paintbrush and color your home office with vibrant hues to get your work motor going. Try bright, cheerful colors such as orange or lime green. If you want a more calming effect, you could opt for botanical green or seafoam blue. These colors are known to promote performance.
Want to find out more about how certain colors can affect your mood? Read up on Color Psychology.
7. Let your home office design have planned storage
No matter how big or small your home office is, you'll require storage space. A safe place to store all your bills, files, letters, or bank statements. Properly planned storage is the key to have a neat clutter-free home office.
If square footage is an issue, don't worry. You can utilize each and every corner of the small space efficiently. Organize your storage vertically and horizontally. Add built-in or floating shelves and drawers.
The drawers will be handy in keeping your office accessories such as pens, pencils, highlighters, tape, and calculators. Consider getting a nice basket to tame your mail, notes, and papers.
8. Keep a minimalistic design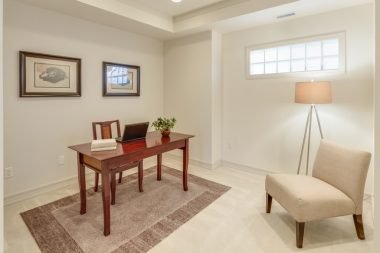 Photo by Francesca Tosolini on Unsplash CC0
If you follow the above-mentioned home office idea, chances are, you will have more desk space to work on and it will keep the papers and office equipment off the desk.
Let your work desk just have a laptop or desktop computer and minimum work-related items.
Keeping things organized is a great way to keep stress at bay. Also, a clutter-free work area is essential for productivity as it prevents the chaos of disorganized piles. Also, hide all the unsightly wires and cords.
Make sure that your office equipment is close to outlets and easy to access if you need to unplug. You can either hide the cords into a desk grommet or guide them through a hole in the desk with plastic or metal caps. You can also keep the cords in control with cord winders or a wire organizer.
Read more: Home office cleaning checklist
9. Factor in a comfortable extra seating area
This design idea is perfect for those who run their own business from home. If you're one of them, chances are you're going to have clients visiting you often. Therefore an ample private space with comfortable seating is a must. Make sure that your home office reflects your personal style in its decor.
Read more: Home coffee station
10. Go green
Designing an environmentally-friendly home office is more than being just conscientious towards the earth. It's also about reducing clutter and your expenses. For instance, if you switch to energy-saving light bulbs and power strips, it will save you a lot of money on your energy bills.
Reuse and recycle paper and other items whenever possible. Better still, use digital tools rather than paper-based memos and calendars.
Another eco-friendly way to fight stress is to surround yourself with a lot of indoor plants. They will not only enliven the space but also help you keep calm.
Conclusion
Most office-going Americans, at some point in time, do get their office work home. Or they perhaps need a dedicated spot to sort their household bills and mails.
So, whether you are running a business from home, bringing in tons of paperwork to complete, or just need a nook to organize your documents — you deserve more than a tiny desk and chair stuffed into a spare corner.
A good home office design is bound to encourage creative thinking and spark a sense of wellbeing. We hope our 10 tips on how to design a home office help you create the perfect work-from-home sanctuary.
And in case you want to take the task of full home improvement instead of just a room, please see our guide on how to get the job done!
More ideas? Take a look at these 15 Home Office Decor Ideas to Enhance Your Efficiency
Read more: Practical, efficient home office floor plans by an architect
10 Useful Home Office Design Tips to Inspire Productivity
was last modified:
October 31st, 2022
by
Recommended