Our all-inclusive home office cleaning checklist
The recent pandemic has forced a lot of small and medium-sized business owners to work from home. As a result, a lot of us have taken great pains to convert a part of our homes into functional home offices.
Keeping these working spaces spic and span is essential for more than one reason. For one, you would not want to meet clients and conduct your business in an unkempt environment. It has also been proven that an organized and tidy working environment encourages increased productivity.
While a professional cleaning service may be too expensive to hire, use our all-inclusive home office cleaning checklist to help you streamline your cleaning tasks.
Plan your home office ideas just right with our estimator tool.
Declutter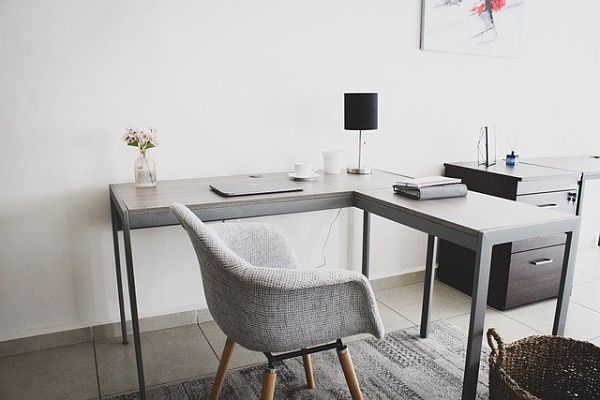 The first thing you need to do is clear your home office of unnecessary clutter. Here are some tips on how to achieve that.
Don't leave books and stationery lying around. Have dedicated shelves to organize them in, and make sure you use them.
You don't need to always have papers lying around, nor do you need a large filing cabinet, now that everything's online. Do away with unnecessary furniture.
A dry-erase board with markers in close reach is a great way to take notes and jot on ideas on the fly. You can quickly take photos of those ideas on your smartphone and erase the board to be used again. That way, you use less paper, and you always know where to find your notes.
Have a few bins lying around the office that you can chuck the stuff cluttering your space into and organize later when you have the time.
Read more: Why are japanese homes so clean
The cleaning process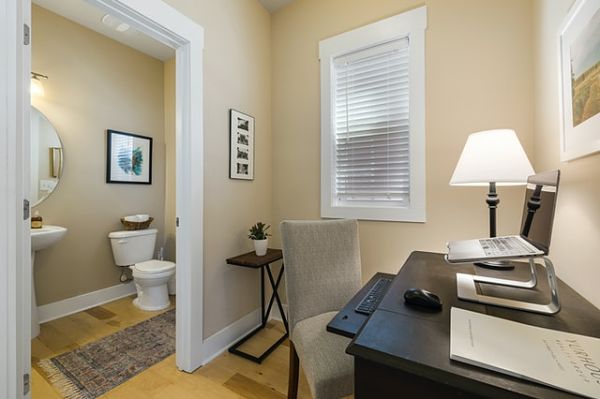 Now that the clutter is out of the way, you can begin your office cleaning in earnest.
Begin with the shelves. Remove all the books, magazines, and knick-knacks from them. Then, dust them down thoroughly. Always remember to work from the top of the shelf downwards.
Next, use a soft-bristle paintbrush to remove any dust present on the book bindings. Place your books back on the shelves when you're done.
Next, clean your desk. Begin by clearing your desk out completely. Use a damp microfiber cloth to wipe your entire table, including the legs. The same cloth can be used to wipe down your tabletop stationary as well.
A microfiber cloth is the best thing to use to wipe your computer screen, CPU, telephone, and other office electronics. Once that is done, clean and disinfect all keypads, headsets, and chords using disinfectant wipes.
Our chairs are often a lot dirtier than we realize. Scrutinize your chairs for stains and spills. Attend to them with a cloth and cleaner. Use a brush attachment on your vacuum cleaner to clean the fabric seats.
Once that is done, wipe down the arms, legs, and wheels of the chairs. Sometimes, the wheels have more crud than we expect on them. If that's the case, use a toothbrush to clean off the crud and then wipe the wheels down.
Move all the heavy pieces of furniture that haven't shifted in ages and vacuum clean every square inch of your home office. Include the insides of cabinets as well. Those are some of the places dust loves to hide. Another spot where dust balls tend to form is behind electronics.
You can also vacuum clean your curtains and blinds by putting your vacuum cleaner on a low setting with the brush attachment. If you're deep cleaning your office, get your curtains washed.
Clean the light fixtures in your home office using an extendable duster or a microfiber cloth.
Using a sponge and either soapy water or glass cleaner to clean your windows.
Read more: House cleaning cost
Regular upkeep tips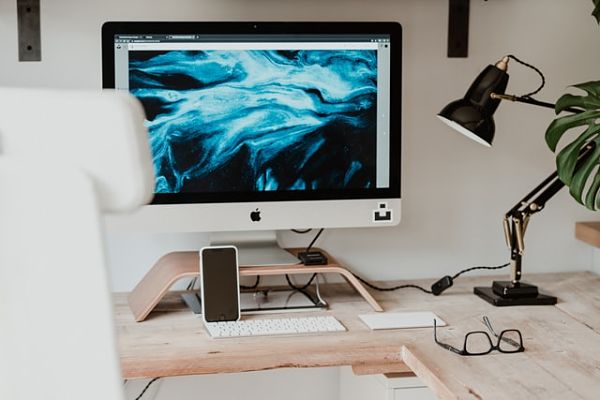 While using the checklist above is sure to leave your home office spotless, keeping it that way for a while will require some regular upkeep.
Planning for home office furniture? Get the best estimate with our tool!
Wipe down all surfaces including tabletops and the top of your cabinets on a daily basis.
Use a hand vacuum to clean your chair and the area around your desk at least twice a week.
Dust your office at least once a week.
Read more: Air vent cleaning
Our all-inclusive home office cleaning checklist
was last modified:
August 29th, 2022
by
Recommended