15 Home Office Decor Ideas to Enhance Your Efficiency
Who wouldn't want to work in a room that motivates you with its beauty? If you often work from home then you will agree that an eye-pleasing office space is a necessity to keep your productive juices flowing. We have 15 gorgeous home office decor ideas that will not only inspire your creativity but also help organize your office work.
With these brilliant ideas, your office is about to become your new favorite room. Whether it's a DIY with repurposed office desk, natural lighting, uncluttered surfaces, or a sleek table for a limited square footage — we have something for everyone.
Here are these amazing home office decor ideas that will help your productivity flourish as well as make your workspace look splendid.
Read more: Essential Office Renovation Ideas
1. Bring the outdoors in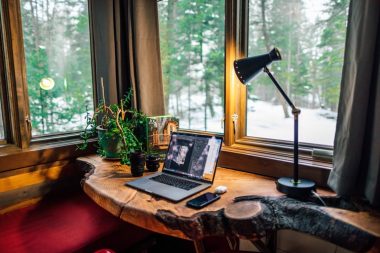 Photo by Roberto Nickson on Unsplash CC0
With a unique work desk cut out from a tree and the windows giving you a mesmerizing glimpse of mother nature, this workspace feels more like a cottage out of a fairy tale rather than an office. Can you imagine, just how relaxing this home office would be?
Let's review the basics on Overcoming the Challenges of Remote Work.
2. Create a clutter-free zone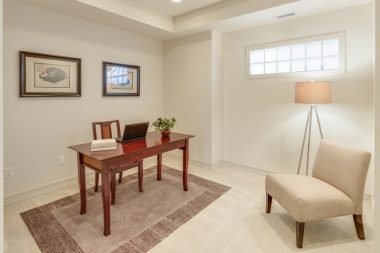 Photo by Francesca Tosolini on Unsplash CC0
A clutter-free home office is key to an increased productivity and better performance. We love how the neutral walls and classy office furniture help to create an upscale office space design. The teak desk, the tall floor lamp, and the framed artwork do their bit to add to the elegance. By the way, we feel neutral hues are the best colors for a home office as they lend a positive vibe to the area.
3. Add focus with pendant lights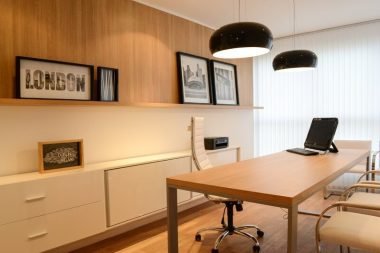 Photo by Pxhere CC0
Your office desk is where you get all your work done. It's a good idea to create the perfect task lighting for this area. The simple yet powerful pendant lights offer focussed illumination while remaining unobtrusive. We'd also like to mention the sleek cabinetry that helps keep any messy papers out of sight.
Further info on pendant lighting? Take a look at this guide on how to get an industrial touch with pendant lighting
4. Create a cozy nook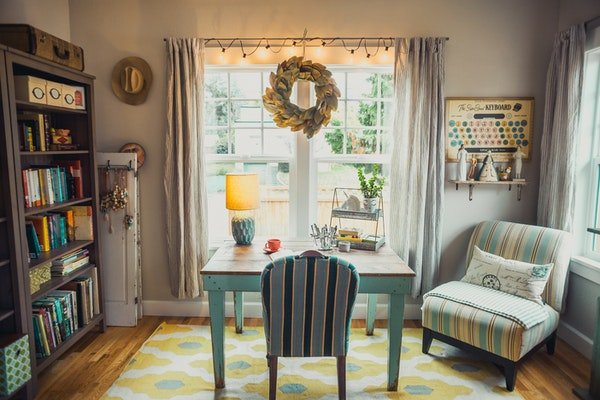 If you're one of those easygoing people working in a creative field, in all probability, a formal-looking office space will not be your idea of the perfect workplace. You'd rather prefer a cozy home office that's full of warmth and colors. This whimsical mix of comfy chairs, a simple green table, an old bookcase, and a wreath with fairy lights will be more your style.
Read more: How to Successfully Work Remotely with Clients
5. Use a luxe carpet
Well, for those who like things prim and proper, a tastefully done up separate room creates the most productive home office environment. If you too are one of them, don't be afraid to use a straight-backed no-nonsense office chair, a gorgeous leather chair for your break time, floral drapes, and a luxurious Persian carpet.
6. Bring in an eclectic mix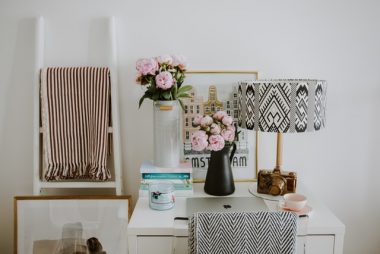 Photo by Alisa Anton on Unsplash CC0
Who says a home office has to look sharp and formal at all times? We don't. Your workspace should reflect your fun personality too. Decorate your office with quirky accessories that appeal to your senses. For instance, you can let your favorite jug do double duty as a vase, add a modern lamp with geometric patterns, throw in your warm blanket, and place some scented candles on the desk. Remember that you need to feel happy and comfortable in this space. Only then will your creativity flourish.
7. Opt for an all-white minimalist workspace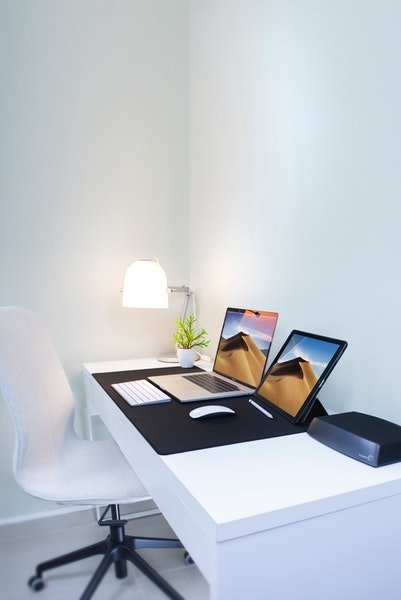 There's something very clean and fresh about white walls. If you use white throughout your home office, it's bound to feel airy and sunny. And, if you think the color is looking a little too sharp, try adding pops of colors through your office accessories. Place a planter here and there to breathe some life into this space. But, keep it minimalistic if that's your style.
8. Add ample office lighting
The correct type of lighting can really spruce up your space. You can add bold accent lamps, wall sconces, table lamps, and stylish hanging lights. However, do make sure that your home office gets ample natural light too. There's nothing like nature doing its bit to enhance your productivity. Your office will look bright and cheerful, and so will you.
9. Repurpose office furniture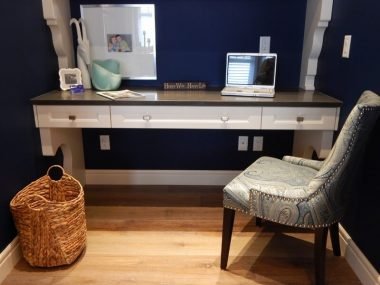 Photo by Pxhere CC0
This decor idea is perfect for small home offices. And, for even those who are on a tight remodeling budget. If you see closely, you'll notice that the office desk is actually a repurposed old dresser! A comfortable wing chair and a jute basket help to create a separate enclosure for your office space.
10. Use flowers for a budget-friendly office decor
Here's another office decor idea for those who don't want to break a bank in order to design this space. All you need is a no-fuss wooden table, a vase with your favorite fresh flowers, and your laptop — and you're set. You can move this arrangement to any part of your house — even outdoors!
11. Add open shelving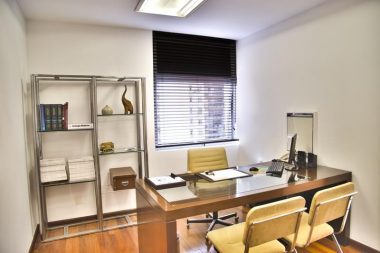 Photo by Pxhere CC0
Good storage space is sometimes an integral part of your office requirements. It helps to declutter the area and keep your documents, files as well as folders organized. If built-in filing cabinets are not possible, install sleek open or floating shelves that aren't bulky. The best part is, you can place them in the most convenient spot of the office.
12. Create a woodsy effect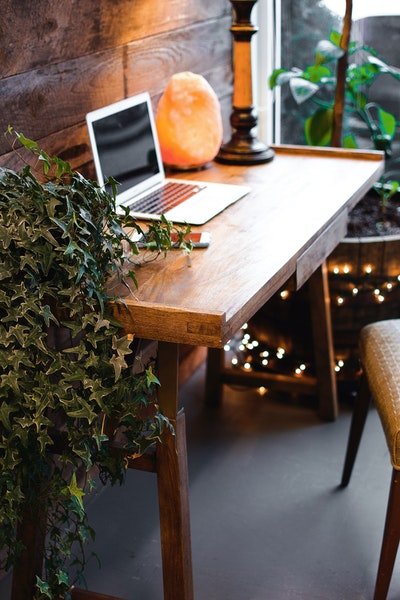 So, what if you do not have a separate enclosure for your workplace? Even if your office is a part of your living room, or is tucked away in your family room, you can still use smart decor ideas to demarcate the area. Try turning this space into a mini workstation or a tiny office nook. Place your desk against a wall, add in a table lamp, a straight chair, and some greenery — and you're ready to get those creative juices flowing.
13. Hang an interesting wall art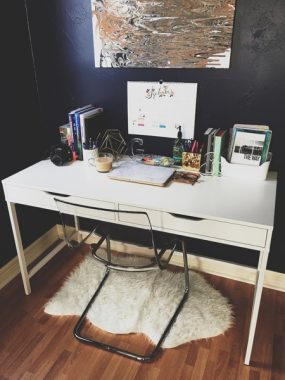 Photo by Pxhere CC0
Even if you're crunching numbers all day, your time in here need not be as boring. Hang an artwork that speaks to you. Better still, let your children paint random images and hang their work up on the wall. You will feel more relaxed and happy just looking at this wall hanging that's their lovely labor of love.
Take a look at these Tips for Choosing the Right Wall Art for Your Interior Space
14. Get inspiring quotes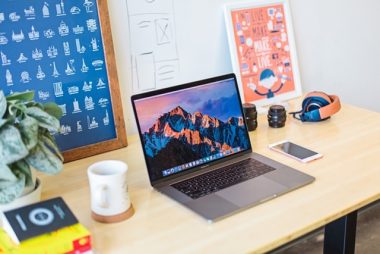 Photo by Mia Baker on Unsplash CC0
Nothing motivates more than inspirational quotes. Place your favorite lines and aspirations in your home office. You can even create your own gallery wall with the snippets. Every time you look up from your desk, you will feel a surge of energy and a positive outlook. And yes, how could we forget a hot cuppa to add to your efficiency!
15. Create a focal point with an accent wall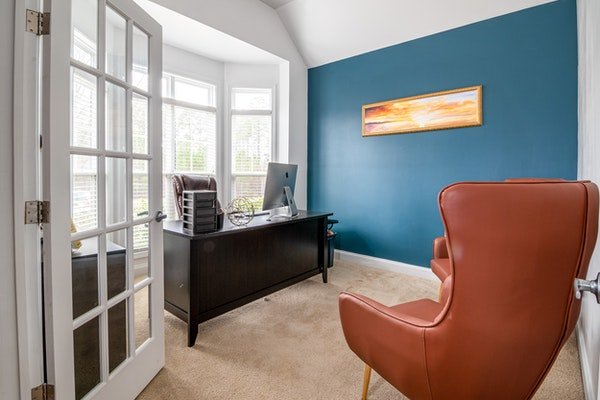 Even if you prefer a minimalist office space with a neutral color, a bright pop of color will do you good. An accent wall, for instance, will help inspire you — even when you're feeling bogged down with work. And, the best color for your accent wall? Blue. Research shows that blue color has the most calming effect on a person. So, if you're feeling stressed about work, try painting your office walls or only a single wall blue.
Let's review these top accent wall Colors that will make you go wow
Last words
A wonderful home office environment can help you focus on your work better and efficiently. A dedicated workspace keeps you away from the household distractions and yet lets you be a part of all the action. We hope these home office ideas will inspire you to design your own work-friendly space where you're at your efficient best.
Read more: 10 Useful Home Office Design Tips to Inspire Productivity
15 Home Office Decor Ideas to Enhance Your Efficiency
was last modified:
May 30th, 2022
by
Recommended