Whether you work out of an office space or have a home office to support your small business, work environments often tend to be bland, austere, and boring spaces. However, that doesn't always need to be the case. On the contrary, office spaces are meant to promote productivity, creativity, and wellness. Here are some essential office renovation ideas to help you transform your offices into a high energy, high-performance spaces. We'll also take a quick look at office ideas to renovate home workspaces.
Office Renovation Ideas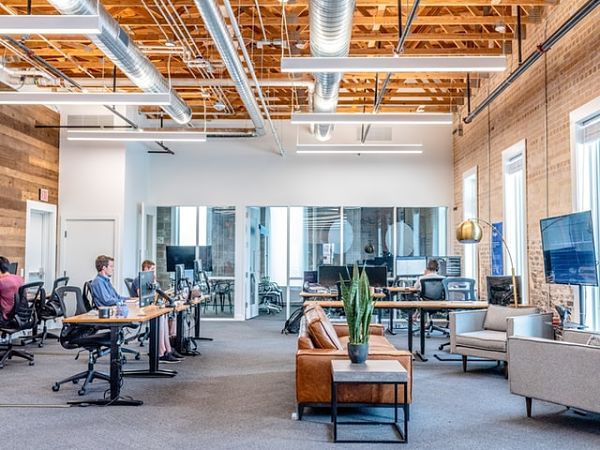 1. Do away with cubicles
The work culture that needed people to be stiff, stuck to their files and systems, and devoid of unnecessary interaction is now a thing of the past. New workspaces are finding that getting everyone to work in an environment with an open plan devoid of cubicles and walls to separate them actually encourages brainstorming, team effort, and a feeling of being a part of a community.
Start your office remodel by moving away from commercial design norms and getting rid of cubicles. Instead, opt for bench seating to encourage interaction and collaboration amongst teams.
2. Design breakout spaces
Sometimes, productivity is achieved by working away from the crowd. Among the design ideas that are trending in young workspaces around the world right now to encourage those moments of working in solitude are breakout spaces.
A breakout space could literally be a hole in the wall with cushions to rest on or a quiet nook away from the crowd. Formal office furniture should be done away within these spaces. The aim is to keep the space vibrant, comfortable, and informal.
Read more: Home coffee station
3. A modern take on meeting rooms
While open-plan offices are great to keep energy levels high and encourage interaction, it is also necessary for teams to sometimes huddle and brainstorm away from the general populace.
A modern take or the traditional meeting rooms is to design private workspaces alongside the open floor large enough to accommodate small teams. Once again, keep the decor informal and youthful.
Read more: Office desk decoration ideas
4. Buy the right kind of furniture
Considering your employees and you will spend at least 40 hours a week at work, office furniture becomes of paramount importance. So while planning your office overhaul, make sure you buy the right kind of furniture to support those long working hours.
What you need to invest in is ergonomic furniture, which reduces body stress, encourages better posture, and provides much-needed support to your body.
Planning for home office furniture? Get the best estimate with our tool!
Home office renovation ideas
While we're discussing office renovation ideas, let's also quickly take a look at home office design ideas to help convert your home office from a desk in your living room to a professional workspace.
Read more: Home office cleaning checklist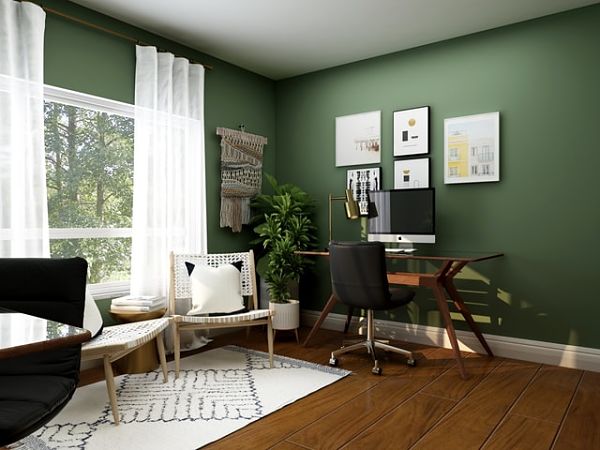 1. Create space
Considering you're going to be spending a lot of time working from your home office and possibly even meeting clients, create sufficient space for an office set up. This may mean converting a garage, basement, a loft, or even a guest room that doesn't really get used very often into your office.
Home Renovation Cost Estimator
Sorry, we currently don't have that project at our disposal.
---
You can take a look at our most popular ones:
Water Heater Installation
Exterior Door Replacement
Install Recessed Lighting
Exterior Door Installation
Interior Door Installation
Interior Door Replacement
2. Function over form always
When it comes to furniture, make sure you choose function over form. Choose furniture that helps make your working hours more efficient. Ergonomic chairs, convenient shelving, and sufficient lighting all go a long way in this respect.
That being said, your office does not need to be drab. Plan your furnishings in a manner that seamlessly merges elements of home decor, office decor, and personal tastes.
3. Choose the right colors
Certain colors are ideal to stimulate the mind, promote internal balance, invigorate the body and help with emotional wellbeing.
Shades of the colors green, yellow, blue, and red are the colors that design experts advocate for work environments. Keep that in mind while painting your home office.
Thinking about home office paint colors? Get the best estimate with us.
4. Use the walls
Art can often be inspirational and can help reduce space in workspaces while being aesthetically pleasing as well. As a part of wall design in your home office, spread some cheer by hanging art or even posters on the walls.
5. Indoor plants
A green office is a happy office. Add a pop of color and energy to your home office by making indoor plants a part of the interior decoration.
Click here to hire professional help with your home office renovation.
Read more: How to make your New Jersey office relocation process easier
Essential Office Renovation Ideas
was last modified:
July 11th, 2023
by
Recommended