A beginner's guide on mixing concrete
Concrete is a great construction material for commercial as well as residential use due to its strength, versatility, and longevity. It has a wide range of applications such as in patios, fence posts, concrete flooring, footers, walkways, and slabs. Moreover, it can be molded into kitchen countertops, bathroom vanity tops, and sinks. But, do you know all about mixing concrete? If you want to know how to mix concrete for maximum strength and durability, this guide will help you. If you properly mix the concrete, it should last a lifetime.
What are the tools and materials required for mixing concrete?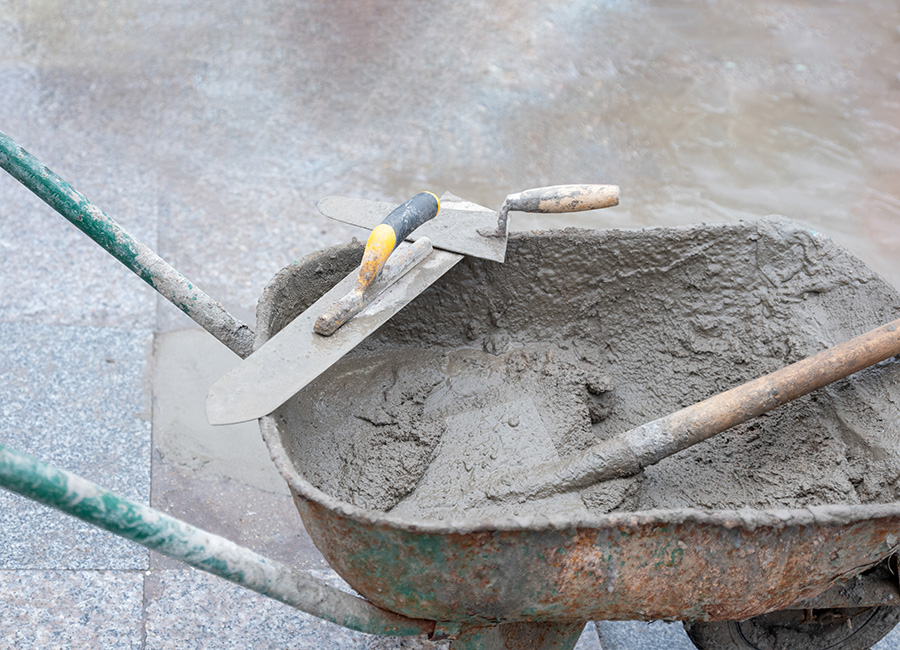 The process of finding the appropriate concrete mix ratio is the same regardless of whether you use a plastic tub or a wheelbarrow to hand mix the concrete. Mixing concrete in a wheelbarrow makes it more convenient to transport and unload.
Furthermore, if you have a large project, it's best to rent a mixer for around $35 per day. And often, it may be more cost-effective to order ready-mix concrete instead.
If you're mixing the concrete by hand, you'll need the following items:
Concrete mix
A plastic bucket
Dust mask
Garden hoe
Rubber waterproof gloves and safety glasses
A stiff bristle brush to clean the mixing equipment
A wheelbarrow
What are the tips for mixing concrete?
The first thing to keep in mind is to protect your skin and eyes as the cement in concrete is caustic and may cause burns. If it gets to your skin or eyes, immediately wash off the area.
The next pointer is that mixing bags of concrete should be done with just the right amount of water. If the water is too little, the concrete particles will not mix properly. If there's too much water, the concrete mix will be runny and lack strength. Your mixing technique should produce strong and long-lasting concrete with minimum effort.
And, remember to use the right type of concrete.
For most DIY home improvement projects such as fence post footings, deck footings, or creating small concrete pads, you can use standard bagged concrete mix. It's convenient and the least expensive. If the work requires many 80-pound bags, it's best to order "ready-mix" concrete from your local lumberyard or hardware store. Keep in mind that a concrete mix is not the same as a sand mix or mortar mix that contains stones or gravel.
To produce an extremely high-strength concrete mix, professionals typically combine the components in the ratio 1:2:3:0.5 – one part cement, two parts sand, three parts gravel, and 0.5 part water.
How to mix concrete?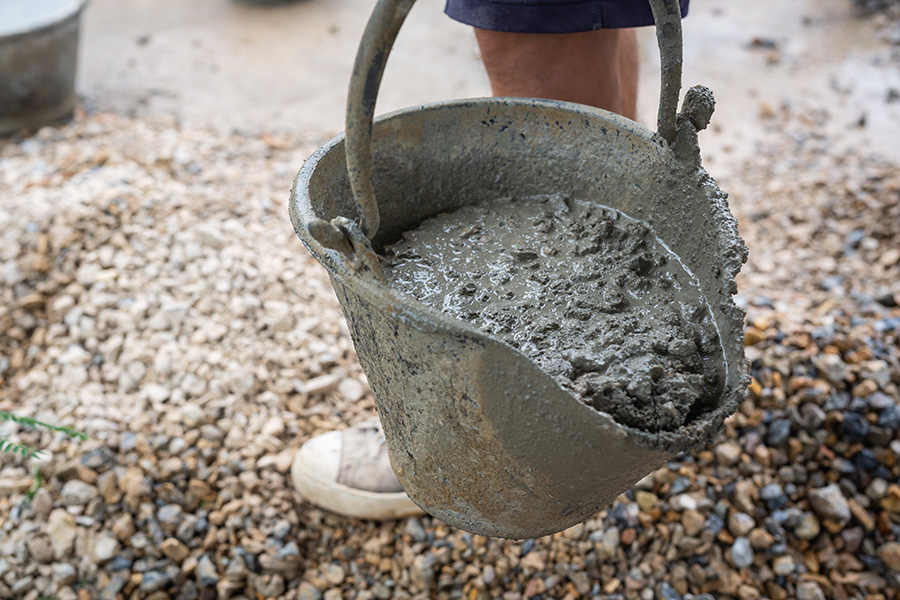 Mixing concrete may seem like a difficult task, but it's not. You just have to know how to do it right.
Buy, slice, and dump the concrete bag
Typically, concrete mix is packaged in a paper bag which displays the cubic feet yield on the front. Keep in mind that for small do-it-yourself projects, you will require the entire bag, but for larger projects such as a concrete patio or porch construction and creating a concrete driveway, you will need multiple bags. To use the batch of concrete, place the bag in a wheelbarrow and open it, lifting the bag gently to pour out the desired amount. Always utilize a sturdy wheelbarrow on a flat surface. You could secure it in place with your knee. On a windy day, it's best to do this step indoors, such as in a garage, to avoid making a mess.
Measure and gradually mix the right amount of water
Adding too much water is a common mistake made by beginners when mixing concrete, which results in a runny and thin consistency. To avoid this issue, ensure the correct concrete mix ratio. Initially, pour a small amount of water into the mix from a bucket instead of using a garden hose. Mix with a hoe, flat shovel, or a spade. Pour the water into the opposite end of the wheelbarrow, leaving approximately 4 cups to add later if necessary.
It is essential to continue mixing for a few minutes after all the water is absorbed because the concrete can become thinner as it is mixed. If additional water is added immediately, it may result in a consistency that is too runny. Finally, it is advisable to keep a few cups of a dry mix of cement available in case the mix becomes too thin.
Get the perfect concrete mix ratio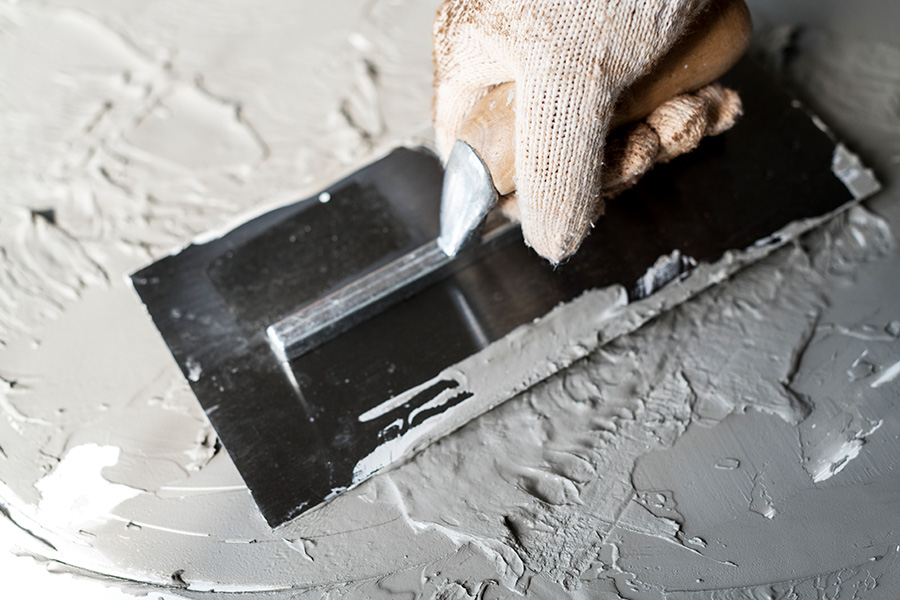 The important thing is to get the right consistency. Think peanut butter or a thick pancake batter.
Mixing dry concrete with a hose to create a soupy mixture might seem like a time-saving solution, but it compromises the strength of the final product and increases the likelihood of cracks. To avoid this, it's recommended to measure the water carefully and add only the required amount. Although the thicker mixture might be a bit more challenging to work with, it's worth the effort for better results.
To achieve the perfect consistency, start by creating a trough in the mix using a hoe. If the mix is too dry and crumbly, add water gradually, one cup at a time, while mixing in between each addition. The mixture is ready when the trough's sides are firm, and the ingredients are thoroughly wet. You can test this by patting the concrete with a hoe, and a slightly shiny surface should be left behind.
Clean up the equipment
Don't forget to promptly clean your equipment. Before the concrete sets, use a stiff-bristle brush to scrub the wheelbarrow and tools to prevent them from becoming difficult to clean later. It's advisable to scrape off any excess concrete from the wheelbarrow and stack it on a piece of plastic. If the pile is large, it's best to break it down into smaller portions while it's still manageable. When you're finished, dispose of the rinse water in an area that's not easily noticeable as it may harm the grass.
Now that wasn't so hard, was it?
A beginner's guide on mixing concrete
was last modified:
April 20th, 2023
by
Recommended