Modern Ceiling Fans with Clever Design Solutions
There's no denying that ceiling fans can improve the comfort and efficiency of your living space, but what if you don't like the way fans look or if you feel that they won't work well in your unique space? Fan manufacturers have come a long way since the days of the loud, wobbly and unattractive styles of the 1980s, offering plenty of new technologies and designs that help address some of the most common ceiling fan concerns. If you're looking for an easy-breezy (pun intended) way to make your home more efficient while bringing in some coolness and style, check out some of these modern ceiling fans with clever design solutions.
1. Problem: I Have a Low Ceiling
Ceiling clearance is important to ensure that your fan is safe—you wouldn't want to put your tall guests in harm's way, of course. So, what do you do if you want to install a ceiling fan in a space with low ceilings?
Solution: Choose a Hugger Ceiling Fan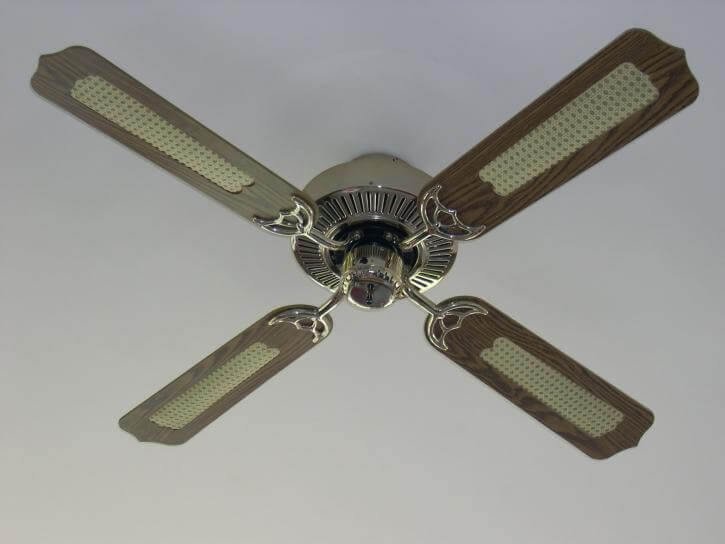 Low-profile ceiling fans, also known as hugger fans, are fans that have no downrod or a very short one so that they are installed flush or near flush to the ceiling. This is the best option for those with ceilings that are 8 or 9 feet high, as they allow the fan to hang 7 feet above the floor at most, accommodating for tall people. Another smart trick of the trade is to choose a fan with a finish that matches the ceiling so it looks less obtrusive in low-ceiling spaces.
2. Problem: I Need a Ceiling Fan in the Dining Room
Ceiling fans are expected in the bedroom, office, living room or screened-in porch, but what about in more formal spaces like the dining room? You wouldn't want to compromise your chance to install a classic over-table light fixture there.
Solution: Choose a Chandelier Ceiling Fan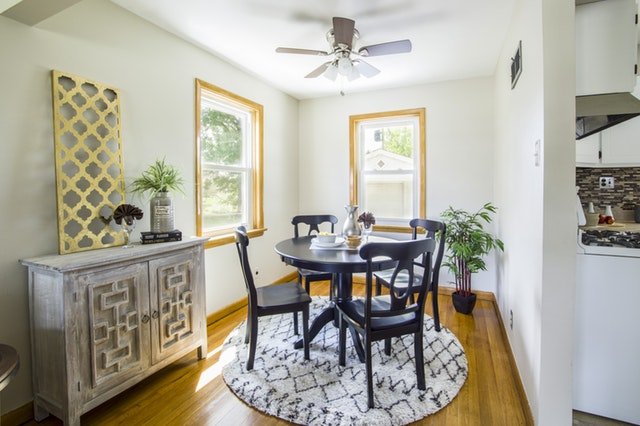 One of the best things about modern ceiling fan design is that you no longer have to choose only from basic, utilitarian-looking ceiling fans. Nowadays, fan brands make styles that are incredibly attractive—some even double as ceiling-mounted works of art! For the dining room, formal living space or entryway where you'd like a fan and a focal light fixture, consider installing a chandelier ceiling fan (otherwise known as a fandelier). These fans incorporate the blades and motor into the design and feature traditional chandelier-style lights for beauty and illumination.
3. Problem: I Hate How Ceiling Fan Blades Look
Got a bad taste in your mouth with regard to traditional ceiling fan blades that somehow always seem to warp and collect dust? This is a common issue for designers, but you don't have to take away from your décor as long as you pick the right fan style.
Solution: Choose a Ceiling Fan with a Shade
Some fandeliers and fancy ceiling fans are equipped with drum shades that effectively shield the blades and motor from view. For casual observers, these fans simply look like shaded ceiling fixtures, with the blades perfectly blending into the design. Shaded ceiling fans pile on the high-fashion finishes and artful elements while still providing the practicality of a good-quality fan. In fact, many are just as powerful, efficient and durable as regular ceiling fans. If you're going for an elegant, upscale look and don't want to make the room feel too casual with a regular fan, these are some good options.
Read more: Modern ceiling fans clever design solutions
4. Problem: I Love Industrial Fans But Hate the Cost
If you've taken a foray into the world of industrial ceiling fans, you know that the true-blue industrial (as in commercial) fans are incredibly expensive. Despite that, they bring a cool, utilitarian look and an oversized feel to your home. There are a couple of ways you can get this aesthetic without spending thousands for a real industrial style.
Solution: Buy an Industrial-Style Ceiling Fan
Fan manufacturers are quick to adapt to the consumer's needs, which means they have recently unveiled several good-looking yet affordable industrial-style ceiling fans that combine the warehouse-inspired look of commercial units with the lightweight, efficient and easy-to-install designs of residential versions. If it's more the industrial size you're after—large ceiling fans are incredibly popular right now and certainly make a big splash in both homes and businesses—then look to some of the latest large ceiling fans (from 60 inches to 72 inches in blade span) for a comparable magnitude at a good price.
Read more: 12 ways to improve ceiling fans with modern design
5. Problem: Ceiling Fans Are too Loud
Anyone who has had a loud ceiling fan in their home knows how annoying it can be, especially when installed in the bedroom, home office or nursery. Ceiling fans tend to be loud if their motor is old and clunky or if there's something off-balance or if there's a loose piece. This can affect your ability to sleep, read or work in peace.
Solution: Choose a Quiet-Running Fan
If you've determined that it's the fan's motor that's causing it to be noisy, your best bet is to replace the fan with a newer, quieter style. Unlike with other kinds of appliances, fan makers usually don't include decibels in their specifications, which means consumers often have no way to know whether it's quiet or loud until the fan is installed. The solution is to find a good fan retailer that provides fan noise ratings to help you find a unit that's quiet-running. You'll be surprised to hear how quiet some of the latest fan models run!
Don't Count out the Ceiling Fan
As you can see, there are very few scenarios where you can't find a solution to your specific fan-related situation. Whether it's a problem with performance or design, you'll see that the latest and greatest ceiling fan units are made to address and eliminate issues that were once unsolvable. Thus, there is virtually no environment where a ceiling fan can't be installed, whether it's a low-ceiling guest room, a formal dining room or a nursery that needs to remain quiet and peaceful.
Read more: How To Install A Ceiling Fan
Modern Ceiling Fans with Clever Design Solutions
was last modified:
September 7th, 2022
by
Recommended