When it comes to home roofing, the shingled roof is what comes to mind first. And while there are many options for slope roofing, including metal roofs, rubber roofs, and more, what do you do if your home has a low slope or flat roof?
Modified bitumen roofing is a tried and tested option that you ought to consider. In this short read, we're going to introduce you to what it is, its advantages, disadvantages, and costs.
What is modified bitumen roofing?
Modified bitumen roofing systems are single-ply roof systems that have been in use around Europe since the mid-1960s, and have successfully been used here in the USA since around 1975. A close relative of Built-up roofing (BUR) systems, modified bitumen roofs are composed of several layers of roofing materials.
The surface layer provides UV protection and resistance against the vagaries of weather. Thermal resistance, or R-value, to ensure the roof system has temperature stability is provided by the insulation layer. Modified bitumen membranes, which are modified sheet roof membranes made up of co-polymer reinforced with either fiberglass or polyester, make up another layer. There is also a layer of base sheets or plies. The adhesive layer, which is a bonding agent with a waterproofing material, can be either hot-mopped, self-adhesive, or applied cold with a solvent-based adhesive.
Hot mopping refers to the process of waterproofing using hot asphalt and multiple layers of felt paper.
Pros of modified bitumen roofs
Modified bitumen roofs have been successfully used for around 45 years. This means the roof system has a proven track record.
The three popular ways in which modified bitumen roofs can be installed, heat mopping, cold adhesive, or self-adhesive, are all extremely effective. Properly installed, all three methods effectively form a seamless and consistent connection between the sheets.
A common grouse a lot of homeowners have with flat roofs is leakage. However, due to the cohesive nature of modified bitumen roofing systems, they are efficient in preventing roof leakages.
Modified bitumen has heat reflective properties. These properties can help with making the home more energy-efficient, especially if you choose lighter or more reflective top coating colors.
These roofs are reinforced with fiberglass or polyester, making them capable of handling a fair amount of foot traffic and being tear-resistant.
The five-layer composition of modified bitumen roofs makes them resistant to extreme weather conditions.
The granules on the cap sheets of this roofing system are available in a variety of colors, giving you multiple options to choose from.
Modified bitumen roofs come in rolled sheets that are three feet wide and can be up to 36 feet in length. These sheets are easy to install on top of a base sheet membrane. Even if there is wear and tear in paces over a period of time, you can easily repair these using bitumen patches. This is one of the reasons they are a favorite among commercial roofers.
Some of the components used in modified bitumen roofing are recyclable, making this an environmentally friendly roofing option. Even when your roof has run its course, you can rest assured that all of it isn't going to end up in a landfill, reducing your carbon footprint.
Read more: Roll roofing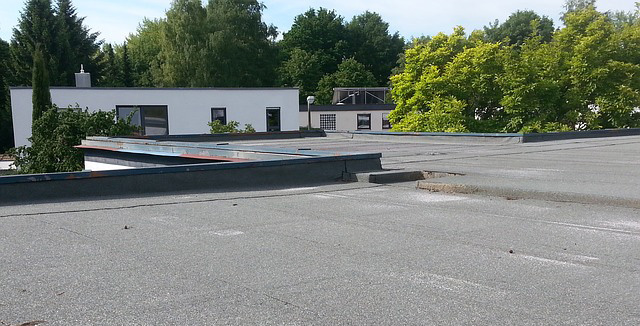 Cons of modified bitumen roofs
Modified bitumen roofs have a lifespan of between 10 to 20 years, which is considerably lower than most other roofing options.
Unless your home has a proper roof drainage system, water is bound to collect on the roof and wear it down faster.
Blowtorches are often used to heat seal bitumen roofing. The fumes that emanate during the process can be hazardous if inhaled.
A strong and foul odor will be present in your home for a few days after your new roof has been installed. Unless you're willing to bear the smell, it would be advisable to temporarily relocate until the odor subsides.
Read more: Built up roof
Costs
The average per square foot cost of a modified bitumen roof can vary from $4 to $5.55 per square foot, including installation. The difference in costs could be because of where you live, the quality of the product itself, and the manufacturer.
As always, it would be ideal to compare quotes from at least three different manufacturers before you decide. Physically visiting different stores and bargaining usually ensures you get better discounts.
Make sure you compare costs and hire licensed and insured roofing contractors to handle the installation for you. Installing a modified bitumen roof is not an easy DIY project. Late fall and early winters are the best time to plan for a new roof since it is downtime for contractors and you're likely to get the most competitive rates for the job.
Conclusion
Modified bitumen roofs are easy to maintain once installed properly, reliable, and environmentally friendly. This is why they have been a popular choice for flat domestic and commercial roofs, even against options like PVC and TPO.
Read more: Signs of roof leak in attic
Home roofing essentials: Modified bitumen roofing
was last modified:
October 11th, 2022
by
Recommended