There's a lot of potential in a one wall kitchen layout. Imagine, if your kitchen only takes up a single wall, it gives you more space to move around and it doesn't break up an open floor-plan — from the kitchen to the dining room and living room.
Since you've only got one wall on which to install your kitchen cabinets, your cooking range, and kitchen sink, it does require you to use your creativity while dealing with the space. Only then can you ensure that the design suits your culinary needs as well as your personal style. And, that's why we have an expert architect to guide you through this type of kitchen design.
What is a one wall kitchen layout?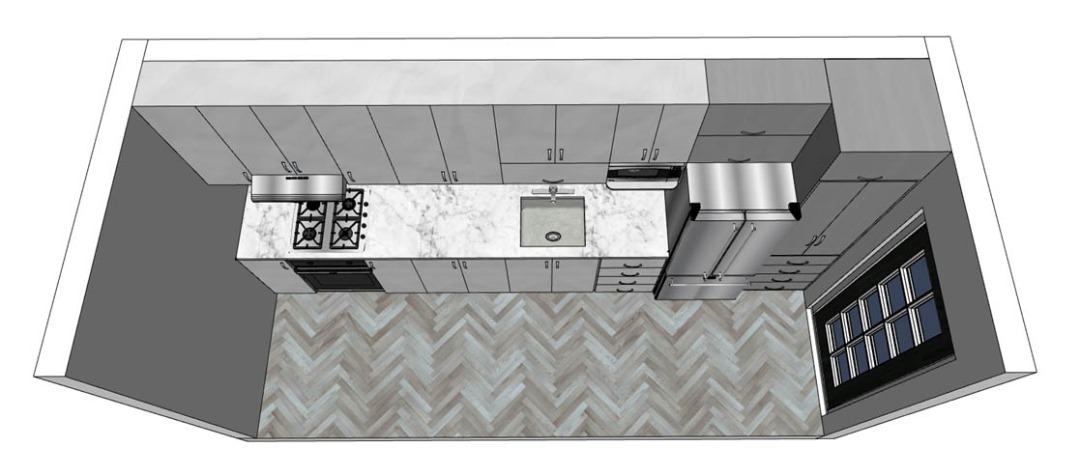 In a one-wall kitchen design, all your major work zones are arrayed along a single wall.
These kitchen work areas include the refrigerator, sink, and stove/oven, maybe a dishwasher or a trash compactor — in any order. The kitchen countertop typically is not less than 8 feet long. It's the ideal design for houses where there's just a small space for the kitchen.
Advantages of a one wall kitchen layout
Such a kitchen layout packs a punch despite being a little different from the classic kitchen design or the so-called kitchen work triangle. Let's explore some of the benefits of having a one wall kitchen layout:
Inexpensive: Since there's limited counter space, your kitchen renovation budget is cut to a large extent.
Easy enough for a DIY project: Because such a kitchen style doesn't involve joining counters or any other tricky installations, it's easy to put together for a DIY renovator.
Straight forward plumbing: Due to the straight run of pipework, the plumbing job is much simpler.
Compact kitchen design: One-wall kitchen is a good idea if you want to create space for things such as a dining table or a kitchen island. Great for long, narrow kitchens.
Easy workflow in the kitchen: Since the major cooking functions are within a few feet of each other, the working is more efficient.
Ideal one wall kitchen design dimensions
And, even though one wall kitchen layout follows a straight run, there are multiple ways in which you can situate your kitchen appliances and accessories, even a kitchen island.
Typically, the minimum width-by-length dimensions are 5.91 feet x 9.84 feet. Such an arrangement leaves a minimum distance of 2.95 feet to 3.94 feet for movement in the kitchen, any kitchen furniture, or for any access.
Depending on the spatial arrangement of the adjoining spaces, a dining table or other areas can be incorporated. The kitchen then can get integrated with the other spaces — to create an open-concept kitchen.
Read more: Out of style kitchen styles
Three practical one wall kitchen plans
Let's explore three kitchen designs that are practical, functional, and aesthetically pleasing. The idea is to enhance the character of the kitchen design and choose the kitchen idea that suits your style. Keep in mind that if you use very dark colors, you will require more artificial light in the kitchen area. In that case, you could add good accent lights or pendant lights to illuminate the area.
Kitchen plan 1. A linear kitchen near an independent access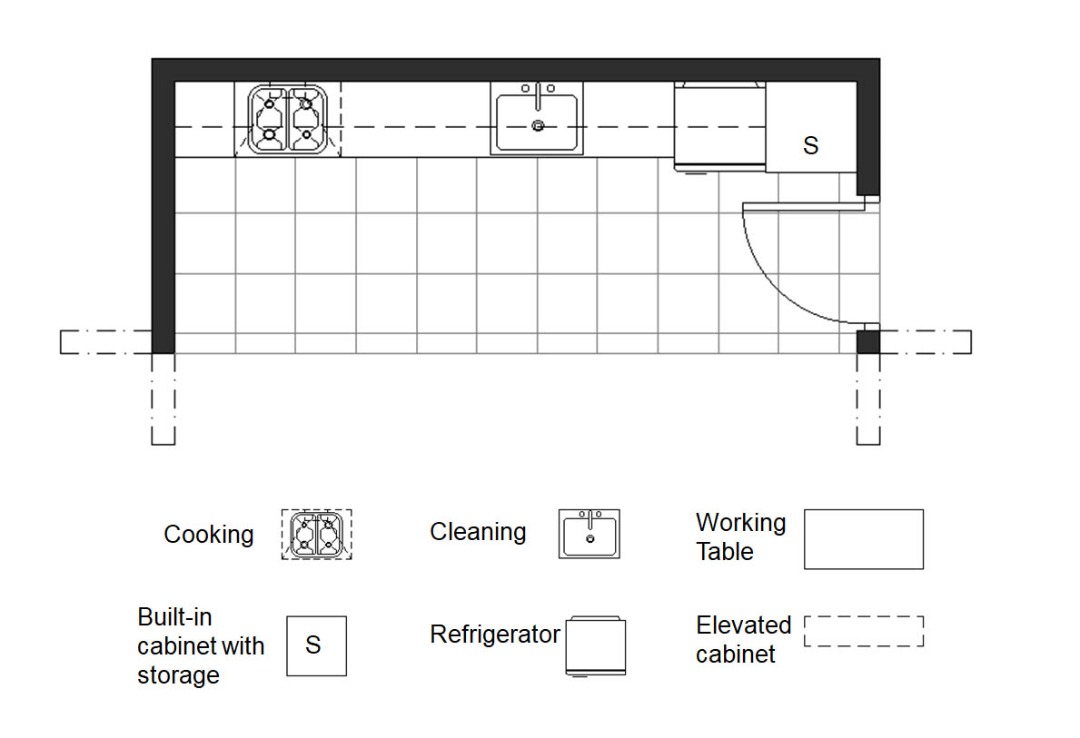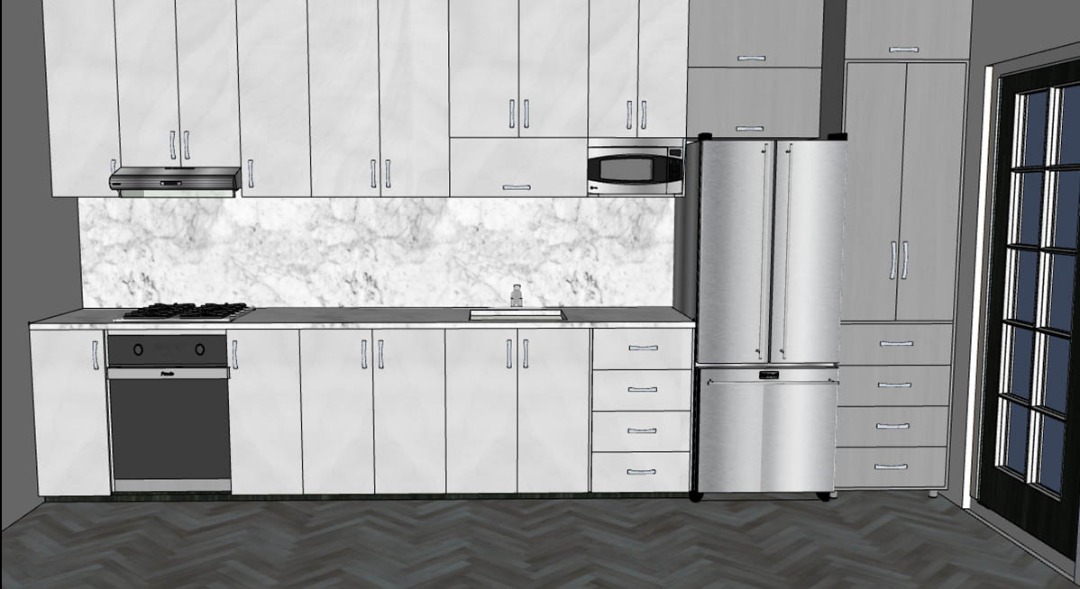 In this kitchen design, Our architect, Edna Ramírez Molina, a specialist on urban design and landscaping recommends: "The cabinets can go all the way to the ceiling for good storage space. The ceiling height is 8.20 feet and the kitchen dimensions are 5.91 x 14.73 feet. Monochromatic colors can be used for variation."
Expanding the color palette to three tones (white, gray, and dark wenge) is a good idea. That way, the kitchen station, and sink cabinet areas are enhanced and harmonize with the storage area.
Design idea 1
Quartz countertop as well as backsplash and herringbone wood floor.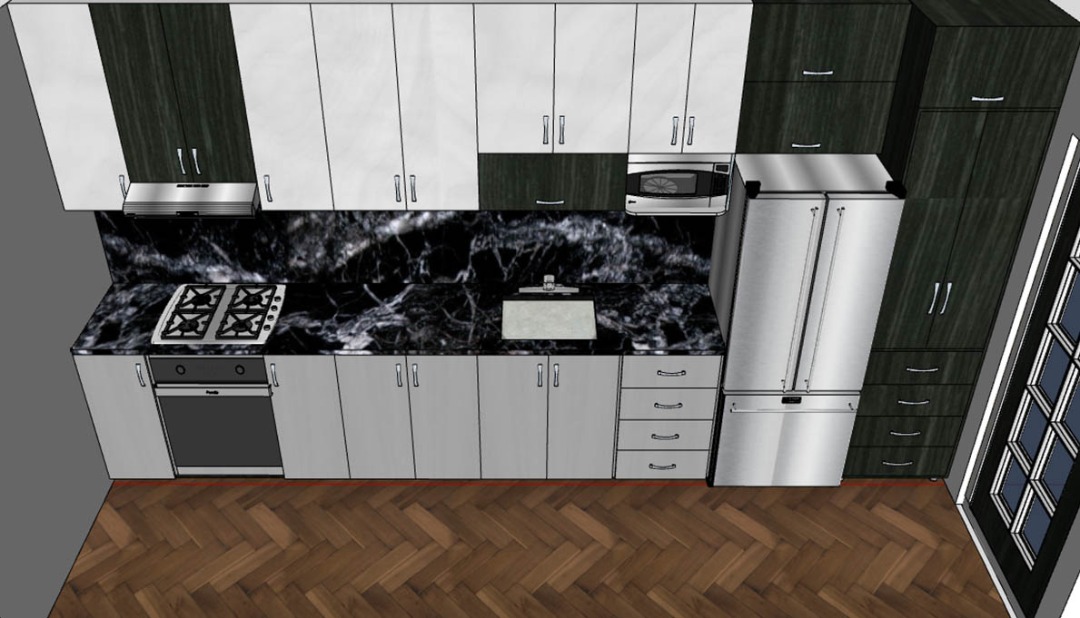 Design idea 2
Cabinets in melanin with wood texture, white in the kitchen area, and wenge color in food storage. Ceramic floor and black tile countertops.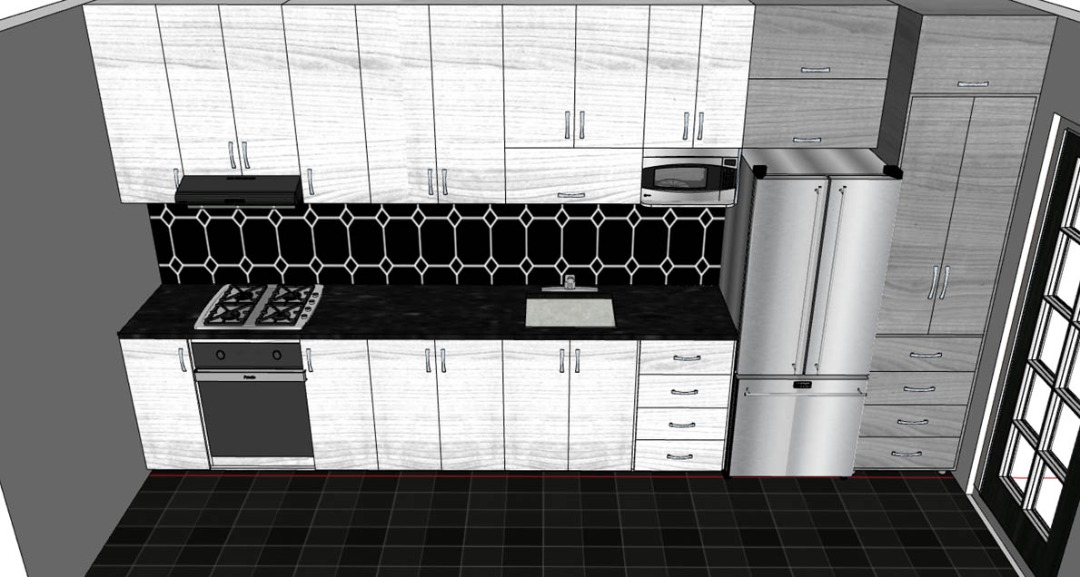 Design idea 3
Granite countertops and backsplash, herringbone wood floor in a medium and dark tone.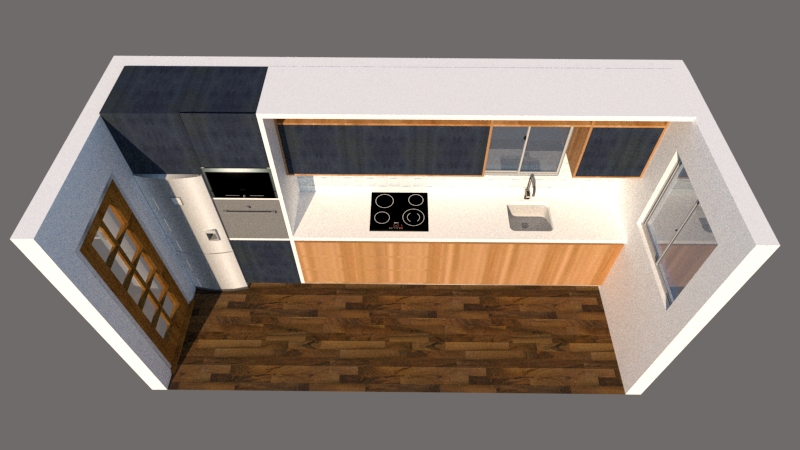 Kitchen plan 2. One wall kitchen layout with kitchen windows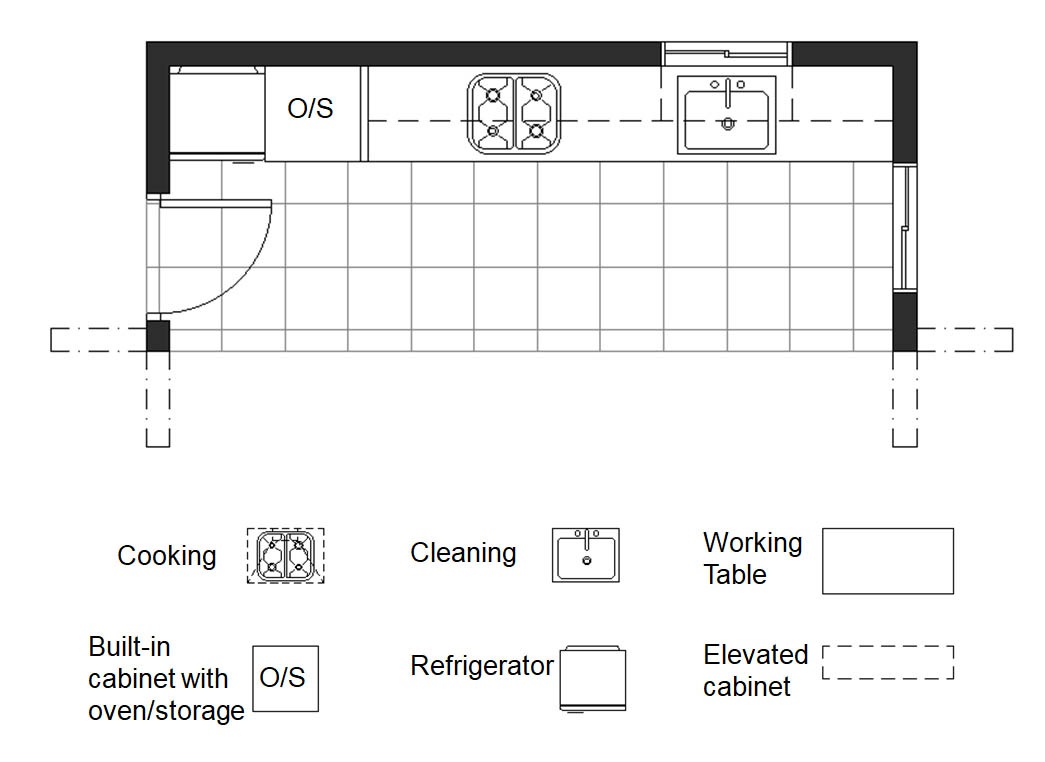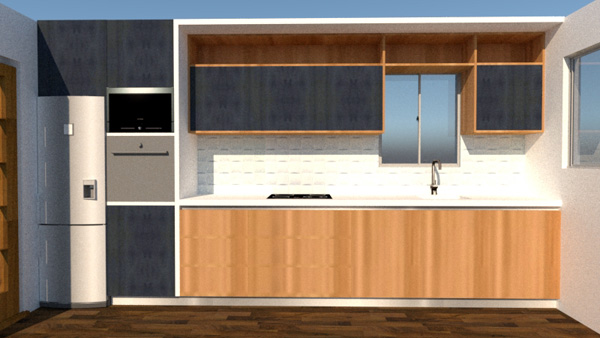 This design is great for those who prefer more natural lighting in their cooking space. Here, there are two windows — one next to the sink and the other one on the kitchen wall.
Our architect recommends: "Place a window in front of the sink if you do not have a dishwasher. It offers the convenience of washing and drying utensils. The length-by-breadth kitchen dimensions are 5.90 x 14.93 feet, 8.20 feet in height."
Design idea 1
Natural wood or lacquered cabinets (open or closed) to the ceiling, designed to fit the window. Medium and dark tone wood floor in contrast to the cabinets and white quartz countertop.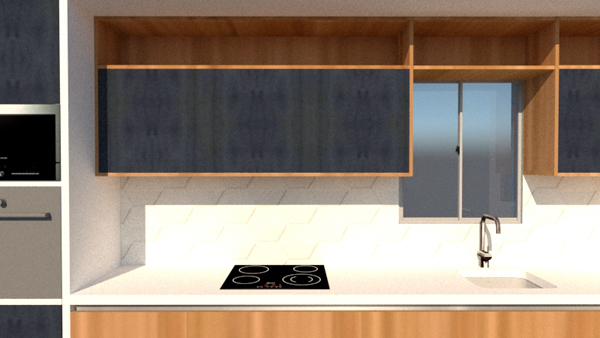 Design idea 2
Pink wooden cabinets, backsplash, and floor in pastel tones for a contemporary look.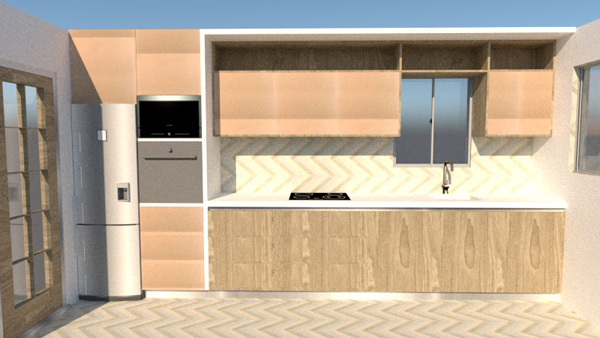 Design idea 3
Wine colored cabinets with shades of gray in the wood texture to enhance the minimalist character of the design, white backsplash, and a two-tone hardwood floor.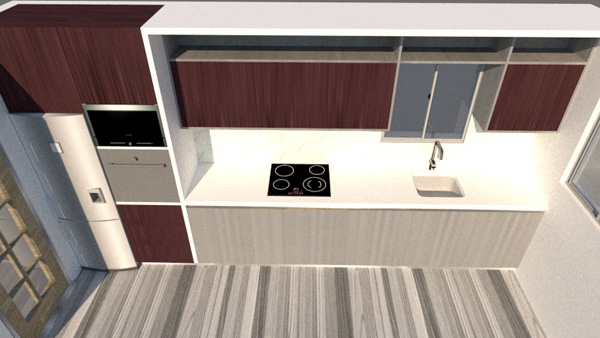 Kitchen plan 3. One wall kitchen layout without direct access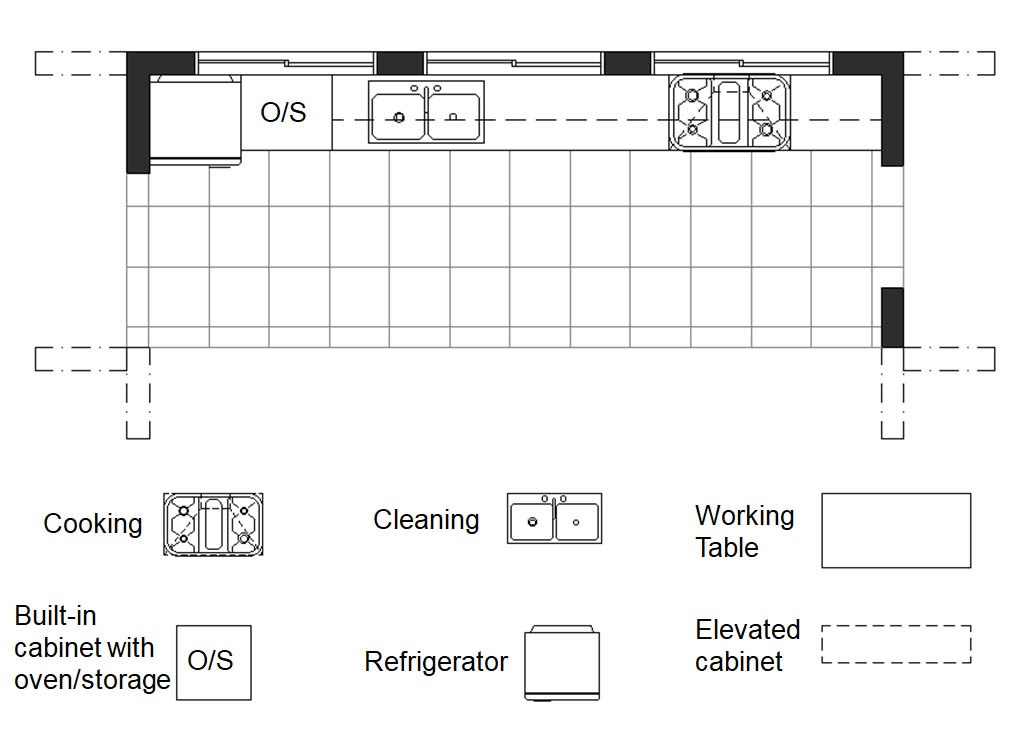 This type of kitchen is actually a space between several continuous ones. It could be connected with a corridor or the patio or the dining area. A word from our architect on this kitchen plan: "The idea is to showcase the continuous element while keeping the kitchen framed and structured. There's ample natural light due to the height of the kitchen. Typical kitchen dimensions are 5.90 x15.82 feet, with 8.86 feet height."
Design idea 1
Blue ribbed cabinets for a rustic look, contrasted with tile backsplash and countertops in cream, pastel tones. Light-colored wood floor.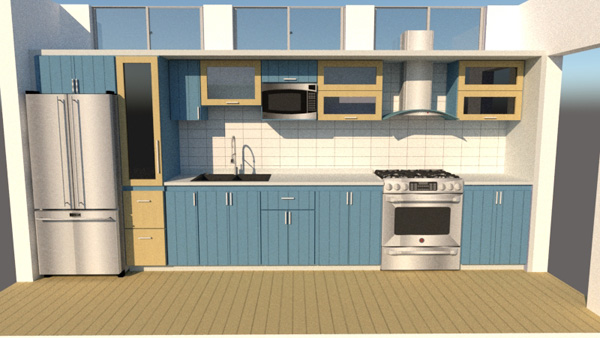 Design idea 2
Two-toned pastel green cabinets, gray countertops, floor tile, and white backsplash give the kitchen space a vintage look.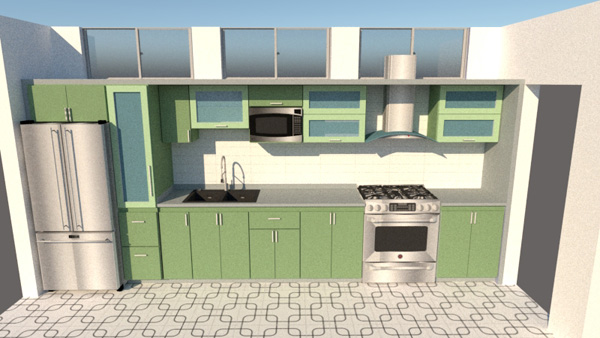 Design idea 3
Red ribbed cabinets, white countertops, white backsplash, and gray and red contrast cabinets. Light-colored wood floor.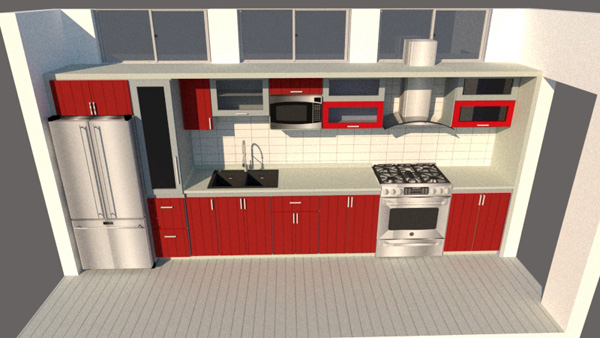 Read more: An expert architect's tips and ideas for a u-shaped kitchen
Last words
Although a one wall style kitchen is often found in smaller homes, apartments, and lofts, you can always choose the design for your home. All your kitchen cabinets, appliances are aligned against one wall and that can save you a good amount of space. The close proximity of the countertops, appliances, and sink makes this area efficient to work in.
The cook can move easily between the refrigerator, stove, and sink in a three-point, non-intersecting fashion.
Read more: An expert architect's tips and ideas for an L-shaped kitchen
One Wall Kitchen Layout: Great Tips From an Expert Architect
was last modified:
May 26th, 2023
by
Recommended