When your pots and pans are stored properly, you make your kitchen look less bulky. Storing your pots and pans properly may not sound like something you should take seriously, but it affects the looks of your kitchen greatly. So, if you want a sleek-looking kitchen that is well put together, you might want to start by storing little things like pans, pots, and their covers properly.
I know it's not easy to arrange your pots and pans in the kitchen because these things come in different shapes and sizes and they end up taking more space in the kitchen than they should. However, that doesn't mean you should give up on your kitchen utensils as there are countless ways to handle this mess.
Why glass shelves play a vital role in storing these kitchen utensils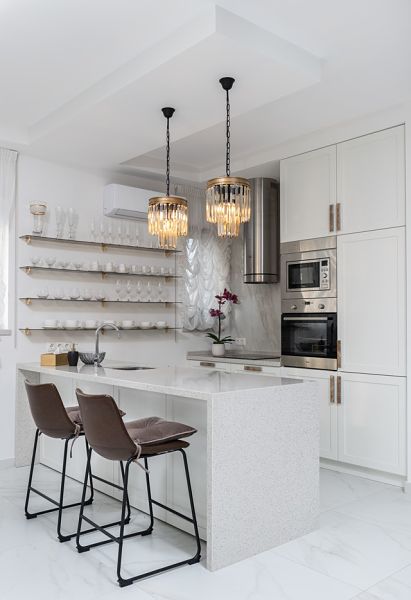 Generally, shelving is very important for your kitchen as it helps you put your utensils for creating more space in your kitchen. However, glass shelving is about a whole lot of aesthetic vibe that you should consider.
Apart from the beauty, it brings to your kitchen, it can also be of other great benefits to your kitchen. Continue reading and learn more!
Read more: What to do with unused space in your home: Tips and tricks
Versatility in kitchen design
Apart from the fact that you can use glass shelves to store your kitchen utensils, the glass shelves add a whole new dimension to your kitchen.
These can be a perfect focal point for your kitchen and can create an ambiance of pure class and beauty. No matter where you decide to hang your glass shelving in your kitchen, you can never go wrong.
Highly durable
With glass shelves, you don't have to worry about rust or insects eating up your shelf because unlike wood or metal, they do not rust or warp. They are made with durable materials and will not break easily. Most glass shelves manufacturers will give you a 50-year warranty because they know how durable the shelves are.
Low maintenance
With glass shelves, you don't need special materials to maintain them. You can simply get a clean cloth and wipe away dust and use glass cleaners like windows spray to keep it sparkly clean. With wooden or metal shelves you might have to go as far as spraying them with chemicals to prevent rusts or warps to make them last longer. However, with glass shelves, you need none of those.
Creates visual appeal
You'd agree with me that the kind of visual appeal you'd get with glass shelving cannot be gotten with wooden or metal shelving. With a glass shelve you can creatively add lighting to your shelve and change the whole aesthetics of the room. Glass shelving complements other things in the kitchen and it will make space look larger since you can see all the way to the wall.
How to store kitchen utensils on glass shelves?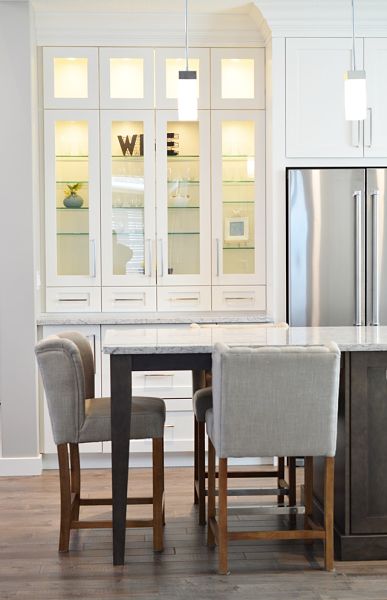 Don't forget that some of these utensils are large and bulky so you have to place these properly on the glass shelf. Here are a few ways you can store your kitchen utensils on a glass shelf.
Hang it up
These shelves come with hangers where you can simply hang your kitchen utensils. Hanging your utensils will help you free up a lot of space and keep your frequently used utensils handy.
Magnetic hangers
Some of these glass shelves have magnets embedded in an area of the shelf where you can simply hang your metal utensils. Like I said earlier, glass shelving for your kitchen is an unmatched option for storing your utensils and with a magnetic glass shelve? The price of the whole house just went up!
Store in separate compartments
Glass shelves come with different compartments (small and big compartments), you can place your pots and pans in separate compartments to help you find them easily when you need them. Arranging your utensils in separate compartments will help you save time, as you don't have to scatter much when cooking because you already know where your utensils are.
Read more: Kitchen with open shelves: Top tips to help you nail it
Why not storing inside cabinets
Storing your utensils inside a cabinet is an old fashion. These days, people hang their utensils in planned sites and do not put them somewhere dark and hot. Placing or hanging your utensils on a shelf will help you know where exactly they are and you can simply fetch them when you need them rather than opening a cabinet to get them which is less-handy.
Take wooden cabinets for example, when you store pots and pans on a wooden shelf, sometimes, these utensils will be wet as you just finished washing them before storing them. The moisture will make the wooden cabinet expand over time and subsequently damage the cabinet. Additionally, cabinets are more expensive and less aesthetic than shelves. Shelves create a hassle-free experience when cooking because all you need is already handy, but cabinets will give you the opposite.
I'm not saying you cannot use cabinets to store your kitchen utensils, my point is – using shelves is a far better option than cabinets.
Read more: Creative kitchen storage ideas: Upgrade your drawers and shelves
Final thoughts
The benefits of glass shelves are numerous and I would like you to partake in its awesomeness by using a glass shelve for your kitchen. As seen above, you have everything to gain and nothing to lose when you use glass shelving for your kitchen rather than wooden shelves or metal shelves – from the kind of beauty it brings to your kitchen to its durable nature, glass shelves are the new cool for your kitchen shelving. 
Read more: How to build floor to ceiling kitchen cabinet
Convenient ways of storing accessories and pantry items in the kitchen
was last modified:
July 18th, 2022
by
Recommended