There are many upsides to living in a consistently warm climate. For people who hail from areas that regularly receive brutal winters, dealing with extreme heat year-round often seems like an appealing prospect. Even those of us who aren't crazy about extreme cold or excessive heat would gladly go with the latter if given the choice. However, even the most heat-hardened person has their limits, and swelteringly hot temps combined with intense sunlight can easily put a damper on outdoor recreation.
Fortunately, creating a safe haven from intense heat is easier than you may think – particularly if you have a spacious patio at your disposal.
Install an Outdoor Ceiling Fan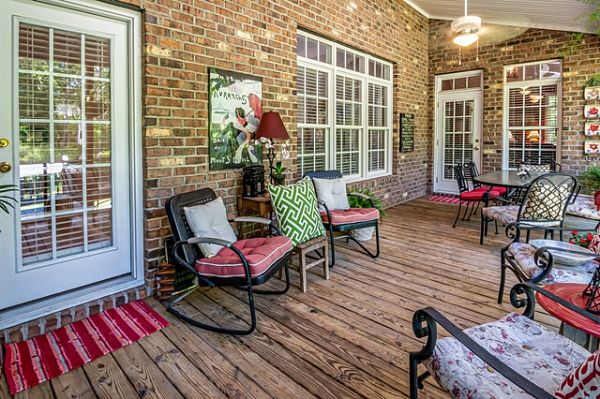 Although ceiling fans are commonly associated with indoor settings, outdoor models can prove tremendously helpful in your quest to stay cool. That being the case, anyone interested in creating the perfect patio oasis should consider installing outdoor ceiling fans.
A dependable outdoor ceiling fan can effectively cool your patio and provide you and your family with a refreshing respite from the brutal heat. Outdoor ceiling fans are likely to prove particularly beneficial to people who enjoy sitting on their patios for long periods. If you want to relax with a good book or admire the surroundings, a good fan can help you stay cool for the long haul.
Invest in a Retractable Awning
The benefits of a durable awning are manyfold. For starters, a good awning will help shield you and your family from the heat and provide you with a comfortable, shade-rich area in which to unwind. Secondly, an awning can help prevent warm air from entering your home, thereby saving you money on cooling costs. Furthermore, a retractable model will enable you to easily control the extent of the area your awning covers.
To sweeten the deal, many awnings are easy to care for and require very little in the way of upkeep. For example, you can clean most awnings in a simple and timely manner with nothing more than common household tools. After brushing any visible dirt and debris off the awning, simply scrub it with a solution of soap and water. Once you've given it a thorough scrubbing, rinse off any remaining soap and allow your awning to air dry.
Read more: 3d patio design ideas
Install a Retractable Screen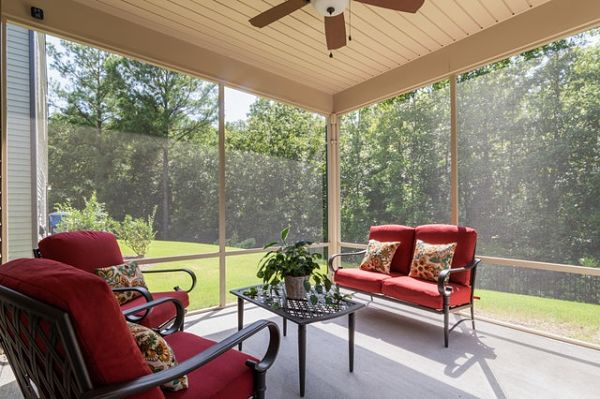 A good retractable screen is affordable on even the most stringent budget and can provide your patio with protection against a number of elements. In addition to offering a degree of UV protection, these screens can prove useful at keeping insects and other pests away from your patio. Few things are able to ruin outdoor recreation like the arrival of mosquitos, so if you live in an insect-heavy area, a retractable patio screen is an absolute must.
Best of all, these screens are able to provide protection without hindering your ability to enjoy the fresh air. Additionally, per their name, you can fold your retractable screens easily and roll them back out at a moment's notice.
Add a Bar
Even in the most agreeable climate, staying hydrated is important – and this is doubly true when it comes to relentlessly hot areas. With this in mind, consider adding an outdoor bar to your patio. This will ensure that your favorite beverages are always within easy reach and that you're never at a loss for something to drink. Even if you're not a fan of alcohol, an outdoor bar can make a welcome addition to your patio setup. Stocking it with a refreshing assortment of sodas, waters, and sports drinks will help every member of your household – from the oldest to the youngest – remain hydrated while spending time outdoors.
Last Words
It's easy to see why living in an area with a consistently hot climate is such an attractive prospect for so many. After all, if you've spent your life in a part of the country that's known for its harsh winters, the opportunity to escape heavy snowfall, frigid temperatures, and perilously icy roads will likely seem too good to pass up. However, as anyone who's lived in a perpetually warm climate can confirm, excessive heat can cause problems on a number of fronts. Homeowners looking to create a comfortable oasis in a consistently hot climate should put the previously discussed pointers to good use.
Read more: Suitable Colored Plexiglass Ideas for Your Indoor and Outdoor Areas
Creating a Patio Oasis in a Consistently Hot Climate
was last modified:
June 5th, 2023
by
Recommended