11 Kitchen Quartz Countertop Colors That Will Be Huge in 2022
Quartz countertops aka engineered stone countertops are a mix of 93% natural quartz, advanced polymer resins, and colorfast pigments. They come in a variety of colors and patterns — giving you a lot of design versatility. Needless to say, selecting the right quartz countertop colors will bring life into your kitchen, bathroom, or any other room.
A quartz countertop is not only visually attractive, but it's also durable, stain-resistant, and easily maintainable. That's why it's a popular choice for most homeowners. And if you too have decided to go with quartz, you'll have to figure out the right color quartz surface to fit your vision. So, which countertop color will you choose?
Planning a renovation for your kitchen? Try our free kitchen remodel cost estimator; it's easy and convenient to use!
Keep in mind that a quartz countertop can come in solid colors or may feature veined, fine grain, or coarse grain patterns. Moreover, you have options in just about every color imaginable. From black and gold to pops of green and the classic white, there are numerous choices on the market.
We have a list of 11 stunning quartz countertop colors that will be huge in 2020. So, let's begin.
1. Midnight Black
Midnight black is one of the most popular colors for a quartz countertop. And, it will remain huge this year too. Simply because it seamlessly sets a chic, unique tone for your space. The hue offers a lot of versatility — providing you with a lively contrast when combined with lighter walls and fitments.
2. Haze Blend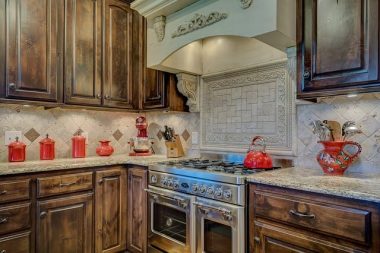 Hazy gray is the perfect mix of contemporary tone and femininity. It provides a softer, more delicate vibe to the room. The versatile neutral pairs well with a large variety of interior design styles.
Thinking about butcher block countertops? Get the best cost for your project.
3. Calacatta Classique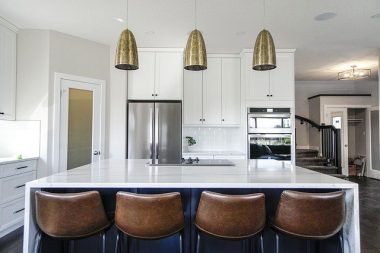 If you're looking to replicate the look of real marble with quartz, then calacatta classique is your go-to choice. It features elegant gray veining that can mimic the natural stone marble beautifully. The color pairs well with cabinetry in both dark and light shades. And, it's neutral enough to match any color if you're thinking of a combination color scheme.
Read more: Quartz vs Marble Countertops
4. Taupe
A taupe countertop is a great choice for those who're more traditional in their color preferences. However, it's anything but boring. The sprinkling of dark details creates an interesting contrast. This warm neutral goes well with both white and black accents.
Thinking about granite countertops? Get the right cost for your installation.
5. Camel
A countertop color that's a hit among homeowners with both minimalistic, as well as traditional visions, is the monochromatic camel tone. The hue adds a clean, elegant vibe to your kitchen or bathroom.
6. Bright White
Sometimes taking the simple route is the best choice. Solid white never goes out of style. This is especially true if you want to create a simple, clean, yet spectacular kitchen or bathroom to enjoy.
Whether you have a modern, minimalistic, or a farmhouse-style space, white will add a luxurious charm. You can pair it with rich tones such as cranberry or teal. Or, go classy with an all-white kitchen.
7. Cherry
If you're looking for pops of colors to make a strong visual impact in your kitchen, a cherry countertop will add the needed glamor. The color will make your space look sharp, modern, funky, retro all at once. The eclectic color will help you create a more personalized room that everyone will appreciate.
8. Black and White Combination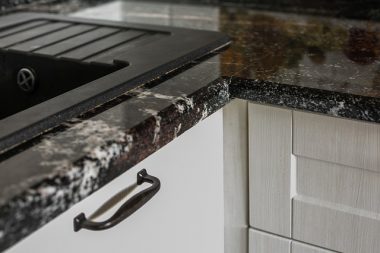 Black and white color scheme will always be timeless. Such a classic combination provides a stunning focus in a minimalist kitchen. It's also a good choice when combining neutrals since it plays off various shades well.
9. Mint Green
There's something fun and unique about adding a mint green quartz countertop. The soft tone is versatile enough for both contemporary as well as cottage-style houses.
10. Soft Gray
If you're looking for a delicate, subtle style, then soft gray is perfect for you. The neutral blends well with almost all color tones and interior design ideas. We think it adds a certain romance and a serene look to your space.
11. Hot Pink
Surprised to see hot pink on our list? Don't be. This statement-making color is enough to make your kitchen or bathroom stand out. The eye-catching shade has a personality of its own. Customize your quartz countertop with this color to bring a stunning look to your bathroom or kitchen countertop.
Read more: Kitchen island size guidelines
11 Kitchen Quartz Countertop Colors That Will Be Huge in 2022
was last modified:
August 22nd, 2022
by
Recommended