Scheduling Exterior House Cleaning Before The Cold Comes
With homeownership comes responsibility. Part of that includes taking care of the exterior of your property in the fall with exterior house cleaning.
You can prevent costly maintenance issues and maintain the look of your property by completing a few simple preservation tasks around your residence. You also have the option of hiring a professional to take care of these house cleaning services.
Exterior House Cleaning Makes Spring Clean-Up Easy
By doing your exterior house cleaning in the fall, you can take care of many of the issues you would normally wait until spring to deal with. After the snow melts, everything will already be taken care of, so you can just sit back and enjoy the wonderful weather.
Mold and mildew are likely to set in over the winter months if you don't properly do your exterior house cleaning. Then, when the weather warms up, you have a pretty significant and costly problem to take care of. Exterior house cleaning services have the tools and experience to get your residence cleaned quickly and efficiently when you don't want to stand outside for hours with a garden hose.
Added Benefits of Exterior House Cleaning
There is no way around the fact that with normal wear and tear, your home is going to break down and things are going to have to be repaired. If you get regular washings, however, you can expect those issues to come about fewer and further between than what they would otherwise. Without the dirt sitting on the surface, premature aging, rot, and decay are eliminated saving you a lot of money.
Along with keeping your home protected from damages that can occur over the colder months, you are making your property something that you can be proud to show off again. Your neighbors will be turning their heads every time they drive by thinking about how great your house looks. It is estimated that a cleaning of the exterior of your home can raise the market value up to $10,000. If you are thinking about selling your home, it's a great, small investment to get more money for your property.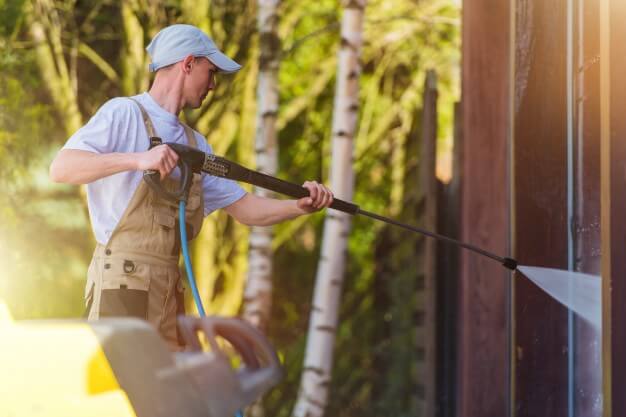 Water photo created by welcomia – www.freepik.com
You could take care of the exterior house cleaning yourself, but it's going to take some time. Is that what you want to spend your weekend off taking care of? Most likely not. A professional cleaner can come in and do the job when you're not even home if that's all that fits into your schedule. You can't put a price tag on your free time, so it's a small price to pay to get such a big job taken care of.
Doing the project yourself is also going to require you to climb up and down ladders and maneuver around all the landscaping and other obstacles in your yard. While it can be done, there are risks involved. The experts know how to get through all the terrain with their equipment in an efficient and safe way, avoiding injury to themselves or damage to your property.
You've likely noticed some spotting around your home and you assume that it's just a little dirt or grime. The reality is that it could be mold. The problem with mold is that it spreads, and it can get into any little crack or crevice making it nearly impossible to get rid of. More than just causing damage to your home's structure, it can be potentially dangerous to your family and pets as well as the environment if things don't get cleared away in time.
With a professional exterior house cleaning service coming in to do your washing, you can expect the results to last. While you can take care of it yourself, you aren't going to see the same lifespan out of the clean as what you would if you let the experts do it. They have the skills, knowledge, and experience to produce a polished look that will last months longer than if you were to do it yourself.
House Cleaning Services To Be Completed
There is more to exterior house cleaning services than just washing the siding on your home. When you are doing the job, consider each of these areas to get a complete clean:
Residential siding

Of course when you think of exterior house cleaning the first thing that comes to mind is the siding. Over time, your siding material will accumulate layers of residue and dirt due to being in the outside elements. With powerful yet safe chemicals and a soft power washing system, all of this can be removed making the home look almost brand new again. Along with getting a fresh look, you will have the added benefit of cobwebs, nests, and any other possible rodent or pest problems eliminated saving yourself from having to pay for an exterminator.

Gutter cleaning

Your gutters should be cleaned of leaves and other debris twice a year. One of those times is in the fall after the trees have shed all their leaves. That way, when the weather comes in, your gutters are ready to move the water away from the foundation of your home like they are supposed to.
Driveways and walkways

Someone parked on your driveway and left a puddle of automotive fluid behind. While it's not the worst thing in the world, it can be an eyesore especially if the rest of your driveway is clean from stains. A professional exterior house cleaning company can power wash the driveway to remove the corrosive fluid, salt, grit, grime, dirt, and anything else that has accumulated over the previous year. Soft washers ensure that the project gets done without causing any damage to the asphalt or concrete.

Read more: Tar and chip driveway everything need know

Deck cleaning

If you have a deck, you know how much of a job it can be to clean it. However, if you have the house cleaning job done in the fall, you won't have to worry about potentially damaging mold rotting your wood underneath the snow.
Window cleaning

The dark and grey days of winter are hard enough to look at sometimes. You don't want to be forced to look at them through dirty, grimy, dusty windows. Exterior house cleaning with a pressure washer gets all the film off your windows. You can also get the second story windows done without having to climb up on a ladder.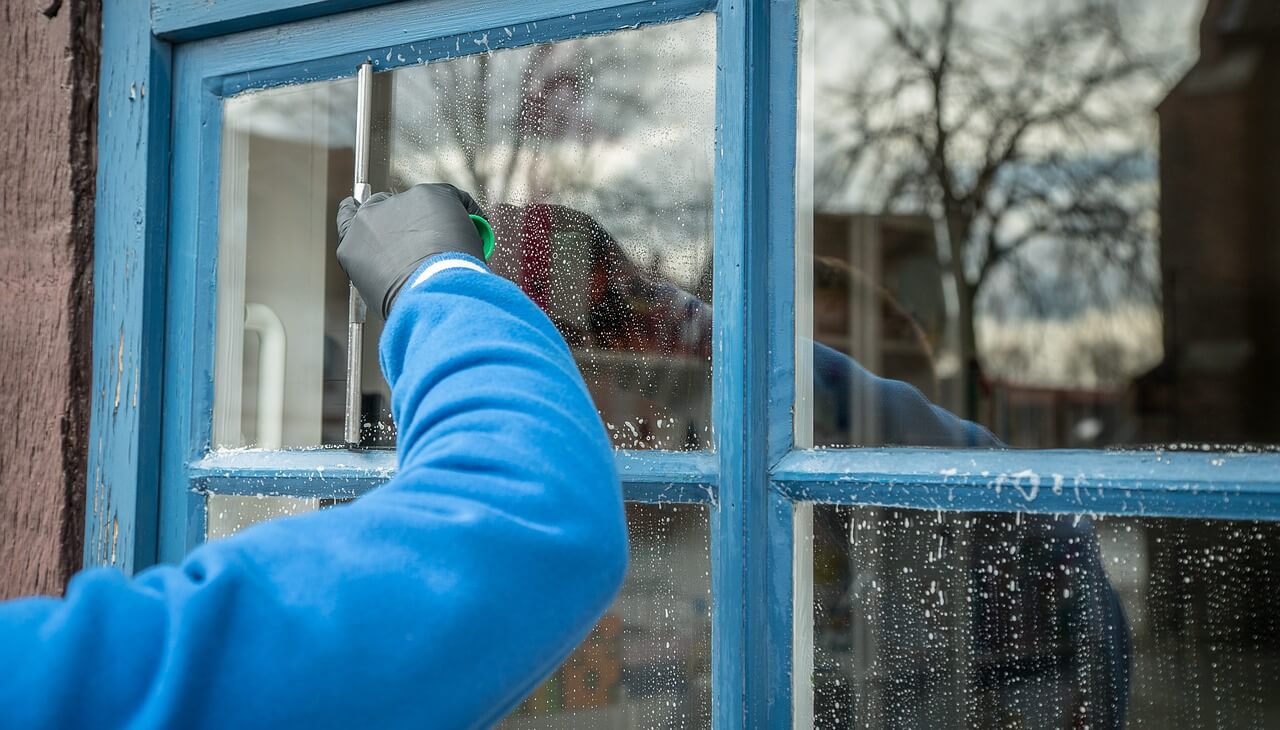 Pixabay
Patio furniture

You most likely store your patio furniture in the garage or a shed over the winter. Before stacking it away, get it washed up. Make sure that it's completely dry before putting it away. Then, in the spring when you pull it out it will look like brand new again.

Roof cleaning

Even when your roof is new, moss, mold, algae, twigs, leaves, and other debris can get stuck between the shingles. Those loosened up shingles are more likely to fly off with a strong gust of wind, and then you have to get up there and make replacements. After you've made the investment of having a roof put on, you want to protect it for as long as possible. Soft wash cleaning will remove all of these unwanted nuisances and keep your roof in optimum condition.

Read more: Roof leak detection expert opinion
Finding an Exterior House Cleaning Company
Before you flip through the phonebook or do a search online for an exterior house cleaning company, there are a few things that you should take into consideration.
Experience – you may think it's okay to trust the new guy on the block to take care of your exterior house cleaning. Chances are he's offering a pretty fair rate because he's new to the industry. You're rolling the dice when you make a selection like that. You could end up with quality results or it could wind up in disaster. Your best bet is to look for someone that has several years of experience under their belt.
Licensing and insurance coverage – you never know what could happen to someone on your property or damages that could happen to your belongings during the cleaning process. Select someone that is licensed and insured because, in the event of an accident, you don't have anything to worry about.
Products used – you want to hire someone that uses high-quality products and equipment to complete your job. If the exterior house cleaning service you are looking at knows what they are doing, they will be able to describe to you in detail what kinds of products they will use along with the steps they will be taking to get the job completed.
Cost – there are going to be companies out there that offer really low rates and that can be appealing. However, as with most contractors you hire out work for, you should do research on at least three different businesses before you make a final selection. Don't only consider the price, but also the services you get for that price. Also, go over in detail the final price before the work starts to ensure there aren't going to be any hidden fees or charges added on after you agree to have the project done.
Guarantees on results – when your exterior home cleaning service company drives away, you expect to be happy with the results. What happens if you aren't though? What if the business owner sent a new guy to your house to do the work and the finish is awful? Ask ahead of time if they offer any guarantees on the finished product. Are there any refunds issued or will they send someone back to fix what's wrong for no extra cost? Those are things that you want to determine ahead of time.
Read more: How to clean exterior light fixtures
Having your exterior house cleaning projects done in the fall is just as important as the cleaning you do on the interior of your residence. An experienced house cleaning services company can come in and complete the job for you with total removal of all debris and residue from your home's walls, walkways, and driveways so that you can go into the new season prepared.
Read more: Questions about blast cleaning
Scheduling Exterior House Cleaning Before The Cold Comes
was last modified:
June 13th, 2022
by
Recommended