Important Pointers for Installing Residential Air Conditioning
As the heat of the summer beats down upon your home, you're likely dreaming of the perfect, cool space to relax. If you don't have an air conditioning unit or you need a new one installed, there's no better season to bring one into your abode. However, there are some important factors that you should consider before installing domestic air conditioning in your house.
1. What is domestic air conditioning?
Air conditioning aka AC or A/C refers to the usage of a device to remove heat and moisture from a room in order to give comfort to the occupants. Domestic air conditioning systems are of several types — ranging from central air conditioning systems through outdoor compressors to small plug-in units that you can place on the floor or mount in a window.
2. How does home air conditioning work?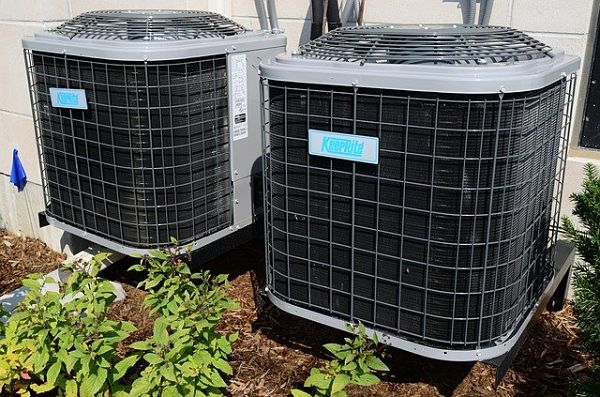 Whether central air conditioners, split systems, or wall-mounted ones, AC systems have similar working components. They have a refrigerant, a compressor, a condenser, an expansion valve, and a condenser coil. All these components work together to transfer heat and moisture from the inside of your home to the outside.
So basically, all types of air conditioners use energy to take away the heat from any space. 
Planning for air conditioning replacements? Get the best estimate with us.
3. Do you need planning permission for air conditioning?
Generally speaking, you don't require planning permission before installing domestic air conditioning units. So, you needn't apply for one. However, you may need planning permission if you're thinking of installing large or noisy units. As long as you install air conditioning systems under permitted development rights, you're good to go.
4. What are the popular types of domestic air conditioning systems?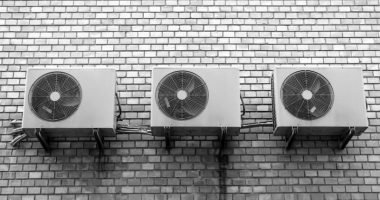 Photo by Pxhere CC0
There are many types of air conditioners. These are:
Window air conditioner (Cost: $550–$3,000)
This compact unit is installed in a window and is a perfect choice for cooling just one room. It functions by pushing the warm air out of a room and blowing cool air into it. The cooling takes place at the front while the absorbed heat is released through the outdoor part of the unit.
Through-the-wall air conditioner (Cost: $300–$1,500)
A through-the-wall air conditioner is installed flush with a wall for a streamlined appearance. It has higher cooling capacities than a window AC.
Portable air conditioners (Cost: $345–$700)
A portable indoor air conditioner cools air and then directs it back into the room. It then vents any warm air outside through an exhaust hose installed in a window. It needs no installation.
Ductless, mini-split air conditioner (Cost: $1,300–$4,500)
These split systems work quietly and have high energy efficiency. They also look neat, are flexible, and provide both heating and cooling. Typically, they have an outdoor compressor or condenser and an indoor handling unit — connected through an insulated conduit.
Central air conditioning (Cost: $660–$4,000)
Central air conditioning is perfect for larger homes. It circulates cool air through supply and return ducts. Once the air becomes warm, it then circulates it back to the air conditioner through these ducts.
Heat pumps (Cost: $500–$8,000)
A heat pump works by pulling heat from the outside air or ground to warm your home or pulling heat out of your house to cool it.
5. What kind of ductwork do you need for an AC?
If the ductwork in your house is not installed to carry cool air throughout the structure, you may need to address this before bringing in an air conditioner. Note that the duct seams and joints have to be properly sealed. Any licensed professional can review your current ducting and advise you on a plan moving forward.
Your HVAC replacement cost is important. Get the best estimate with us.
6. What size of air conditioning should you go for?
Quite obviously, the square footage of your house will be a determining factor when choosing an air conditioner for your living space. An air conditioning contractor will be able to determine which models and equipment size will work best for your home.
You can consult the Manual J software by the Air Conditioning Contractors of America (ACCA) to calculate residential load and ensure that the air conditioner is up to your local building codes.
Air Conditioning Units are rated in BTUs or British Thermal Units. The term BTU refers to the amount of heat that an air conditioning unit can remove from a designated amount of square footage.
7. What is Seasonal Energy Efficiency Ratio (SEER)?
It's essential to understand the Seasonal Energy Efficiency Ratio before purchasing an air conditioning unit. The ratio is based on how much cooling the system puts out for each unit of energy it consumes. The higher the SEER, the more efficient the equipment.
After January 2006, the government mandated that new air conditioning units must have a ratio of at least 13. It's possible to find models with a rating as high as 23.
8. Where should you place your condenser?
Before you have an air conditioning unit installed, you need to find a shady area for the condenser. Condensers placed in overly lit areas can overheat, inducing costly damage in the process. Additionally, it needs to be in a location where its airflow will not be blocked. This will ensure maximum efficiency whenever it's in use.
9. What is the cost to install an air conditioner?
The average cost of installing air conditioning ranges between $3,300 and $6,000.
The total cost varies depending on the size and type of AC or HVAC unit you choose.
If you require additional ductwork or an inspection by an HVAC contractor, the AC installation rates will go higher. Keep in mind that getting a new ductwork installation will cost you up to $9,000 while repairing your existing ductwork will add about $1,000 to $3,000 to the total cost.
10. Should you hire a professional for the project?
Hiring a professional to install your air conditioning system can be costly. However, it's a price worth paying for the sake of comfort and a hassle-free installation. You should be prepared to spend an average of $5,000. Some homeowners pay more, depending on the amount of space that needs to be kept cool.
One helpful tip that has saved consumers money is only cooling areas that are thoroughly trafficked. If you live in a temperate climate, you can opt for a portable air conditioner that's highly efficient and also cost-effective.
Planning to install an air conditioning system? Get a free estimate through our air conditioning installation cost estimator
Read more: How to deal with a difficult contractor
Add-ons
You have the option of equipping your domestic air conditioning unit with add-ons to do more for you. For example, you may want to upgrade your indoor unit with a heat pump, which allows it to work as an air conditioner as well as a heater.
Before you have your system installed, think about add-ons that you may want to purchase. This way, you can ensure that everything is in place at the same time.
Installing a new air conditioning unit can not only provide more comfort indoors but also add value to your home. By doing your research and considering these important factors, you can make a wise investment in your home and improve your comfort level during the sweltering summer months.
READ MORE: What's the Best Time of Year to Replace Your HVAC System?
Important Pointers for Installing Residential Air Conditioning
was last modified:
August 16th, 2022
by
Recommended