How and When to Upgrade Electrical Panel Equipment
If "Upgrade Electrical Panel" is on your to-do list and you don't know where to start, you've come to the right place. With great advice from experienced professionals, we will take you through the why, when and how of upgrading a residential electrical panel.
Craig Bryant, owner of Bryant Service Company in Austin, Texas, explains: An electrical service panel (typically found outside your home next to a meter box) and a circuit breaker box (typically found inside your home or garage) restrict the flow of electricity throughout your home, and should do so safely and efficiently.
The overarching reason you may need an electrical service panel upgrade is that you have run out of room for expansion. Electrical service panels split electricity into a series of circuits and have extra empty slots for expansion. If you no longer have any slots, it is crucial that you do not add on to existing slots. Overloading an electrical circuit is dangerous and can destroy electronics and appliances by creating an in-house power surge.
Safety First
Safety should be your first priority — always. Vince Youndt, owner of Vertex Mechanical in Pennsylvania's Lancaster County, shares his professional expertise: Certain brands panels pose one or more safety issues — including Federal Pacific, Zinsco and Pushmatic — and should be replaced. Two of these are known not to trip on high load, which is a fire hazard, and the other can be dangerous to work on. If you are able to find the breakers for these brands, be prepared to pay.
If you have an old, fuse-type panel, you should consider a panel upgrade as soon as possible. Any breaker panel over 30 years old should be evaluated by a licensed and qualified electrician as electro-mechanical gear (such as breaker panels) does NOT get better with age. Without a proper professional evaluation, there is no way to know if a breaker ever needed to trip and didn't.
Home Renovation Cost Estimator
Sorry, we currently don't have that project at our disposal.
---
You can take a look at our most popular ones:
Water Heater Installation
Exterior Door Replacement
Install Recessed Lighting
Exterior Door Installation
Interior Door Installation
Interior Door Replacement
All-Important Amperage
You might also need to replace electrical panel equipment because you just don't have enough amperage to run your home properly. The average single home should have a 200-amp service coming into the home with a 20–40 space panel to allow for the proper amount of electrical circuits to run the home efficiently and safely. If you are renovating an older home, you may want to start with the electrical wiring and distribution. Electrical service panels in older homes were not designed for today's needs. They do not have the room to expand for modern appliances and electrical devices.
If you are in a townhome or multi-bedroom apartment, you can probably get away with a 100-amp service and a 12/24 panel. A one-bedroom apartment can get away with a 60-amp 10/20 panel.
Look for the Obvious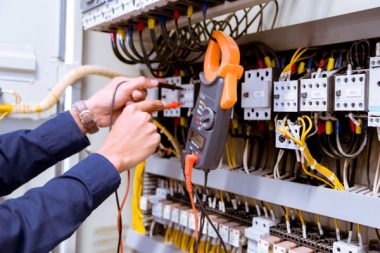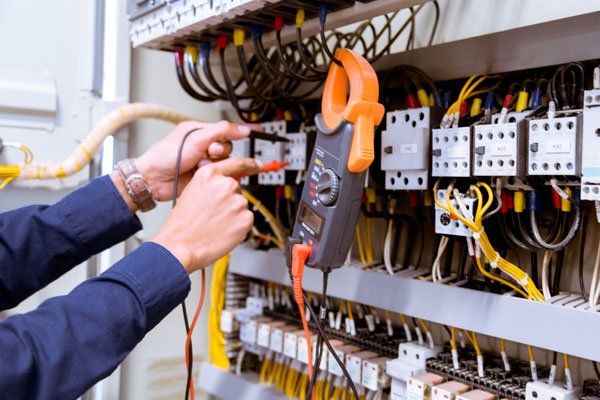 Youndt's next piece of advice? Look for the obvious. Panels that are missing covers or screws are an issue. Are there open spaces where breakers used to be? If there is just an opening through the cover into the busbars, you should consider having an electrician look at it to see if it can be repaired or if it might be in your best interest to replace the panel.
Any panel that has a lot of mini breakers indicates that the panel could be overloaded. It might only need a sub panel or larger panel to help with space requirements.
Read more: Fuse box vs circuit breaker
Other Factors to Be Aware Of
Dimming Lights
It is important to maintain a proper load balance on electrical circuits to prevent electrical surges and malfunctions. If you notice that lights in your home dim when electrical appliances, such as air conditioning units or the vacuums, turn on, it is because there is too much load on one circuit.
Charging an Electric Vehicle
If you are planning on going green with an electric vehicle, you may need to bring in a lot more power. Additional circuits and possibly three-phase power will need to be brought in to charge your car.
Read more: Best buyers guide home electric vehicle charging station
Adding Electrical Appliances
Adding electrical appliances is another concern. Electric clothes dryers, electric ovens and electric hot water heaters require 240 volts versus the 120 volts that normal outlets have. If you do not have any additional slots left, you cannot compromise and add the appliance on existing circuits. Seek the advice of a seasoned pro.
Electrical Panels and circuit breaker boxes are essential elements to maintaining efficiency and safety in a home's electrical wiring system. Our last piece of advice is to get professional help so that you can run your home safely and efficiently for years to come. Now you can scratch 'Upgrade Electrical Panel' off your list and move on to the next job!
Read more: Whole House Generators to Keep Us Safe Indoors
How and When to Upgrade Electrical Panel Equipment
was last modified:
December 20th, 2022
by
Recommended