The Best Buyer's Guide For A Home Electric Vehicle Charging Station
The last decade has seen a lot of advancement in the world of electric cars, and so also in a home electric vehicle charging station or EV chargers. And, we are glad. This automobile technology is a huge step towards a sustainable environment. No harmful emissions, no gasoline usage, and lesser carbon footprint.
The technical term for such a station is electric vehicle supply equipment, also known as EVSE. The words — charging station — may be a tad confusing because the actual charging equipment is built into the car, and the EVSE just provides a safe supply of electricity to the vehicle. But, Americans have really warmed up to the idea of calling it that. So, we'll use both of them interchangeably in this article. Anyway, however you call it, the fact of the matter is that this gadget is indispensable if you are an EV owner.
What is a home electric vehicle charging station?
An EV charging station, or electric vehicle supply equipment (EVSE), gives power to your EV the same way gasoline does to a fuel-based car. It provides the source of electricity while the car battery does the charging.
So, now that you're thinking of investing in a reliable and powerful EVSE to charge your car — we will make the task easier for you. This article provides you with the best buyer's guide for a home electric vehicle charging station.
How much does it cost to install an electric car charger at home?
In case of a Level 1 charger, the cost of the station is anything between $300 to $600. The parts and labor will, of course, be additional cost — amounting to $1,000 to $1,700. A Level 2 charger will be a bit more expensive. While the station itself will cost approximately $500 to $700, the parts and labor charges will set you back by $1,200 to $2,000.
EV newbies must be wondering about the difference between Level 1 and Level 2. So here goes:
Level 1 vs Level 2 home electric vehicle charging station
Electric vehicles sold today, especially in America, come with standard 120-volt Level 1 portable charger. These chargers can be plugged into a simple household outlet. They don't require any special installation. Do note that this feature might be absent in European cars.
On the other hand, Level 2 uses 240 volts and needs a more specialized home charging — and more charging time. There are manufacturers like Tesla which design cars with both kinds of plug-ins for both chargers: 120/240-volt Level 1/2 charger.
In a typical electric car, Level 1 chargers give between 3 and 5 miles of range per an hour of charging. In the case of level 2 chargers, the rate increases to 12 to 60 miles per hour. However, do remember that this number will depend on how much electricity the car's onboard charger can accept.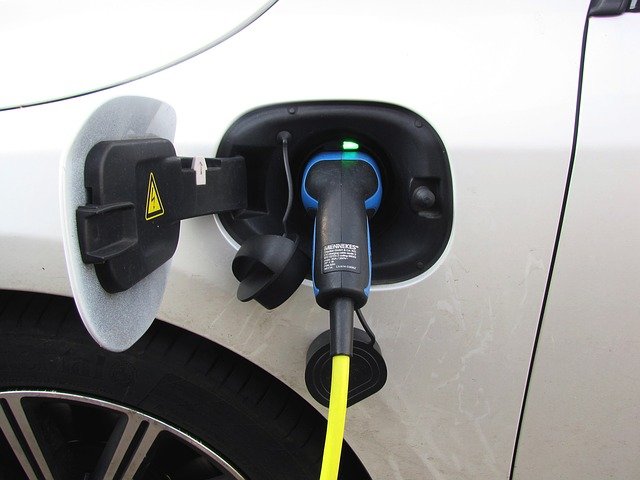 Pixabay
Some more questions to ask before buying an EVSE
Who has control over your electricity supply?
For a homeowner, this issue is redundant because you can install your charging station without asking anyone else for permission.
If you own a condominium, however, you may have to get permission from the association — which can be troublesome.
In case, you live in an apartment and have a reserved parking space or garage, you'll probably need to get your landlord's permission before installing the charging station. There may be a limit on how much power is available to you in the garage.
Does your electric service panel have enough capacity for the charging station circuit?
To determine whether you have enough spare capacity or not, consult a licensed electrician. He will inspect your electric service panel to let you know if you do.
Where should the installation be?
You must locate the charging station close to the inlet for the connector on the car. Make sure the cable on the charger is long enough to reach the inlet without stretching. Do note that different electric vehicles may have a different location for their charge port, so make sure you know where the charge port is located before installing your charging station.
Now that you've decided how and where you're going to install the EVSE, it's time to choose the best home electric vehicle charging station.
Since the choices are many and might create confusion, it's better to keep certain parameters in mind when deciding on which station is the right one for you.
Features to help you choose:
Home electric vehicle charging station cost
An efficient and durable EVSE will cost you around $500 to $700. The figure will depend upon the brand, model, and additional features that will be discussed below. Do note that this amount does not include installation. Choose the one that fits the bill in terms of budget and requirements.
Capacity of amperage
A good EVSE should be able to handle at least 30 amps. A 30-amp service will roughly give you the ability to add 30 miles of range in an hour. It's important to know that a 30-amp EVSE will need a circuit breaker rated for at least 40 amps. Do consult a licensed electrician before deciding whether you have spare capacity or not.
If your current car (let's say if you have a Nissan LEAF prior to the 2013 model with plug-in hybrids) can't fully utilize the higher amperage, don't worry. Maybe the next one will. You will not have to upgrade when you buy a new one that has a faster onboard charger.
Length of charging cable
As explained above, you need to be clear about the location of your electric vehicle before you buy an EVSE. The next step is to measure the distance between the prospective EVSE location and the charging port on your car.
Standard cables usually are 15 to 25 feet. Make sure your cord can easily reach where it needs to go. And, if you're contemplating buying a second plug-in car, the length will increase accordingly.
Always consult an electrician whenever in doubt. He might have to run just a few feet of conduit or maybe dozens. Longer the length of copper runs, more the installation cost.
But, choosing the correct measurement is vital. Since you'll be charging your EV almost every night — the installation needs to be as convenient as possible.
Portability
Our advice would be to avoid installing your EVSE at one wall permanently. Moving it in the future might include additional expense. Instead, have an electrician install a NEMA 14-50 outlet or something similar. Then, put a matching plug on a pigtail mounted to your EVSE. Mount your EVSE right next to the outlet, and simply plug it in.
The best part is: if you decide to relocate your EVSE, moving it is easy. Simply unplug—and plug it back into another NEMA 14-50 outlet.
If your EVSE is going to be parked outside on a driveway, confirm your area's local code. It might require that you hard-wire the charging equipment. Do check beforehand. Otherwise, keep your options open.
Connectivity
Home electric vehicle charging stations are of two kinds: dumb and smart EVSE. A dumb one simply charges the car. Well, that's what it's there for, right? A smart charging station has the ability to connect to WiFi or PLC.
Wi-Fi-enabled EVSE may have timers, meters, and touch screens. You may even be able to monitor your chargepoint at home from anywhere close by or even change charging schedules over the web.
However, we feel that this technical mumbo-jumbo of connectivity might just add unnecessary complexity. A smart EVSE will cost more too. We've seen cases where the EVSE just shut down when connectivity was lost!
If you really must track electricity usage for your EV, you may meter your charging separately.
Conclusion
We hope our buyer's guide on home electric vehicle charging station gave you enough information to choose the right one for your EV. Do let us know if it did. As an EV driver who's getting a new car (or an experienced one), we wish you all the best. Happy shopping!
The Best Buyer's Guide For A Home Electric Vehicle Charging Station
was last modified:
May 23rd, 2022
by
Recommended