A fresh coat of paint is a great way to breathe fresh life into the exterior of your home and is also a great way of protecting it against weather conditions, UV rays, temperature fluctuations as well as against mold, and mildew.
However, you cannot just randomly choose any outdoor paint for your exterior surfaces. The wrong paint can lead to peeling and bubbling, while the right choice can keep your home's curb appeal looking fabulous for over a decade.
Let's learn more about how to choose the right kind of exterior paint for your home.
Choices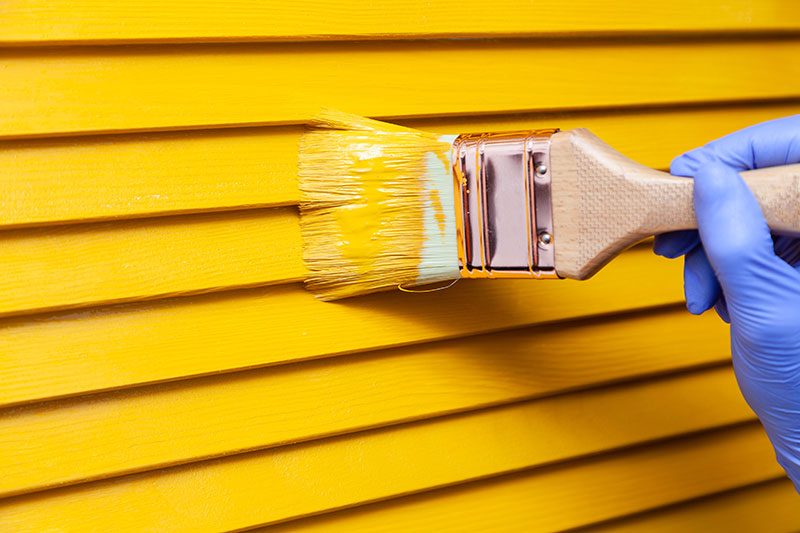 Paint can be distinguished based on the formula, or the main ingredient, and the finish.
What type of paint to use for exterior house walls: Formulas
Based on the formula, you have three types of paints: acrylic, latex, and oil-based paints.
Acrylic paints
These are thick and viscous paints made of high-quality ingredients. The chemical nature of these paints make them elastic, contracting and retracting as the temperature fluctuates. This elastic property of acrylic paints makes them ideal exterior paints.
These paints are compatible with a variety of surfaces, including stucco, fiber cement, aluminum, plaster, drywall, and wood.
Latex paints
Latex outdoor paint is water-based, making it a lot more affordable and easier to apply than other paints. Just like acrylic paint, latex paint also tends to expand and contract due to changes in temperature.
It also dries really quickly, which is another reason for its popularity. Since it is available as both indoor and outdoor paints, be sure to choose outdoor latex paint for your exterior walls.
Oil-based paints
This is probably the least popular option among the three. Oil-based paints, although safer to use outdoors than indoors, are considered dangerous because they emit fumes. This is why professionals always use masks while working with them.
Oil-based paints are best suited for smooth hard surfaces like porches, doors, and trims. While they do not expand and shrink like acrylic or latex, oil-based paints do, unfortunately, tend to fade off over time. Their oil base also means they are not easy to clean and maintain.
Read more: Anti condensation paint
Finishes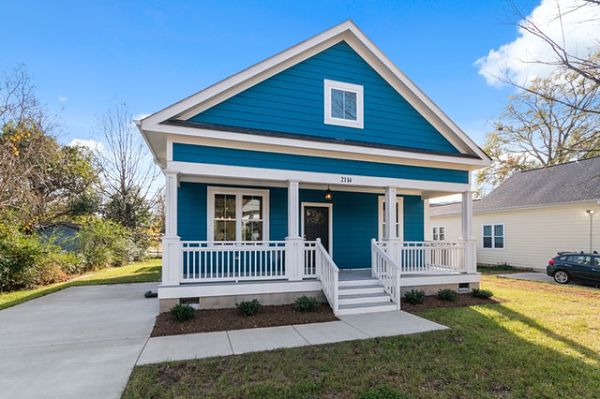 How your exterior paint job looks when it is finished depends on the finish of the paint you choose. There are three finishes that you could choose from. However, keep in mind that while some finishes work great for exterior siding, others are better for trims and small details.
Matte finish
Matte finish or flat finish is a solid, non-reflective finish that is ideal for hiding imperfections and giving old houses a modern look.
While it works great for exterior siding, it is porous in nature. This means it is not very durable and, therefore, not suited for high-traffic areas.
Satin finish
This low luster finish is also called eggshell finish and is one of the most common finishes. It works beautifully on well-maintained wood or cement siding, giving it a not too bright, yet, not too dull and neutral look.
It is important to get satin paint colors mixed professionally just before working with them, even if you intend to do work on the painting project yourself because getting the mix wrong can result in an uneven sheen.
Read more: Satin vs flat paint options
Semi-gloss and high gloss finish
Glossy finish paints are durable, easy to clean, and are shinier than matte or satin finish paints. They are used on surfaces that see a lot of traffic, such as garage doors and window sills because the paint resists scruffing and water damage better.
Semi-gloss paint is less shiny than high gloss paint but more durable. This makes it ideal for trim work, doors, and areas that are exposed to the elements.
Since high gloss paints are easy to spot, they are not the best choice to cover up damages or imperfections.
What to look for
Your exterior house paint needs to have certain characteristics to make it ideal. Let's take a quick look at what those characteristics are.
Durability
While acrylic and latex paints are made of higher quality materials, oil-based paints are more durable. However, oil-based paints tend to discolor easier and have higher VOC levels, making them unsafe.
The better the paint mix is, the longer it will last.
Applying more coats of paint will make it more durable.
Glossy paints are more durable and easy to maintain.
Acrylic and latex paints are more weather resistant than oil paints.
Low VOCs
Oil paints have higher VOC (volatile organic compounds). These emit toxic fumes and are therefore not healthy to work with.
Acrylic and latex paints may also contain lower levels of VOCs. However, you can also buy zero VOC paints.
Ideally, the VOC level should be lower than 50 grams per liter.
Dry time
It is important to wait for a coat of paint to completely dry before applying a second coat.
Dry time of different paints is usually listed on the cans.
Acrylic paint can take between 4-6 hours for a coat to dry.
Oil paints can take almost 24 hours between coats.
Paint color

The higher the quality of the paint, the longer the color will last.
Dark colors tend to fade faster than light shades do.
Paints with UV protection tend to fade slower than regular paints.
Pro tips
Siding made of composite and fiber cement is best painted using a couple of coats of acrylic paint after a coat of acrylic-based primer.
Oil-based paints are the best bet for wood siding.
Bric, concrete, and stucco all need a coat of masonry primer before being painted. The best paint choices are elastic ones, acrylic, or latex.
Walking surfaces like porches and patios are best painted with high-quality deck paints. These could be oil-based or water-based. While the oil-based ones are more durable, the water-based options are less likely to fade.
What type of paint to use for exterior house walls?
was last modified:
December 15th, 2022
by
Recommended