The garage door usually accounts for a good part of the face of a house. You need to keep the garage door maintained and painted if you want to have curb appeal. This article will tell you the factors to consider while choosing the right paint for your garage door.
What type of paint to use on different materials?
There are three main factors to consider while picking a garage door paint. You will need to consider the size, color, and type of the garage door in question. The material of your garage has an important role to play in this regard. So, what is your garage door made of? The answer to this question will hold the key to picking the right type of primer and paint. The most popular garage door materials include wood, steel, vinyl, and aluminum. Choosing the right paint will ensure the longevity and beauty of the door in all weather conditions.
Further garage design ideas? Look at these 7 Key Upgrades That Increase Your Garage Curb Appeal
What paint to use for wood-based garage doors?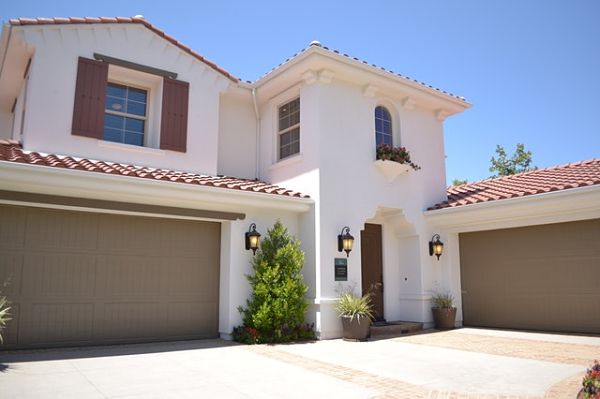 If your garage door is made of wood, you may want to go with oil or latex-based paints. This will help to boost the strength of the door. For wood, you need to remember to coat the garage door with a primer before you start painting.
Planning for door refinishing? Get the best estimate with our tool!

Further tips on house painting? Take a look at our guide on How to Pick a Perfect Paint Color for a Dark Room
What paint type goes best with steel?
As is the case with wood, oil or latex-based paints is the best answer for steel doors. This will add to the longevity of the door. For steel, you may want to use an anti-rust primer before applying the paint.
What About A Garage Door Seal? Take a look at Everything You Need To Know!
What about vinyl garage doors?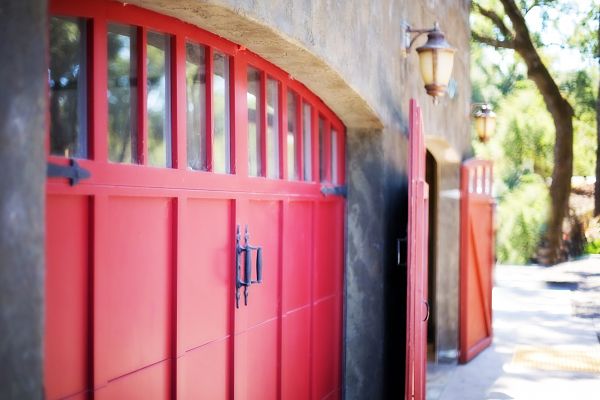 Photo by Pxhere CC0
If your garage door is made of vinyl or has plastic on the surface of the door, you will need to go with a latex-based paint and primer with a proper bonding agent. If your garage door is made of vinyl, you need to avoid low-quality paints. Top-quality latex paints stick to vinyl easily and give a good finish.
What Is the Cost to Build a Garage in Your Zip Code? Let's find out!
What is the best paint type for aluminum?
Aluminum garage doors need to be painted with acrylic colors. This will allow the paint to hold on tightly to the metal, giving it a firm finish.  When it comes to aluminum, it is a good idea to use a galvanized metal etching primer before going for the actual paint.
Planning to paint a room? Paint Like A Pro With These Top Tips!
How much paint will you need for a garage door?
Usually around one gallon of paint is required to paint a garage in most cases. However, the amount depends on the size and the existing color of the door. If you are trying to do a paint job using a lighter shade on an existing darker shade, you will need to add more than the usual three coats of paint.
Further info? Take a look at a Comprehensive Guide on Garage Door Installation
So, what are you waiting for? Depending on the size and material of your garage door, choose a paint and give the exterior of your house a renovated feeling today!
Read more: Garage Door Buying Guide: All You Need to Know
How to Choose the Right Garage Door Paint?
was last modified:
August 30th, 2022
by
Recommended