Are you contemplating replacing your old garage door? If the door is more than 20 years old or is in dilapidated shape, it's about time! After all, newer garage doors are safe, easier to operate, and enhance your curb appeal significantly. So, how much will a garage door installation cost you today?
Garage door installation cost
The price of a new garage door is approximately $300 to $4,000. The labor costs on average come out around $300 per unit. Overall, a standard-sized single garage door cost ranges between $600 and $1,500 installed. A double garage door cost runs $800 to $1,500 installed.
Of course, the total installation cost depends on the garage door size (whether you need a single or double-width door), material, smart features, style, finishing, and your zip code. Other aspects include energy efficiency, durability, noise control, decorative hardware, and insulation.
Basically the more you want to customize your garage door, the more its installation price will increase.
Further garage design ideas? Look at these 7 Key Upgrades That Increase Your Garage Curb Appeal
Garage door installation cost breakdown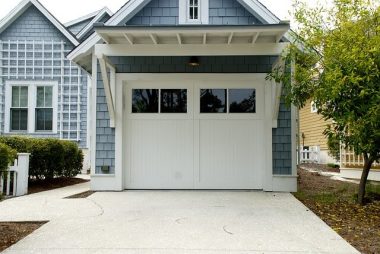 The typical costs for installing a garage door will include:
Garage door material
| Garage Door Material | Average Installation Cost |
| --- | --- |
| Wooden Garage Door | $700 to $1,800 |
| Wood Composite Garage Door | $950 to $3,800 |
| Faux Wood Garage Door | $950 to $4,200 |
| Fiberglass Garage Door | $1,000 to $2,200 |
| Vinyl Garage Door | $1,000 to $2,600 |
| Steel Garage Door | $600 to $2,000 |
| Aluminum Garage Door | $700 to $2,000 |
Home Renovation Cost Estimator
Sorry, we currently don't have that project at our disposal.
---
You can take a look at our most popular ones:
Water Heater Installation
Exterior Door Replacement
Install Recessed Lighting
Exterior Door Installation
Interior Door Installation
Interior Door Replacement
Take a look at these 9 Smart Garage Design Ideas For New-Age Homeowners
Garage door style
The table below shows the average cost for a single door up to 10 ft wide:
| Garage Door Style | Average Cost |
| --- | --- |
| Roll Up | $400 to $1,500 |
| Glass Roll Up | $700 to $7,000 |
| Custom Walk Through | $700 to $5,000 or more |
| Tilt Up | $500 to $1,200 |
| Standard Panel | $300 to $800 |
| French | $2,000 to $5,600 |
| Carriage | $1,000 to $10,000 |
Garage door insulation
Garage door insulation, an almost indispensable part of a garage door installation, costs around $50 to $500. Insulation with good R-value can reduce energy costs in an attached garage by almost 15 to 20%! Even though an insulated unit will cost you an additional $200 to $600 than its non-insulated version, it's worth the price.
Hiring a contractor vs DIY
If you're wondering if garage door installation is a DIY project, then the answer is ideally not. Most housing experts believe that such a home improvement task requires at least two people on the job, advanced carpentry skills, and sound knowledge of household electronic systems.
Moreover, while a licensed professional will be able to complete the work in about five hours, the average homeowner will usually take a minimum of nine to 12 hours!
If you're a regular DIYer, you can, of course, do most of the new garage door installation project yourself, but you should definitely take someone's help in removing the old door in case of a replacement.
Take a look at out guide on Roll-Up Garage Doors
It's best to hire a professional garage door company. We are recommending it despite the fact that a DIY project can save you several hundred dollars. The truth is, it will also add to your hassles.
The best practice is to contact at least three different agencies for a quote regarding the work. Make sure that the estimate includes the costs of different types of doors, the total installation fees, and the cost of wiring the automatic garage door openers.
Planning a garage installation? Try our free garage remodel cost estimator; it's easy and convenient to use!
Read more: When is it time to replace garage doors
Garage opener cost
The cost to install a garage door opener (automatic) ranges from $150 to $300 installed.
Read more: A Quick Introduction to Garage Door Windows
Garage door installation steps
We feel that even if you hire a professional for the job, you must always be a step ahead in knowing what comes next. Here are some basic steps to keep you in the loop regarding garage door replacement or installation:
Release the tension in the torsion spring system by clamping adjustable locking pliers onto the torsion spring shaft. Then, wedge the pliers against the header wall above the door.

Disconnect the existing door and opener starting from the top panel.

Install the door panels by attaching hinges to the top of each panel. Don't forget to place a reinforcing bar on the top panel if you're installing a two-car garage door. This is to prevent the door from bowing in the center. 

Secure the hinges and then install the track.

Do not reuse your old garage door tracks, or else your garage door may not have proper spacing. Keep in mind that uneven spacing may cause your garage door springs to become unbalanced.

Attach the spring assembly to the track.

Bolt the tracks together and attach the horizontal track to the vertical track on the door.

Install the springs.

Install the torsion rod and pulleys.

Attach the cable.

Tighten the springs as per your owner's manual.

Install the new garage door. 
Take a look at our Complete Guide on Garage Door Opener Installation
Last words
It's crucial to select the right set of garage doors for your home. Apart from the fact that this outdoor feature will serve you for many years to come, it can also make or break the look of your house.
This is especially true if you have a front-facing, attached garage. Its door will probably be the first thing that your guests and neighbors will notice. So, if you're planning a garage renovation project, NOW is the time.
Read more: Garage Door Buyer's Guide
A Comprehensive Guide on Garage Door Installation
was last modified:
December 28th, 2022
by
Recommended