If renovating your garage is a part of your home improvement plan, consider getting garage door windows. If that just made you do a double-take, we understand. Yes, you can put windows on garage doors. And you have a variety of options to choose from. Here's a quick introduction to garage door windows to help you make the right choice for your home.
Advantages of garage door windows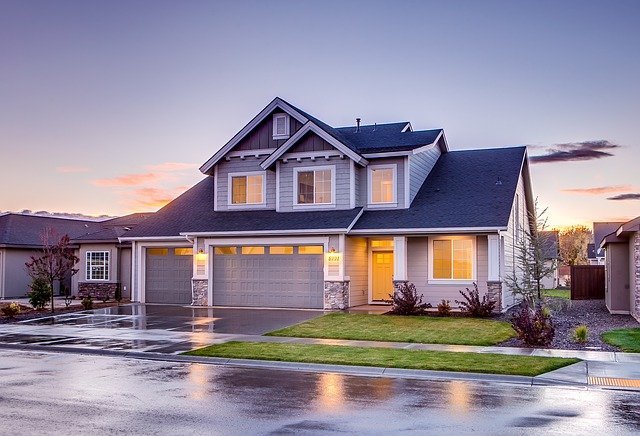 It gives you the benefits of natural light without having to open the door. You no longer have to depend on a bulb to light up your garage throughout the day.
It increases the curb appeal of a home, especially in homes that have front-facing garages. Most homeowners recover their investment on a new garage door at the time of a sale, especially when the doors have windows.
Garage doors are customizable to suit your needs, allowing you to choose from a wide range of shapes, sizes, densities, and more. For example, if you live along the coast or in an area that experiences high-speed winds, you can choose impact-rated glass. Similarly, if you live at an altitude above 5000 feet, high altitude glass will better suit your needs.
You could even choose garage door windows that match the windows on your main entry door, maintaining a cohesive design theme that is sure to add to your curb value.
Instantly estimate the cost of your remodel...
...or take your time to personalize dozens of choices to transform your house into your dream home.
Things to plan before buying garage door windows
1. Extra weight
Adding windows to your garage door is likely to make the door heavier. Upgrade the spring system on your automatic garage door opener to handle the excess weight.
Thinking about window installation? Find the best cost for your installation.
2. Insulation
If your garage door is insulated, buy insulated garage door windows to maintain energy efficiency.
3. Window placement
If you want plenty of light and maintain privacy without having to treat the window panes, install the garage door windows on the topmost panel of your garage door. If you want a view of the outdoors while the door is shut, install them in the panel below it.
4. Privacy
While there is no dearth of decorative window designs to add to the curb value of your home, there are also options like frosted, seeded, and tinted window panes to enable you to enjoy privacy while in your garage.
Replacing garage door window inserts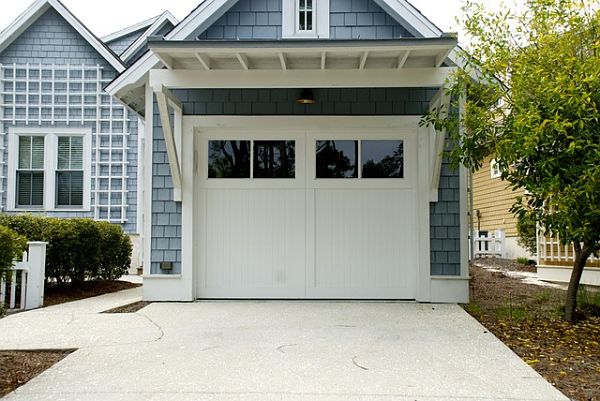 Garage door windows, just like any other windows, are prone to breaking due to weather conditions, stray baseballs, and other such factors beyond our control. That being said, replacing garage door window inserts is surprisingly easy in most cases.
Unscrew the inner retainer while someone holds the window frame from the outside.
Insert the new glass panes.
Carefully remove broken glass pieces from the inner retainer.
Secure the glass panes by inserting the screw into the inner retainers while someone holds the window frame from the outside.
Read more: When is it time to replace garage doors
Some frequently asked questions
How much does it cost to add windows to a garage door?
The average cost of adding windows to garage doors is between $25 to $55 per window, inclusive of labor.
Read more: How much garage door service typically cost
What size are garage door windows?
Garage door windows can come in a variety of sizes and shapes. However, the average size of a long panel garage door window insert is around 38" x 10.5".
Can garage door windows be opened?
Yes, you do get openable garage door windows. These are a great choice for homeowners who use the garage as a workspace and is particularly helpful to improve the airflow inside the garage.
Find out how much your window installations will cost with our estimator tool.
Pro tip: How to frost your garage door windows yourself
If you couldn't buy frosted window panes for your garage door windows, there's no need to fret. You can buy frosted window film and apply it yourself following these easy steps.
Use a glass cleaner and a lint-free cloth to thoroughly clean the surface of the pane.
Mix a couple of drops of dishwashing fluid with water in a spray bottle, and gently spray the surface of the pane.
Apply the frosted window film. It's usually non-adhesive, so if you don't get it right the first time around, just do it again.
Planning for door refinishing? Get the best estimate with our tool!
A Quick Introduction to Garage Door Windows
was last modified:
December 28th, 2022
by
Recommended