13 Tech Upgrades for your Airbnb and Rental Properties
The popularity of rental platforms continues to grow with over two million people sleeping in an Airbnb on any given day. If you're looking to turn your spare room or empty property into a money-generating rental, investing in a few luxuries can dramatically increase the amount that your guests are willing to pay—and help your property stand out.
Smart home technologies are among the amenities most valued by renters, according to the National Apartment Association, and even people staying one or two nights appreciate the added conveniences. These 13 tech tools offer the biggest bang for your buck and can help your space feel modern, convenient, and safe for those staying there.
Entrusting a stranger with a physical copy of your key can be nerve-racking, especially when they're renting for only a brief period. Smart locks offer a tailor-made alternative for short-term rentals. Smart locks come in a few varieties, but most use a smartphone app to manage access, letting you grant your guests digital keys for any amount of time and ensure your home is secured when they leave. Most smart locks are as strong and durable as a traditional deadbolt and often feature touch activation or manual keypads for convenience.
Hotels advertise their HBO packages for a reason; guests simply love having access to a range of entertainment options. A smart TV combines traditional local and cable channels with streaming services like Netflix and Hulu, offering an all-in-one entertainment experience that your renters will rave about in their reviews. Small smart TV units like the TCL Roku offer all the best features of larger TVs at a rental-friendly price to discourage theft.
Digital Assistants and Smart Hubs
The future promised to us by science fiction has arrived, and it's driven by sleek, futuristic digital assistants. Amazon's Alexa, Google's Assistant, and Apple's Siri all offer a massive library of commands and "skills" that guests can activate via voice commands, making them one of the most exciting home tech upgrades in recent memory. For rental properties, a digital assistant is an exciting and head-turning extra that attracts considerable attention. A digital assistant can also act as a smart home hub to automate all of your other smart tech devices—just make sure your guests can't order anything off your web accounts.
Monitoring your rental property from afar can be worrisome, especially if you live in a crime-prone area. Door and window sensors are an invaluable tech upgrade that can protect a neglectful guest from theft. These sensors allow remote monitoring to prevent an open window from providing an easy entrance for a thief or racking up huge energy bills while you're out of town. Newer security systems can help you monitor all your smart sensors at once, and some security companies like Vivint offer additional packages and features aimed directly at rental properties. Keep in mind that Airbnb restricts indoor camera use, and you must disclose security features in your listing.
Small upgrades can make a big impact on your guests, and nothing shines like great lighting. The newest smart lightbulbs offer dynamic options like color-changing LEDs, dimmer settings, and automatic timers that make your apartment or room feel chic, fun, and trendy. Smart light bulbs are also extremely energy efficient, and you can control them remotely, meaning you can make sure renters have turned off the lights after the leave and save your energy bill. If you really want to impress your renters, integrate your smart lightbulbs with your digital assistant for voice-activated controls or look for futuristic lighting panels that create bold, geometric patterns.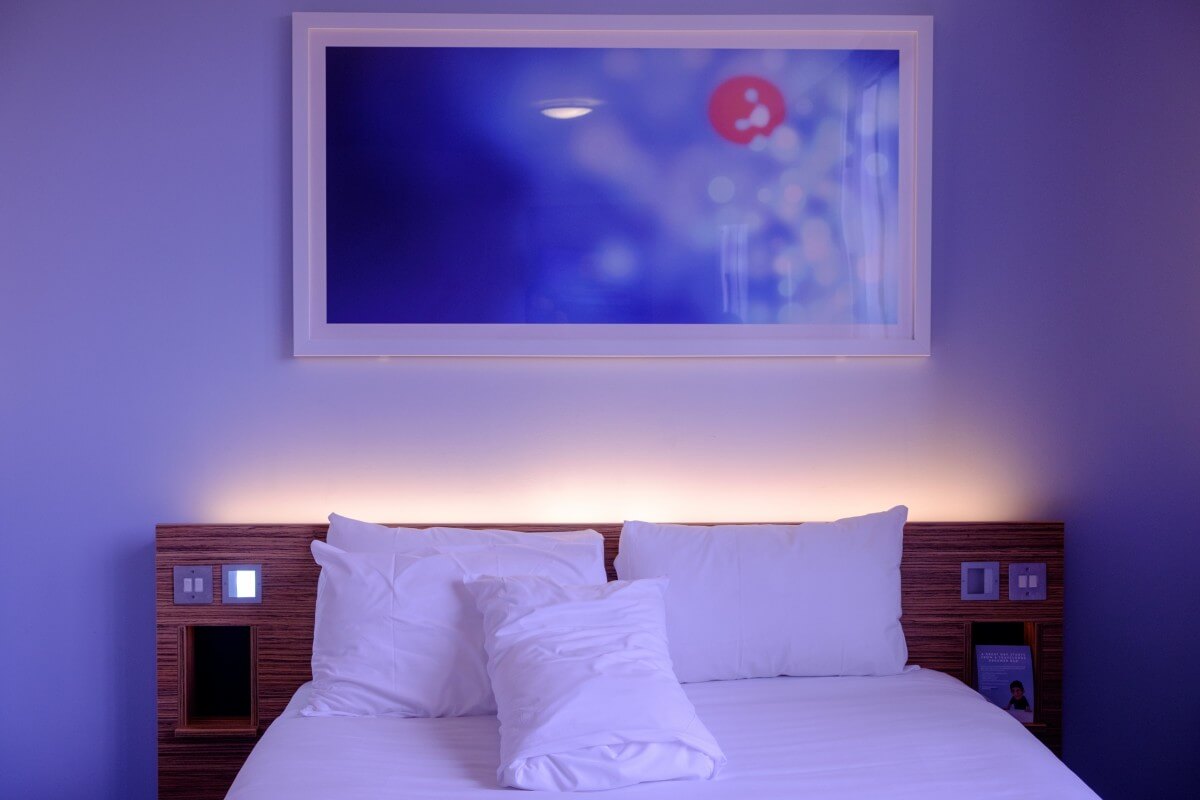 A high-quality sound system makes a great impression on guests and renters alike. Smart speakers are becoming a mainstay of smart homes everywhere, and the newest options from companies like Apple offer high sound quality with the added benefit of connectivity features, voice controls, and AI integration. Smart speakers often act as the hub for your home's digital assistant, so consider placing one in a central space like the living room or kitchen for your guest's convenience.
A clean space is a must for many guests, especially short-term renters, but it can be challenging keeping multiple rental properties clean (or even just a guest room). For small jobs and general upkeep, an automated vacuum bot will keep your floors looking spotless. These handy devices often impress guests since they emblemize the high-tech lifestyle you're looking to cultivate. Be sure to look for a bot with a "manual" mode so your guests can drive the robot from the living room couch.
Read more: Smart home maintenance plan
Few tech tools for rental properties offer the same warm, soothing convenience as the humble coffee maker. A coffee maker welcomes your guests and creates a positive atmosphere each morning. Stocking supplies like sugar, creamer, tea bags, and stirrers lets your guests know that you're willing to go the extra mile to provide them with a memorable experience. If you splurge for the cappuccino maker, prepare for a flood of re-bookings and extended stays.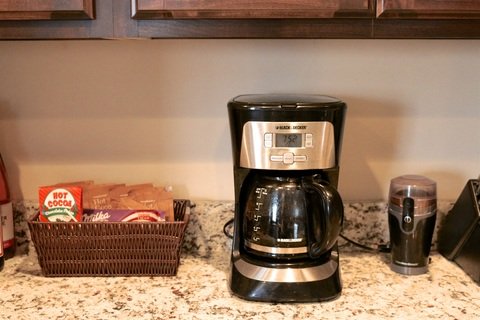 If your rental property connects to your home, you'll want to upgrade your router and internet package to handle some extra bandwidth. Faster internet helps your guests get work done, watch their favorite movies and shows, and leave glowing reviews. It's also a must-have upgrade for all your IoT devices, which tap into your Wi-Fi for connectivity features and smartphone functions. Airbnb will even list your internet as an amenity, making your property even more searchable.
For renters, small details can make a big difference in their overall impressions of your space. USB smart outlets are a simple and convenient upgrade that matches the tech-savvy preferences of guests in urban areas. Since almost every guest will have a smartphone, you can be sure this tech upgrade will get a lot of mileage. Go the extra mile with plug-in smart outlets to automate more appliances, lamps, or other electronic devices.
Smart thermostats remain one of the most practical tech tools for a rental property owner. With a smart thermostat, you can monitor your home's heating and cooling from a distance, ensuring that your temperature settings aren't being abused by an inconsiderate guest. Many smart thermostats can also act as a hub for the rest of your smart home devices, centralizing your voice controls in a convenient location. Most guests will love the ability to adjust the temperature with a simple voice command.
If you're looking to make your property even more unique, a smart shower system gives guests a spa-like experience every time they use it. Guests can activate advanced temperature controls from bed via smartphone, and a notification lets them know when the water reaches the desired temperature. Automatic timers can also help cut wasted water, saving you money on your water bill.
Landscaping is an oft-neglected selling point of a rental property, especially for long-term tenants. However, managing your landscaping can be too time-consuming for even the most well-meaning landlords. A smart sprinkler system offers a great tech solution for renters. The newest systems integrate local weather and landscaping data to perfectly adjust their watering schedules, taking the guesswork out of gardening and ensuring your property looks its best.
Read more: Keeping your vacation rental
Conclusion
If you're looking to raise your rent or the desirability of your Airbnb, the investment in tech upgrades and good interior design can pay for itself pretty quickly. Smart homes have never been more popular, and your guests will love the chance to play with these fun, convenient technologies while staying at your property.
Read more: Mistakes to avoid upgrading to smart home
13 Tech Upgrades for your Airbnb and Rental Properties
was last modified:
September 26th, 2022
by
Recommended