If you live in a small apartment and want some privacy or need some new areas, room dividers could be the right choice for you. Their installation in homes could help you utilize all the open space efficiently. There are wide varieties of room dividers available in the market and you can choose from moveable dividers, sliding dividers, fixed dividers, and hanging down dividers among others depending upon your needs and taste. Dividers come in different sizes, colors, and materials. They are not just to divide your large space but can also be used for decorations to make your home look beautiful. You can use colorful fancy dividers in your living space to create a feeling of contemporary style. To help you out with the selection process, here's a list of 35 of Ritely's amazing room divider ideas to turn your single room into two:
1. Fiber Room Dividers
If you are looking for an inexpensive but extremely classy room dividing apparatus, you could be at the right place. Fiber room dividers can be used to separate the living room from the dining area or bedroom. Adding some decorations could add a sense of personalized style to your home.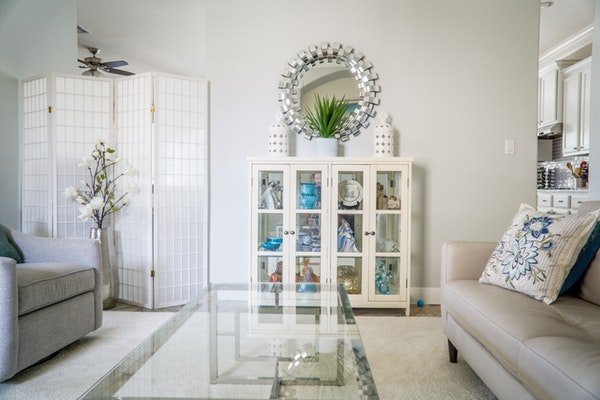 2. Window Room Dividers
Window room dividers have been popular for quite some time now because they make your home look spacious and also allow both the rooms to have natural light. They are a classy addition to your home, giving you a vintage feel.
Read more: Eclectic interior design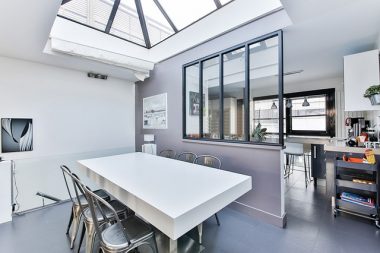 3. Wooden Room Dividers
Wood has been one of the most common room divider materials and comes in a large number of fancy designs to give your home a sophisticated finish. They are super durable and add beauty to your living room. They can be used in your living room to separate it from the dining room.
Read more: Rustic shelves ultimate wall furniture
4. Solid Base and Open Screen Dividers
Solid base and open screen dividers could be a perfect choice for your modern home. The solid base could be used for decorations as well as storage purposes which effectively utilizes your small space. These dividers are usually made out of polymer, are available in multiple colors, and have a long life.
5. Single Glass Room Dividers
The single glass room dividers could be added to separate your bedroom from the living room in a simple but elegant way. Using this glass door would ensure proper natural light inside. You can also add up a light colored curtain over curtain rods to ensure privacy.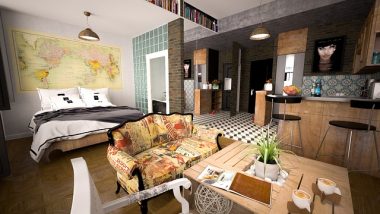 6. Hanging Canvas Room Dividers
The hanging canvas room divider could be a simple option to decorate your room as well as add a sense of style to your living area. You can pick from a variety of patterns and colors to match up with your interiors.
7. Storage Room Dividers
Storage room dividers serve two purposes for you- they help you store your books or any other stuff and act as a divider of space. Such accessories are really convenient to use and keep. They are available in a number of colors and materials. You can pick the color and material that best suits your home's interior. Decorate it with some flowers and you are good to go!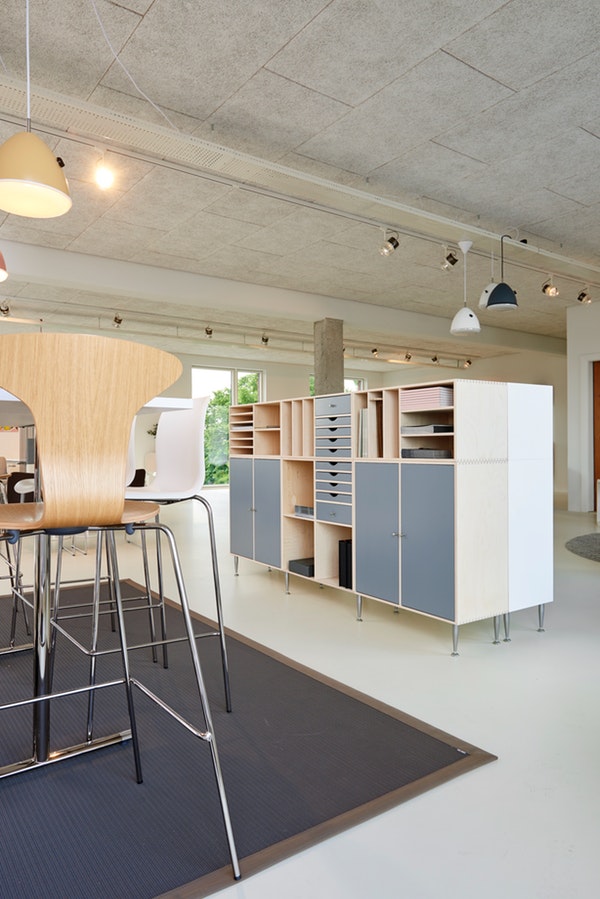 8. Glass Sculpture Dividers
This could be one of the most unique ways to divide your space. The glass sculpture dividers come in a large number of patterns and bring charismatic changes in your living room. They are usually spotted in good hotel lobbies and usually are a center of attraction. Placing one of these in your living space could make your home glamorous.
9. Garden Room Dividers
If you are the kind of person who loves to stay close to nature, this could be the right choice for you. A garden room divider gives your living room a fresh feel as if you were living in a garden. It can be used to separate your workspace or reading space from the hall so that you can be calm while you work. They are also great because they offer sound absorption and purify the air.
10. Fancy Wood Wall Room Dividers
A designer wood wall could be used to serve as a separator between the living room and bedroom or bedroom and bathroom. They come in hundreds of patterns. Add a couple of decorations to make your bedroom and living room even more beautiful.
11. Colorful Room Divider Panels
The colorful room divider panels could be a less expensive option to separate your hall into two spaces and add a vibrant touch to your space. Use this in a color that matches your interior to separate your living room from the dining hall or the gym.
12. Plant Dividers
The plant dividers give you a fresh and peaceful feeling when added to your living room. If you like being surrounded by the soothing aroma of flowers and leaves, this could be the perfect pick for you. This not only separates your room but also makes a great decorative add-on in your living space.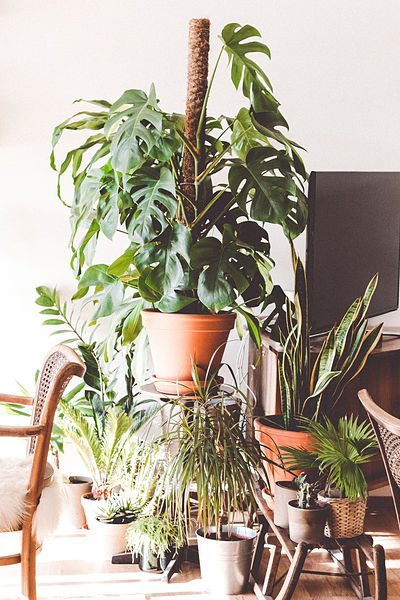 Pxhere
13. Bookshelf Dividers
For all those book lovers who can't have enough books, this perfect bookshelf/divider is decorative as well as visually appealing. It also lets you keep all your books safe and makes the books easily accessible.
14. Simple Curtain Room Divider
If you are not willing to spend a lot on a room divider, you can always go for a simple curtain room divider. These are simple and are available in a large number of beautiful colors. Go with pastel colors in case of a soothing feel or select vibrant colors to make your room look cheerful.
15. Wooden Plank Divider
A wooden plank divider is one of the most common types of room divider that helps you create separate spaces in your room. With a number of patterns, this wooden plank can also decorate your space making your living room look spectacular.
16. Rope Wall Divider
Rope wall dividers could be one of the fanciest wall dividers out there. These dividers give your rooms an antique look. They are usually seen in high-end restaurants and will give your home a sophisticated feel.
17. Sliding Doors Room Divider
One of the most practical room divider ideas, the sliding door partitions make the best quality accessories that help you create two individual rooms instead of two individual small spaces. It could be the best option when you are installing the divider specifically for privacy reasons.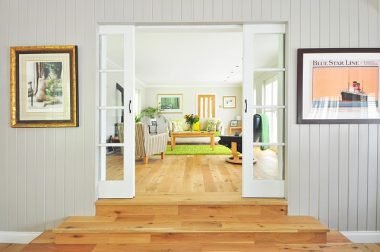 18. Textured Wall Room Divider
Being one of the most popular interior designing trends, the textured wall room divider could add depth and style to your room. You can transform your ordinary room into a fancy one by installing one.
19. Column Dividers
One of my favorite room divider ideas, installing these column dividers in your hall might remind you of the French homes. The French style homes are a unique blend of contemporary and elegant lifestyle. Turn your hall into an elegant and more sophistication version of itself. This might make your visitors jealous of you!
20. Oversized Mirror Dividers
Using an oversized mirror as a room divider is very common and has been used by a number of restaurants for years. This makes the restaurant look spacious and adds more natural light to it. Using in your home could give you the exact same benefits. These could be perfect if you are living in a small apartment and you want to get a feel of a bigger living room.
21. Thick Room Divider Curtains
If you want to separate your living room from your bedroom, putting a thick curtain room divider could be a good choice. It doesn't allow a lot of light to enter into your space from the living room. Hence, the thick curtain version is ideal for people who work late at night and wake up late in the morning.
22. Thick Rope Room Dividers
Thick rope room divider gives your living room as well as bedroom a classy and textured finish. This is a great way of creating some in your apartment without losing out on natural light. This inexpensive option is a common way of creating space and has been used for a long time in hotels and restaurants.
23. Polka Dots Room Dividers
This room divider gives your room a spacious feel bringing in a lot of natural light. These beautiful partitions not only create separate spaces but also contribute towards beautifying your living space.
24. Floor to Ceiling Poles Room Dividers
The floor to ceiling poles, when combined with randomly suspended boxes, separates your hall from your dining area without making any of them feel closed. The suspended boxes can be used to keep books, picture frames, plants, or any other decorative stuff to make your home look cool. The set up also allows you to have access to equal amounts of natural lights at both the spaces.
25. Rotating Wooden Room Dividers
A rotating wooden room divider between your bedroom and living room can help you give a contemporary finish to your otherwise ordinary home. They could serve two purposes effectively- you can rotate and close them when you need privacy and open them when you want some natural light and space in your place.
26. Floor to Ceiling Shelf and Room Dividers
The fancy floor to ceiling room dividers could be a perfect fit for separating your living room and dining space. You can add decorations on the shelf to make your home look more beautiful. You can also use it to keep your books along with the decorations.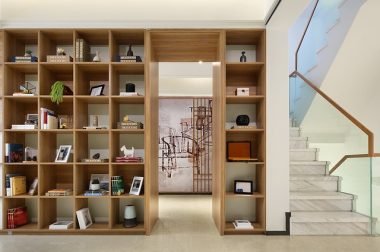 27. Rope Screen Room Dividers
The rope screen room divider would be an artistic feature in your space. This is a convenient and classy way of separating your hall and dining room. This screen can also be made by hand in a large number of patterns. However, these are available in the markets too if you don't have the time to do them yourself.
28. Colored Glass Room Dividers
Colored glass room dividers are an inexpensive and simple way to split up your space without closing any of the two places off. The glasses are available in a large number of colors and sizes. Pick the color that matches your interior to create a spacious and beautiful home.
29. Geometric Shapes Room Dividers
A great way to divide your kitchen and the entry lobby, this room divider is available in a lot of other geometric shapes as well. Also available in different colors to meet up your home requirements, these are durable and add a classy finish to your home. Generally made out of polymer, they help you create good space in your home making it glamorous at the same time.
30. Bulletin Board Room Dividers
Ideal for your office space, the bulletin boardroom dividers help you create your own private space with so much creativity. You can pin up your meetings, appointments, birthdays, and cool posters to make your office space look cool and exciting.
31. Solid Room Dividers
These room dividers will help you make a strong, bold statement in your home. Available usually in wood, it helps you separate your living space and your dining area.
32. Pallet Room Dividers
The pallet room dividers could be a perfect choice for people who have a rustic taste. Add some decorations to make your space look spectacular!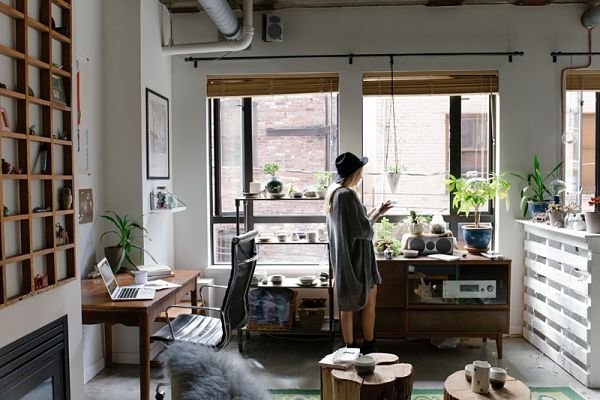 Pxhere
33.Fabric Screen Room Dividers
The fabric screen room divider gives you the liberty to choose any type of patterns, prints, textures, and colors to give your home a stylish look. They can be used to separate your living space and your dining space or bedroom. Choose the fabric that compliments your home interiors!
34. Tree Branches Room Dividers
The tree branches room dividers are best suited for people who like staying close to nature. This divides your space efficiently and adds up an element of class and elegance. Add a few embellishments and some fairy lights to give your home a romantic feel.
Read more: Great Room Designs
35. Crates Room Dividers
This DIY room divider can help you separate your bedroom and your living room. This can be used for storing stuff such as books, clothes, makeup, footwear, and plants to make your bedroom spacious and organized. You can also keep photo frames or night lamps to give the divider a complete finished look.
Readc more: 7 smart small apartment storage ideas keep flat organized
35 Room Divider Ideas to Turn One Room into Two
was last modified:
April 19th, 2023
by
Recommended