Sitting outside and having a good meal during summers and winters is very satisfying. The opportunity to entertain your guests, cook, chit-chat, and enjoy the nights are possible only if your outdoor space brightens up. Lack of proper lighting can ruin the purpose of a backyard. There is a variety of vibrant lighting that you can use to spice up your outdoor space. Let's have a look at the seven ways to light up the same.
1. Use Lanterns
One of the easiest ways to light your outdoor space is by hanging vintage or decorative lanterns. Hang them over the outdoor dining space area or line up on a wall for a soothing ambiance. For a lighter option, choose a rechargeable lantern. Paper lanterns are affordable and come in different shapes and sizes. For a casual look, you can use barn lights that cast light downwards. They suit a variety of home decors like contemporary, traditional, and modern.
Take a look at these 5 Tech-Savvy Essentials for the Ultimate Outdoor Entertaining Area
2. DIY candle lights
Decorating outdoor space with lighting can be budget-friendly also. DIY projects give you the freedom of choosing your design, material, and color of illumination. Place scented candles in a jar with some stones or sand to add a visual appeal. You can hang these candle jars off your pergola or from tree branches using wires. Another one is the oil lamp that looks beautiful on dining tables.
Want some more ideas for backyard lighting in a budget?.
3. Hang up String lights
Add magic to your outdoor space by using string lights. Use these small twinkling lights to wrap them around a tree or hang on the terrace or patio. Make your outdoors look magical by adding fairy lights on a green fence like a bunch of fireflies. It seems peaceful to have dinner outside overlooking the twinkling wall. They instantly change your mood, turning the backyard magical and a fabulous night in your yard. You can use commercially durable incandescent bulbs as string lights in your garden and hang them on trees or between lantern posts. These lights will give the feel of a tropical oasis.
4. Add Tiki torches
Give your backyard a tropical touch by decorating it with Tiki torches. Make your Tiki tree by placing the flame in a pot filled with stones and soil, or you can place them directly into the ground. Commonly, these lights find their use during parties or festivals as decorative lighting.
These lights are great accompaniments in your live barbecue parties and also keep away mosquitos from your backyard. Keep space between tiki torches, so that people can move around it freely without the fear of catching fire.
What about an outdoor bathroom? Take a look at our guide on Outdoor Bathroom Designs to Brighten Up Your Backyard
5. Path lighting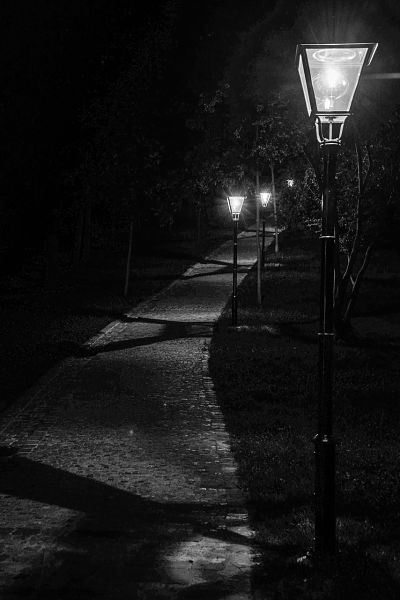 You must light up the walkways and driveways just as a smart safety measure. Use path lighting to highlight the driveways, stairs, and sidewalks. Install solar deck lights on the ground or any flat surface. They charge up during the day and light up at night. It will guide your guests to notice the turns and twists in your backyard without getting hurt. Employing LED light fixtures in your driveways creates an adventure effect.
Take a look at our guide on Backyard Landscaping Ideas to Woo You With Their Simplicity.
6. Spotlighting
Spotlighting is a technique that you must use if you have an architecture or a particular feature in your backyard that you want to highlight. In spotlighting, a single source of light focusses on unique architectural elements like fountains, statues. Depending on the size, location, and type of detail you want to highlight, choose the right spotlights. You can also place them at the foot of a tree or under the benches. It creates a sweet spot in your backyard where you can chit chat with your friends for hours. Wall-mounted spotlights illuminate the area just outside the doors too.
Take a look at these 5 Do's And Don'ts For Creating A Party-Ready Outdoor Space
7. Ceiling Mounts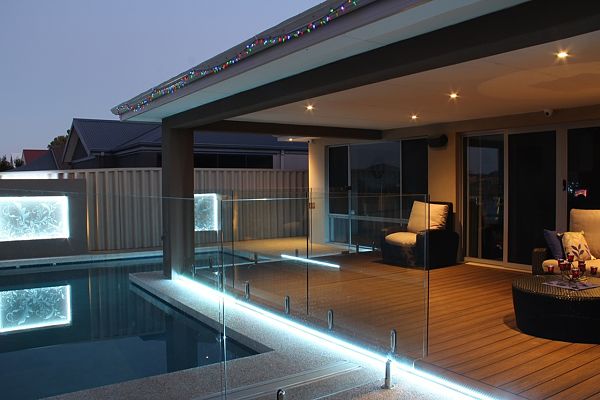 Unlike wall mounts, ceiling mounts attach to the ceiling of your entrance and gazebos. The purpose of outdoor ceiling lights is to decorate the exteriors. You can install them on the roof without any gaps like a chandelier. Save money on electricians by hanging battery powered pendant lights. Hanging Pendant lights over a dining table in your backyard can make for a romantic sunset dining experience.
Read more: How To Create A Backyard Playground In Your House
Conclusion:
Outdoor lighting makes the outdoor more appealing. Whatever style of lighting you choose, make sure you add other elements like plants, colors, and furniture. When the light complements the features in your backyard, it looks phenomenal. When planning for outdoor lightings, make sure they are waterproof. Outdoor lighting doesn't always have to mean electrical and something with a cord. Battery-powered lights work well too. So, use the above seven ways to brighten up your outdoor space and become the reason for envy among your friends.
Read more: 5 Great Outdoor Makeover Ideas For Your Home
7 Ways to Brighten Up Your Backyard With Outdoor Lights
was last modified:
January 31st, 2023
by
Recommended