Backyard landscaping ideas come with a lot of creative possibilities. Just like home decor ideas, they can be colorful, casual, and fun — creating a space where you can relax in the midst of the trees, vines, and friends. A place that's an extension of your home sweet home.
Keep in mind that well-put-together backyard landscaping ideas can add immense value to your home, and therefore need to be planned well.
So, how do you make a landscape plan for your backyard? Contrary to what most homeowners think, planning your landscape design is not that difficult. It's like a floor plan, but for an outdoor area.
The first step in designing your landscape is to create an outline — a broad pictorial overview of the area. You could do it yourself as a DIY project or take the help of a landscape contractor for a backyard designed to suit your requirements. Begin by drawing the boundaries of the area with the edge of a garden or a fence.
The next step is to add features that enhance the area within this boundary. Think natural elements such as flowers, shrubbery, trees, and rocks, man-made elements such as lawn furniture, fountains, sheds and gazebos, or outdoor lighting.
Next, provide the area with the right ground cover to complete its look. It could be grass, pavers, or simply gravel.
Creating a landscape plan well in advance can help you choose the right materials, set a realistic budget for the renovation, and create the landscape of your dreams.
Planning a renovation for your house? Try our free home remodel cost estimator; it's easy and convenient to use!
An important thing to note here is that you need to factor in the directions too so as to better understand how the sun and shadows may change the appearance of your outdoor landscape.
As far as the cost to landscape a backyard is concerned, it depends on the complexity of the landscaping, labor cost, and the total square feet area. A small-scale project such as lawn care or tree service will only cost you $50 to $100 per hour. But, larger jobs with installations will cost about $4 to $12 per square foot. The total landscaping cost ranges from $3,000 to $16,000.
Though this price may seem high, the end result is worth every single penny. A beautiful house with an equally lovely exterior is quite inspiring. To help you transform your backyard, we've curated 16 backyard landscaping ideas that make the most of their natural surroundings — but in a simple, doable way. So, let's begin!
Read more: How to get a landscaping estimate, and why is it important?
1. Add a calming pond to your backyard
If your backyard is large enough, adding a pond can transform it in the most exotic way. You can place a tropical variety of plants around it. Or, add different species of fish inside! This combination of colors and textures will have the most calming effect on you.
Take a look at these 5 Do's And Don'ts For Creating A Party-Ready Outdoor Space
2. Set up a mid-garden dining area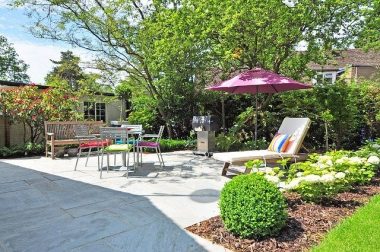 You can turn your concrete or stone patio into a dreamy outdoor dining area complete with a dining table, chairs, and an electric grill. The colors on the chairs and lounger give the space major vacation vibes. We love how the flower beds and plants add to the exclusivity of this space.
3. Bring in the pops of color
There's something so whimsical and fun in the way this landscape design uses colors. Be it the vibrant raised flower beds, the picket fence, or the water storage — each feature looks like it belongs to a fairy tale garden. The grass with pavers adds to the charm.
Read more: How To Create A Backyard Playground In Your House
4. Design your own tranquil spot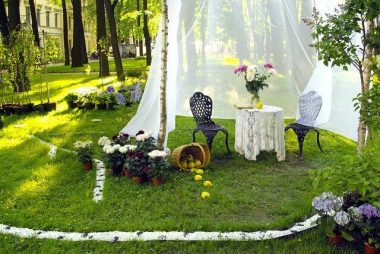 If you have a small backyard, and a tight remodeling budget, you needn't despair. With just a few well-chosen items, you can create a private retreat — a cozy outdoor home away from home.
This simple landscape idea with sheer curtains, sturdy garden furniture, and well-placed potted flowers is relaxing as well as beautiful.
Want to keep your backyard clean and out of leaves? Take a look at these electric leaf blower options.
5. Create a focal point with a water fountain
A waterfall fountain adds movement and a soothing noise to your backyard landscape. Notice how this design has decorative elements such as large pots, planters, and lantern-style wall sconces — but all in natural finish.
Read more: Home landscaping loans
6. Build a small swimming pool
Talking about water features, a backyard swimming pool is the ultimate in luxury. To have a splash pool in your own yard offers you a superb way to unwind after a long day's work or host a cool get-together with friends and family.
7. Set up a shady retreat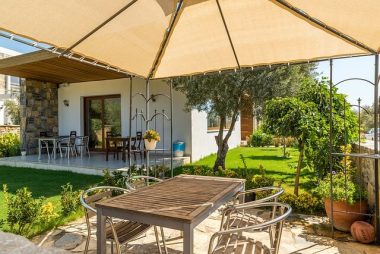 We love the canopied sitting area on a patio surrounded by lush green lawns. You can enjoy the shade without letting the sun spoil all your fun. A perfect way to stay outdoors and yet protected.
How To Clean Outdoor Patio Cushions? Let's review the basics!
8. Make your outdoor space an entertaining hub
This outdoor living space impresses with its see-through fireplace and a covered seating area under a pergola. The furniture is as comfortable as it gets. Use the area as an outdoor family room or a fun place to entertain friends and family in your backyard.
9. Construct a gazebo in your garden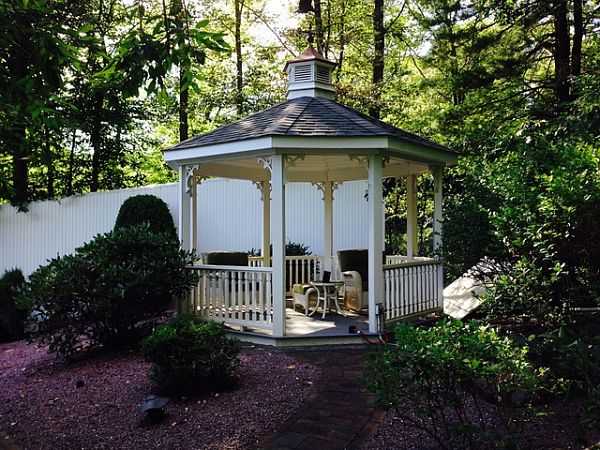 A small gazebo in the middle of your backyard's wilderness looks charming. It offers you a wonderful place to sit and muse over sweet nothings. Decorate the rustic garden feature with hanging pots and plants for an ethereal look.
Read more: What is an arbor
10. Create a paver patio with a play area
A backyard that both adults and children can enjoy is quite easy to design. Segregating your backyard space into a patio with seating on one side and a play area with slides and swings will make your yard look neat and utilitarian. A place that will work for all ages.
11. Design a long and winding path
A winding backyard stone path is a great way to explore the different areas of your yard from your house. It can give your outdoors a symmetrical, tropical look. This gravel path, surrounded by plantings, offers a beautiful contrast to the wooden fence.
12. Add a fire pit
Fire pits offer a wonderful focal point for any outdoor gathering. Design a simple stone or brick fire pit that will add warmth to all your get-togethers on cool evenings. You can place it next to your covered patio with an extended counter to help serve drinks and food to your guests.
13. Go flowery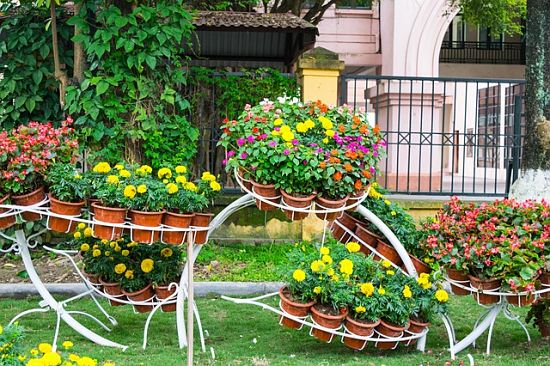 Flowers single-handedly make any space look happy and bright. Here's a backyard landscaping idea that doesn't require much effort. Simply, place colorful flowers on a stand and let them do the talking in your yard.
14. Work on a backyard vegetable garden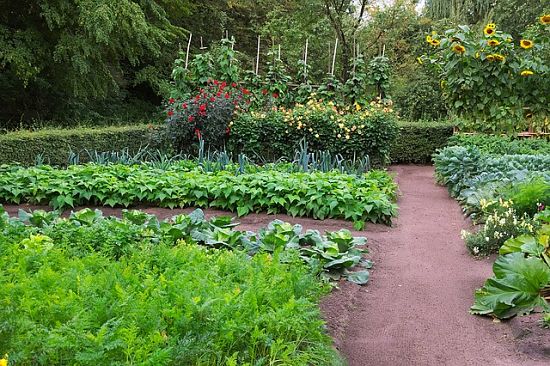 A well-planned vegetable garden can look really beautiful. And, yield a bountiful harvest of vegetables from spring into fall. You can use your backyard to grow a variety of crops such as tomatoes, herbs, and leafy vegetables. Just make sure you grow them in a sunny spot and water them well.
15. Build a treehouse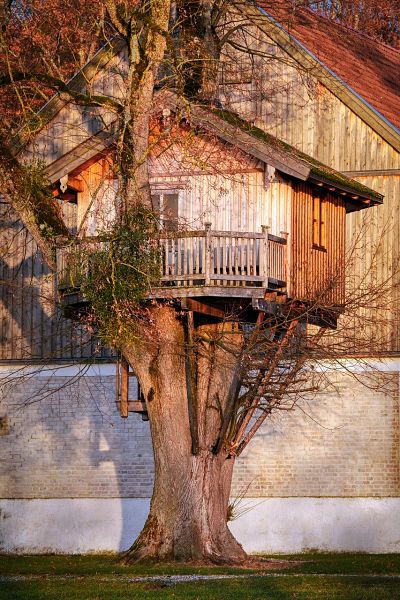 Don't discount the fun element that a treehouse can add to your backyard. This lovely fixture will not just be a craze among your young guests but also make your outdoors look whimsical.
Check these Backyard Ideas for Kids perfect for this summer!
16. Deck your yard
Wood decking is a sure-shot way to make a small backyard look warm and inviting. It creates a sophisticated area that you can use for dining purposes too. We like how the designer has used natural elements such as rocks and plants to evoke a sense of peace, excitement, and interest.
Having a beautiful yard adds a lot of appeal to your property. Whether you're throwing a barbecue party or just relaxing with your family — well-planned backyard landscaping ideas go a long way in creating the perfect outdoor oasis.
Read more: Backyard Upgrades to Make Your Outdoor Living Enjoyable
Backyard Landscaping Ideas to Woo You With Their Simplicity
was last modified:
May 30th, 2022
by
Recommended