Basement Window Replacement: A Complete Q&A Guide
Are you thinking of replacing the windows of your basement? Good idea. These windows — that effectively seal the bottom of your home — are more often than not, neglected and sometimes completely forgotten about. But, help is at hand. Our Q&A guide will tell you everything you need to know about basement window replacement.
So, let's begin with answering some important questions that will surely come into your mind while contemplating the home improvement.
1. Which is the best window for your basement?
The best choice for a basement window depends on the type of basement you have. If you have an unfinished basement, chances are, you use it only for storage or maybe to keep a washer, dryer, fridge, or HVAC system. In such space, you won't need a fancy basement window such as an energy-efficient one, or with design features such as interior colors or upgraded hardware.
Having said that, you also don't want a low-quality window that's going to fall apart in just a few years or let in a lot of air into the house.
In a finished basement, on the other hand, there are more factors to consider. You would definitely want a basement window that's efficient, especially if you're planning to spend a good amount of time in the basement.
However, an issue with the energy efficiency of basement windows is the air coming inside. Even the most energy-efficient window won't be able to stop air leaks if it is not installed and sealed properly.
You will also require an egress window by code for a basement. You can choose the right size and type of window that you want to install.
Furthermore, design options such as grids and colors also become important for finished basements. You would want the colors of your windows to match the color scheme of your basement.
Needless to say, in finished basements, your cost to install windows will be much more.
2. What is the right size for your basement window?
There is no set standard size for basement windows. Their sizes tend to vary according to your requirements. The best solution is to get customized windows for your opening — ensuring an airtight fit.
Till a couple of years back, most basement windows had single pane glass. Today, however, new basement windows are double pane (you also have triple-pane ones). Therefore, energy efficiency is more or less taken care of. You can also add an invisible low-E coating and argon gas in between.
3. What is the right frame for basement windows?
Most basement windows are made of wood. However, a vinyl frame is more than sufficient, especially if you have an unfinished basement.
Of course, if the basement is finished, then it may make sense to use premium window frame materials, especially if you want to match it with the rest of the house. You can even opt for steel-framed ones if you're looking for a strong and smart option.
4. What are the most common basement window styles?
When it comes to basement, you could choose any kind of window (except maybe a bay or bow). Having said that, it's rare for homeowners to opt for double-hung or casements (unless an egress window is needed.
There are three types of windows that are most common. These are: sliding windows, hopper windows, and glass block windows. Let's look at each in a little more detail.
Read more: 4 interior window trim styles elegant popular
Hopper windows
Hopper windows are economical as well as utilitarian. No wonder, they are more popular than sliding windows. A hopper window hinges on the bottom and has a chain on the top right and top left generally.
When you open the window, the top part tilts into the house. The chain on each side of the window prevents a rough opening — keeping the window from falling all the way in. You can also adjust the opening of the window. What's more, hopper windows come with a full screen to keep out the bugs.
Sliding windows
Sliding windows open side to side which means only one half of the window is open at a time. For this reason, they usually come with a half screen that can be moved from side to side. Sliding windows are more expensive than hopper windows.
Glass block windows
Glass block windows offer privacy (as they use obscure glass) and strength. Also, they are heavier than a traditional window. The huge downside to glass block is that you cannot open the window for ventilation.
5. What extra features can basement windows have?
Though a basement window is small, it is quite practical to keep your basement in a good, ventilated condition. There are some interesting features that you can choose from:
Basement windows with dryer vents
Homeowners who have a washer and dryer in the basement, need a vent for the appliances. Fortunately, you can buy a basement window that comes with a built-in dryer vent. Usually, the other half of the window is fixed to accommodate the vent.
Basement windows with grids
You can choose basement windows with grids if that is more your style. Do keep in mind that they may not be visible in your small window.
Basement window colors
Most homeowners prefer white basement windows on the outside. The idea is to match them with your basement on the inside. There are many color options on the market. Getting a striking color on your basement windows will really make them stand out. You may even opt for wood grain finish.
Basement windows with extra security
If security is a concern, you can buy laminated or tempered glass for your basement windows. They will lend extra strength. That way, if you have large windows, someone can't shatter the glass and climb in. You can also add window bars or guards.
6. How long does a basement window installation take?
Generally, custom-sized windows are ready for installation 2 – 4 weeks after you order them. The window installation shouldn't take more than a day or two depending on how many windows need replacement and the difficulty of the installation.
7. How much does basement window replacement cost?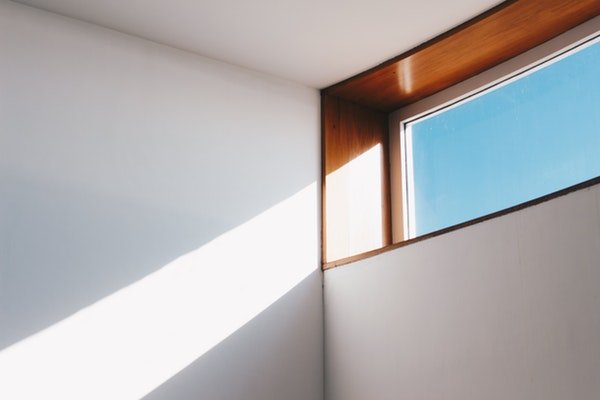 On average, a basement window replacement will cost you around $1,000 – $8,000.
The reason for such a wide range is that there are a lot of cost variables to consider while replacing basement windows, especially if you hire a basement window contractor. The cost of new basement windows will depend on several factors but the most important are the size and type of basement window.
Apart from the cost of the window itself, you need to factor in the price of other materials needed for the job, labor costs, and your location.
Needless to say, larger windows, energy-efficient windows, premium material, and paint — will cost you more.
We strongly recommend getting a free estimate from two or three contractors and choosing the best price as per your budget. Careful planning will always help you lower your home renovation costs.
Conclusion
Basement windows can effectively brighten up your space and keep it well-ventilated. Just make sure that you don't forget these tiny but nevertheless important windows.
Replacing such windows timely can improve insulation for your home and in turn lower your energy bills. They also block out outside noises.
In this guide, we have tried to tackle some of the most important questions that might crop up in your mind regarding basement window replacement. Hope they help you in your home improvement.
Basement Window Replacement: A Complete Q&A Guide
was last modified:
October 14th, 2022
by
Recommended