If you're thinking of a bathroom renovation and wondering about the bathtub replacement cost, you've reached the right place. In this buyer's guide, we'll not just give you an estimate for your bathtub replacement cost but also the factors that affect this kind of home improvement.
The fact is, replacing a bathtub is a lot more than simply buying a new tub and installing it. More often than not, built-in fixtures such as tubs and showers involve a series of collateral work such as moving or replacing the plumbing system in order to fit the new tub. There could be other remodeling tasks required including, repairing carpentry, drywall, or tiling. Not to forget, cutting a hole in the wall to get the old tub out and the new one in.
Bathtub Replacement Cost
When opting for a tub replacement, know that a standard new bathtub cost begins at around $600 — averaging at $3,000. The total price can go as high as $5,000 (or even more), depending on the size, type of the bathtub, and additional features such as water jets, etc. For instance, a fiberglass tub or a steel tub is less expensive than a cast iron one but it's not as durable.
Instantly estimate the cost of your remodel...
...or take your time to personalize dozens of choices to transform your house into your dream home.
The first thing you need to do for a successful bathtub replacement is to ask yourself a couple of questions:
What's your bathroom remodeling budget?

How much bathroom space do you have in your floor plan?

What tub size do you want?

What will be its location?

Do you want to include a shower?

What will be the bathtub material?

What will be the material for the tub surround?
Once you have the answers to the above, you can go ahead with your remodeling in a seamless manner.
Planning a renovation for your bathroom? Try our free bathroom remodel cost estimator; it's easy and convenient to use!
Bathtub Replacement Cost Factors
As mentioned, your bathtub replacement cost will depend on the size, material, type of bathtub, and the complexity of the remodeling project. Let's explore some of these cost factors below.
Read more: How to Choose a Bathtub for Your Bathroom
Type of bathtub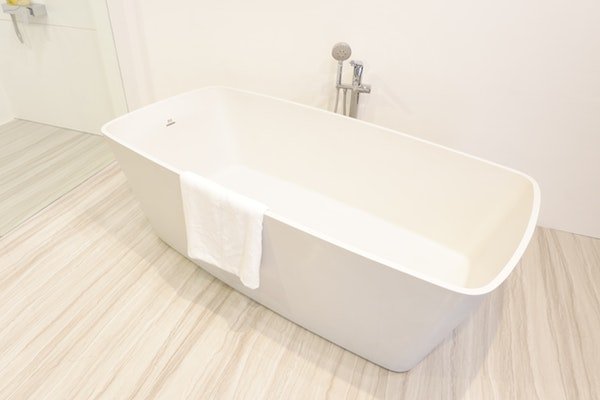 Which type of fixture you choose will have a direct impact on your bathtub replacement costs. There are several bathtub materials, each with its own price and each determining the overall cost. Let's tabulate all the options for easier comprehension:
Bathtub material
Cost (excluding bathtub installation)
Features
Acrylic bathtub
$500 to $900

Popular bathtub option
Easily available in various shapes and styles
Usually, resistant to abrasion and fading
Has a non-porous finish
Easy to clean
Warm to the touch

Enameled cast iron bathtub
$500 to $2,000

Heat-retaining quality
Durable and solid
Keeps bath water hotter for a longer time
Quite heavy; may require additional structural reinforcement

Cultured marble
$1,500 to $2,400

Aesthetically appealing, stylish
Heavy
Durable option
Requires high maintenance
May scratch easily

Fiberglass bathtub
$200 to $500

Economical option
Available in a wide range of colors and designs
Lightweight
Does not retain heat well
Not suitable for long soaks

Enameled steel bathtub
$300 to $2,000

Looks beautiful
Not very expensive
May chip easily
Noisy bathtub
Bathtub Styles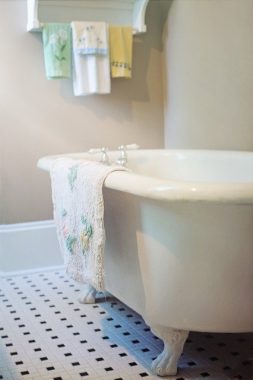 Depending on how bathtubs are used, these fixtures are generally classified into four separate categories:
Purpose
Cost
Features
General purpose tubs
$125 to $600

No-frills bathtub
Generally placed in an alcove
Simple installation

Soaking tubs
$250 to $13,000

Deeper than the standard tub
Perfect for long soaks
Examples: freestanding, clawfoot, vintage, or the Japanese soaking tubs

Walk-in tubs
$1,500 to $10,000

Include a door
Offer comfort and flexibility
No need for the user to crawl over the side of the tub
Ideal choice for the elderly or people with mobility issues

Whirlpool tubs or air jet tubs
$400 to $15,000

Create a spa-like bathroom experience
Gently massage tired muscles
Use more water
Costly installation
Do you want to have all your facts straight for your upcoming renovation process? Take a look at our ultimate guide on bathroom remodel.
Bathtub to Shower Conversion: 8 Questions To Cover
Bathtub Installation Options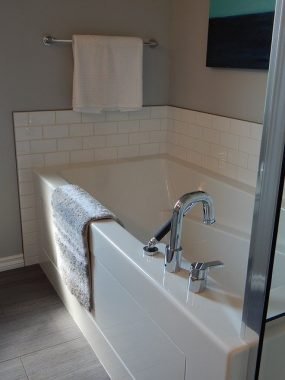 Depending on the configuration of the tub, there are five types of bathtub installations:
| Type of installation | Installation cost | Features |
| --- | --- | --- |
| Alcove tub installation | $125 onwards | The bathtub fits in a three-walled enclosure |
| Drop-in tub installation | $250 to $13,000 | Installed into a deck or platform |
| Under-mount tub installation | $600 to $9,000 | On a deck or platform but without bottom support |
| Freestanding tub installation | $620 to $13,000 | Available in styles such as clawfoot and flat bottom |
| Walk-in tub installation | $1,500 to $10,000 | You don't have to climb over the side of the tub to enter |
Read more: How to unclog a bathtub drain
Labor Cost
We highly recommend hiring a professional to carry out the bathtub replacement rather than attempting a DIY project. Although a costlier proposition, a nicely done job will make your bathroom renovation seamless.
Keep in mind that plumbing labor, typically, costs between $500 to $1,600, depending on the scope of work. Most licensed plumbers charge at the rate of $45 to $65 per hour. A tub installation will take anywhere between six to nine hours. To remove an existing tub, the process will require additional three hours.
FYI: Installing a Jacuzzi instead of a basic hot tub will add to your total cost. A Jacuzzi bathtub cost ranges from $900 to $20,000 — with an average price of $6,500. For such a labor-intensive installation, a professional contractor will charge between $60 and $85 per hour. And, the special project will take an average of 18 hours to complete!
Tub Surround Materials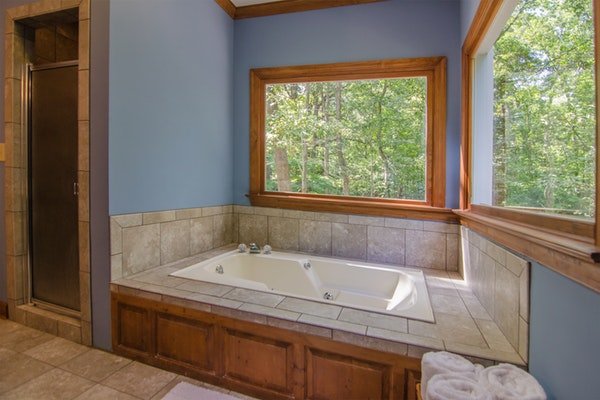 You really require the ideal bathtub surround to provide a smooth surface for the walls around your tub or tub/shower combination. Thankfully, there are no cracks to scour or tiles to crack on this non-porous surface — making it easy to clean and maintain. Moreover, tub surrounds give a modern feel to your bathroom. They are available in a variety of materials, each one in several colors. Here are some popular options. You can choose the most perfect one to fit the style of your bathroom.
| Material | Cost | Benefits |
| --- | --- | --- |
| Composite | $80 to $1,400 | Durable and strong |
| Fiberglass | $240 to $750 | Easy to install |
| Acrylic | $90 per sheet | Inexpensive |
| Quartz | $1,500 to $2,000 per pallet | Checks mold or mildew growth |

Other Costs and Considerations
Buying a new water heater to go with your new bathtub will cost you approximately

$600 to $1,200

.

You may need to

upgrade your electric panel

or install a separate one if you're thinking of adding a whirlpool or air jet tub. This can raise your bathtub replacement cost by

$1,400 to 3,000

.

Instead of replacing your existing bathtub, you can choose to refinish your existing bathtub (remodeling cost:

$300 to $600

) or install a bathtub liner (remodeling cost:

$500 to $4,000

).

If you're opting for a heavy bathtub, you may need to reinforce the bathroom floor. It may cost you additional

$100 to $300

per joist.

Factor in cost of plumbing permits and licenses. Check your building codes and standards for bathrooms. Keep in mind that these vary from area to area.

Always work with a licensed plumber. A professional handyman will ensure that the installation is compliant with the building codes.
Read more: How to estimate a remodeling job
Conclusion
Bathtubs are an important feature of any bathroom space. If you're ready to replace your outdated or broken bathtub, this guide will help you understand the various bathtub replacement cost factors. if you are looking for hot tub installation tips, we can help you as well.
Keep in mind that installing a bathtub requires careful planning. It's important to choose the right materials as well as style. And, address all plumbing, structural, and aesthetic issues. A well-installed bathtub will add to the beauty and functionality of your bathroom — for years to come.
How Much Does a Bathtub Replacement Cost?
was last modified:
September 9th, 2022
by
Recommended