A stunning big home gym idea by our expert architect
If you were offered the chance to work out at home – in a beautiful and big home gym with the latest equipment – wouldn't you want to grab the opportunity? We bet you would!
You'll not only save money in the long run by not paying expensive gym memberships but also time and gas. Moreover, you can use your personal gym anytime – without having to share sweaty workout equipment with strangers.
And, keeping the coronavirus pandemic in mind, the idea of a home gym is more appealing today than ever before.
The first thing you'll need for a well-equipped, big home gym is space. A workout area should be more than just training with a pair of dumbbells, kettlebells, resistance bands, or a stationary bike.
A complete workout room will have all the paraphernalia such as a power rack with a pull-up bar, a squat rack, a rowing machine, and a dedicated area for strength training as well as calisthenics training. 
Find out how much your home gym will cost with our estimator tool.
Once you have your home gym idea in place, you may take online workout classes or sessions with a personal trainer in the comfort of your own home.
That's why it's important to take time to plan your home gym before making a considerable investment in any design. If you're looking for a perfect home gym design, we have your back. Our in-house expert architect has the best big home gym layout that will make you want to burn those calories away as soon as possible.
The big home gym plan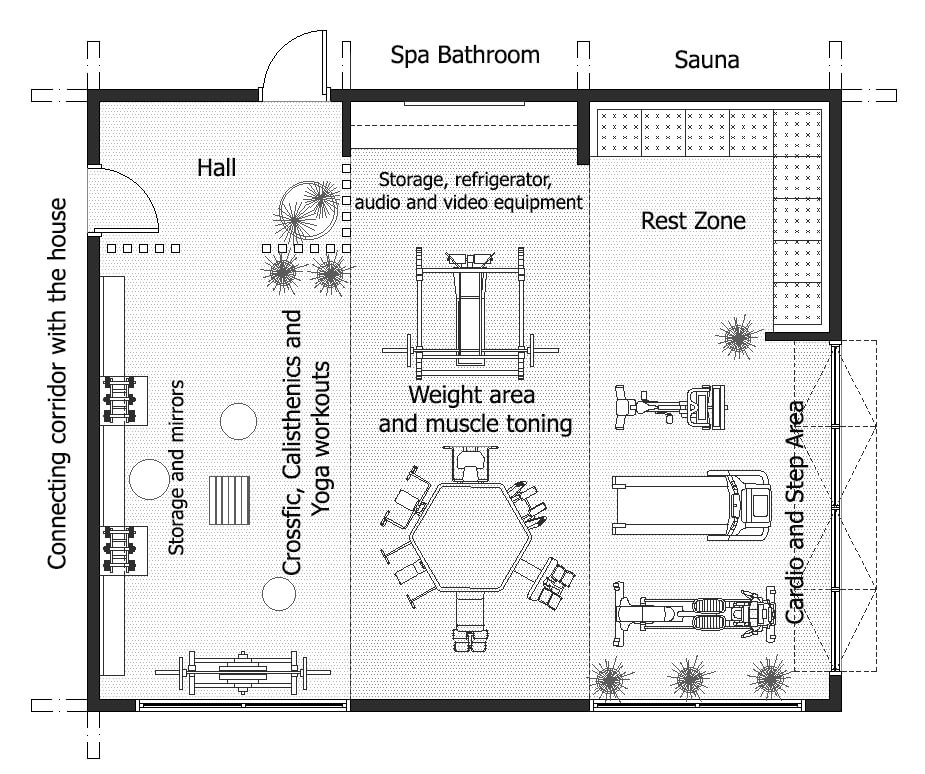 If you see the gym layout, you'll notice that the space is divided into three zones. To the left of the gym, the entrance is the area with all the cardio machines (elliptical, static, and spinning bikes, a treadmill, and a step machine).
In the center, there's a dedicated area for weights and muscle toning, with a large power cage and a rack for large weights, a pull-up bar, and a multifunctional machine that helps with multiple exercises of different muscle groups.
To the right of the home gym area, there's open storage to keep lighter equipment such as ropes, towels, and yoga mats. This part of the gym has large mirrors, tables, and open shelves.
Instantly estimate the cost of your remodel...
...or take your time to personalize dozens of choices to transform your house into your dream home.
At the center, there's a unique vertical design element that connects the gym floor to the ceiling. It's easily the focal point of the exercise room – thanks to the many LED ceiling lights in the panel.
Because of the structure, you'll need minimal decoration and design elements. The architect recommends wood accents throughout the room to give a beautiful contrast of materials.
The decor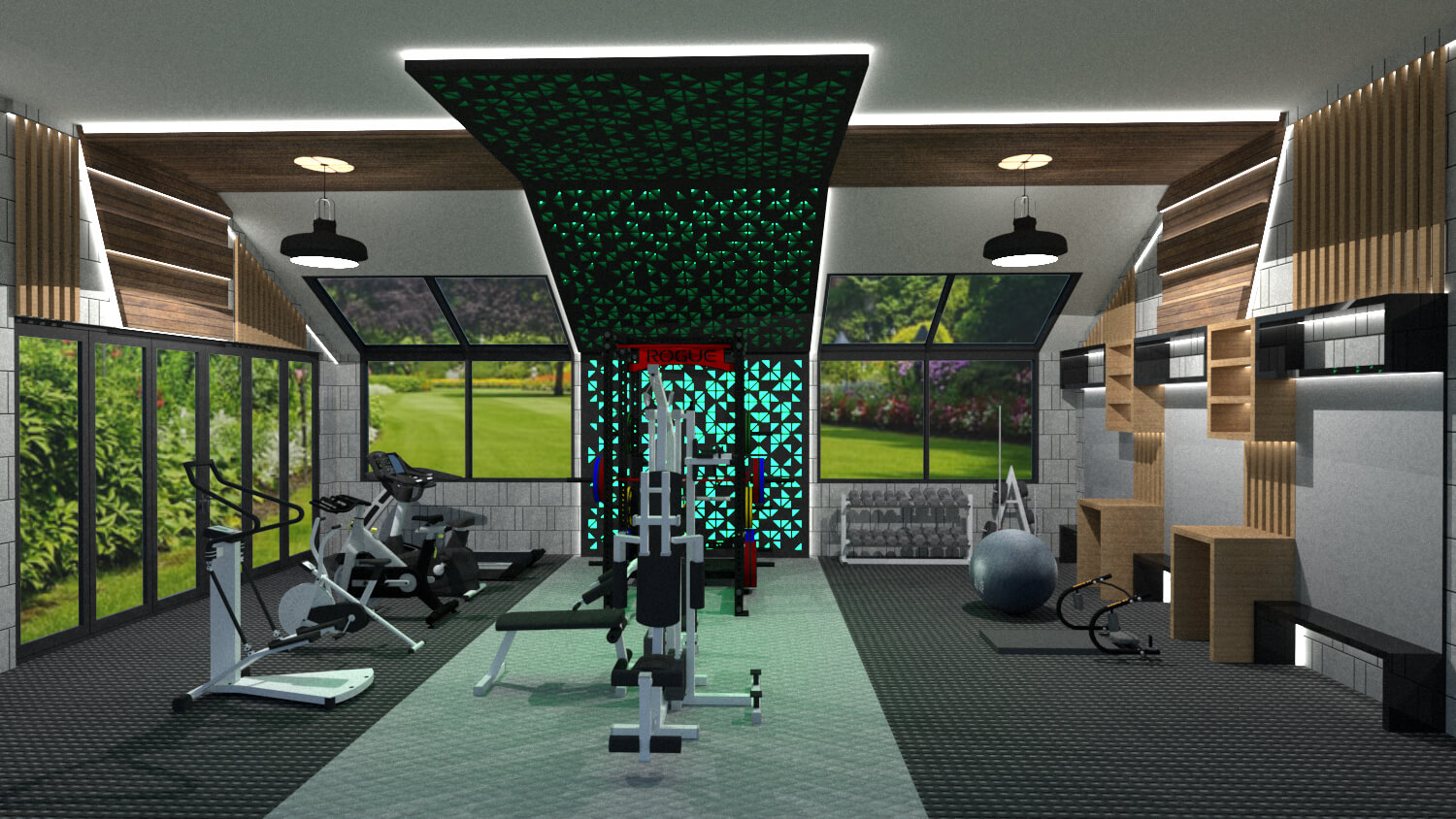 The gym has beautiful large windows and sliding doors that connect it with the outside. Plus, they help add ventilation and natural light to the space. For ambient lighting, our architect uses hanging central lights as well as LED lights throughout the room in order to set a bright and cheerful atmosphere.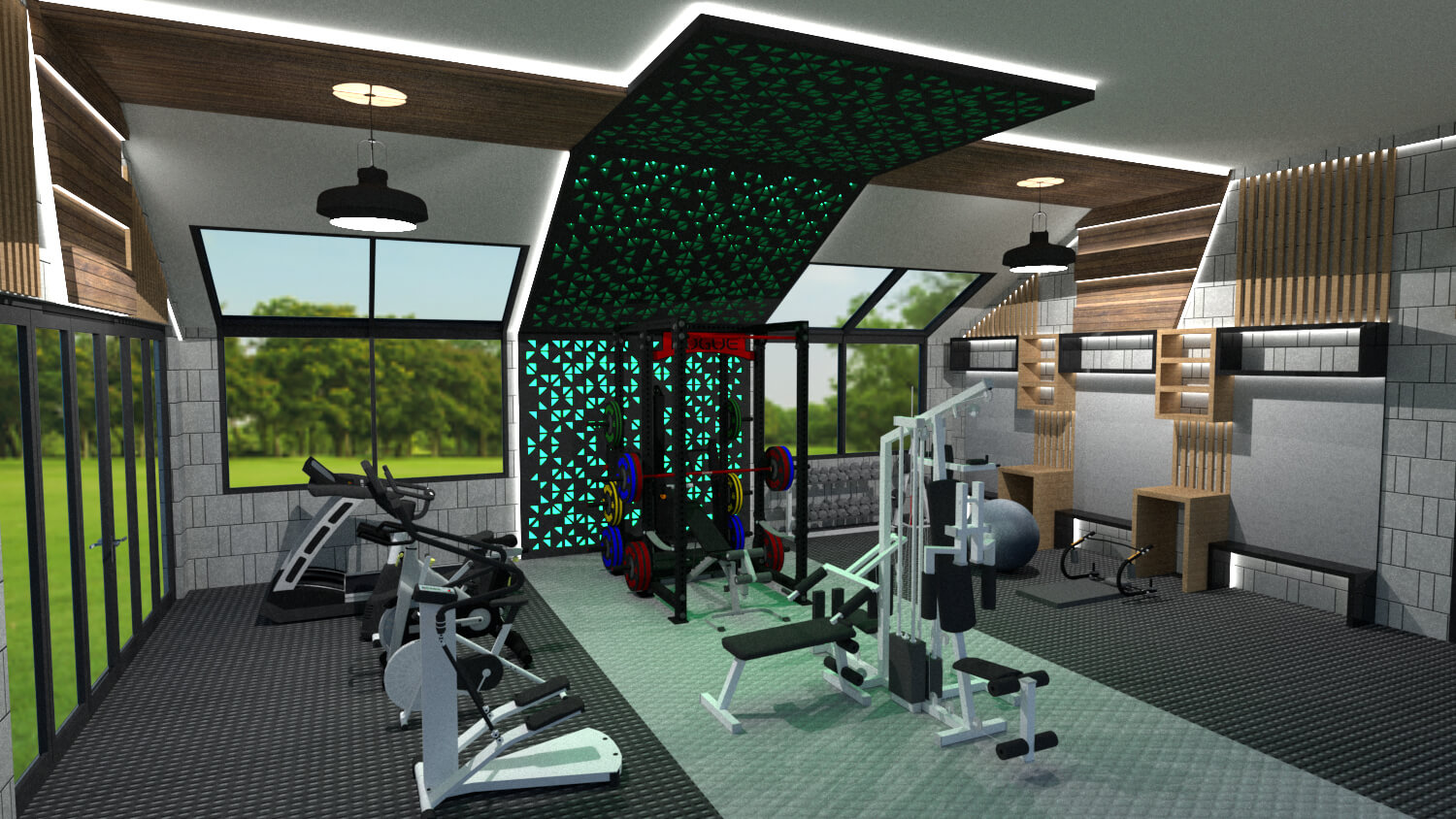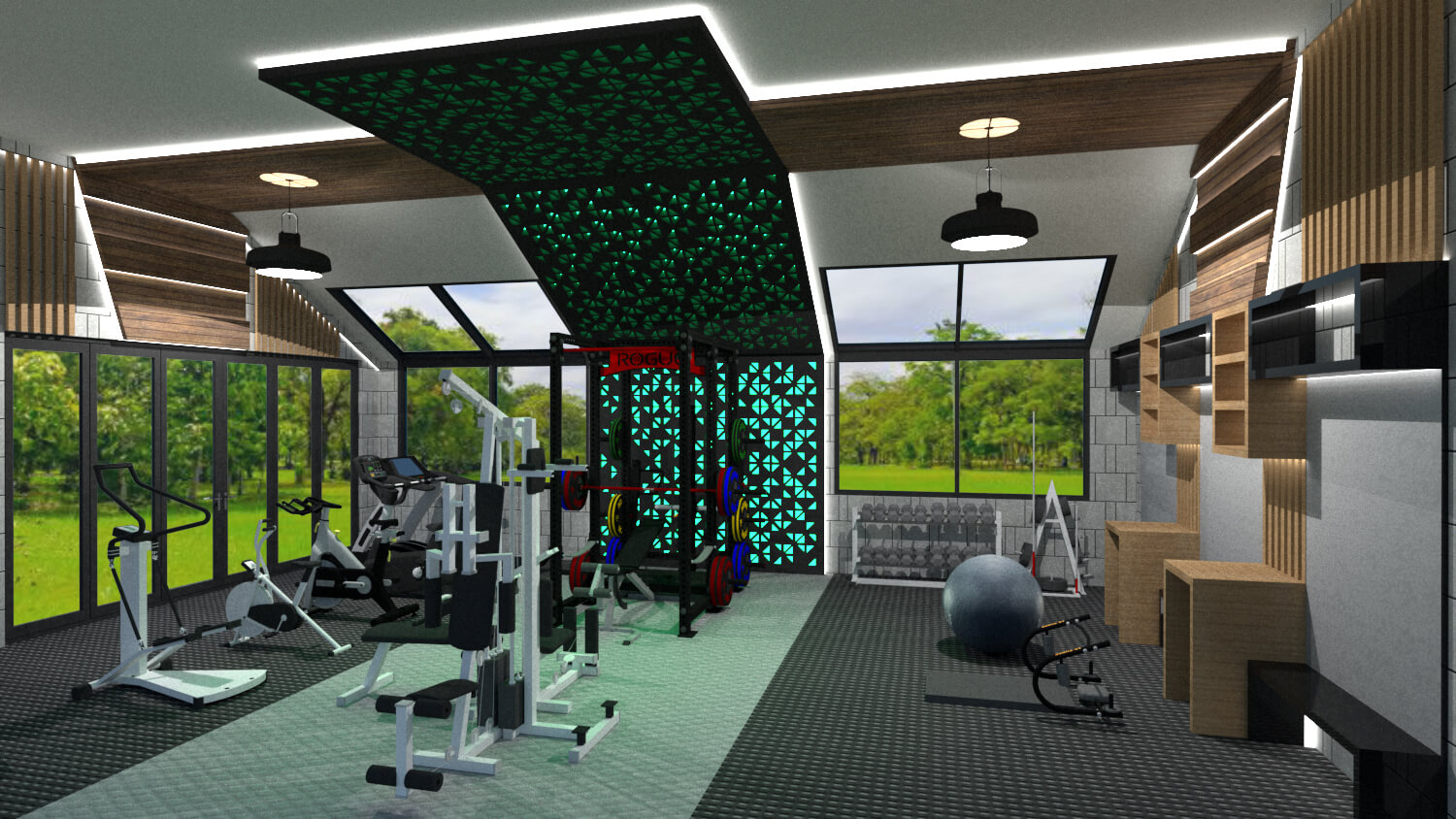 Closer view of the aluminum panel
Interestingly, the central design element is made of black aluminum. If you look closely, it has tiny triangles which are internally lit with LED lights. And, these lights can even change colors. The idea behind the panel is to add practicality as well as a stunning design element. It's a designer home gym that's absolutely stunning!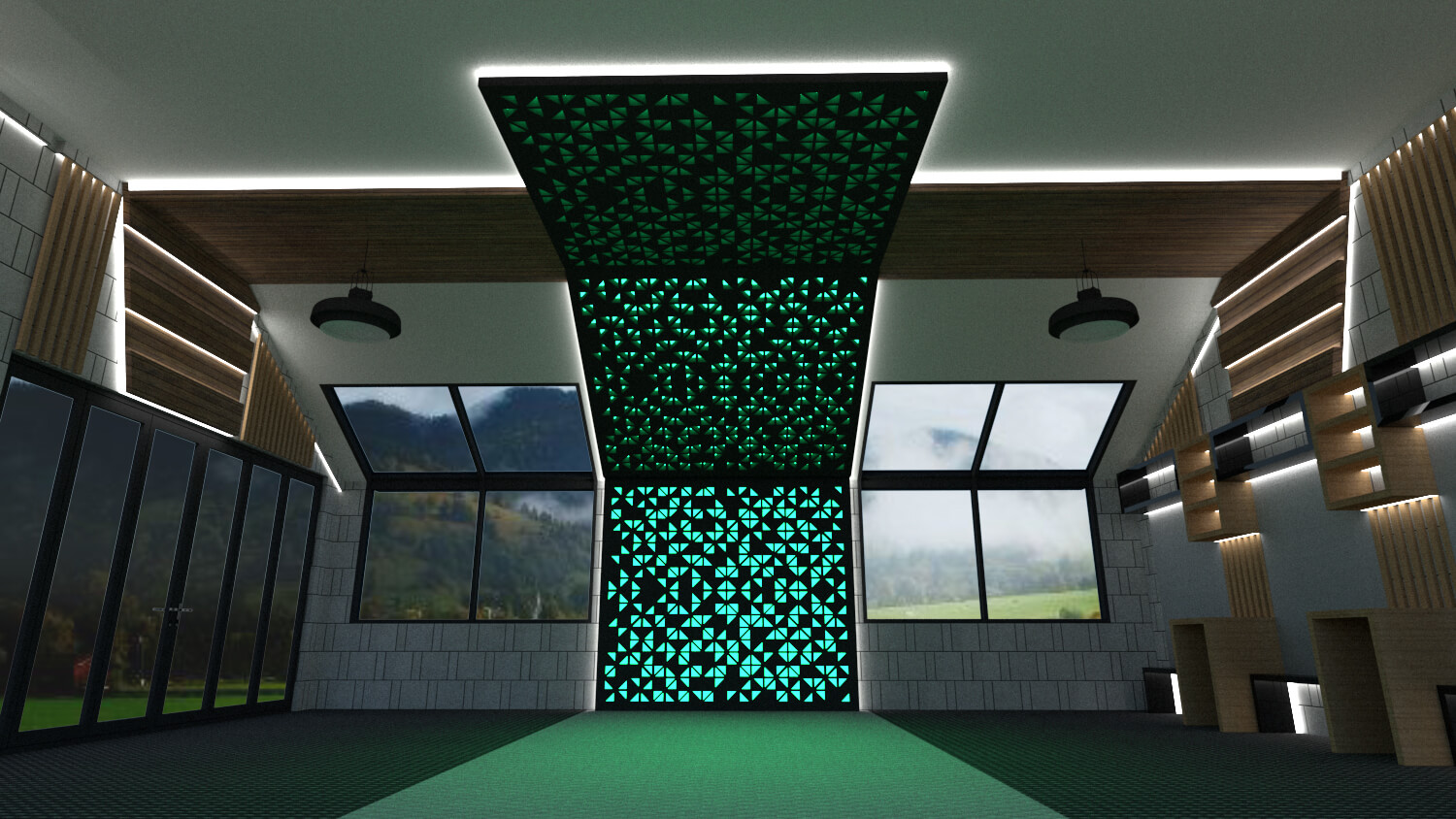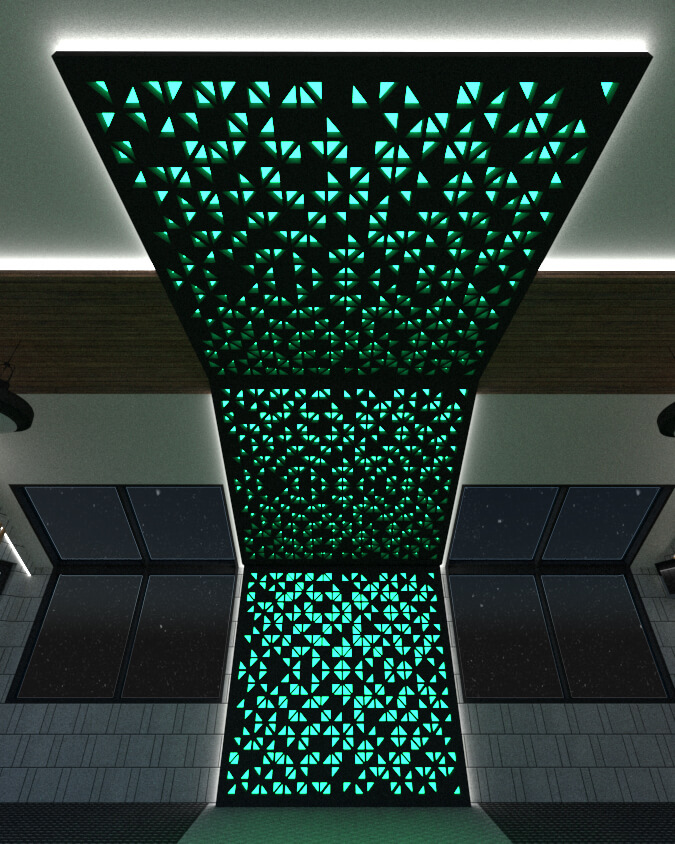 The seating area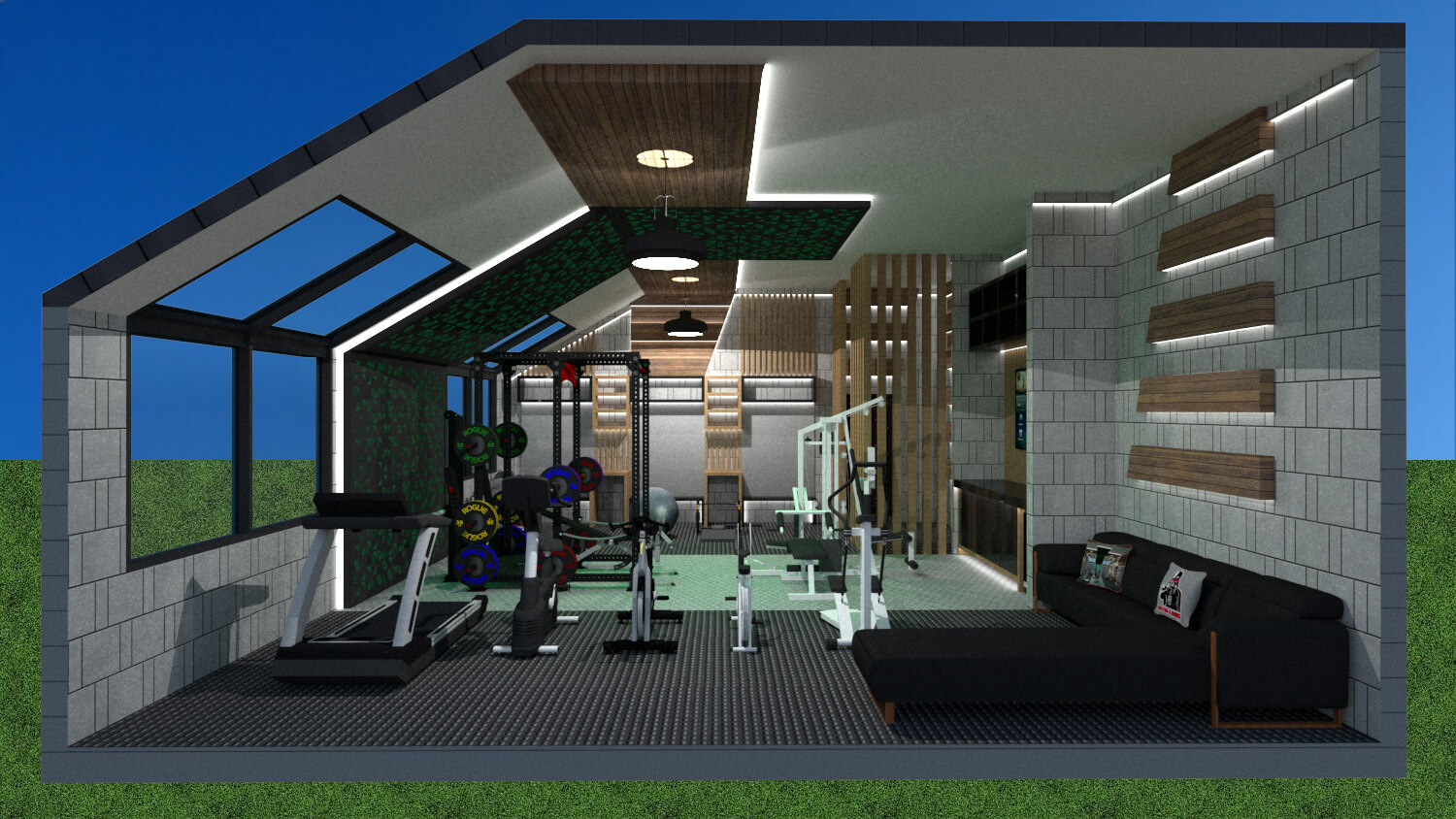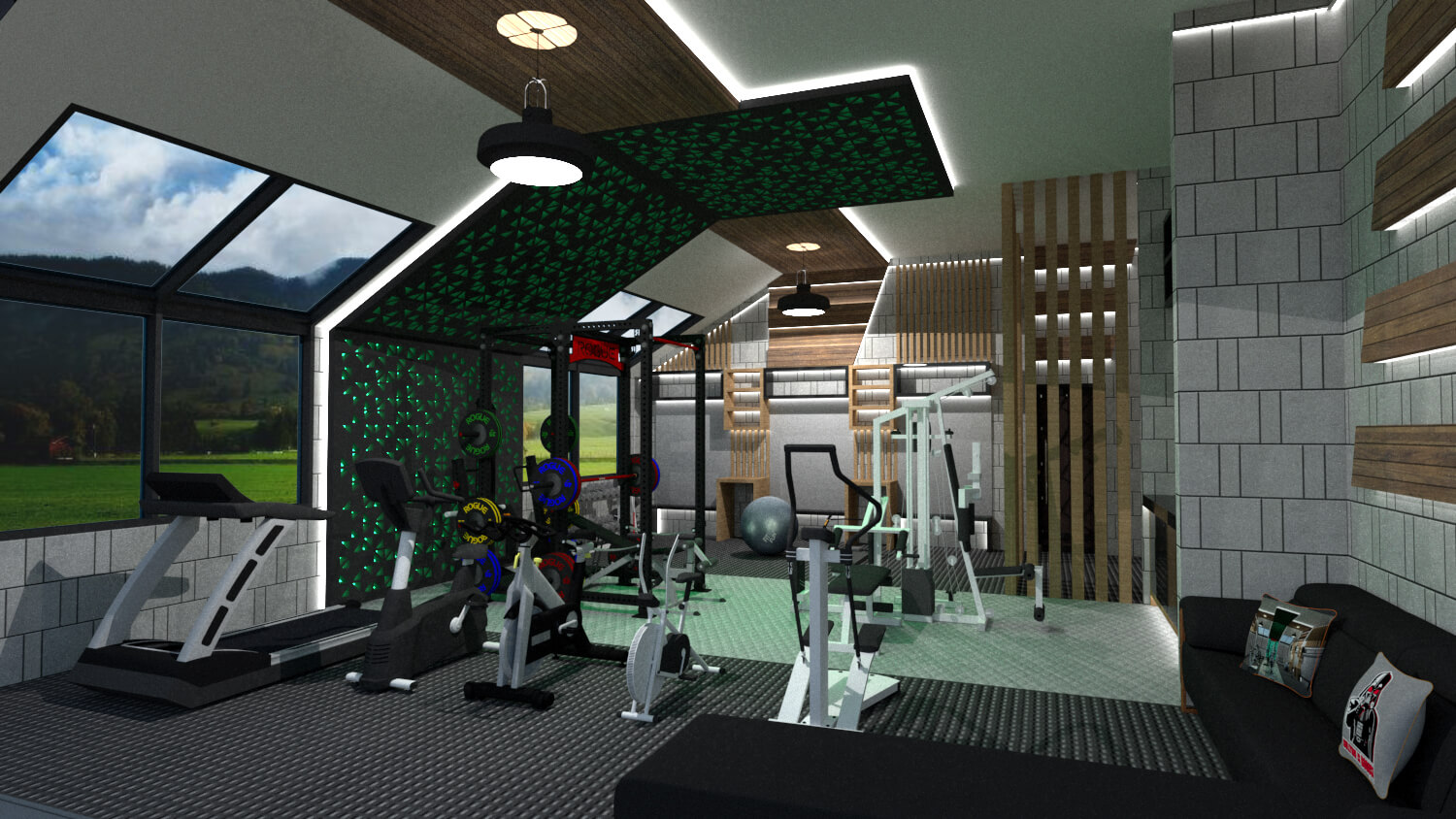 On the other side of the big home gym, there are two distinct areas.
The first is the storage area, with a small refrigerator for drinks and healthy meals. Apart from that, there's a cabinet with doors (9.35ft x 1.97ft x 3.28ft) and an open raised shelf (9.35ft x 1.64ft x 2.62ft). This is where you can store your video and sound equipment. You can easily wall-mount an 80-inch TV in this area.
At the end of this wall, there's a rest zone with an "L" shaped piece of furniture that has a capacity of nine seats.
The colors and finishes
The light-colored gym walls have a clean concrete finish. And, the white ceiling with bright LED lights gives the place a cheerful, energetic vibe. The illuminated area makes working out a wonderful experience.
The wooden furniture has been kept in medium tones while the shelves, columns, the L-shaped sofa, pendant lamps, tables, and cabinets are in black wood. You can add metal door and window frames for an industrial style.
The architect recommends rubber flooring to minimize the impacts. You can directly use the flooring for your yoga mats, free weights, CrossFit, step, or calisthenics training.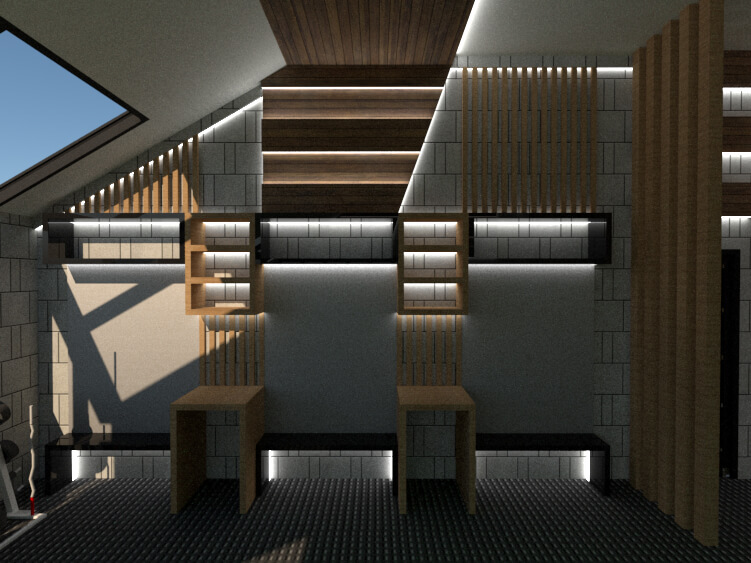 The dimensions
Low black tables:4.13ft x 0.98ft x 1.48ft in height
Mirrors: 4.13ft x 0.2ft x 5.25ft high
Light tone wood raised shelves: 0.98ft deep x 2.95ft
Wood slats: 0.2ft x 0.2ft
L" shaped sofa: 9.51ft x 9.84ft x 2.30ft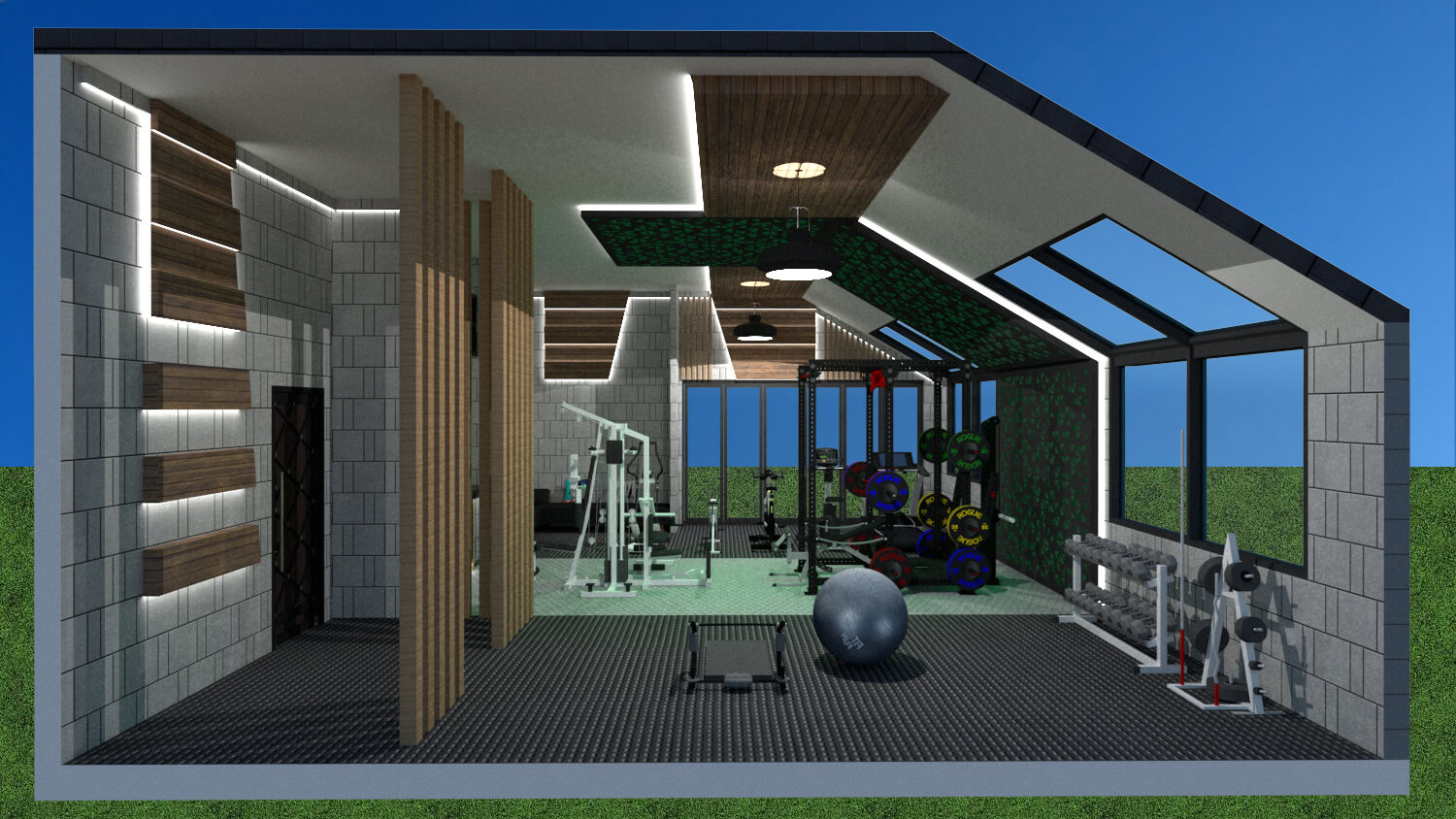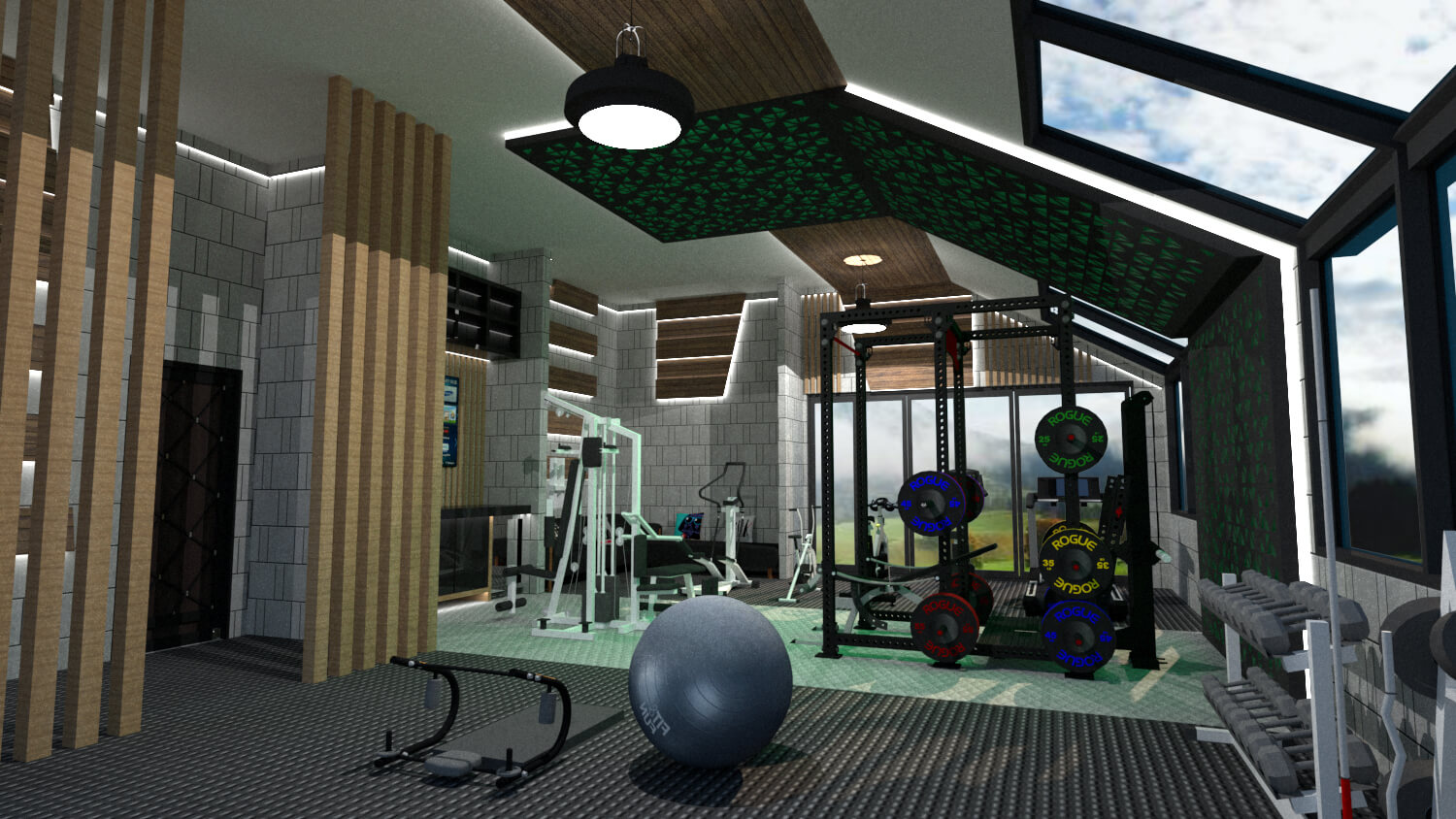 The wooden slats are designed in a way that they make an anteroom between the bathroom and the gym. This part connects with the rest of the house. There are more wooden slats with indirect lighting to add a beautiful effect to the room.
The objective is to create a home gym that's functional, intimate, and elegant.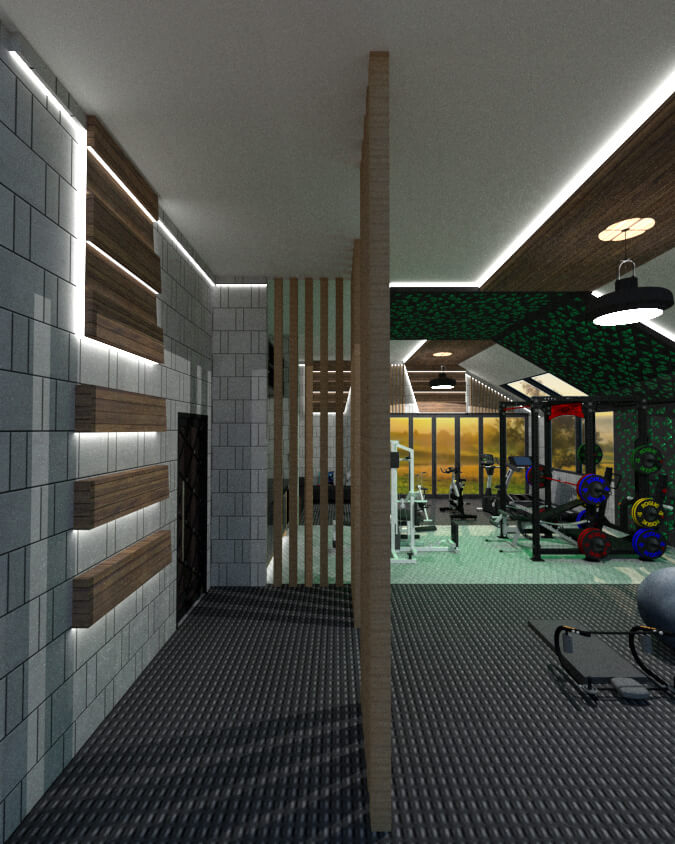 The end-product
The final home gym will be just what you need to motivate yourself to exercise. In case you do not have a dedicated workout room, you can utilize your basement, an attic, a used bedroom, or garage as a gym.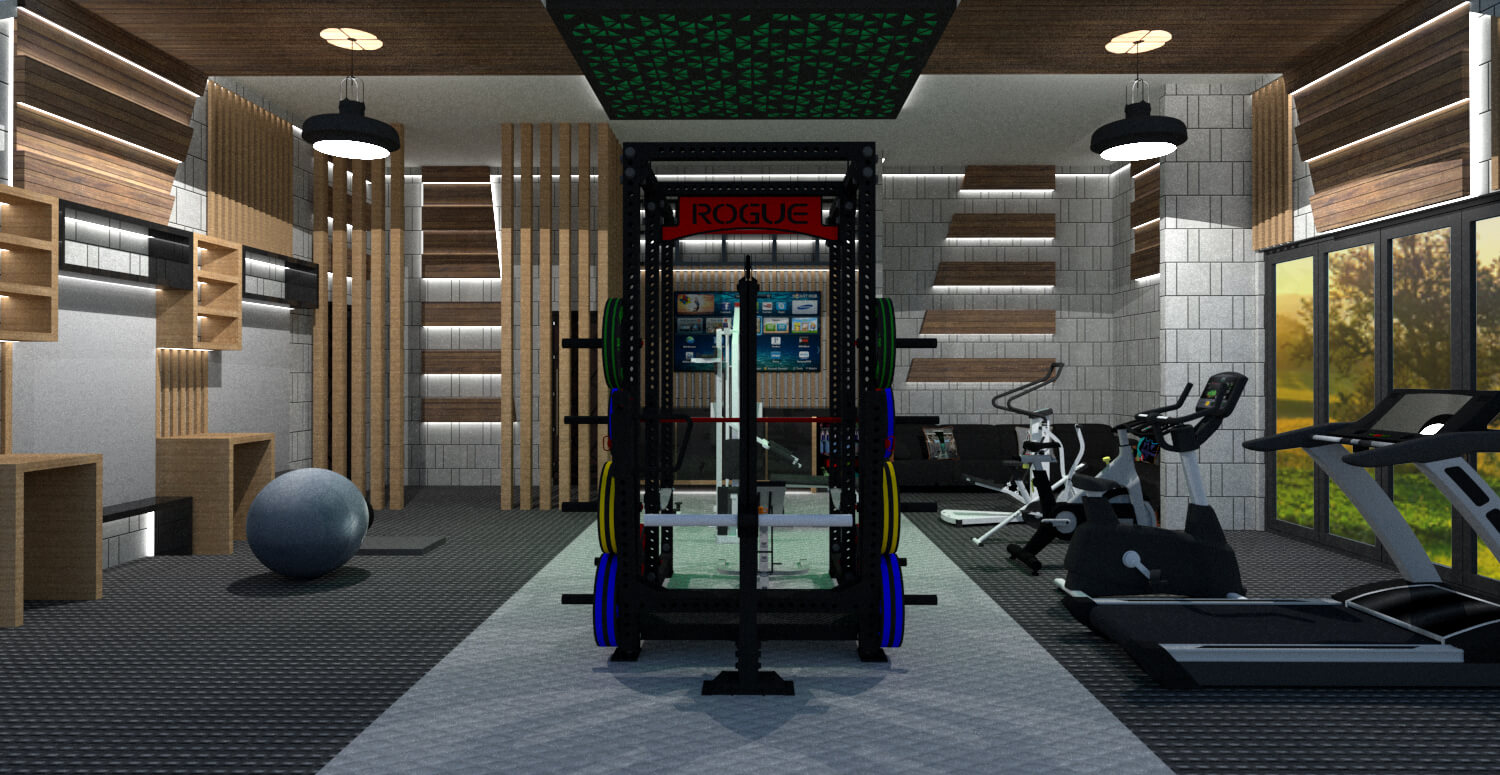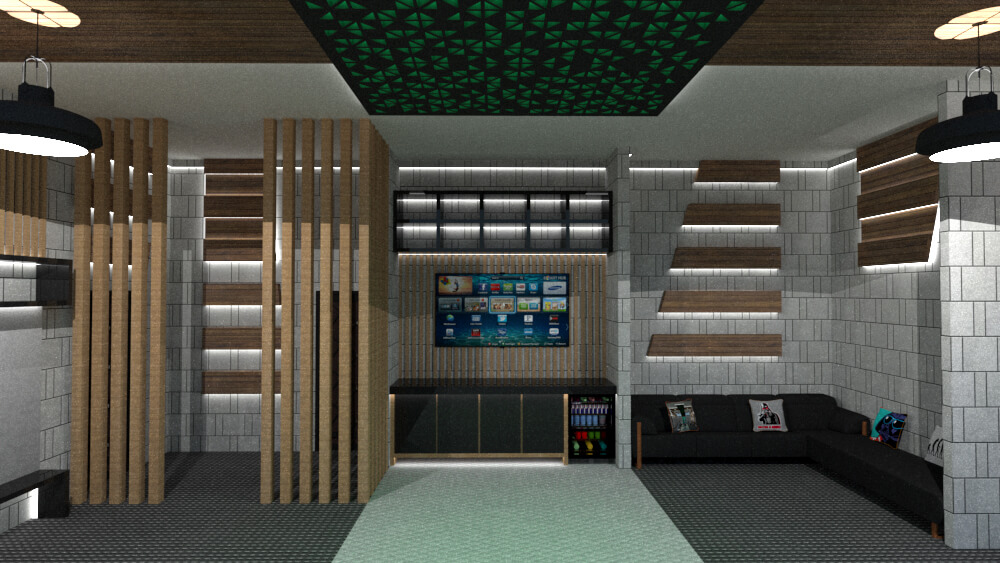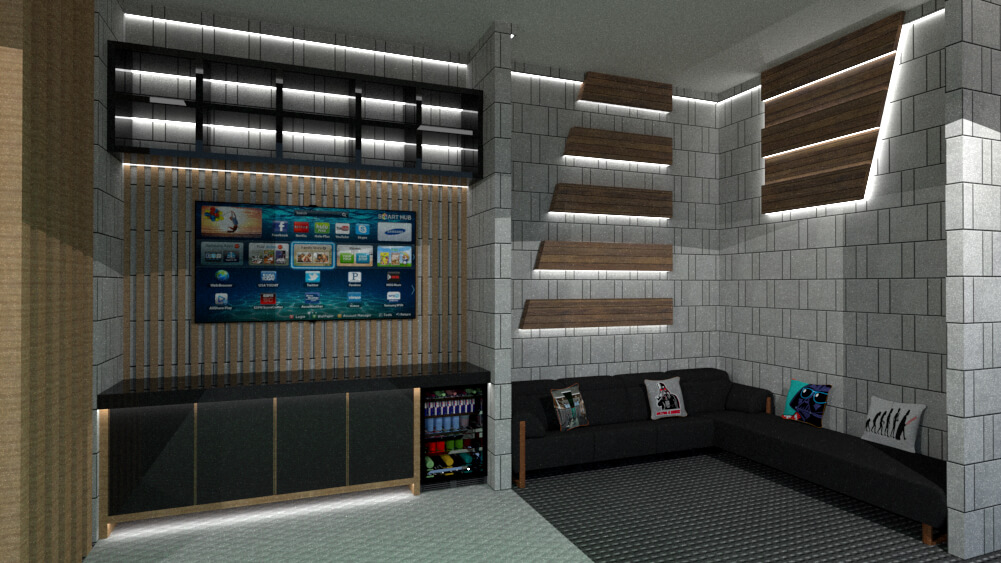 Last thoughts
A great home gym design will help you achieve maximum workout benefits while looking aesthetically appealing. Remember that your home is probably the safest place to work out right now. The pandemic is still rearing its ugly head from time to time.
A personal gym at home vis-à-vis a commercial gym will make working out safe, pleasurable, and cheaper in the long run. With the right interior design idea, you'll want to spend more and more time in your beautiful, big home gym. And of course the extra calories too!
If you're overwhelmed with all the design choices for the most perfect gym setup, you can take inspiration from our architect.
With a little creativity, the right home gym equipment, and some extra space, you can build the home gym or workout room of your dreams!
Read more: Small home gym ideas
A stunning big home gym idea by our expert architect
was last modified:
August 29th, 2022
by
Recommended