DIY home improvements: turn your garage into a gym
A lot of us have found exercising and staying healthy more difficult during the current pandemic. Gyms have been forced shut to control the spread of Covid -19 in a lot of places, and not everyone has the luxury of having a gym at home.
The pandemic has also forced a lot of homeowners to take on home improvement projects themselves, so as to avoid unnecessary contact with strangers as much as possible. In this short read, we're going to give you DIY tips on how you can turn your single car garage into a gym and get your gains back on once again.
1. Make space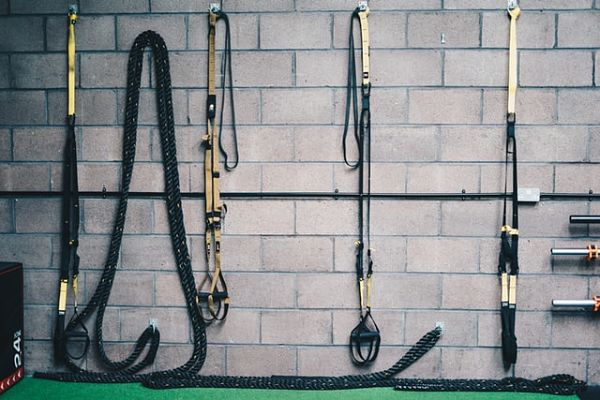 More often than not, our car garages are used as much to store junk as they are to park cars. Your new garage gym is the perfect inspiration to get rid of the junk that's been accumulating there over the years.
Sift through everything in your garage and sell whatever you do not need. You can use the money you make to buy new equipment for the gym. 
Plan your home gym just right with our estimator tool.
Once you've emptied out the garage, clean it up thoroughly and sanitize it.
2. Plan storage
We're sure you still have some stuff from your garage that you need to be stored. We'd suggest you buy vertical organization systems so you can effectively store all of that without crowding the garage. That way, you have enough space for your gym equipment. You will also need to plan storage for your barbells, dumbbells, yoga mats, kettlebells, and other gear. Keep these in mind while planning for garage storage cabinets.
3. Work on the floor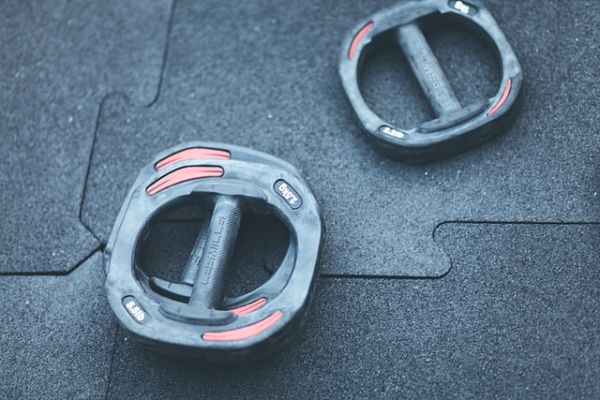 Most garage floors are made of concrete, which is less than ideal for home gyms. Hard concrete floors can lead to muscular injuries and sprains if exercised on.
Ideally, you will need a floor that is easy to clean, that doesn't absorb chemicals and that can handle the rigors of high-intensity usage.
Your best bet would be to replace the flooring with either epoxy, carpet tiles, or rubber flooring. You can then place your gym mats on top of them.
4. Have a floor plan
You will need to plan how you're going to use the space you've emptied out for the home gym in your garage. You cannot just dump your gym equipment wherever you want.
Begin by measuring the amount of space you intend to use for the gym. Next, get measurements of all the gym equipment you intend to have in the gym. That way, you can efficiently map the placement of each piece of equipment. Mark out exactly where you want your pull-up bar installed.
Keep in mind that you will also probably be putting in a sound system, maybe a TV and other creature comforts.
Try to make sure your plan doesn't make the floor space look overcrowded. Working out in tight spaces can be unpleasant.
Read more: Small home gym ideas by expert architect
5. Buy the right equipment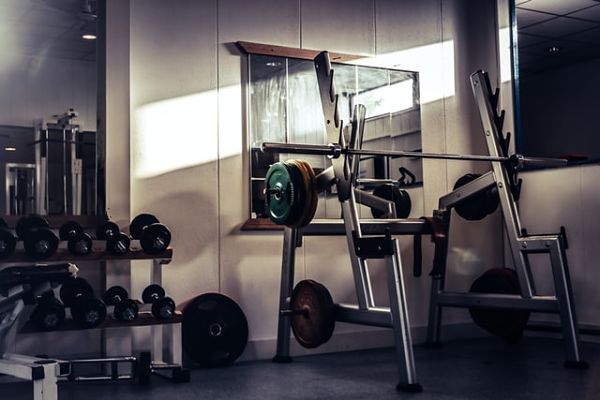 Building your own home gym will mean you are going to save the money you were spending all this while on annual gym memberships. That, however, doesn't mean you splurge on workout equipment you will not use.
You ought to buy only what you're familiar with and will use on a regular basis. A healthy mix of gear for both cardio and resistance training is ideally what you ought to buy.
If you practice calisthenics or plyometric training, invest in gear that will help you train accordingly.
Thinking about home gym equipment? Get the best estimate with us.
6. Plan for airflow
It is very important for your home gym to be well ventilated and to have adequate temperature control, depending on where you live.
If you live in moderate temperatures, you could probably make do with ceiling fans and keeping the garage doors open while working out.
If you live in warm climates, you will definitely need air conditioning and fans to keep you cool while working out.
Colder climates will mean you will need to install indoor heating to be able to work out comfortably.
What It will cost you
The national average cost of setting up a home gym is around $2,000. The cost of turning your garage into a gym is estimated to cost anywhere between $6,000 to $29,000.
Considering you will no longer be paying an annual membership fee of $500, not be spending on gas to commute to the gym, and will be saving time as well, this is one garage renovation that will actually save you money in the long run.
Read more: Garage floor plans for your home
DIY home improvements: turn your garage into a gym
was last modified:
August 29th, 2022
by
Recommended