If you're open to experimenting with your floors and want to try something different, you may want to try rubber flooring. Traditionally associated with commercial gyms or exercise rooms, home yoga rooms, play areas, and staircases, rubber flooring is gaining popularity for other rooms too. Many homeowners are opting for this type of flooring for their kitchens, bathrooms, garage floors, and mudrooms.
But, is this material actually as good as it claims to be? That's exactly what we'll weigh through the pros and cons of rubber flooring. Here's everything you'd want to know about the material.
Rubber flooring pros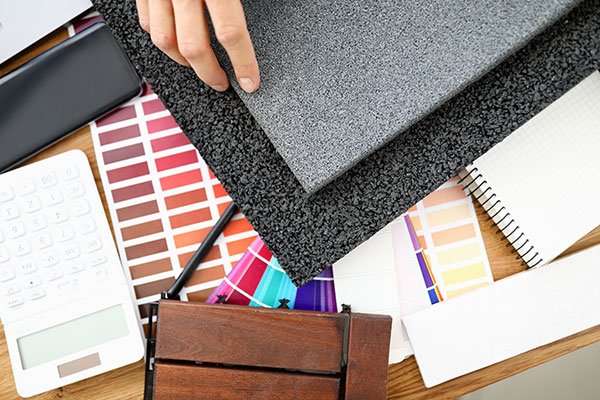 Rubber is an efficient flooring material that's attractive, long-lasting, and also eco-friendly. However, like all building materials, rubber flooring too has its share of advantages and drawbacks. Let's take a look at the pros first.
Home Renovation Cost Estimator
Sorry, we currently don't have that project at our disposal.
---
You can take a look at our most popular ones:
Water Heater Installation
Exterior Door Replacement
Install Recessed Lighting
Exterior Door Installation
Interior Door Installation
Interior Door Replacement
Durability
This flooring material is durable, affordable, as well as easy to install and maintain. Rubber is extremely resilient — resistant to wear and tear. The flooring can last for many long years despite being exposed to heavy loads or stress.
Furthermore, it offers stability, a good grip, and can easily withstand impacts. Plus, the slip-resistant material has a soft and comfortable underfoot — offering great cushioning and shock absorption. It's no surprise that this type of flooring is ideal for your home gym flooring or a man cave weight room.
Easy maintenance
One of the best features of quality rubber flooring is that it's easy to clean. All you have to do is wipe off the spills and dirt from its surface. However, keep in mind that harsh detergents and abrasive cleaning liquids can damage the flooring. Also, note that synthetic rubber floors are usually more stain-resistant than natural rubber floors.
Another bonus point is that rubber is also resistant to heat and moisture to a large extent. If you want to go the extra mile, you can polish the floor with a water-soluble wax to make it more resistant to damage and discoloration.
Antimicrobial and hypoallergenic
Rubber flooring, whether tiles, rolls, or interlocking rubber mats, is made in such a way that it discourages the buildup of germs and other harmful microorganisms. Rubber flooring does not let dust mites and allergens thrive — unlike carpet flooring. Therefore, rubber is a good flooring option for those who are prone to allergies.
Eco friendly and recyclable
This flooring type is made using natural or synthetic rubber, or sometimes a combination of both. Fortunately, sustainable resources can be recycled and reused repeatedly. Recycled rubber flooring costs a lot less while getting you all the qualities of rubber.
Sizes, shapes, and designs
Rubber flooring is of two types — it's available in tile form or as sheets. Whichever you choose for your home flooring, you'll get a good number of options in terms of colors and shapes.
Fortunately, these choices have increased exponentially over the past few years. Today, you get to choose from a wide variety of colors, patterns, and textures. Some rubber floors can also mimic wood flooring or ceramic tile flooring. But, keep in mind that it still doesn't offer as many design variations as vinyl flooring or linoleum flooring.
Slip-resistant
A very important reason why rubber flooring is the most suitable option for gymnasiums, hallways, staircases, children's rooms, and play areas is that it provides good grip and walking comfort. Most importantly, the material is highly slip-resistant. It's a much safer material than others as the soft texture prevents injuries. Especially, in case there's a fall. People with arthritis benefit the most from rubber flooring.
Good insulator
Rubber helps retain heat or cool air in your home. No wonder, it's a great insulator — helping you reduce your energy bills significantly. Moreover, such a flooring has sound-dampening qualities; it muffles loud noises. There's zero sound when people walk on it.
Water-resistant
Rubber naturally resists water and provides good traction in wet conditions. The waterproof flooring option does not absorb water or other liquids. That's why many people living in flood-prone areas install rubber floor tiles in their basement area.
Having said that, rubber tiles are not a great option for very wet areas, such as bathrooms with showers or tubs. The reason is that such flooring has seams that can let water through to the subfloor below. It's difficult to completely seal it against moisture penetration.
Easy installation and floor repairs
Rubber floor installation is quite easy. You can either use adhesives or use rubber tiles that interlock with each other. The installation process is absolutely uncomplicated and you can do it on your own without professional help.
Rubber flooring cons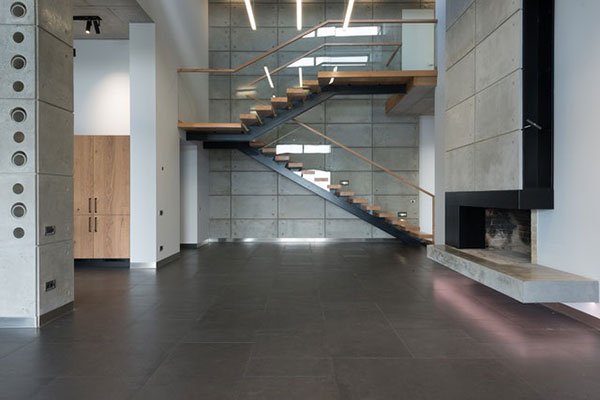 The above advantages are balanced out somewhat by a few disadvantages. These include:
High material cost
The biggest drawback is the high rubber flooring cost. Homeowners can expect to pay about $6 to $7 per square foot just for the material. Premium rubber flooring can cost $12 to $15 per square foot. This price is comparable to some of the natural stone floorings and other high-end flooring products. The total floor installation cost can be expensive for many. Especially, if you're flooring a large living area.
Weird odor
Rubber has a distinct odor that's unappealing to many home buyers. Though the smell tends to go away eventually, it can be unpleasant to bear. The odor is more pronounced if you're using natural rubber flooring as compared to synthetic rubber flooring.
Read more: How to make your house smell good
Dull finish
The overall finish of rubber flooring leaves a lot to desire. It can be unattractive to many people. Maybe that's why you'll seldom find rubber floors in living rooms, dining rooms, bedrooms, or hallways.
Stains and grease
Although this flooring is easy to clean, it can get stained by grease and oil. Therefore, it's not a great option for kitchens. Cooking oil, butter, mayonnaise, or grease can stain the flooring which can be very difficult to remove.
Susceptibility to fire
Natural rubber flooring is fairly fire-resistant. However, the synthetic rubber material is not so much. Moreover, the adhesive glue too may be susceptible to fire. What's more, if the flooring catches fire, it may produce toxic gases. That's why it's important to choose products that do not contain PVC materials.
Rubber floor installation
While installing such a floor is easy enough, it does need some preparation. For example, if you're installing the floor in a basement, you may require a vapor barrier to prevent moisture from seeping up from underneath. In such cases, it's a good idea to opt for rubber floor tiles that come specially treated, and are suitable for wet environments.
Read more: How to install tongue and groove flooring
Last thoughts
Rubber flooring comes with both advantages as well as disadvantages. You just need to weigh the options. Choose this flooring type if it suits the room, your lifestyle, and the home improvement budget you have in mind.
There's no doubt that today, many homeowners are going ahead with rubber flooring in high-traffic environments. The durable, eco-friendly flooring is especially easy to install for enthusiastic DIYers.
Read more: Rubber roofing option
Is rubber flooring a good idea for your home?
was last modified:
December 31st, 2021
by
Recommended