10 pros and cons of buying land to build a house
As the real estate market continues to be unpredictable, some home buyers may consider building from the ground up. There are a couple of different ways to do this. Many people decide to go with a builder in an established development to streamline the process with a pre-designed floor plan. Alternatively, others may choose to buy land and work with architects and contractors to design and build their custom dream homes. Here are 10 benefits and drawbacks of buying land to build a house, and things to consider as you begin the process.
Pros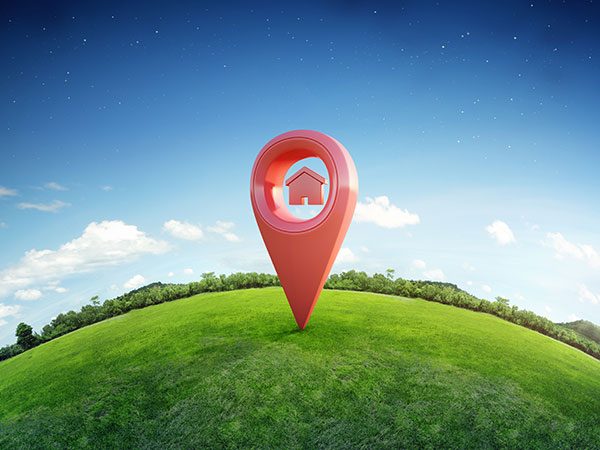 The good news is there are many benefits to buying land. Here are five of the biggest perks you'll enjoy.
Unlimited flexibility and customization
A blank slate is an ultimate dream for anyone with big ideas for their dream home. Whether you're looking for a mountain view or something secluded in the middle of the desert, buying land allows you to find exactly what you want.
The size of your lot will also provide you with many different options for construction. For example, a detached guest house or an extra spacious garage. When you're starting from scratch, you enjoy peak customization options as you design your future home.
Read more: What is a flag lot
Less competition during the process
Although we appear to be in a state of transition, the real estate market has been incredibly competitive over the last few years. Buyers were in a race against the clock to put in offers and the accepted offer was often above the asking price.
When you're buying land, there is much less competition. There are fewer people looking to go this route, which means you should be able to get exactly what you want if you can afford it. Just be prepared for all of the normal closing costs, including real estate commission.
Higher return on investment (ROI)
Land will always be valuable, especially in places that are experiencing rapid growth. Buying land and building a custom home will often lead to a higher ROI if you eventually decide to sell. Custom homes, in general, are in a higher bracket because they're unique. Plus, anything with desirable acreage will usually perform well in the real estate market.
Less long-term maintenance
In the long run, newer homes require less maintenance. That's because upgrades in technology and innovation have improved the quality of plumbing, HVAC systems, and other aspects of the home. You can also opt for low-maintenance landscaping and outdoor spaces to cut down on the need for these services. Whatever your goal is, you can work with your team to ensure your home requires the minimum amount of maintenance if that's important to you.
Access to special loans
There are particular loans designated for this type of real estate transaction that may help streamline the process. For example, land loans are used to finance the plot of land you want to buy for your future home. This is a good choice if your project is still a long-term plan.
On the other hand, a construction loan is an ideal route to take if you plan to build right away.
If you're buying a large plot of land in an area that's considered rural, you might qualify for a zero-down-payment USDA home loan, backed by the U.S. Department of Agriculture.
Read more: Buying a house with a friend
Cons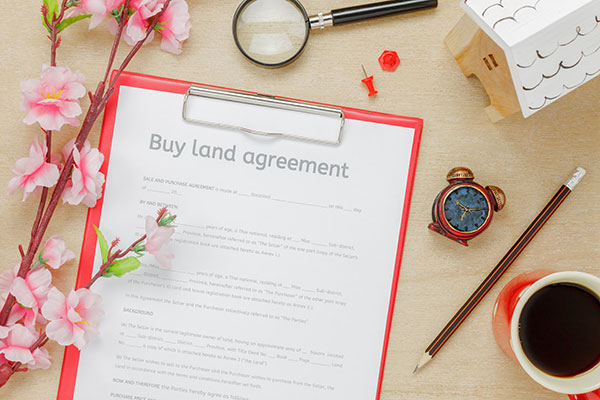 Any real estate transaction naturally comes with certain drawbacks. Here are a few of the downsides to consider before you proceed with buying land to build a home.
Initial investment
One of the biggest things to consider when buying land for a new build is the high costs you'll incur from the beginning. In addition to needing a down payment for the land, you'll also be looking at construction costs that fluctuate due to changes in supply and demand. In addition, your down payment can often be much higher than usual because there is more risk involved when it comes to something that is completely undeveloped.
Zoning laws
Restrictions in zoning are an important factor to consider when you're searching for that perfect plot of land. You may find that your dream lot is zoned for a business, not a residential building. Check with your county or city planning department to gather this important information before you make a purchase.
Permits
Building requires permits, and in most cases, there are many of them! A permit shows proof that you have the approval of your local government to build the home in question. From a pool or deck to gas piping, nearly every major step will require a permit. Although your general contractor should be in charge of facilitating these, you should expect to pay anywhere from $500 to over $2,000 for these individual permits.
Extended timelines
Building a home from the ground up is rarely easy or timely. This is perhaps one of the biggest complaints you'll hear from people who have done it. Whether it's a delay in receiving materials or unexpected issues, building a home is rarely accomplished without a shift in the timeline. Building it alone will generally span nine months, but this doesn't include the many months of planning before you break ground.
Costly loans
As previously mentioned, loans for undeveloped land often cost more than the average home loan. This is because there is much more inherent risk for lenders due to the unpredictability of the situation. When you're building a completely new home on raw land, there is simply more that can go wrong. In turn, this could lead to plans that end up falling apart, resulting in financial hardship for a borrower.
Making the right choice
All things considered, there is no wrong or right answer when it comes to making this type of decision. The best thing to do is research your options and lean into professional advice. In addition to working with an experienced real estate agent who has negotiated land deals, start searching for general contractors who can easily point out any issues or considerations before you buy a plot of land.
Read more: Should you buy a house during a recession?
10 pros and cons of buying land to build a house
was last modified:
September 27th, 2023
by
Recommended