Whether you plan to remodel a master bath or a small powder room, the bathroom colors you choose for your walls and cabinets say a lot about your personal style and preference.
If you have decided that your bathroom needs a fresh coat of paint or a new color scheme because you are simply tired of the existing one, this article is for you. According to color psychology, hues affect your mood, feelings, and behavior. Not to mention that picking the right colors for your walls can boost your home's aesthetic appeal.
In this article, we will explore the various factors that one must consider while choosing the right colors for your bathroom. The perfect selection will make this space easy on the eyes and practical.
Factors to Consider When Choosing Bathroom Colors
There are so many shades to choose from, that most people have a difficult time making the right choice. The good news is that you don't need to be an interior designer or a very artistic person to choose well — all you need is the right knowledge and a bit of inspiration. Your bathroom can be easily transformed into a luxurious getaway with the right help and a lot of ideas.
Here are some things you should consider when choosing bathroom colors for your walls and cabinets.
Bathroom Size
If you have a small bathroom, you don't need a complete remodel to make it appear larger. A well-researched choice of bathroom color scheme can help make it more comfortable, stylish, and look bigger.
Light walls are more reflective, making any space feel open and airy. They also augment the effect of natural light and make the area brighter. Some of the best colors that give the optical illusion of more space are warm neutrals such as creamy white, soft pink, blue-gray, pale yellow, or even a soft gray.
Let's see these 9 Gray And White Bathroom Ideas.
Lighting
Bathroom lighting is crucial because paint colors tend to look different when exposed to artificial lighting. For instance, what looks like a safe and neutral warm gray may look peach or mauve under different bathroom lighting.
Most bathrooms don't have enough natural lighting, especially in newer smaller homes, and this makes it more challenging when choosing bathroom colors for walls and cabinets. If you cannot make provision for natural light to seep in through a large window or a skylight, the next step is to get a sample of the color you wish to see in your bathroom and try it out to see if it will work for you.
Read more: Indirect lighting ideas to make your home more stylish
Paint Color Palettes
Consider checking out different paint color palettes to see which colors look good together. As mentioned before, colors do not just add an aesthetic value to your bathroom walls and cabinets, they affect our emotional responses too.
Neutral colors such as crisp white, cream, and many shades of beige, create a bathroom that is clean and calm.
While greens tend to soothe, yellows are uplifting and energetic. Reds are for those who love bold choices while blues are calming, and so on. These colors are considered warm or cool because of association.
As you create a color palette, your scheme should never be all warm colors or all cool colors. Let one dominate and set the overall tone of the room, but be sure to include elements that offer contrast.
Bathroom Fixtures
When remodeling your bathroom, or simply repainting it, you should always consider your current bathroom fixtures (bathtub, sink, toilet, etc.). Although there are different fixture colors these days, bright white remains a classic and the most popular choice.
The best part is you can go overboard with the tone and yet not be overwhelmed by it. So, you may opt for an all-white bathroom with white trims, white tiles, white fixtures — and still have a great-looking space.
Having said that, for a look that's on-trend, you can try complementing white with dark accent colors such as navy blue, hunter green, or black.
If you choose to go for brighter pops of colors or metallic accents — make sure to find a color palette that looks appealing when paired with your bathroom fixtures.
Flooring and Counters
You may also want to consider your bathroom flooring and countertops when selecting bathroom colors for walls and cabinets. As with your bathroom fixtures, you would want to ensure that you're creating a cohesive look in your bathroom.
You can achieve this if you consider how your paint color(s) will complement or blend in with your floor and countertop. For instance, if you have a marble countertop, you may want to work with the natural veining of the marble and use the lightest color for your walls.
The same strategy will work for dark wood flooring. This would make your bathroom seem very coordinated and aesthetically pleasing!
Always, mix and match tones. Do not rely heavily on a single one. The only exception is perhaps when it comes to white.
Decor Concept
Bathrooms vary from one home to another in terms of design or concept — such as Zen, Asian, Vintage/Antique, Modern and more. With this, you can have cabinets refurbished or painted accordingly.
If you opt to have it stained, for example, in dark brown — choose neutral paint colors for walls (tan, off-white, beige, etc) to complement your countertops. If it's your kid's bathroom, splashes of color are a welcome choice.
Decorating or designing your bathroom is a matter of preference. However, it's always safe to choose a color scheme that suits the overall look of your home.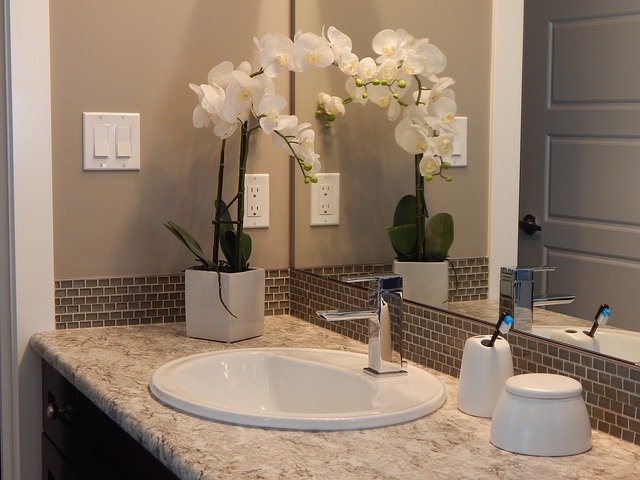 Some Trending Colors To Watch Out For
If you still need help choosing the perfect bathroom color, do some research online on hues that are popular with architects, interior decorators, designers, and contractors. We found that Decorators White, Pale Oak, Chantilly Lace, and Stonington Gray by Benjamin Moore are some of the trendiest bathroom wall colors this year. Also popular are Stone Blue and Borrowed Light by Farrow & Ball.
When it comes to bathroom cabinetry, the most popular shades of paint are white, gray, greige (a combination of gray and beige), and navy. You will also see a lot of cooler shades such as light blues and aqua this year.
These colors are popular for a reason. They have been tried and tested over time to work best with artificial lighting. It would help to view pictures of different bathrooms that have been renovated to give you an idea of the possible options available.
Final Thoughts
Choosing a paint color for your bathroom doesn't have to be a daunting task. There are many online and offline resources to help you along the way. You should be able to come up with a bathroom that's warm and inviting — one that looks cohesively designed. You can go wild with colors, as long as it all makes sense as a whole.
No matter how small a bathroom is, it can look bigger when properly laid out, adequately lit, and painted well. With all your efforts, your bathroom is bound to look very well-put-together and make you house-proud.
We hope, our article helps you choose the right kind of color for your bathroom walls and cabinets. The perfect paint job will give this space the much-needed makeover without breaking the bank!
How to Choose Bathroom Colors for Walls and Cabinets?
was last modified:
May 1st, 2022
by
Recommended