Planning to install a new bathroom vanity? A well-designed bathroom almost always has a functional vanity to help keep your bathroom essentials organized. Moreover, an attractive bathroom vanity adds aesthetic value to your bathing space. So, how much does it cost to install a bathroom vanity?
How much does it cost to install a bathroom vanity?
The average cost to install a bathroom vanity is about $1,500 – with most homeowners spending anywhere between $300 and $3,800. The total cost will depend on factors such as the type of vanity it is (prefabricated or custom-built, single or double vanity), the countertop material, the size of the vanity, and whether you're hiring a pro or installing the vanity yourself.
Premade vs, custom-built vanity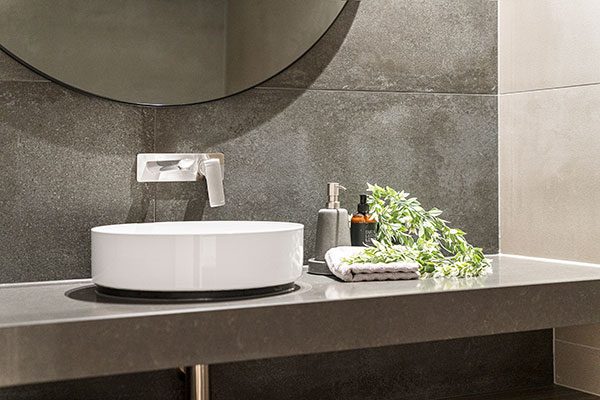 Premade vanities generally come with a pre-cut countertop. It may be granite, marble, or a quartz countertop.
A premade vanity will cost you $40 to $200. This amount typically includes a cultured marble countertop and a built-in bathroom sink. However, before buying it, you should always make sure that it will fit into your existing cabinet structure.
Moreover, if you're revamping an old vanity or replacing it with a different size or depth, you will have to adjust the flooring or trim and repair a part of the bathroom wall if needed.
Hiring a professional contractor to construct your custom vanity may cost you $500 to $2,800. You can add another $200 to $1,000 for the installation. This price may be steep but you'll get a vanity that's a perfect fit for your bathroom.
If you're planning a bathroom remodel, knowing the total cost of a bathroom vanity installation will help you plan your budget better.
Type of vanity top material
A bathroom vanity countertop cost can range from $5 to $135 per square foot depending on the material, the number of bathroom sinks, and whether the sinks are built-in or separate.
Which material you choose will depend on your home improvement budget, preference, and the kind of maintenance you have time for.
Below, you can take a look at the most popular types of vanity tops and their average costs:
| Vanity material | Average cost per square foot |
| --- | --- |
| Granite slab vanity countertop | $40 to $60 |
| Granite tile countertop | $5 to $15 |
| Quartz countertop | $75 |
| Cultured marble countertops | $65 |
| Concrete countertops | $65 to $135 |
| Stone composite countertops | $75 to $120 |
| Corian countertops (mix of metal and plastic resin) | $42 to $65 |
| Laminate countertops (mix of paper, wood, and resin) | $53 to $60 |
| Porcelain or ceramic tile countertop | $13 to $28 |
Labor expense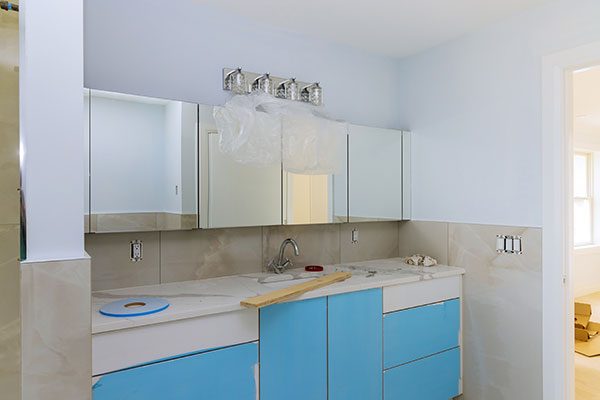 The average price to install a bathroom sink is about $380 (excluding the price of the sink) – depending on the type and number of sinks.
Hiring a licensed plumber to run a water and drain line will cost you an additional $45 to $200 per hour.
If the installation is a particularly difficult one that requires the contractor to cut a solid slab into intricate shapes or to fit the existing sink dimensions, you can expect to pay a few extra dollars.
The average cost to replace a plumbing line is roughly $1,000. It ranges between $358 and $1,994.
Keep in mind that although it may be possible for homeowners to install a simple vanity themselves, hiring a pro will help them save time and energy. Besides, a complex installation will need an expert for accuracy and safety purposes.
Size of the bathroom vanity
A larger bathroom vanity cost will be more than that a small one. And, it will take you longer to install. The price for a small vanity may be as low as $300 while a larger one will start from $1,000.
Other factors to consider
A non-load-bearing wall removal typically costs $300 to $1,000. If you can remove the existing vanity without causing damage to the wall behind it, you might be able to save money here. However, since the majority of vanities are built-in, you may not have a choice.
The cost of installing a vanity backsplash may range from $1.50 to $30 per square foot.
If your contractor is adjusting the bathroom flooring and trim for a vanity replacement, it will cost you between $665 and $3,300, depending on the scope of the renovation. Moreover, when replacing an old vanity, the professional will have to remove and dispose of it. Vanity removal and its disposal will be around $115 to $500 – depending on the vanity size and weight.
Should a vanity be flush with the bathroom wall?
Although you can install a bathroom vanity slightly away from the wall, it's always better to keep it flush with the wall. Otherwise, it creates a hard-to-reach gap that's difficult to clean.
Last thoughts
A good bathroom design typically has a vanity, which is basically a decorative storage unit topped by a counter that holds a single or double sink and faucet. It's often a visual focal point of the entire bathroom.
How much it cost to install a bathroom vanity will depend on its type, size, and material.
Read more: Master shower dimensions
How much does it cost to install a bathroom vanity?
was last modified:
May 29th, 2023
by
Recommended