Herringbone vs Chevron: Which One Is Right for Your Home?
Most people seem to get confused between herringbone and a chevron pattern. At first glance, they may think that both are the same parquet style. However, there's a difference between herringbone vs chevron. If you look closely, you will find planks that are quite different in shape and pattern. Let's explore these differences in this article.
Herringbone vs chevron
Be it your kitchen backsplash, hardwood floors, or upholstery, the chevron and herringbone style can lend their unique touch in bringing out the perfect design in your home. Therefore, it's important that we get some clarity on the differences between a herringbone vs chevron pattern and know how to tell them apart. Let's explain the difference by using the example of wood flooring.
In simple terms, the main difference between a herringbone and a chevron wood floor is that while a herringbone floor has a more subtle broken zig-zag pattern, in a chevron wood floor, the angles of the planks form an exact point.
Planning to install new flooring? Try our free installation cost estimator; it's easy, quick, and convenient to use!
What is a herringbone pattern?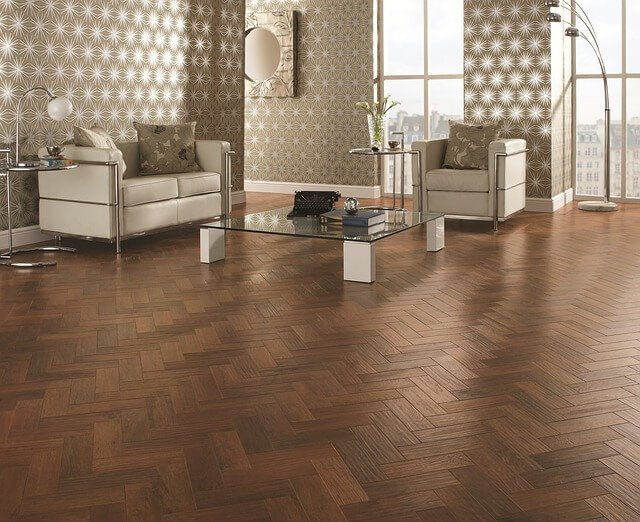 Herringbone (wood flooring and other installations) uses rectangular parquet blocks in such a way that they create a staggered zigzag pattern. The reason is that the end of the planks make a 90-degree angle or are placed perpendicular to each other. Interestingly, the blocks are much smaller than the usual flooring planks. The pattern is called herringbone because it resembles the skeleton of a herring fish!
If you're fond of a traditional, heritage look, then a herringbone pattern is a great flooring option for you. The herringbone tile has an undeniable timeless appeal to it. No wonder, it's the ideal flooring for a grand entrance or foyer.
Moreover, a herringbone style seems to expand the width of a room — creating a spacious feel.
However, do keep in mind that since the solid planks are pushed against each other to create the herringbone pattern, they have a lesser tendency to move or expand. Keep in mind that hardwood herringbone floors are expensive and require a labor-intensive installation. Laminate herringbone floors, on the other hand, are less expensive and easier to install. They are an ideal home improvement project for an enthusiastic DIYer.
What is a chevron pattern?
In a chevron pattern, the rectangular pieces of the blocks run point to point. Their ends are cut at an angle of 45 degrees to create a continuous zigzag design. Chevron is an inverted 'V' pattern that's beautiful to look at. The individual planks are of equal sizes, and usually shorter and narrower than other planks.
Interestingly, the word chevron is derived from a French and Latin word that conveys the resemblance of the pattern to building rafters.
The chevron pattern is perhaps a more modern choice for your backsplash or a parquet floor. The geometric design looks great in high-end, contemporary homes. This pattern allows you to create a variety of effects, from stripes to arrows. What's more, you can complement the design of your chevron floor or tile with similarly patterned cushions, artwork, or lampshades.
Herringbone and chevron installation
Both types of parquet designs are installed by gluing the pieces to a wood or concrete subfloor. Each plank needs to be installed separately, and at an angle. Since there are a lot of details and constant alignment to keep in mind while installing the blocks, the process can be very time consuming, difficult, and hence expensive.
Fortunately, today, there are pre-made planks with chevron and herringbone patterns available in the market. They are easy to install by a regular floor contractor.
Last words
Both the chevron and herringbone styles are immensely popular in the world of interior designs. Today, most homeowners want to use these kinds of patterns not only for their flooring but also bathroom tiling, wooden wall detailing, backsplashes, and so much more.
Both types of patterns offer a stunning option for your home, but it's worth understanding the differences so that you can choose the perfect design for your home. To summarize, the key differences in a herringbone vs chevron pattern are:
The chevron planks are cut at a 45-degree angle while herringbone planks are cut at a 90-degree angle.
Chevron creates a continuous zigzag pattern (coming to a point on top of each zigzag) while a herringbone has a staggered zigzag pattern.
Herringbone vs Chevron: Which One Is Right for Your Home?
was last modified:
April 22nd, 2022
by
Recommended