Homeowners need their properties to be comfortable, safe, and aesthetically pleasing. Each material should be durable and effective for consumers.
Many flooring brands keep up with the demand for healthy and attractive products. Buyers are cautious when choosing materials for their residences, you need long-lasting, anti-allergic, and robust flooring for your home to get a sense of quality.
Let's take a look at the flooring trends for 2023.
Laminate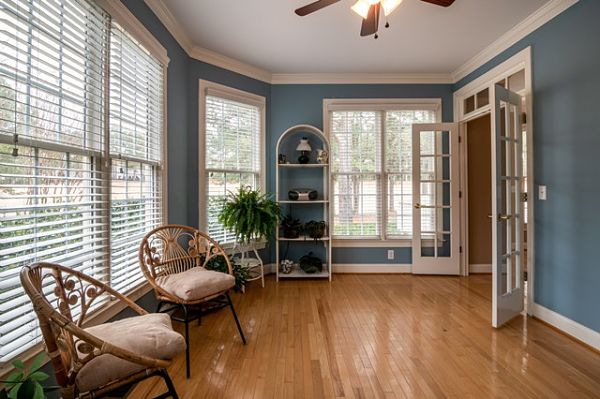 Laminate flooring is perfect for a comfortable lifestyle. The first laminate flooring was developed in Sweden in the 20th century. Although laminate flooring could have been of higher quality at the beginning, as years passed the development of the product became noticeable.
Today, laminate flooring is one of the most popular hardwood flooring choices for homeowners, commercial estate investors, and corporations. The general composition of the surface has not changed, as it has always been composed of three layers.
The first layer of laminate flooring is an overlay, to protect the flooring from scratching and tearing. It is also a design layer, for aesthetic pleasure, and depending on the production, the first layer itself consists of several layers. Under the decorative layer can be found HDF – wooden composite core. The third layer is the base, a watertight layer for structure and moisture barrier.
High-quality laminate flooring is durable, stain resistant, waterproof, and healthy. Popular European laminate brands, such as Kronospan, SwissKrono, and Egger provide anti-bacterial, and anti-allergic products for consumers that are easily installed. Laminate flooring is easily cleaned, hence the anti-allergic feature.
Laminate is a good choice for warmth as well. Due to its resistance and layers, underground water heating systems work perfectly with laminate flooring.
Vinyl tiles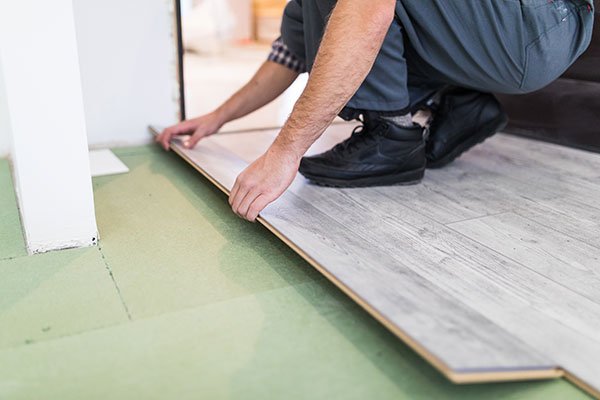 If you are looking for an elegant and luxurious style for your home vinyl flooring is the right choice. Vinyl flooring is low maintenance, long lasting, water and scratch-resistant, and pet friendly.
Commercial property owners would prefer to avoid having to deal with frequent renovations. Investors and property managers may be able to solve this problem by selecting this surface to satisfy guests and tenants.
Vinyl flooring can be used in the kitchen, bathroom, and living room. The surface is easily maintained and strong, so it's useful in the high-traffic areas of the house. Its availability is extremely convenient, as it can be found in stone, ceramic, and wood.
Vinyl tiles consist of many layers of PVC material. Originally, vinyl was created in the 1870s, however, it was developed as a flooring material in the 1930s.
The surface of the flooring stands out by being the most affordable luxurious type of flooring material. Investors, corporations, and homeowners choose vinyl flooring to present their properties fashionably.
Tiles
When choosing kitchen and bathroom flooring many homeowners opt for ceramic and porcelain tiles due to the durability and versatility of these materials. Porcelain tiles are almost 100% waterproof, therefore, they are the best choice for wet areas.
Large tiles make the rooms look bigger since they visually expand the spaces. The large ceramic and porcelain tiles are more inviting and focus attention on other items in the room.
Solid Wood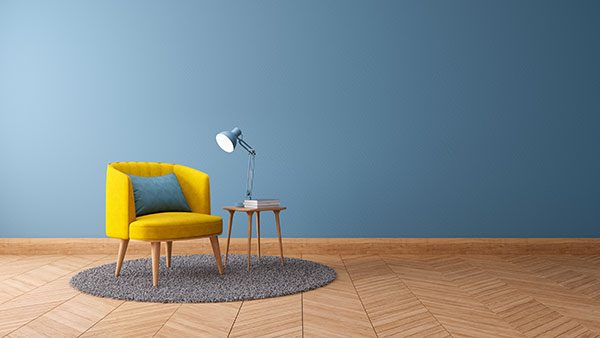 Laminate and vinyl can be found as replacements for solid wood, however, real wood flooring remains popular among consumers. The material has been used for housing ever since the 1700s.
The natural design of solid hardwood flooring gives your home a polished appearance. Even though it might seem old-fashioned, solid hardwood flooring gives your home a visual appeal of vintage and retro residences.
Solid hardwood flooring is pretty much timeless. You have a wide variety of colors, textures, styles, and wood choices when it comes to the material.
Unfinished Solid Hardwood – you can pick the material to customize your flooring.
Domestic Solid Hardwood – busy areas such as the kitchen, living room, and foyer can benefit from North American wood. You can pick from lighter and darker colors to fit your housing aesthetic.
Exotic Solid Hardwood – this type of flooring gets darker over time with exposure to light.
Eco-Friendly Flooring
If you are looking for environmentally friendly housing materials, eco-friendly flooring is popular nowadays.
Many consumers favor linoleum, bamboo, and cork flooring for their eco-friendly houses. These are healthy and stylish choices for lovers of nature.
Linoleum
Linoleum is similar to vinyl flooring, however, one is far healthier than the other. While vinyl flooring is synthetic, linoleum consists of natural products such as minerals, sawdust, and linseed oil.
The product has been around the market since the 1940s. Linoleum is water resistant and fire retardant, moreover, the material is bright and colorful.
Cork
One of the new materials on the flooring market is cork flooring. Cork is developed by the usage of cork oak trees found in nature. The material is low maintenance, and renewable.
Cork flooring can be found in various colors and styles, giving consumers a wide range of options. It consists of anti-microbial properties, and therefore, it's anti-allergic. Cork is a wonderful option for families with children.
Bamboo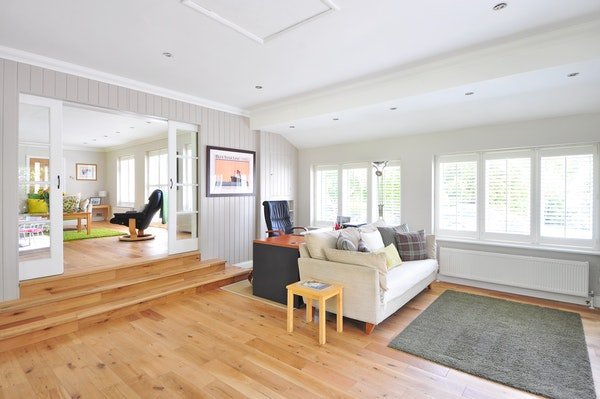 Bamboo is a grass that shares similarities with hardwood. It grows in Asia and only takes 2-3 years, unlike trees which take decades to grow. The material is sustainable and easily maintained. Visually, bamboo is often light, but you can find it in different shades.
Flooring is one of the most important aspects of house building. You need to find long-lasting material that fits your aesthetic. Lucky for you, there are a lot of choices that are trendy nowadays.
Top flooring trends for 2023
was last modified:
November 7th, 2022
by
Recommended