Effective Tips for Finding the Right Tiling Contractor
A successful home remodeling project requires a combination of different factors. The design, the materials, the contractors, and the budget all have an important role to play. So it's only natural that you treat each one of those aspects with kid gloves. For example, after much deliberation, you decide to tile your kitchen floor, or bathroom floor, or maybe your shower stall. Having selected the material, the next step is for you to choose the right contractor for the job. Here are some effective tips for finding the right tiling contractor.
What to Look for While Hiring a Tiler
A tiler, a tile contractor, or a tile installation professional, is a person who specializes in installing tiles onto a particular surface, such as your shower walls, bathroom floor, or kitchen floor. While looking to hire a tiler, here are some of the important things you will need to look for.
Let us help you find the best contractors in your area. Try Kukun's Find a Pro
1. Referrals and References
Ask people you know for referrals. You could ask your interior designer, your general contractor, or even your local hardware store clerk.
While interviewing the tiler, make sure he or she has handled a similar scope of tile work before.
Another good practice is to ask the tiler for references. This will allow you to check the experience they come with. While checking references, make sure you ask the right questions, such as whether the tiler adhered to the budget and the schedule, if there were any deviations from either, whether those deviations were justified, the tiler's punctuality, and finally, whether the referee would consider rehiring the tiler.
Another practice that will hold you in good stead is to check out online reviews.
Home Renovation Cost Estimator
Sorry, we currently don't have that project at our disposal.
---
You can take a look at our most popular ones:
Water Heater Installation
Exterior Door Replacement
Install Recessed Lighting
Exterior Door Installation
Interior Door Installation
Interior Door Replacement
2. Qualification
Anyone can claim to be a tiler. But just because they have knee pads and a grouting gun doesn't mean they're qualified for the job.
What you need is a CTI (Certified Tile Installer). Organizations like the National Tile Contractors Association (NTCA) and the Ceramic Tile Education Foundation (CTEF) provide tilers with the opportunity to get certified.
While not all tilers may be certified, a tiler who is will come across as being more credible.
Another important aspect to consider while hiring a tile contractor is the kind of tile work they are adept at.
A tiling contractor who has experience with floor tiles may not really be the best person to handle tiling your bathroom walls.
Tilers who are adept at laying ceramic and porcelain tiles may not be skilled at handling glass tiles or natural stone tiles, which often require a certain amount of customization and cutting.
Similarly, not every tiler can handle the intricate work that goes into installing a backsplash.
And make no mistakes, a roofer or roofing contractor, even though they lay tiles on the roof, does not have the skills or experience needed to lay tiles for your kitchen wall or bathroom floor.
3. Quotes and Red Flags
Don't settle on the first contractor you meet. Make sure you meet multiple prospective tile installers and get as many quotes as possible.
This will give you perspective about how much your tiling project will cost you, and allow you to choose the right contractor when it comes to pricing.
However, pay attention to these red flags before you close on the deal.
If a contractor quotes a lot below what other tilers are asking for, beware!
Always reconfirm the contractor's contact details. If anything, like their office location or contact number, seems amiss, step away.
Make sure you get everything in writing from the contractor before you begin the project. This should include the scope of work, the materials to be used, procurement costs, labor costs, work schedule, and payment schedule. Normally, contractors take a percentage as an advance and the remainder of the payment after completing the contract.
If a contractor demands to be paid in cash upfront, that ought to tell you that something is amiss.
Make sure the contractor has a strong online presence. If you have problems finding reviews and previously worked on projects, it may mean you're dealing with someone with far less credibility than they're portraying.
4. Handymen vs Companies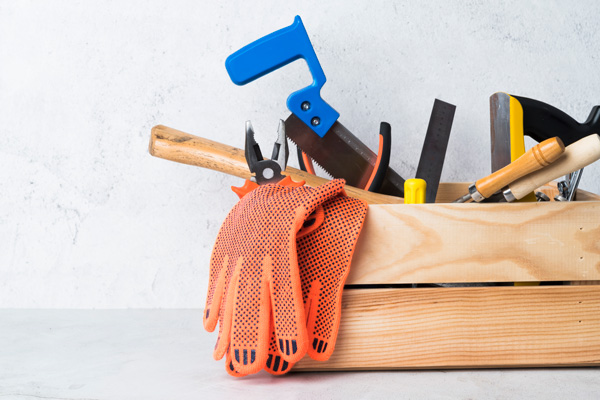 Should you hire an experienced handyman or go with a tiling company? Well, both options have their own merits and demerits.
For example, an experienced independent contractor may be able to work on a more personal level with you, paying more attention to the little details that you have in mind. Pricing may also be more flexible.
However, he may not have as much access to top-notch materials as a large tiling company would. His schedule may also not be as flexible as you'd expect it to be.
A company, on the other hand, will have access to materials and labor resources whenever you need it.
On the downside, the pricing will definitely be less flexible. You also have very little control when it comes to the skill levels of the resources who will be working on your project.
5. Average Costs
While the actual costs of your tiling project will depend on the scope of work and materials you use, here are some average costs for you to consider when you start planning.
The average cost to tile 200 square feet of floor is between $3,000 to $4,000. A 75 square foot countertop will cost you around $45 a square foot, while a 30 square foot backsplash will cost you around $50 a square foot.
Pro-Tip
Some cities need you to apply for a permit even if you're doing surface renovations, such as a new bathroom floor. So make sure you check with your contractor before you begin your project to avoid getting into trouble.
Read more: How to Choose the Right Grout Color for Your Tile?

Effective Tips for Finding the Right Tiling Contractor
was last modified:
November 17th, 2021
by
Recommended