It's important to get the right wall covering for your bathroom. A good choice can add to your space's appearance as well as its functionality. Two of the most popular choices in front of you today are shower panels or tiles.
While shower wall tiles have been used extensively in the past, shower wall panels have emerged as an effective alternative due to newer shower designs and technology. They certainly seem to be full of promise.
So, why don't we help you choose between the two bathroom wall finishings by giving you a detailed analysis of their pros and cons? You can opt for either shower panels or tiles depending on your bathroom needs.
What is a shower panel?
A shower wall panel is a hardwearing, waterproof wall covering that's tough enough to be fitted inside shower cubicles or other wet areas in the bathroom. The best part is that they come in a wide variety of colors, finishes, and materials, including acrylic, cultured stone, and decorative PVC composite.
Now that you know what shower panels are, it's time to compare them with bathroom tiles. Here's a look at their pros and cons. We hope this helps you decide on either shower panels or tiles for the perfect bathroom design.
Shower panels pros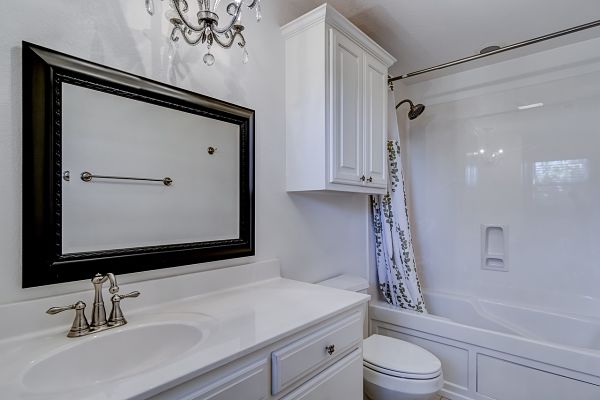 1. Easy to clean due to the absence of grout joints
It's no secret that grout joints require a lot of maintenance. You've got to scrub them regularly in order to keep a sparkling clean bathroom. Shower panels are grout-less and hence easy to clean — giving your room a slick and modern look. Moreover, because shower wall panels are non-porous in nature, they don't absorb moisture and dirt. You can simply wipe them with a cloth.
How Much Does a Shower Installation Cost? Let's find out!
2. Quicker and cleaner installation
No matter which type of wall panel system you choose for your bathroom, the panels are easy to install. All you need are the panels and some common woodworking equipment such as a circular saw or a carpenter's knife. Here are some of the steps of a typical shower panel installation:
Get a moisture-resistant drywall

Apply high-quality adhesives to the wall panels

Just hang the sheets up and seal the joints
Laminated wall panels are even simpler to put up. The wall panels are attached to an OSB board, sealed, and then trimmed. And, that's that! There's very little mess or dust involved.
In contrast, tile installation can be quite a pain involving heavy cement board underlayment, cutting and setting the tiles, as well as grouting the wall. The process is time-consuming, tedious, dirty, and expensive!
Do you want to have all your facts straight for your upcoming renovation process? Take a look at our ultimate guide on home remodel.
3. Shower wall panels vs ceramic: What about the price?
Often sold in wall kit form, shower wall panels are really cost-effective. They're often cheaper than tiles and a great choice if you're on a tight budget for your bathroom remodel or have a property that you're looking to flip in a low-rent neighborhood. Of course, if you go for luxury shower panels, you'll have to shell out a good amount of money.
Planning a renovation for your bathroom? Try our free remodel cost estimator; it's easy and convenient to use!
4. Available in a variety of colors and finishes
When it comes to wall panels, there are many choices. For instance, if you're looking for a sleek all-glass interior, you can opt for high gloss wall panels. You can even choose between a matte, marble-like, or sparkly finish.
From the low-cost fiberglass and acrylic shower panels to the realistic-looking decorative PVC or laminate wall panels — there's something for everyone.
Take a look at these 11 Impressive Shower Floor Ideas for Your Bathroom.
5. Leak-resistant
Since shower wall panels are non-porous, you don't have to worry about leaks, mold, and mildew, or spending money on expensive bathroom renovations such as replacing the shower, subfloor, or ceiling.
Shower panels cons
1. Suitable only for shower cubicles; not for the whole bathroom
An overwhelming amount of boards in your bathroom will make your space look a little too clinical. It's best to use the panels only within your shower enclosures.
2. A damaged board requires complete replacement
A huge downside to installing shower panels is that following any damage to a particular area, you'll need a full shower replacement. Unlike a tiled bathroom where you can just replace the defective tile, here, the bathroom remodeling is more extensive — and hence more expensive.
3. Ceiling height is an issue
Since most bathroom shower panels come with a maximum length of 7.9 feet, it can lead to problems when it comes to bathrooms with high ceilings. You'll have to join two boards — a solution that might ruin the sleek finish of the panels.
Let's see the basics on how to find the right showerhead for your bathroom
4. PVC is plastic and easy to damage
As easy is PVC to maintain, it's easier to damage too. Since plastic is hard, flexible, and brittle, there's more chance of it breaking, cracking, bumping, or scratching.
5. It's not the real thing
Even if you have panels mimicking marble or wood, it's still a fake effect. If you think your plasticky acrylic wall panel will look like real subway tiles or your cultured stone shower panel or solid surface panels will be as rich as a stone wall, you have another think coming!
6. Limited choice compared to tiles
While there's no dearth of options when it comes to panel colors and finishes, you might not get a huge choice when it comes to sizes, textures, and designs of panels. With tiles, on the other hand, the sky's the limit!
Bathroom tiles pros
1. It's as real as it gets
A tiled bathroom gives off a good feel. There's nothing plasticky about either the material or the finish. In spite of (or maybe because of them!) the indented grout lines, there's something rich about bathroom tiles.
2. Fully customizable
With a ceramic tile shower, you can always get what you want. So, if you're looking for a one-of-a-kind design or a custom finish, bathroom tile is your answer. You can mix infinite tile patterns, add borders, etc.
3. Eco-friendlier than shower wall panels
If you want to do your best for the planet, opting for natural building materials such as tiles is a smart decision. Most of the tiles are known for their durability and organic roots.
Let's review types of glass shower doors for modern homeowners.
4. Tiles are not bulky or heavy
In contrast to heavy wall panels, tiles are much easier to move around at the time of installation. If you've got a tight space with lots of angles and cuts, it's so much easier to bring up boxes of tiles and cut them to fit the wall or ceiling.
5. Easily available, and in a range of styles
It's a lot easier to source bathroom tiles. You can find the best of tiles in your local hardware store or online. Want the Mediterranean mosaic tile design, a fish scale design, or a vertically laid glass tile? You can get the exact pattern you have in your mind… and heart!
6. Easier to maneuver around curves
Tiles have the ability to work around curved walls. Unlike wall panels, you can easily maneuver them according to your bathroom's curvature.
Bathroom tiles cons
Photo by Christa Grover on Unsplash CC0
1. Grout joints absorb moisture and lead to mildew
Grout or the concrete-like material, used to install tiles, is porous. Therefore, there's a greater probability of it becoming home to mold and mildew. Regular cleaning helps to slow down the deterioration of course, but since mildew is hard to remove, it might require professional cleaning in the future.
Read more: Clean mildew off bathroom ceiling
2. High maintenance
There's no denying that cleaning your bathroom tiles on a regular basis is a MUST. Or, you'll eventually see visible soap scum, dark, and moldy joints.
How to Choose Between a Tub and Shower? Let's see the facts!
3. Tedious and expensive installation
Tiles are more difficult to install than panels on walls and ceilings. Each piece has to be set one by one. The process involves a lot of dust and mess!
Furthermore, tiling a shower is expensive too. The installation cost can range from $1,500 to $5,000 depending on the design and size of the shower.
Conclusion
Now that you've sifted through the pros and cons of shower panels and tiles, it'll be easier for you to find one clear-cut winner for your bathroom. Whether you choose shower panels or tiles, we hope this guide helps you in designing the shower of your dreams!
Read more: Bathroom Wall Decor Ideas
Shower Surround Panels vs. Tiles: Pros and Cons
was last modified:
August 2nd, 2022
by
Recommended