The bathroom is no longer purely functional. It's a place where you can relax and unwind before or after a long day. And, this is why more and more homeowners are opting for a heated bathroom floor. No more dreading the cold, ruthless bathroom floor during the winter months.
Such a heating system can be installed in bathrooms, wet rooms, and showers for unmatched comfort.
And, comfortable it is. Imagine, stepping onto a cold tile floor on a winter morning. Ouch! A heated bathroom floor not only makes your bathing space more cozy and appealing, but it also contributes to more efficient heating. It's a luxury that's hard to resist. Especially if you want a spa-like bathroom experience.
Types of heating systems
There are three types of radiant heat systems. The first is forced-air heating and is rarely used in homes. Here, the hot air carries heat through channels created on the floor. The second type of heating is hydronic based whereby hot water is used to carry heat through the tubing. This is the most efficient floor heating system.
The third is the electric radiant heating system, a cost-effective heating solution for regions where electricity is priced lower.
When remodeling your bathroom, electric floor heating or radiant floor heating is worth thinking about. Apart from the warmth, this type of floor heating system imparts, running it is also not too much of a burden on your heating bills in the long run. And, if you're looking for an eco-friendly heating system, opt for underfloor heating. The reason is that the air that's circulated is cleaner than the air pushed around by heat radiators.
Instantly estimate the cost of your remodel...
...or take your time to personalize dozens of choices to transform your house into your dream home.
Most importantly, having a heated bathroom floor is a key selling point, which adds considerable value to your home.
So if you're looking to resell or flip a property on the market, a heated bathroom floor is a smart strategy for getting you the best price.
Do heated bathroom floors use a lot of electricity?
No, heated floors do not use too much electricity. Of course, the cost to operate your bathroom floor heating depends on the cost of electricity in your area. Most floor heating systems use 12 watts per hour per square foot. For instance, a 100-square-foot bathroom would use 1200 watts every hour, that's lesser than the average cost to run a space heater.
The best way to maximize your energy savings is by using a programmable thermostat. That way, you can turn on the floor heating system only when you need it. In any case, you are probably in the bathroom for about one or two hours a day.
Read more: Bleeding radiators: What you need to consider?
How much does a heated bathroom floor cost?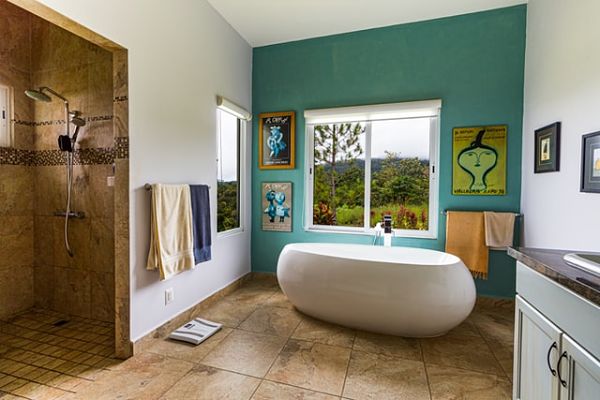 Floor-heating systems cost between $5 to $12 per square foot for electric heated mats, rolls, or cables. If you choose waterproof installation membranes instead of fixing strips, the cost of cables goes up to $15 to $20 per square foot.
A 50 square feet bathroom, with approximately 35 square feet of heating area (leaving space for permanent fixtures such as vanities, showers, tubs, and toilets), would cost you between $175 and $420.
The average cost to install bathroom floor heating for a 100 square feet bathroom runs to about $600. The total price varies depending on the type of heating system and its quality.
Keep in mind that the average cost of installing bathroom electric underfloor heating is generally cheaper and more energy-efficient than other traditional forms of heating like central-heating systems.
How long do heated floors last?
A high-quality in-floor radiant heating system can last more than 35 years if maintained properly. That's much more when compared to a normal furnace.
Which type of flooring is best for heated floors?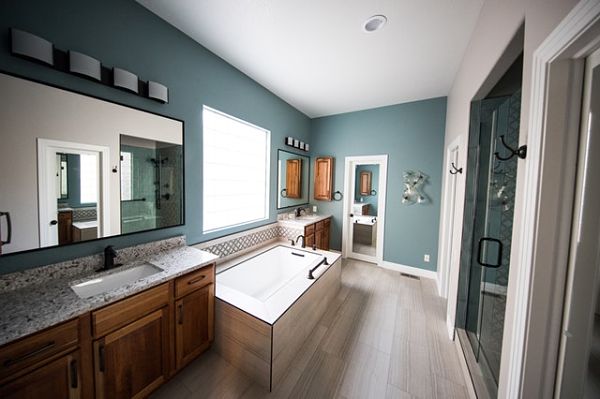 The best flooring to use with underfloor heating is either ceramic tile or stone tile. The reason is that both of these flooring materials have high thermal conductivity. That is to say, the heat from the underfloor heating pipe or wire will transfer to the floor surface quite quickly. Also, ceramic and stone tiles retain heat well and hence make the heating system more efficient.
Flooring to be avoided for heated bathroom floors
Solid wood floors can develop gaps if they dry. Or, shrink when heated. If you absolutely must have a solid wood flooring, do leave the installation to an experienced professional. They will test the moisture content of the wood to avoid any shrinkage in the future.
Floating floors made from plastic laminate or vinyl tiling or sheets don't develop gaps but you'll have to limit the floor temperature. Most flooring warranties have a temperature limit of 85 degrees F.
Placing carpets or rugs on a heated floor is also not a good idea. They act as insulators — reducing the heat flow to your feet or the room as a whole.
Importance of waterproofing
Whichever bathroom floor you choose, keep waterproofing a priority as a bathroom is prone to water spills and moisture. In fact, waterproofing your subfloor should be done regardless of whether you have heated floors or not.
Types of heated bathroom floor mats
This type of electric heated flooring uses a cable that comes on a spool. The cable is the cheapest way to heat a bathroom floor — and just as effective as the other heating systems. However, the downside to using loose cable is the long installation time. You need to fasten the cable with hot glue or staples in order to embed it. Moreover, you need to be really careful with the installation. The slightest nick of the cable will render the entire system useless.
This cable comes woven into a plastic net. The installation takes less than half the time taken with loose cable. Simply staple or hot glue the mesh to the floor. Mats come in different dimensions; you can cut the mesh into the required sections to cover your floor square footage. But you can't cut or splice the cable itself. Once it's embedded, you can lay tile, carpet, vinyl, or a floating floor.
Solid mats are the most expensive electric heating system. Having said that, such heating mats are the easiest to install. A synthetic fabric, plastic sheeting or metal foil encloses the cable completely. Therefore, you don't have to embed it.
How to install heated bathroom floors?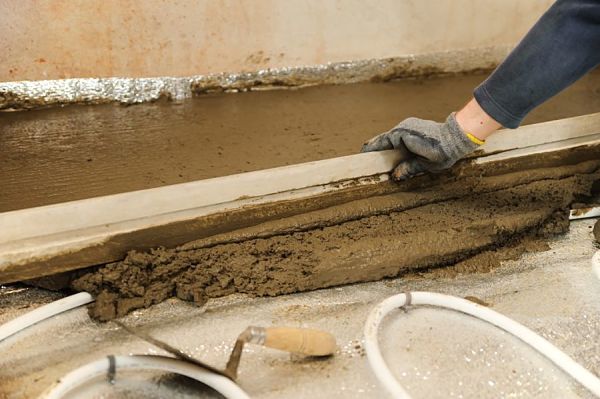 Make a complete plan for the floor heating installation. Decide on how to lay out the heating element and the location of the thermostat.
Prepare the sub-floor by clearing the debris and removing any staples, nails, or other sharp objects that could damage the heating element.
Test the heating element with the help of a digital ohmmeter. Make sure that the results are within 15 percent of the required value on the UL label.
Install the heating element and the thermostat.
Retest the heating element to ensure it's in good working condition.
You can check the full process from General contractor Jeff Thorman:
Read more: How to remove tile from concrete floor
Pros and cons of heated bathroom floors
Heated bathroom floor
Pros
Cons
Provides a comfortable ambient temperature
Installation takes time
More uniform heating than HVAC systems
Involves removing existing flooring to install new equipment
Energy-efficient and quick heating
Repair work can be tedious
Space-saving heating solution
Costs more than most HVAC heating systems
Discrete, less maintenance required
May increase your bathroom's floor height (by one-and-a-half-inch)
Noise-free, with adjustable temperature settings


Safe, brings out good air quality


Gives high ROI value


Last words
If the idea of stepping on a chilling bathroom floor gets you jittery, you need a heated bathroom floor. With good floor heating in your bathroom, you can start or end your day on a happy note.
So, go ahead and enjoy a snug bathroom. 
Use this infographic if you need a friendly abstract.
Factors to Consider When Installing a Heated Bathroom Floor
was last modified:
November 19th, 2022
by
Recommended