Who doesn't like the comfort and warmth of a bathroom heater? We simply love it, especially when we're getting ready for work or the children are rushing through their morning chores during winter.
And, you don't even need to turn on the entire central heating system of your house, just install a bathroom heater and keep your space warm without wastefully heating up the rest of your home.
This is a double bonanza — your mornings will be more enjoyable and you will see a drop in your energy bills too.
While looking for a good bathroom heater for your home, there are a few things to keep in mind. In this article, we will look at the factors you should consider when selecting a bathroom heater. Not only that, but we will also talk about the different types of bathroom heaters available.
So, if you're wondering about the benefits of a bathroom heater and which one is going to work best for your bathroom space, read on.
This bathroom heater guide will answer all your queries. But, first up is the most important question for first-time homeowners:
What is a bathroom heater?
A bathroom heater is a heating appliance whose primary purpose is to keep you warm when temperatures are low. And, since bathrooms can get uncomfortably cold during the winter, a heater is an ideal choice here. Most bathroom heater fans use an infrared heat lamp to heat up the area quickly. Such a fixture is ideal for small spaces such as bathrooms.
Do you want to have all your facts straight for your upcoming renovation process? Take a look at our ultimate guide for bathroom remodel.
Benefits of bathroom heaters
Apart from helping you stay warm when you step out of the bath or shower, there are some other equally important benefits of installing a bathroom heater in your home. These include:
Working together with a bathroom ceiling fan, a bathroom heater helps in controlling steam accumulation on mirrors and bathroom appliances.
With a bathroom heater, you don't have to worry about moisture accumulation on walls, rugs, baseboards, faucets, light fixtures, or shower curtain. Also, drying out a bathroom is quicker and easier.
Research supports the fact that a bathroom heater improves overall health through improved cardiovascular circulation. It's especially a boon for those with sore muscles and joints.
What features should you look for in a bathroom heater?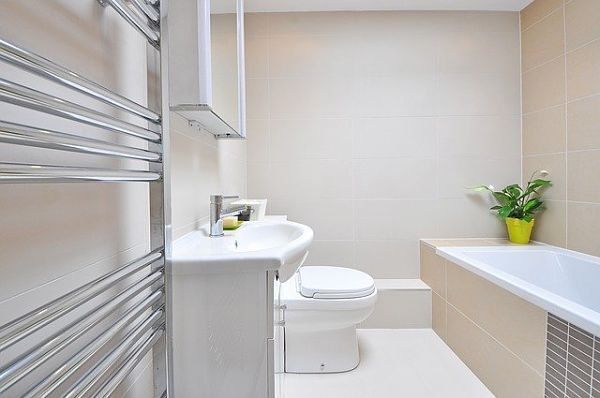 When deciding on what kind of bathroom heater to buy, you should keep the following factors in mind:
Durability
You need a heater that's durable and lasts a good amount of years. Go for a bathroom heater that is strong and requires minimal maintenance. Keep in mind that most durable models will be constructed from stronger materials and have fewer moving parts.
Heating efficiency
Since you only spend a few minutes in the bathroom, it's important to have a heating system that heats the room effectively and quickly. You can measure the efficiency of your bathroom heaters by their wattage output and British Thermal Units aka BTUs. The higher the BTU, the more efficient will your heater be.
Safety features
Safety is of utmost importance, especially because a bathroom is both wet and humid. This environment increases the chances of short circuits and other electrical interference. A bathroom heater should be able to handle all kinds of safety hazards.
DON'T just pick any space heater; make sure the one you choose is designed with safety features and mechanisms that allow it to work safely in damp or wet environments. Choose a model that has an automatic overheat protection feature.
Heater technology
The next thing you have to decide is the technology you want your heater to work on — ranging from convection to infrared heating. As there are varying heater technologies or heating types available on the market, you'll have to do some in-depth research to find the most appropriate one.
Versatility
Want a heater that's multipurpose? Look for versatility whereby you can use it in bathrooms or in other rooms if and when required. Also, a heater that can perform more than one function — such as removing humidity or heating the water as well as the air — will serve you well.
Quietness
Opt for a heater that runs silently — especially since the bathroom is a small enclosed space. You don't want a constant buzzing noise early in the morning or for that matter late at night. 
Read more: Noisy water heater
Portability
If you're planning to move your bathroom heater from one place to another, buying a portable system is a good idea. Opt for a small heater that runs on electricity. This will allow you to easily shift the electric heater as and when needed.
Right size
Selecting the appropriate bathroom heater size is one of the most important things to keep in mind. Heaters that are too small for a huge bathroom space or vice versa will never properly warm your bathroom. The wrong size can leave you feeling cold with a huge utility bill. A good rule of thumb is to keep 10 watts of power for every square foot.
Heater timers
If you're the kind of person who loves to take comfort to the next level, go for a heater with a timer. Such an appliance is designed to kick on and off at designated times because of an integrated timer.
So, set the timer with the required heat setting and let your bathroom warm-up before you go in — all this while you sip a hot cuppa!
Budget
Any remodeling or installation will have to take into account your budget. If you're thinking of renting or just need to warm up your small bathroom quickly, you can consider a portable space heater. If you have a big family or own the house, a wall-mountable or wall-recessed heater may work best.
Planning a remodeling for your bathroom? Try our free bathroom renovation cost estimator; it's easy and convenient to use!
Wiring
Decide whether you want a hardwiring or a plug. If you're considering the former option, make sure you select the correct voltage. Consult with a certified electrician if you're in doubt. If you have a GFCI outlet, consider a portable bathroom heater with an ACLI safety plug.
Thermostat placement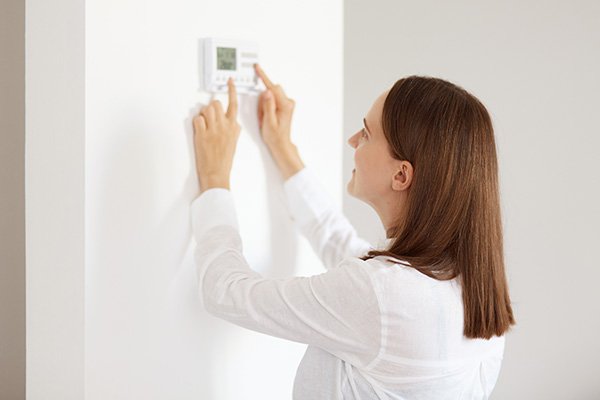 If you're installing an external thermostat in your bathroom, make sure it's not placed close to the heater. Otherwise, the adjustable thermostat will fail to gauge the temperature of the room correctly. Anyway, an external thermostat works better in bigger, spacious bathrooms. Go for a built-in thermostat or mounted thermostat if you have a smallish space.
Right kind of bathroom heater
And, finally, we come to the most important decision — which bathroom heater to buy?
There are multiple options available and you need to choose the best one for your bathroom — in terms of features, efficiency, and comfort level.
Let's explore the various types of heaters and their pros and cons in the next section.
Read more: Bathroom Exhaust Fan Installation: 13 Important Questions You Need To Ask
Types of bathroom heaters
Each type of heater has its pros and cons. Let's take a look at the most popular ones and their features:
Portable heaters
Quite obviously, these heater units are small and easy to carry around. They are a good choice for renters and for people who want to heat up their bathroom only during the cold season. These heaters can be easily removed from the bathroom and used in other rooms. Most of them are electrically powered — having a heating element inside and using a fan to force the hot air around a space.
If you're going for a portable bathroom space heater, decide on a safe spot for it, preferably a far corner.
Pros
Cons

Easy to move around
Effective for small bathrooms
Compact design

Tends to be noisy
Needs regular cleaning and maintenance

Ceiling heater
Most ceiling heaters are portable enough to be moved and reinstalled elsewhere. And, they last a long time.
If you already have a ceiling box ready to place the heater, a ceiling heater is ideal for you. You will minimize the electrical configuration costs.
Pros
Cons

Doesn't take up much space
Long-lasting
Reliable
Portable

Slightly complicated installation

Wall heater
Wall heaters can be attached to the wall on a hook or via permanent screws. They are inexpensive, durable, efficient, and are ideal to heat small bathrooms.
Pros
Cons

Inexpensive
Efficient
Durable

Need more electrical wiring and setup
Baseboard heater
Such a heater is installed along the floor. It can provide a lot of heat in a short time.
Pros
Cons

Efficient
Takes less time to heat up a room

Requires a complicated installation
Higher set up costs
Read more: Hot water baseboard heaters
Heater with exhaust fan
If you opt for a fan heater, you won't have to worry about both steam and humidity. And, it will keep your bathroom toasty while taking care of unwanted mildew or fungal growth. In summer, you can turn off the heater and just use it as an exhaust.
Pros
Cons

Keeps out humidity and steam
Checks the growth of mold and mildew

More expensive option

Combination heater
A combination heater uses a heat pump system to provide heat. It's one of the most efficient HVAC systems. You can use it to heat water as well as provide heating or cooling to the house.
Moreover, this technology results in energy conservation of up to 10%.
Pros
Cons

Energy-saving option
Long-term cost savings

High upfront costs
Requires extensive installation

Tips for a safe bathroom heater installation: dos and don'ts
Now that you've probably zeroed in on the most suitable kind of heater for your bathroom, it's time to take care of a few safety tips:
Keep your bathroom heater at a safe distance from the tub edges, sinks, and showers.

Don't let your towels or other objects obstruct your heater's airflow.

Do not place your heater inside showers or where water can splash into the appliance.

Do not cover your space heaters with a towel or cloth.

Always read your owner's manual thoroughly before installing a bathroom heater.

Keep in mind that portable bathroom heaters (considered "water-proof") can still pose a risk of electrical shock.

Follow

building codes

regarding bathroom heaters.
Further info on How to Select A Quality Bathroom Heater? Take a look at our guide.
Conclusion
We understand that your bathroom can get uncomfortably cold during the winter season. And, you're tempted to turn up the central heating. But, that's not necessary. Rather than wasting electricity and energy to heat up the whole house, you can buy a bathroom heater to heat up the small space effectively.
Read more: Six Bathroom Heating Ideas for Your Next Renovation
Bathroom Heater Guide: Understanding the Benefits and Types
was last modified:
May 13th, 2023
by
Recommended