Stunning home art room ideas for the artist in you
An artist works at their own pace, in their own zone. If you too are one and looking to create a home art room or studio, we have the best ideas and tips for you. 
After all, your precious canvases, easels, and other art supplies deserve a space of their own, right? You can't just use any area in your living room or bedroom.
A dedicated space for your home art studio will be your sacred sanctuary, a room where all your artistic and creative ideas can come to life.
Whether you want to set up a home art room in a spare bedroom, an outdoor shed, a basement, or a garage, you can find some incredible home art studio design ideas here.
These factors are really important in developing the art form you want to pursue — whether it's painting, sketching, graphic designing, pottery, sculpting, carpentry, or wood carving. So, let's begin. 
Home art room
Good lighting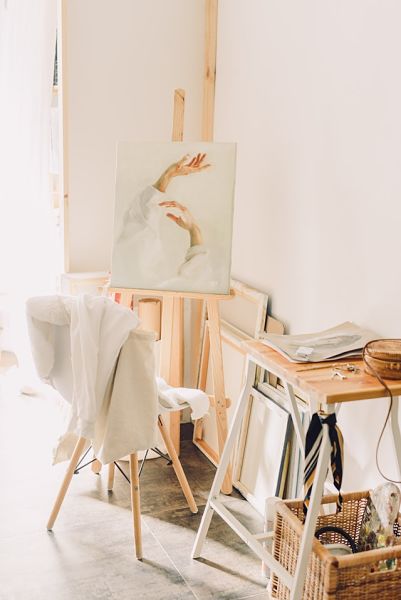 Smart lighting ideas are an important component of an art studio design. As you create art, you'll need good light — the best one is natural light. If your home art room is in a garage or a basement area, you will need artificial lighting (both ambient and task lighting) in the form of sconces, pendant lights, and standing floor lamps.
For a professional art studio, artists can choose daylight lamps and bulbs that imitate natural light. And, it's a good idea to use white linen lampshades. The soft, ambient light won't distract you from your artistic work.
Adequate work surface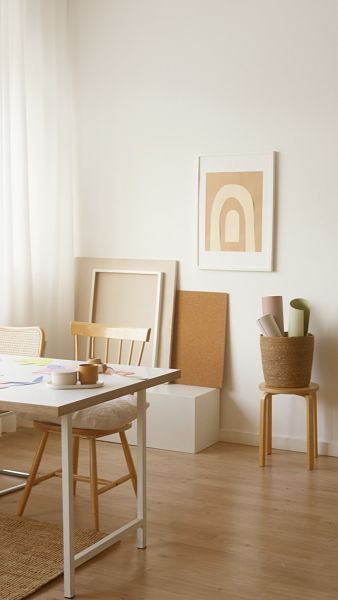 You'll need an area where you can focus all your energies on creating art. An ample work surface, or an art studio table — whether you work on an easel, a table, or the floor — is something that cannot be compromised with. After all, it's almost like a home office for you! You should be able to spread out your materials and keep your painting brushes or tools handy. 
Make sure you have enough space to work and store your art materials. If you're setting up a studio in a tiny area, you can opt for a wall-mounted desk. It can easily fold up when not required.
Proper ventilation 
Windows and vents that let in the fresh air will ensure good air circulation. Ventilation is especially important if you work with anything that produces fumes or dust. For example, if you're an oil painter, a sculptor, or a woodworker. In fact, a well-ventilated space is good for every artist, regardless of their preferred medium or craft. 
Access to a sink with running water
Once an artist is in the mood, the last thing they'd want is the inconvenience of running to the kitchen or bathroom sink to access running water after every few minutes. A dedicated slop sink in your art studio space is essential. Apart from maintaining good hygiene in your craft room, you'll not have to worry about any debris dirtying the kitchen sink or clogging the drain.
Soothing wall color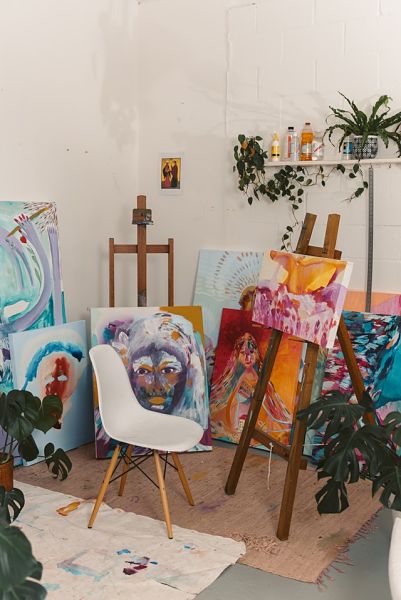 Having a creative space you love is crucial in bringing out your artistic ingenuity. The right ambiance, the right style, and the right colors will breed creativity while making you feel comfortable.
It's important that you choose a paint color that stimulates your creative energy. Neutral colors and hues that are not too dark or too bright are perfect for a positive workflow. For example, the color green is believed to be calming, and promote creative thinking — a plus point for an in-home art studio.
Creative touches to the decor
A fully functional art room needn't be bereft of style and good interior design. Creative touches will help you personalize the space, inspiring you further. Wall art made by you, a beautiful tapestry you picked up on a holiday, framed pictures, awards, certification, or unique décor pieces will make the room your sanctuary.
In addition, you can add a special vibe with colorful rugs, indoor plants, lightweight curtains, and cozy room furniture. 
Ample storage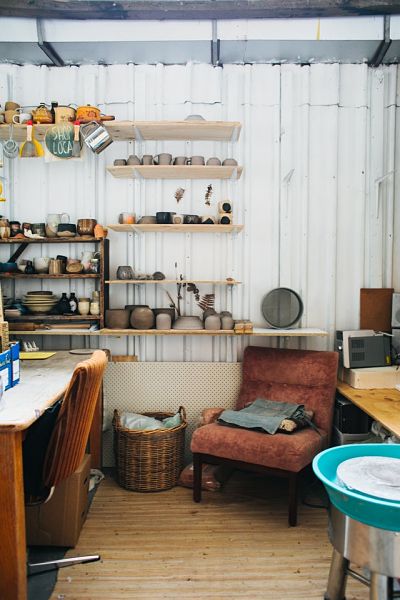 Good storage is absolutely essential when setting up an art studio at home, especially if it's in a small space. Open shelving, as well as wall-mounted cabinets, will help in your art studio organization. Plus, the vertical storage will leave good floor space for your artistic pursuits.
Be sure to use labels on the containers and cabinets to manage and locate your art room supplies with ease.
The cheapest storage idea would be to buy affordable freestanding shelving units, floating wooden shelves, or metal filing cabinets. Interestingly, wire shelving units are perfect for storing and cooling your pottery pieces.
And, if you're gung-ho and want to try a DIY home art room project, you can repurpose your old furniture pieces such as a dresser or a bookshelf to add storage and a vintage charm to your craft room.
Last thoughts
If you're planning an in-home art studio, your aim should be to create a space that reflects your artistic sensibilities. And, be in your comfort zone. We hope the above studio ideas and tips will help you transform any space into your ideal creative outlet. 
The bottom line is that however small or large your home art room is, you can customize it in the best ways to express your creativity and harness it into your work.
Stunning home art room ideas for the artist in you
was last modified:
July 6th, 2021
by
Recommended