Unleash your creativity with these 13 craft room ideas
Serious passions need serious focus. Whether you're a DIY crafter or a professional artist, you need a dedicated space to unleash your creativity — your very own personal oasis. If you're looking for great craft room ideas, we've got your back. We have 13 superb craft room ideas to inspire you.
So, go ahead and change your decor to accommodate your whims and fancies — and to get your creative juices flowing.
These redecorating ideas will help keep your craft space organized, and provide you with a spacious area for all your craft projects. Not to forget, help you unwind and promote your productivity.
Whether you're looking to create a workstation for yourself or want to give your kids a fun space to get their hands wet with paint, we've got great ideas to help you develop the best craft rooms.
1. Find your space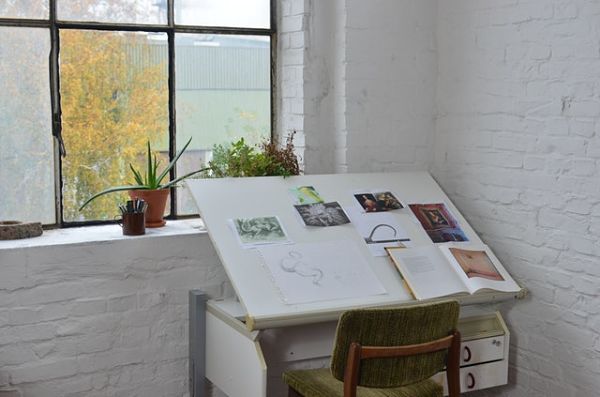 Think like an artist. Which space in the house will be perfect for you? So, what if, you do not have a separate area for a craft room? You could use a corner of a den, half your laundry room, or an outdoor storage shed — and turn it into a creative studio! Any place that's comfortable and makes your imagination soar can become the perfect craft room.
2. Segregate, organize, and label
A good organizational system is a key to an efficient craft room design. Trust us, you don't want to waste away your time digging through dark drawers in search of spools of threads, scissors, or paintbrushes — or whatever it is you need for your hobby.
Use a label maker to mark your storage units so that you may switch from one project to another easily. Also, you may love collecting scrapbook papers or wrapping papers, or cross-stitching, as much as you love painting. In which case, keeping your craft materials separate will make things easier for you.
3. Color code your craft items
Whether you're an avid painter, a dressmaker, or a jewelry designer — color-coding your craft items will help you find them that much easier. Plus, it would add to the room's aesthetic value. So, sort those pens, colored pencils, and markers by type and color. You will not have to worry about searching for them the next time you want them.
4. Get good craft room storage
A craft room will have tons of scraps. You need to store your crafting materials in a way that they are hidden yet are easily accessible. Try a combination of open shelving units and built-in storage.
The floating shelves can be used to put your decor on display and the cabinets can be used to tuck away the unsightly but essential items. We recommend installing adjustable shelving which is easily available in your local home improvement stores.
In addition, strategically place bins, baskets, boxes, and jars to keep things out of plain sight.
Read more: Storage solutions that will keep your home clutter free
5. Opt for a large work table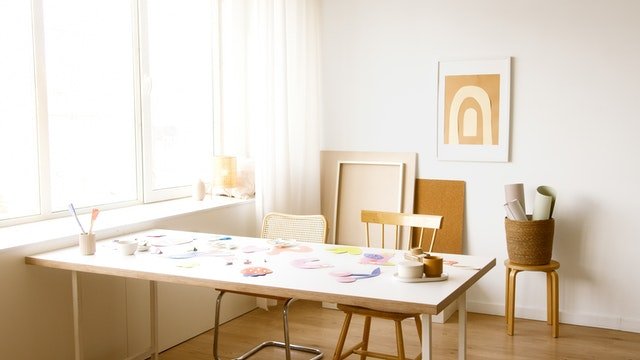 Buy a big table or work desk instead of a tiny one. A large craft room table will allow you to spread out, layout all the items you need, and be comfortable. That way, you can be doubly productive!
Plus, if you ever need to use the space as a home office, you may do so without a worry. If the work table doesn't have ample storage space or drawers, you can make use of your craft room walls to store items.
6. Use multi-purpose furniture
Like we said, your craft room furniture can easily double your home office furniture — giving you the most out of your workspace. While you're choosing the room furniture, get something that adds to the cohesive, multifunctional space.
And, if you're looking to organize your craft room without spending much, you can get thrift store furniture and recycled storage solutions. You'll be surprised how, with a little repainting and refurbishing, the same inexpensive stuff can look good in your space.
Read more: Multifunctional spaces guide
7. Add good lighting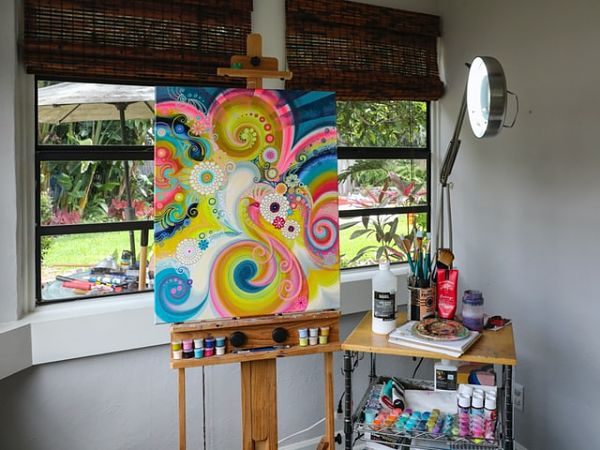 Having a well-lit, cheerful workspace is very important. Especially, when it comes to detail-oriented crafts such as crocheting or drawing. You'll need a good mix of ambient light and task lighting. Install overhead lights as well as table lamps to illuminate the room.
Hang a pretty picture or inspirational quotes on the walls, add some funky accessories and a bright wallpaper — and your perfect craft room is ready!
8. Choose a neutral wall color
Even if you love bright, bold colors — you need to steer clear of them. Keep in mind that a complicated color scheme may make your workspace visually chaotic.
A neutral palette, on the other hand, will inspire a soothing headspace and hence creativity. Plus, the color makes even a small space appear brighter and bigger.
9. Create a pegboard wall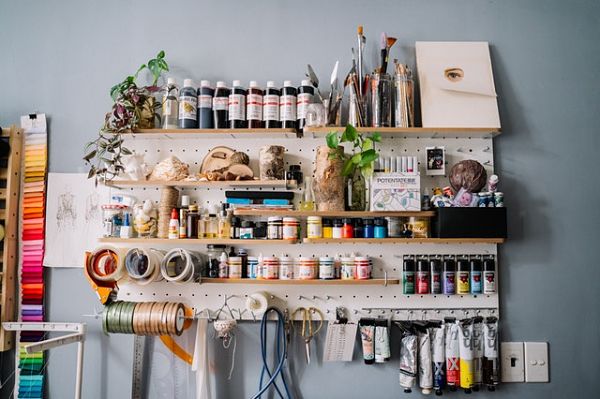 A pegboard is without a doubt one of the most versatile things for your craft room. Install a colorful pegboard for all those paints, scissors, and spools. That way, you get to utilize the wall for the storage of your craft supplies. And, you get to use the pinboard as your mood board too.
Read more: DIY Installing pegboard walls
10. Bring the outdoors in
A room with plants is a happy room. Houseplants liven up your space and create an inspirational, natural environment that soothes the mind. You may add some more natural products such as rattan and wicker to integrate gorgeous greens and natural motifs into your craft room.
Read more: Low light indoor plants
11. Hang inspiration signs around
Inspirational quotes may be cliche — but they motivate, and how! Sometimes, a hobby or craft work can get a tad overwhelming or frustrating. And, you end up beating yourself up over a failure. The quotes will bring you back on track — preventing you from giving up.
12. Make your craft room cozy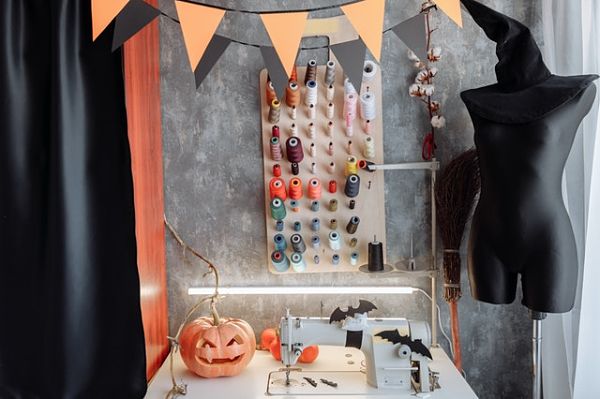 Making your craft room comfy can really spark your productivity. And, you'll be able to work uninterrupted for hours. Add home decor items that are comfortable as well as stylish. A soft rug, a bright-colored throw, or beautiful wall art.
13. Include a durable sink
Arts and crafts can get a tad messy. So, if you work with paints, clay, or any craft tool with pigment, a stainless steel sink in the same room will make working on a project convenient for you.
Last thoughts
Having a dedicated space for your craftwork will help promote your creativity as well as productivity. And that can make all the difference in your workmanship. We hope these craft room ideas — from craft room organization ideas to craft room storage ideas — will help you create the best and the most useful craft room.
Keep in mind that whether you enjoy creating projects as a hobby or need a creative workspace to promote a crafting career — a well-designed craft room will help you stay organized and express yourself better!
Unleash your creativity with these 13 craft room ideas
was last modified:
December 13th, 2021
by
Recommended