A pegboard wall is a great and easy solution for you to get some extra storage and organizing space by hanging things on a wall with pegs. Pegboard walls are especially handy for garage organization, kitchen organization, home office organization, and for creating floor space in any room. You could organize all the tools you use most often on the wall, which means you need fewer cabinets and have more space available to use for other projects, like setting up a foosball table or even a small home gym.
Installing a pegboard wall is a fairly easy process. Here is a brief description of how you could work on it as a DIY project.
Materials needed
A board of 3/16 prefinished pegboard per 32 spare feet.
Lathe screws
Assorted pegboard hooks accessories based on your needs, such as curved hooks, angled hooks, straight hooks, double straight hooks, tool holders, and more.
Tools Needed
Screw gun
Jigsaw
Level
Circular saw or table saw
Wood screws
Pro tip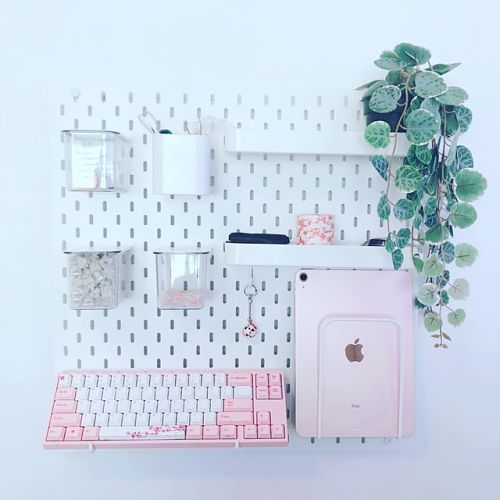 While pegboards are usually pre-drilled hardboards with quarter-inch holes spaced an inch apart, you also get metal pegboards, acrylic or plastic pegboards, and Masonite pegboards.
Read more: Choosing the right storage unit
The process
Prep work
To install pegboard accessories, you need a small void between the wall and the board. If you have a home that was built in the 1990s, chances are you have bare studs on your walls. Newer homes will have drywall as mandated by the fire code. In this case, you will need furring strips before you install the pegboard.
So if you're installing your pegboard over drywall, cut 2 x 1" furring strips.
Measuring and marking
Start by measuring and laying out your install area. For the sake of convenience, you could use a work table as a height marker to know where to begin.
Once you're done marking the area, install horizontal support between studs to support the pegboard.
Installing furring strips
Install the furring strips at the perimeter edges and vertically at every stud. To do this, use a stud finder to first find and mark the location of the existing studs. Then, use 3" wood screws to install the strips vertically at each stud and horizontally across the bottom and top perimeters. This way, you will build a grid layout.
Read more: Fur out wall
Electrical outlets
Measure and mark out the locations that you intend to have electrical outlets on the board. Then, use a jigsaw to cut out holes for these outlets. Make sure you size the cuts in such a way that the trim plates will cover the holes. Hold up your pegboard and make sure the alterations are properly aligned.
Cutting the board
Next, measure and cut the pegboard to fit the grid layout. You can do this using a table saw or a circular saw.
Mounting the board
Mount the board onto either the drywall or directly onto the studs, as the case may be. The reason we suggest you use lathe screws for the job instead of wood screws is that the larger heads of the lathe screws help avoid wear and tear when heavy objects are hung on the wall.
Install these screws vertically 12 inches on center vertically and at every furring strip or stud horizontally. Make sure you tighten them until they are snug.
Installing rail system
Installed properly, pegboards can hold up to 100 pounds without bending or bowing. However, this is if the weight is distributed, and not concentrated in one area only.
To enable your pegboard wall to handle the weight of heavy tools, install a rail system with mounting holes, so it can be lined up with the pegboard holes for easy installation.
Use wood screws to mount the rail system on the studs or the furring strips. In the case of furring strips, the wood screws will have to be long enough to reach the studs behind the strips.
Accessorizing
Finally, add on all the accessories you need, from hooks to baskets and tool holders. One of the best advantages of pegboard walls is the flexibility they offer in terms of layout. You can add your accessories anywhere you find convenient, and it is fairly easy to take them out to replace them or to change positions.
Read more: Budget friendly makerspace at home
Better organization increased utility
Garages do not necessarily need to be only makeshift workshops and storage areas. They could double up as a home gym, an extra room, or even a man cave. A pegboard wall enables you to better organize your garage floor, giving you an opportunity to utilize the space available to the fullest extent.
Read more: DIY home upgrades that you will love to try
DIY home storage: Installing pegboard walls
was last modified:
August 7th, 2023
by
Recommended