Even though we usually don't pay them too much attention, garages are probably one of the most critical parts of our houses. Serving not only as a home for our precious four-wheelers, these rooms usually double down as tool sheds, workshops, and a place where we are going to keep all the things that have no other place in our homes.
That puts quite a lot of pressure on this space that is designed with one and only one purpose in mind to be functional, spacious, and storage effective. Otherwise, our garages will fail at all the tasks we have listed above.
Well, let us take a look then at a couple of essential storage solutions that should make this issue go away and maximize the space and efficiency of any average modern garage.
Use vertical storage space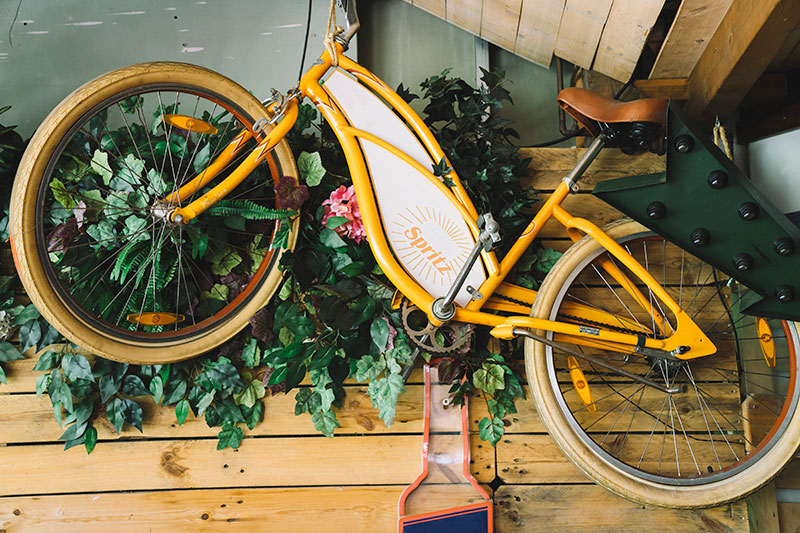 Essentially, when it comes to the effective organization of small and stacked spaces, pulling as many things off the floor to allow the free flow around the room is probably one of the most critical tools you have at your disposal. Do your best then to use the vertical space you have on the garage walls to the greatest possible extent. And we are not talking only about wall-hanging tool organizers, mounting hooks, and similar obvious solutions. Garage walls should also become home to bikes, heavy-duty tools, and other bigger pieces of equipment. The larger they are, the more floor space will you save.
Top the walls with the spacious high shelves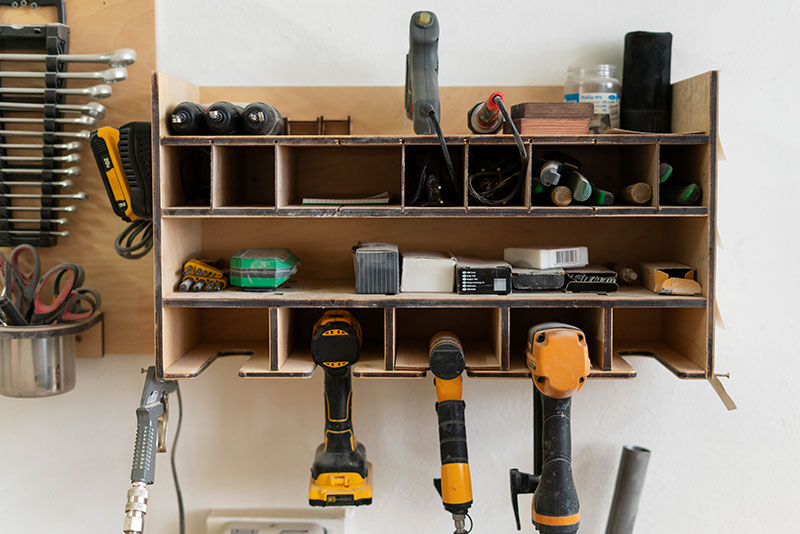 High shelves serve basically the same purpose as the wall-mounted organizers – they pull things off the floor and, if they are placed high enough, they can allow seamless flow throughout the garage. Unlike, the storage options we have listed in the previous section high shelves (especially if they are supported by multiple, heavy-duty support pegs), can store more robust and heavier items like paint cans, power tools, and even smaller pieces of furniture. Keep in mind, though, that these things also need to somehow be taken down so leave enough room for ladders or support mid-sized shelves.
Give everything an assigned space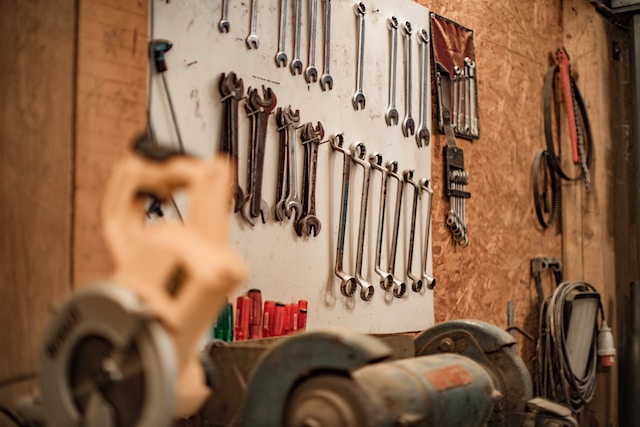 If you know where any item is at any given moment, you will prevent needless flipping through shelves and save yourself a lot of clutter along the way. Be sure then to build storage units around the dimensions and general use of the items you are going to keep there and always put the same things in the same place. Also, always keep the items that are in frequent use nearby. So, instead of putting your quality VR1 oil on some high shelf, keep it close at hand. The things you use only a few times a year like paint cans, holiday decor, or brush trimmers in some unobtrusive location.
Don't forget the overhead storage
Yes, in the previous sections, we mentioned just how valuable vertical storage can be. Well, if you are in favor of this idea, you have plenty of additional storage room to explore just above your head. The options you have at your disposal are truly limitless and range from shelves and toolboxes to full-scale ceiling-mounted bike racks. If you are really creative you can even build rails and pulley systems and bring the flexibility of your garage to an entirely new level. Of course, since this type of will present a certain safety hazard so be sure to hire professional help when you start the renovation works.
Use multipurpose furniture and storage pieces
Garages are usually very tight on available square footage. That means, no inch, no matter how insignificant it may look at first glance should go to waste. So, if you need to install a bench to take a break when you are not taking care of your car, try to find a piece that will have a built-in storage unit underneath. Shelves, cabinets, chests, and lockers can always benefit from some dual purpose like added ladders, lighting attachments, or any other feature that would help them to become more versatile. Even when we come down to basic tools, the more you achieve with fewer items, the better.
Make flexibility one of your highest priorities
In one of the previous sections, we mentioned that storage options in your garage should be carefully tailored to easily store your tools and allow for easy access. That being said, that doesn't mean the list of your garage items will remain the same forever. That is why you should make sure all the storage units in your garage feature at least some level of adaptability that will allow you to make future adjustments with ease. Modular shelving units are one of the first things that come to our minds. Things like foldable shelves, adjustable shelves, corner shelves, and other flexible options.
De-clutter and start from the scratch
Yeah, this may sound like cheating, but even if you do everything we suggested above, your garage will still look like a mess if you don't stop producing endless amounts of clutter. Make then a list of all the items you keep stored in the garage and try to remember when was the last time you actually used any of them. Anything that hasn't been made use of for at least a year should be donated, sold, or thrown away. Granted, this may prove to be difficult and in some cases even emotional, but you are fighting an uphill battle here – the tools and items that are used rarely are better rented than kept around.
We hope these couple of tips will give you a good idea about the neat and effective tips you can use to make your garage more functional and save yourself a lot of useful space along the way. And believe us, no matter how meticulously you plan the space out, your garage will start lacking storage space sooner than later. Well, do your best then to make some use of every inch you have at your disposal. You will be surprised to see just how much you can achieve with a little bit of creativity and hard work.
Read more: Choosing the right storage unit
Essential storage solutions for your modern garage
was last modified:
August 7th, 2023
by
Recommended