Home gym layout ideas by our expert in-house architect
There's no doubt that a home gym offers unmatched convenience. Having a great workout space in your house can save you time, hassles of going to your local gym, and money in the long run. However, designing the perfect home gym layout can be a bit of a challenge. You need to match the aesthetics of your gym with the rest of the house while achieving your maximum workout goals.
Deciding on the best gym setup becomes more confusing when you see so many home gym design ideas floating around. So, which home gym layout should you choose?
The first step is to take your time in planning your exercise room and create a space that's practical as well as stunning. Make your gym design worth the investment.
To make your home improvement project easier, our in-house expert architect has designed a few home gym layouts that are perfect for a medium-size exercise area.
Home gym layout one
Ideal for: Calisthenics, CrossFit, yoga, cardio, and weights
Capacity: 1-5 people
Dimensions: 22.97ft x 12.80ft x 9.19ft height. Total area: 293.85ft²
Ideal location: Either on the main floor or in the basement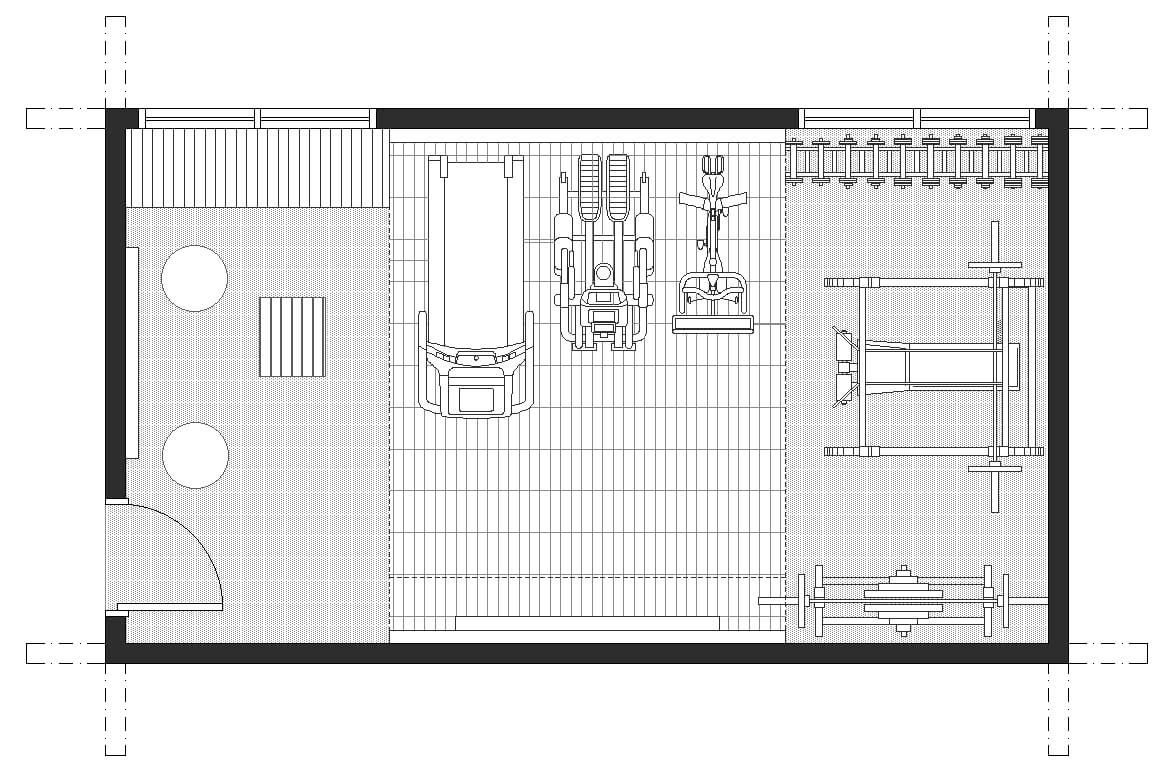 This home gym layout has three zones. The first one is for free exercises, warming up, training, and cooling down after a session of calisthenics, CrossFit, and yoga. The second zone is an intermediate space with cardio machines. And the third zone is an area for muscle toning.
This type of distribution allows for free movement upon entering the fitness room, and also for moving the necessary gym equipment.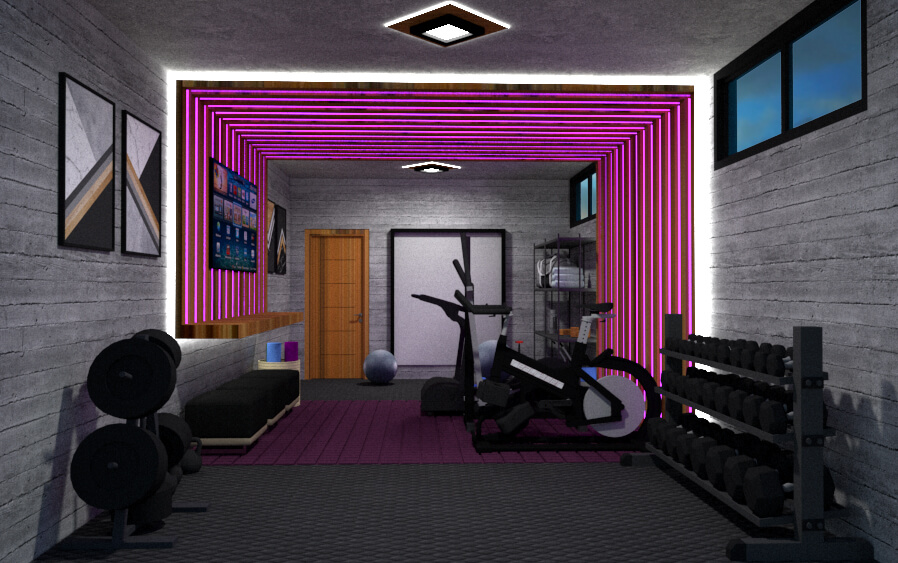 The front wall is where you can keep your electronic equipment such as an audio system or a 60 to 70 inch TV screen. These, together, help create the right kind of ambiance required for a gymnasium.
The style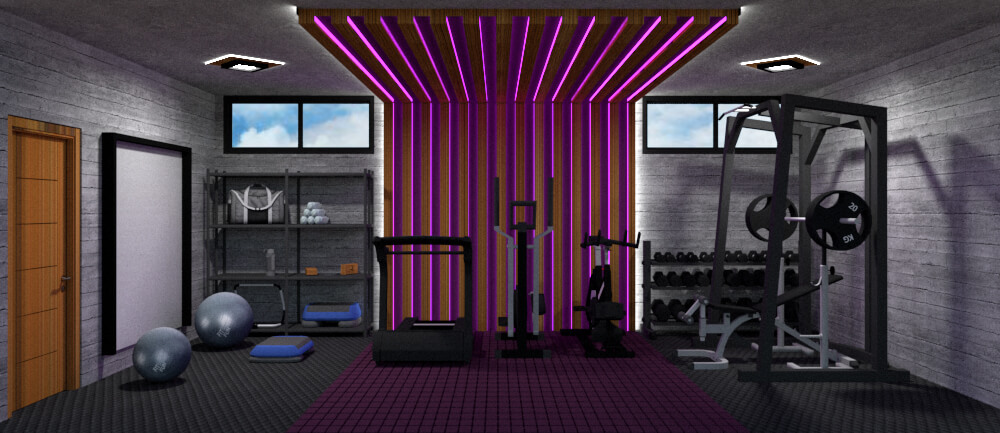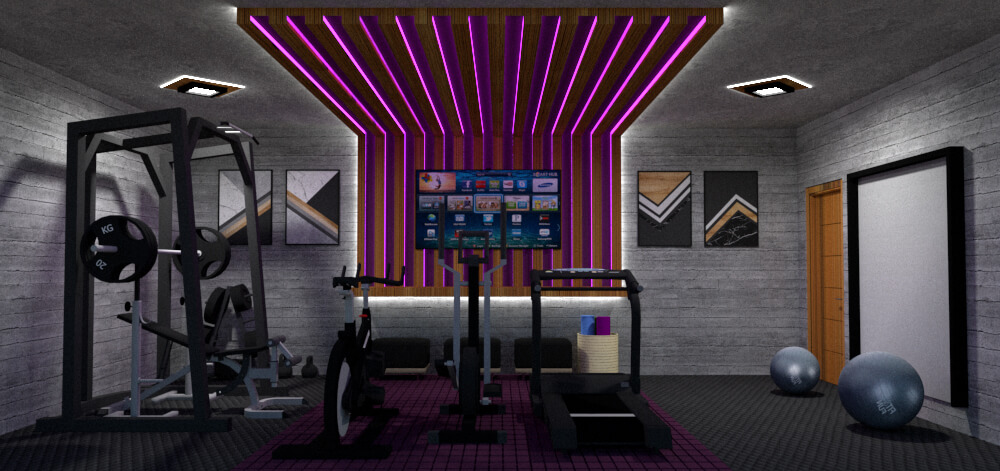 The architect has aimed at a minimalist modern style with imperfect finishes on the walls and clean texture on the ceiling. Notice how the walls and ceiling are made of concrete, giving a cozy vibe to the space. What's more, there are sufficient windows, with metal frames, to let in natural light and ventilation.
The gym is visually divided into different areas through a wooden structure that goes from the rear wall via the ceiling to the front wall – culminating into a wooden table.
The width of the structure is 9.84ft and the table is at a height of 2.95ft. This forms the focal point of the room.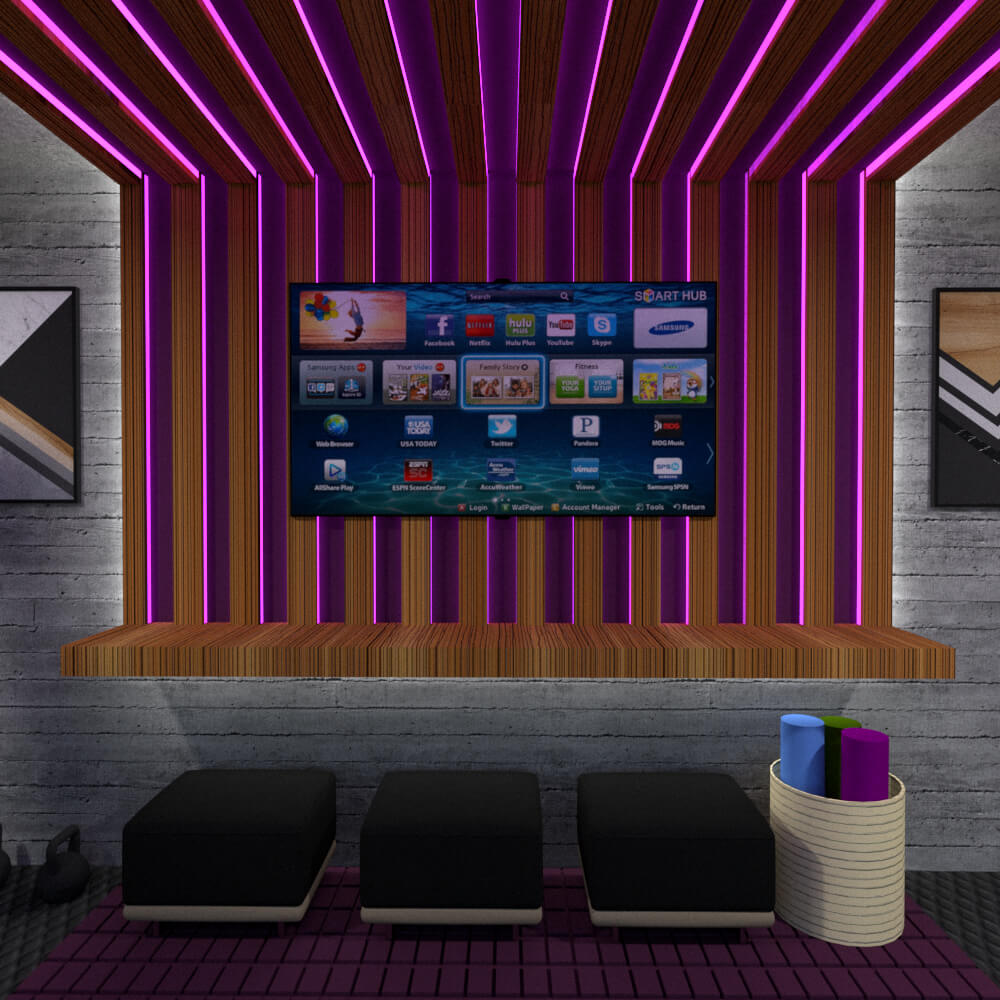 You can place black puff seats, retractable equipment, or yoga mats under the table.
LED lights provide the structure with indirect lighting in a beautiful way – making the area look alive and stylish.
Cardio area dimensions: 125.94ft² (9.84ft x 12.80ft)
Inclusion: 1 bike (4.43ft x 1.97ft), an elliptical trainer (4.86ft x 2.46ft), and a treadmill (6.40ft x 2.82ft).
The views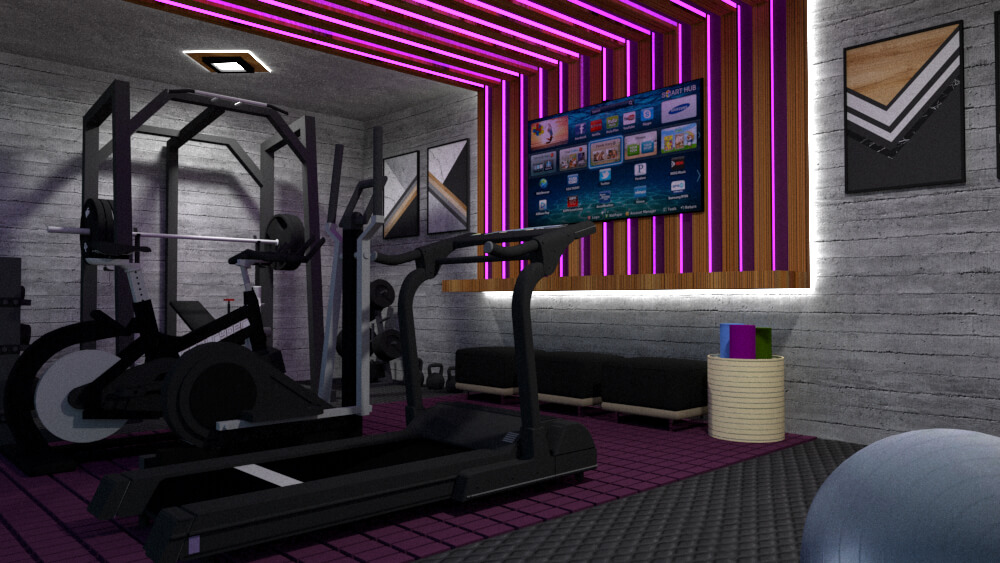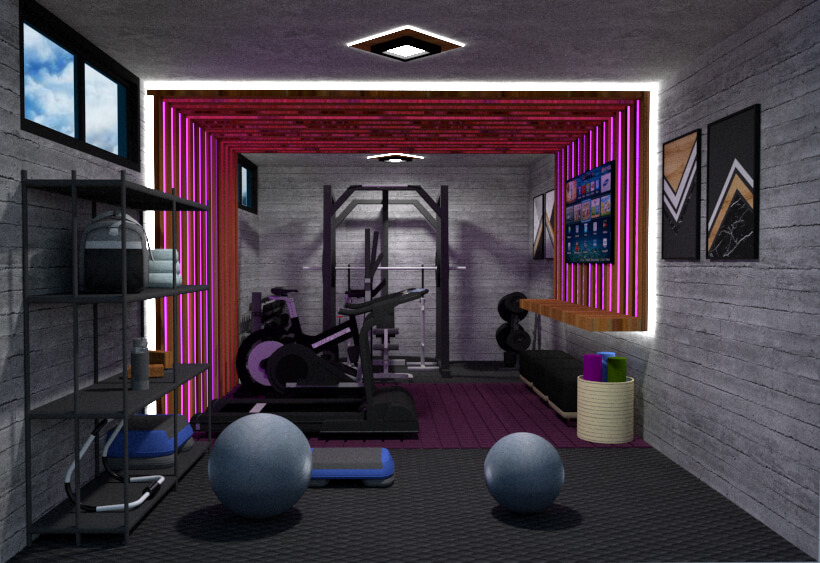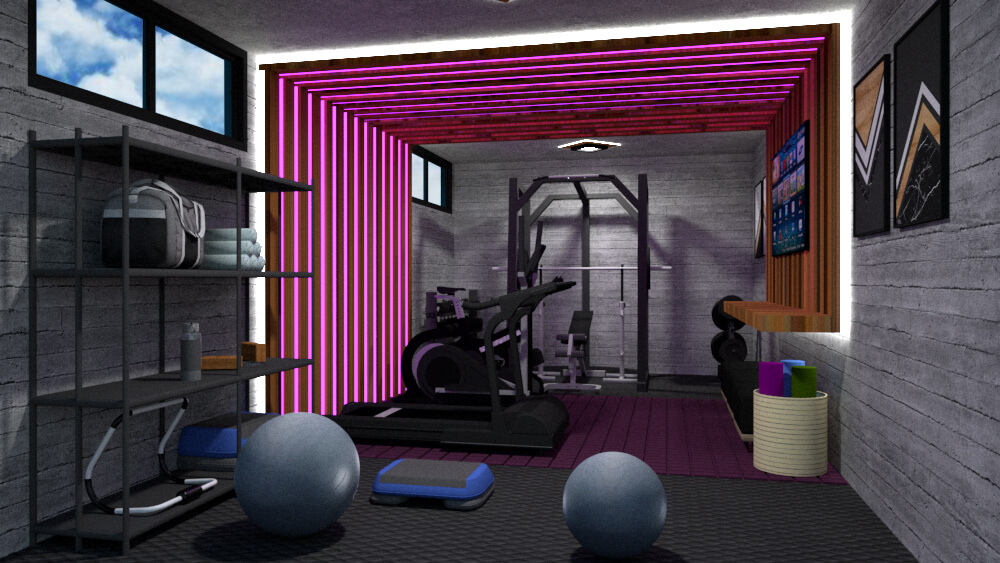 The room decor
The training area, meant for calisthenics, CrossFit, and yoga, is a 6.56ft x 12.79ft free space, with an open metal shelf of 5.84ft x 1.64mx 6.23ft. You can use the storage space to keep your lightweight training equipment, towels, gym bag, or store health supplements. The storage helps to keep the space tidy and things handy.
Additionally, there's a huge mirror (5.25ft wide x 6.23ft high) with black frames.
The room flooring has been specially designed to absorb shocks and noises. The protective rubber floor is great for resistance to impacts or blows.
And, there's sufficient space to work with stretching or rope exercises, plyometric boxes, dumbbells, kettlebells, parallel bars, and elastic bands.
The weight training area has a power cage allowing different types of muscular exercises such as chin-ups, squats, rings, straps, or elastic bands to complement the weight training.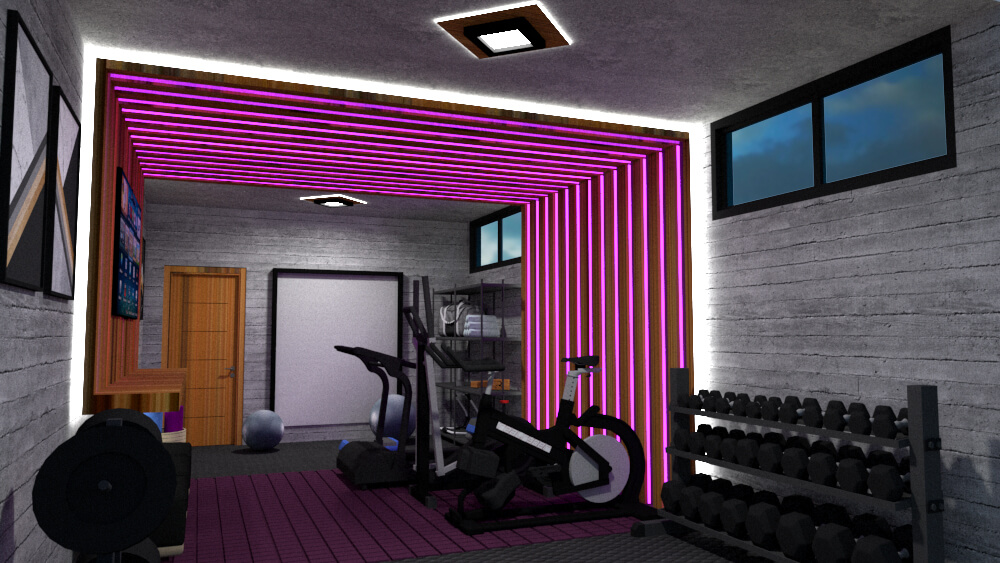 Weight training area dimensions: 6.56ft x 12.80ft
Inclusion: Power cage of 5.58ft x 4.59ft x 7.94ft, a weight bench, a disc rack of 1.80ft x 2.30ft x 3.44ft, and dumbbells of varying sizes and weights.
The architect recommends wall art to enliven the area even more. You can hang abstract paintings with a color palette that matches the decor of the exercise room. There's good artificial lighting with ceiling lights as well as LED lamps.
Home gym layout two
Ideal for: Calisthenics, CrossFit, yoga, and weights
Capacity: 1-4 people
Dimensions: 22.97ft x 12.80ft x 9.19ft height. Total area: 293.85ft²
Ideal location: Either on the main floor or in the basement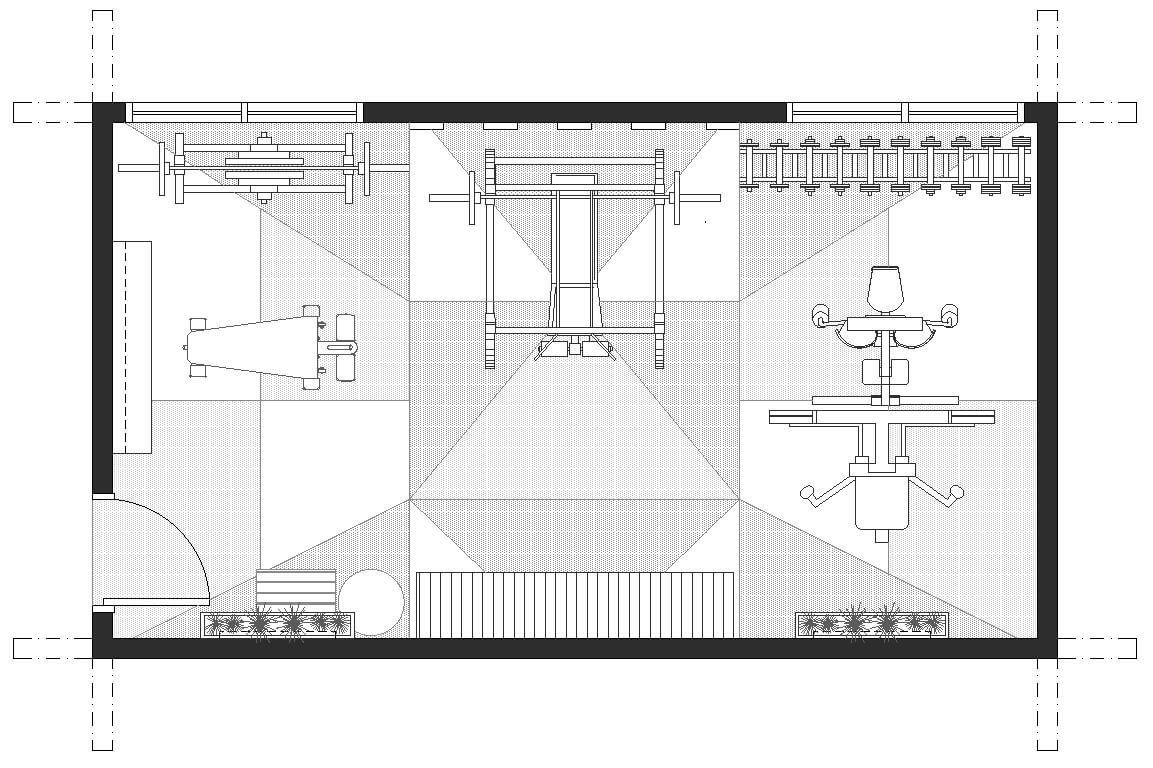 The second gym layout also has zones, but without a dedicated cardio area. You can create one with portable or reclining equipment depending on the space you have.
As you enter the gym area, there's free space for warm-up, training, and cooling. This is followed by areas for work and muscle toning – the first with a power cage and the second with a multifunctional gym machine.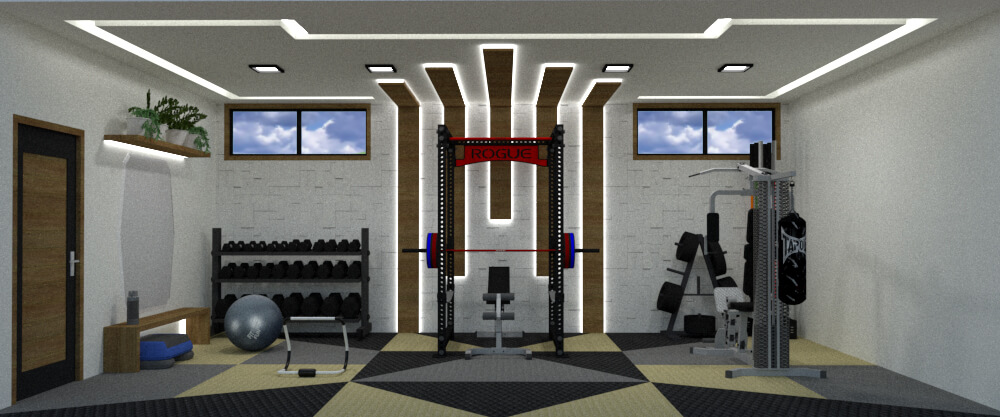 Furthermore, there's storage as well as multimedia on the side of the front wall, with good seating in the center of the space.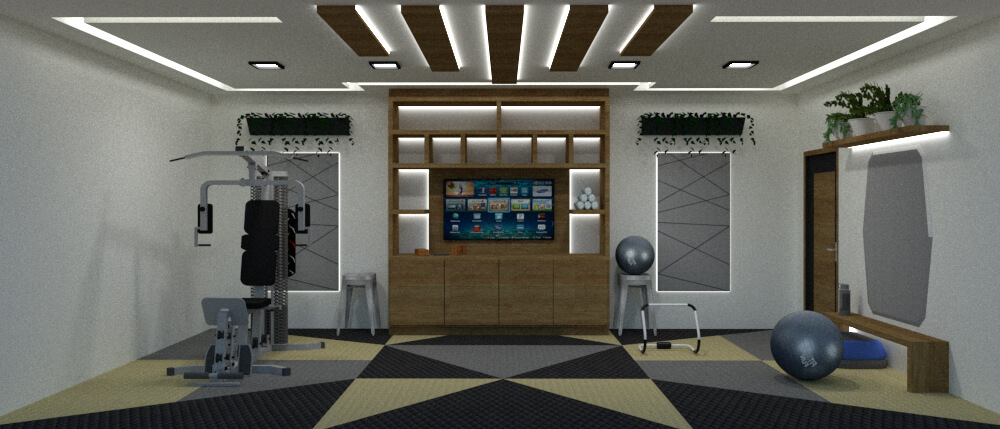 The style
The focal point of the room is the unique design in the center made with wooden planks. Located between the two windows, this wooden structure has staggered lines – highlighted with white LED lights on its edges.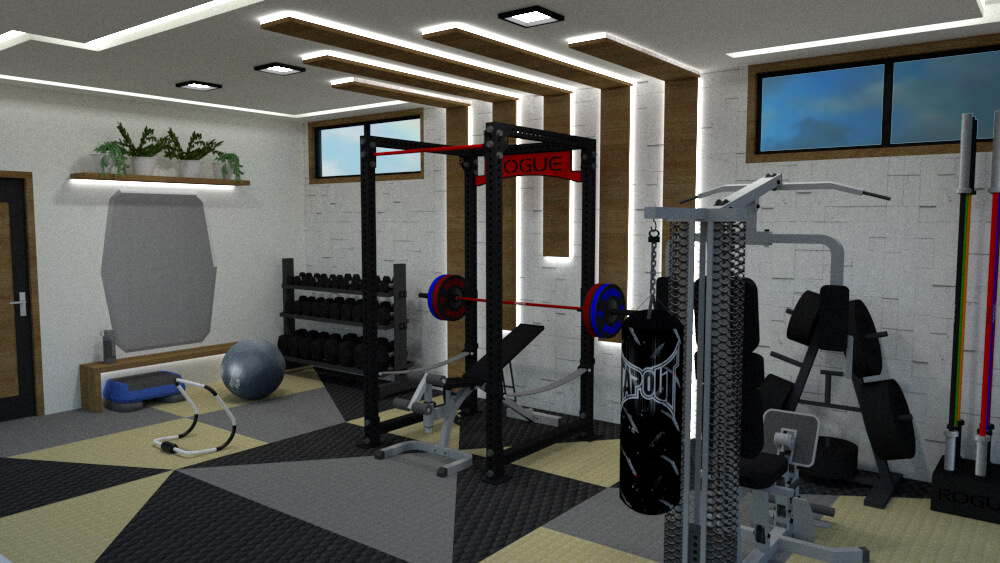 The wall is beautifully textured. Moreover, the rest of the walls, ceiling, and furniture help to maintain a simple, monochromatic palette – creating a modern and minimalist style. The predominant colors are white, gray, and cream.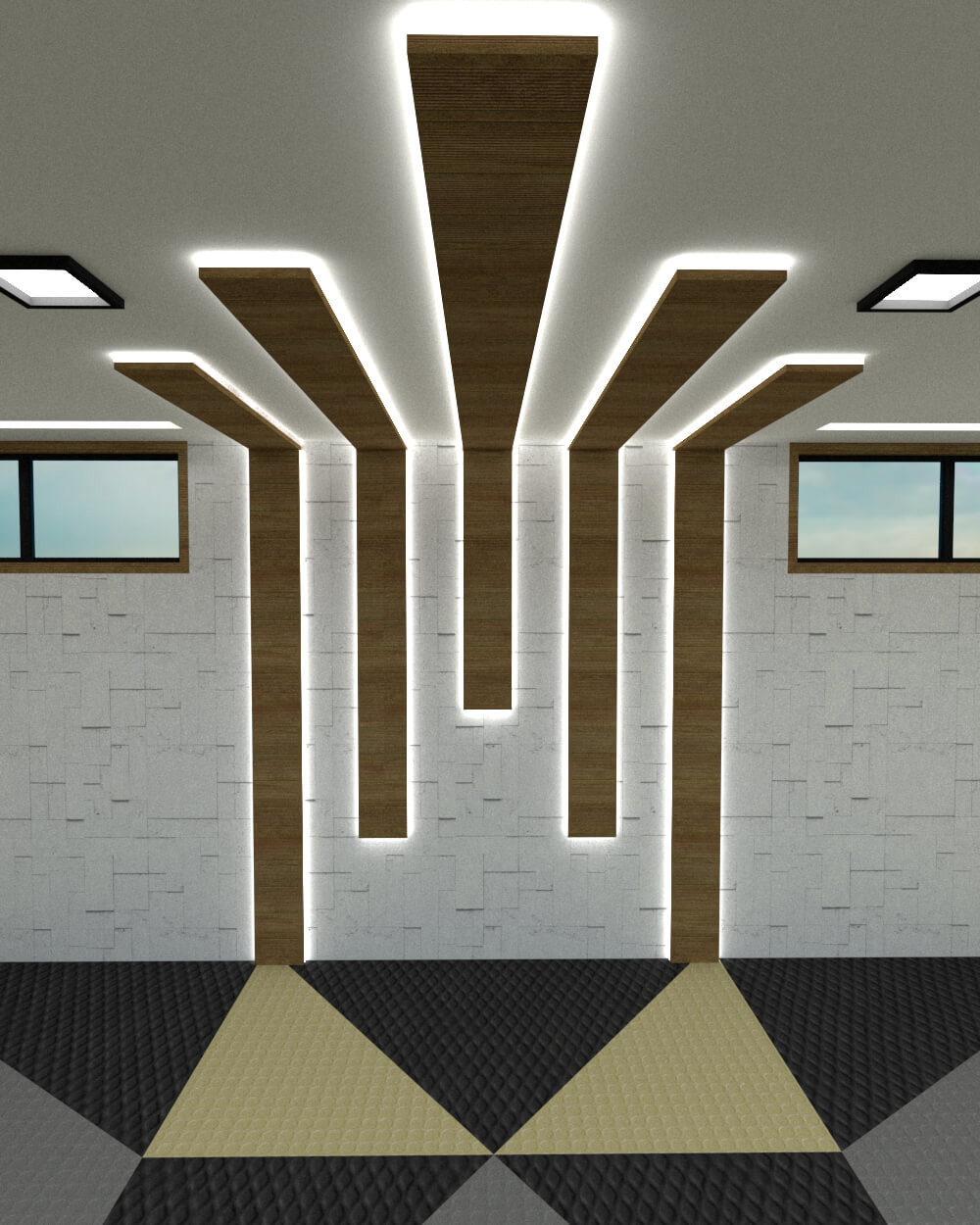 Training area dimensions: 7.38ft x 12.80ft
Inclusion: Dumbbells, calisthenics, CrossFit, and other exercises with weights
The room decor
The room has two mirrors – visually helping to make the area appear bigger.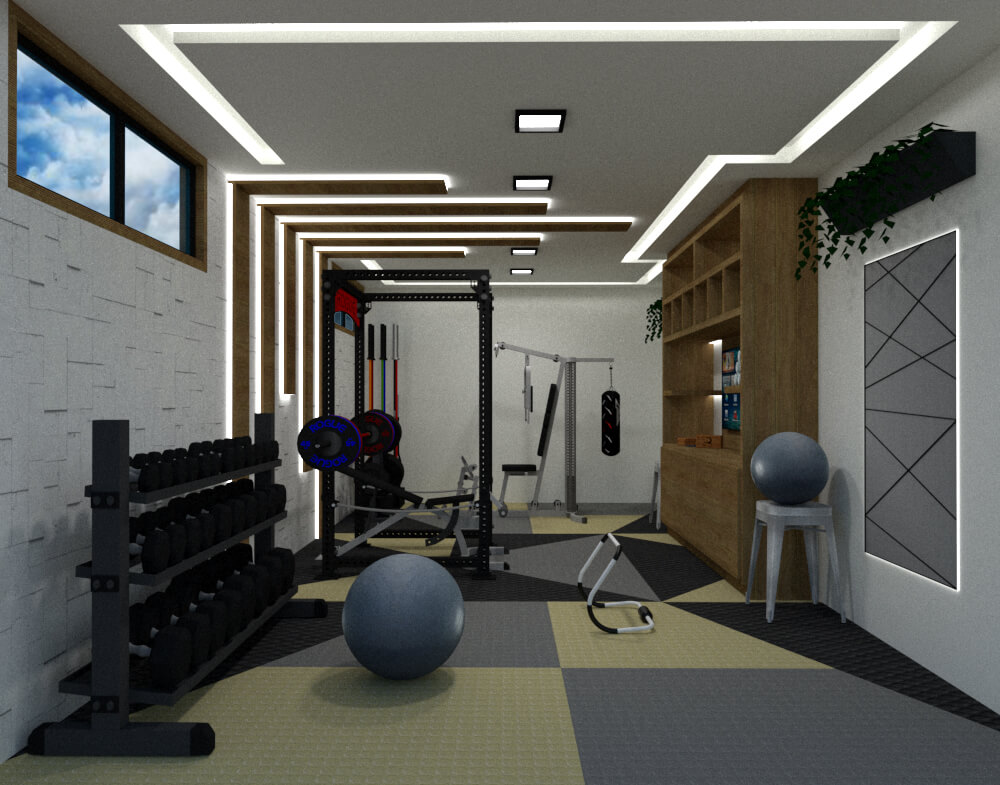 The space in the center measures 8.20ft x 12.80ft, with a power cage (4.59ft x 4.59ft x 7.55ft) and a weight bench. In front, there's a storage cabinet measuring 8.20ft x 1.64ft x 9.19ft. It also houses a 60 to 70 inch TV screen.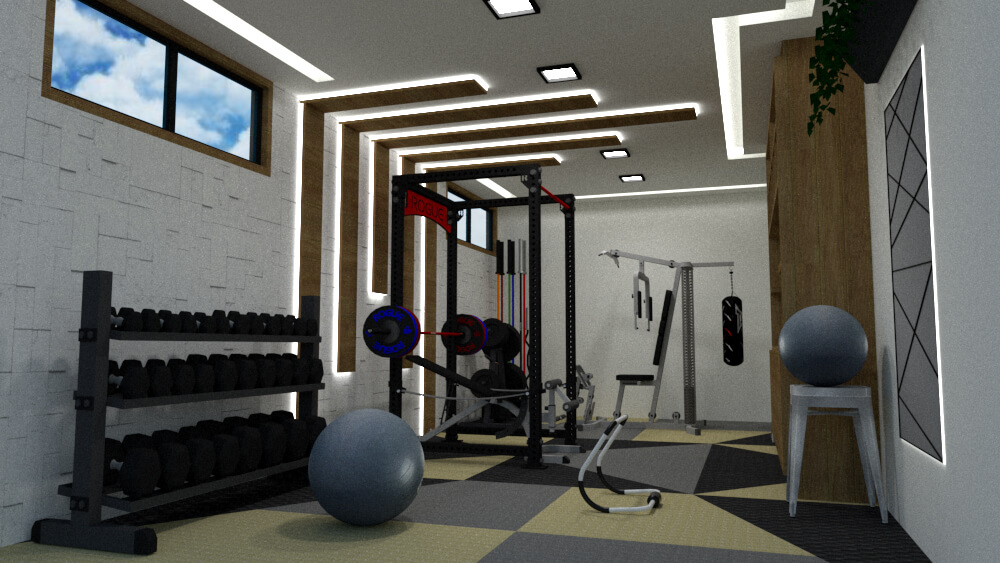 The space at the end measures 7.38ft x 12.80ft. It has a multifunctional machine for muscle training (6.73ft x 4.10ft x 6.89ft) and a punching bag. On the side, there's space for weight plates and weight bars in various colors.
Apart from the large mirrors, there are planters (3.84ft x 0.66ft) and good lighting to add to the room decor.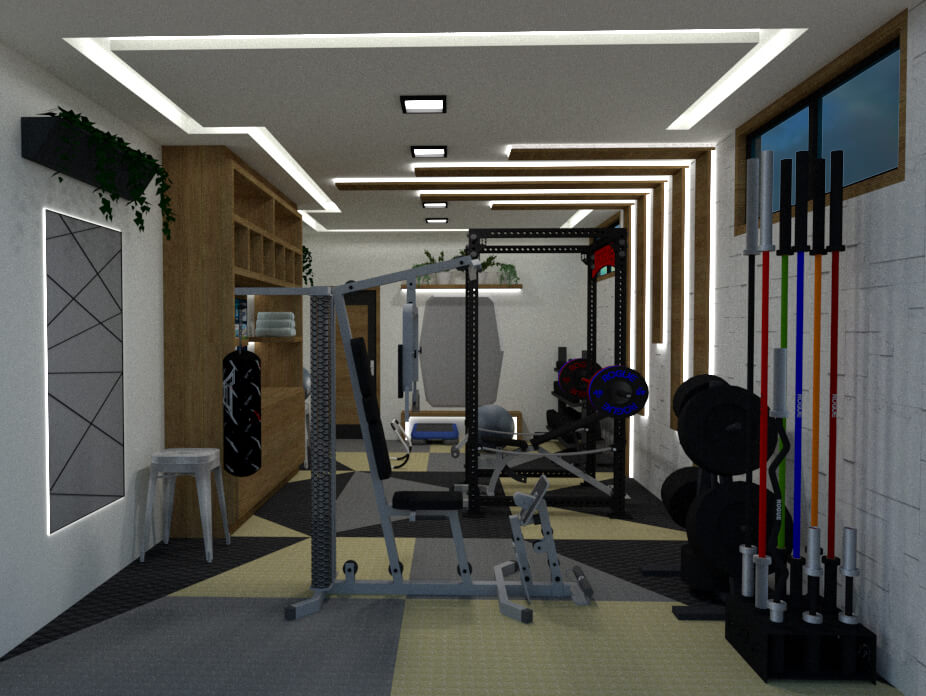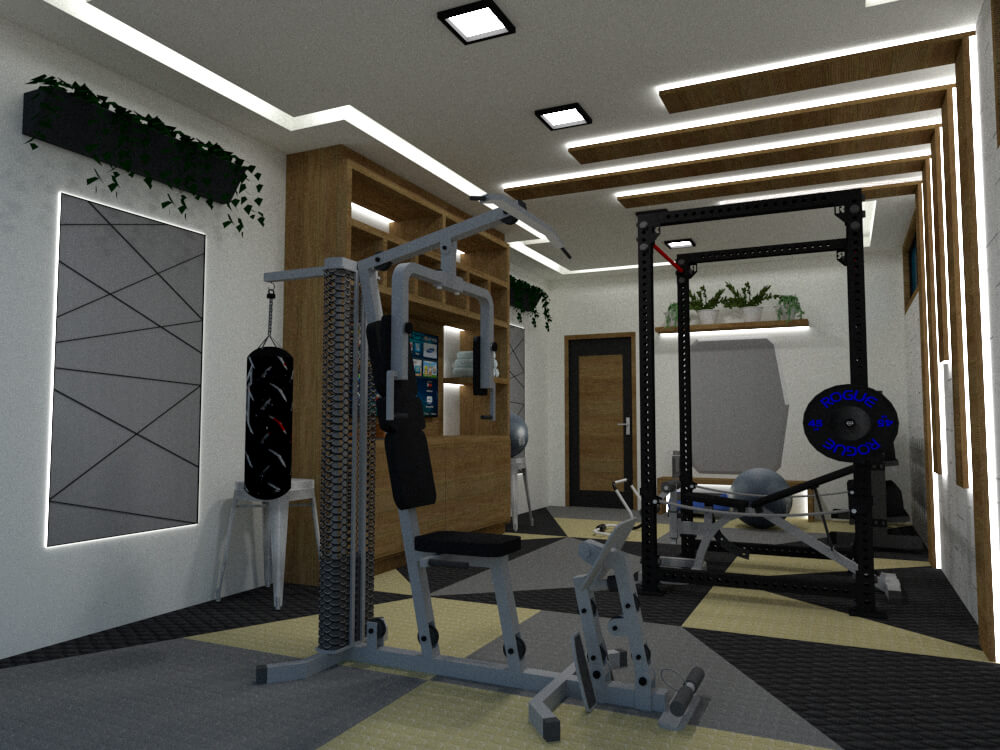 The wooden accents in the room, including the window frames, the storage cabinet, shelves, and table have been kept a medium-tone. And, all the metallic gym equipment is gray and black to maintain a lovely continuity in the room.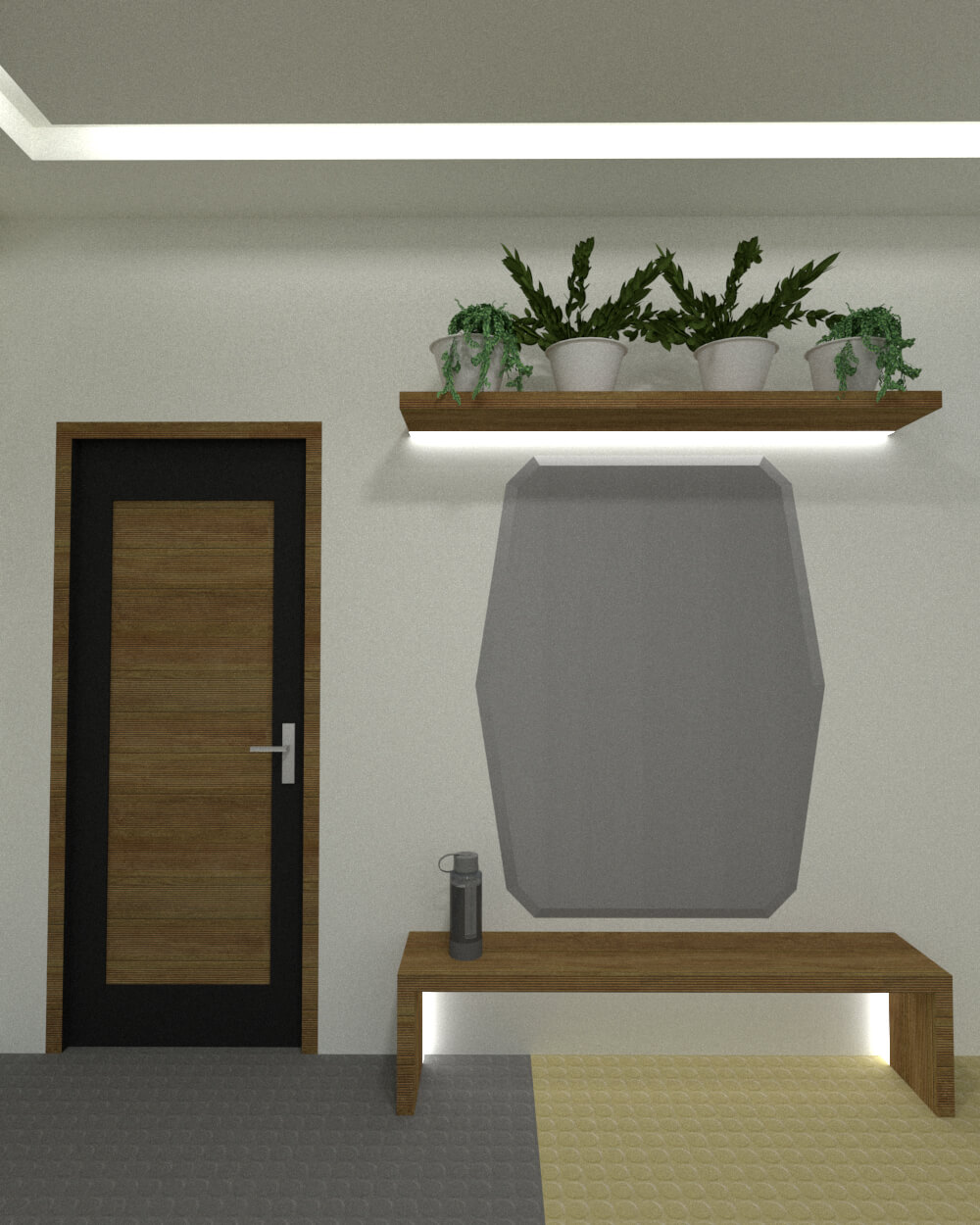 A unique touch to the room comes from this hexagonal mirror (3.80ft x 5.05ft), a bench (5.25ft x 0.98ft), and lively indoor plants – all beautifully framed with LED lighting.
Last thoughts
If you're planning a medium-sized gymnasium and looking for inspiring ideas on how to layout your home gym, these designs by our architect will help you along the way. After all, when you enjoy working out but don't want to pay for expensive gym memberships, the best plan is to design your own home gym. Our expert architect will help you in your journey of creating your dream home gym.
Read more: Practical small home gym ideas by our expert architect
Home gym layout ideas by our expert in-house architect
was last modified:
October 11th, 2022
by
Recommended