How Technology Will Fix the Home Renovation Industry
While many industries have applied technology and consumer-centric business models to dramatically enhance the customer experience, the home renovation/remodeling industry remains fragmented and difficult to navigate. This fragmentation and lack of transparency causes headline-making home improvement horror stories and drives an unhealthy distrust between homeowners and renovation professionals.
Homeownership is an emotional experience and a major investment – for many, the most expensive investment they'll ever make. Ongoing maintenance and significant renovation are essential to preserving this investment and increasing a home's value over time. Our homes also need to adapt as we move through various life stages – from our first home to raising a family and on through retirement. In addition to the financial aspects, updating our homes is essential to making the most of our quality of life, convenience, and security.
Today, almost 60 percent of homebuyers conduct renovation projects. America's aging housing inventory will continue to adapt to meet the needs of changing demographic segments, from singles and young couples to growing families, retirees, multigenerational households and more. Instead of choosing brand-new, turnkey properties in the burbs, a huge segment of today's homebuyers are opting for homes in or near urban centers to enjoy the convenience of work, cafes, and shops within walking distances.
New materials, methods, and technology are redefining what we desire in our homes. An increased focus on energy efficiency and sustainability has driven 20 percent of homeowners to consider at least one of their projects for "green" purposes. The desire for "homes with character" is also contributing to the prevalence of home renovation projects. In short, it's evident that the industry isn't going to disappear anytime soon.
Unfortunately, this growing $400 billion industry is plagued by unknowns and doubt. This creates what we call "Renophobia" – a fear of renovation!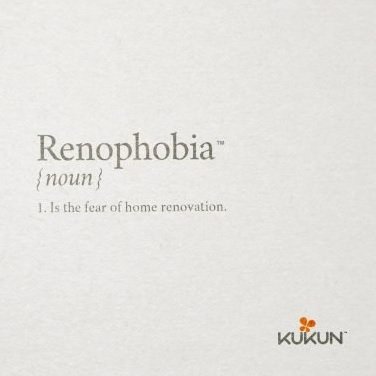 When it comes to home renovation, many don't know what to do first or how the process works most effectively. Renophobia fears include difficulty in choosing designs, materials, products and finishes, unclear pricing, going over budget, difficulty in securing financing, hiring a shady contractor, construction delays, and dealing with stress through the entire process.
The home renovation industry shouldn't be like this. Instead of being afraid, we need to call for change and provide valuable solutions – and that's exactly what Kukun delivers.
What does this change look like? It's making the industry more transparent and navigable, which includes creating a common language between homeowners and renovation professionals. Ultimately, we need to improve the renovation process for everyone involved.
The great news is that Kukun is now leveraging technology, extensive data, machine learning, customized tools and more to facilitate easier, more successful home improvement experiences. Kukun is dedicated to improving the renovation process and results for homeowners, contractors, lenders, realtors and all others participating in this $400B/year arena.
We recognize that we'll only change the industry when we create a marketplace built on a transparent structure. That is Kukun's mission. We're providing great information and building powerful tools that help homeowners make more informed decisions about the home renovation:
Kukun's Home Remodeling Guides present a library, growing every day, of valuable information, advice, and creative ideas to help you make the most informed decisions and enjoy the best results for your project.
Instead of calling numerous contractors and chasing them down to get an idea of what a renovation project will cost, homeowners can get a reasonably accurate, customized answer to this question with Kukun's Cost Estimator.
With our Recoup Value Estimator, homeowners can see how those renovations will impact the value of their home, and then make a better-informed decision about what to take on. Kukun built a machine-learning algorithm into the process that predicts the recoup value utilizing a range of data, including house sale history, permits that were pulled nearby, the health of the local real estate market, crime rate, unemployment, CPI, etc.
Unlike other sites that feature contractors who pay for visibility and charge contractor referral fees that are passed on and added to the cost of the renovation, Kukun helps you make the connection for free. Kukun's Find a Pro tool allows customers to search for homes that have been renovated in their area, along with the contractors who performed the work. Kukun uses permit data to identify contractors' history, and then vets whether they are licensed, insured, etc. Their online reputations are collected through reviews on various platforms and summarized in a readable format for the homeowner. With this approach, Kukun ensures neutrality when choosing the right professional – and contractors are never charged referral fees of any sort.
With Compare Quotes, contractors can submit their bids through Kukun in a consistent format, allowing homeowners the ability to compare these more easily – apples to apples.
Finally, using Kukun's Manage, homeowners can see the project schedule, receive notifications for each task's start and end dates. Notifications to shop and finalize selections helps to avoid delays in having materials on hand when needed.
Kukun is constantly working on releasing more features that promise to alter the industry in a positive way and bring this antiquated, offline market into today's world.
Read more: What is the future of 3d printed houses?
Kukun is ultimately building a community. We're here to help homeowners. But we know successful, pain-free renovations only happen when those homeowners can find the right professionals, and we know it isn't easy for professionals to gain the needed visibility. Kukun is about connection and creating a common language between homeowners and renovation professionals. Architects, interior designers, contractors, real estate agents, bankers – everyone involved in the home improvement industry can create a profile for free. We want homeowners to have positive renovation experiences, and we want industry professionals to easily find jobs.
It's time for the home renovation industry to change. Explore Kukun today. Try our tools and then let us know what you like, what we can improve, and how we can continue together with you to make your homeownership dreams come true.
READ MORE: You Should Never be Hiring a Contractor From a Directory
How Technology Will Fix the Home Renovation Industry
was last modified:
April 20th, 2022
by
Recommended